What do you do when you're somehow amazingly able to find an affordable house with three bedrooms and you really only need two? Well, duh! You turn that superfluous room into a dream closet, of course! A dressing room. How many people actually get to have their own dressing room? Celebrities. Rich people. And me!
I'm very proud of this room because everything you see in here was done by me and no one else. I painted and papered the walls, hung the shelving, built the drawers, hardwired the chandelier, put up the crown molding, installed the trim, sewed the curtains… everything! It didn't happen overnight. I took my time – especially with the projects I was unfamiliar with. I had never built drawers before or installed crown molding, but my patience was rewarded. At the risk of sounding conceited, this room is freaking awesome. Sometimes I come in here just to get away from the rest of my crappy house. So, let's start at the beginning. This is how the room looked before I started.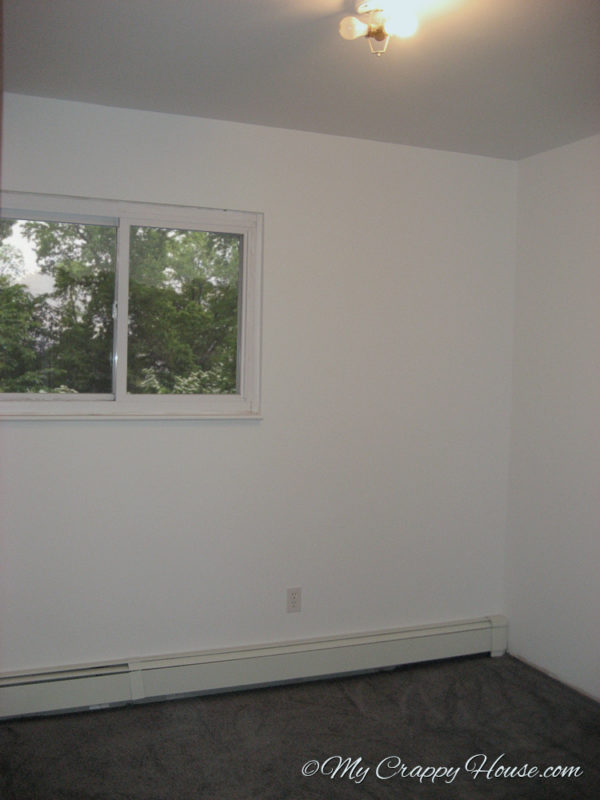 It's a pretty small room – only about 9ft square. Really small for a bedroom, but it's the perfect size for a dressing room. The first thing I did was pick out a wallpaper. I didn't know what colors I was going to use, but I knew I wanted a damask pattern. I shopped around online and found some beautiful papers, but they cost so much I would have had to sell my crappy house just to afford them (I'm sure you see the flaw there), so I went to Lowe's and looked through their books and found this:
The wallpaper is a berry color. For paint, I went with its complementary color, which is a yellowish green. I wanted the room to be dramatic. This is a room that will mostly be seen just by me (and the bazillions of you!), so I felt free to go a little crazy. I chose Newt, by Benjamin Moore. You can see I also considered purple, but I wasn't feeling it.
I bought this bench at TJ Maxx after I had already installed the wallpaper. The background color in the fabric matches it perfectly. Score!
The next step was to install the closet shelves. I had a closet system in my old apartment and I took it with me when I moved, so that was a nice head start here.
You'll notice I had hung the chandelier at this point. I made that chandelier. You can read all about it here. Now I just needed to fill the rest of the room.
At the time I was working on this, I was very lucky to work in a place that had its own wood shop and a computerized router called a CNC machine. I designed the rest of the closet, measured the parts I already had, and made a program for the CNC to cut the new pieces to match. It worked out perfectly and I only had to pay for the cost of the materials.
I built drawer boxes and ordered the faces and slides from a local company. The handles are from Home Depot. I'm not gonna lie. This part was difficult. In order to get the drawers to line up perfectly, there's a lot involved. Measurements need to be spot on so the drawer faces overlap the top and bottom shelves and they're properly spaced.
The slides and boxes are installed first, then the drawer faces have to be attached while the drawer boxes are in place using clamps and spacers. I had pre-drilled the handle holes in the faces, so I just needed to drill through those same holes into the boxes to attach the handles. You're probably impressed right now. And, honestly, you should be. I kicked ass on these drawers!
It was around this time that I decided to paint the ceiling in here a very soft blue. I can't explain why. I just felt it needed to be blue. Sometimes I feel things. I chose Ice Blue, by Benjamin Moore. I also installed the door trim. I went a bit nail gun happy. I won't do that again. Every freaking hole you make is a hole you have to freaking fill. You can also see my seams aren't the best, but I fixed that with some patience and a bit of wood filler. I put off installing the crown molding for a while because I had never done it before and I didn't want to mess it up. Then, one night, at about 7pm, I decided to just go for it. This room has some odd angles by the door, so that made it even more challenging, but I think it came out great. By 4am, I was feeling pretty damn good about myself.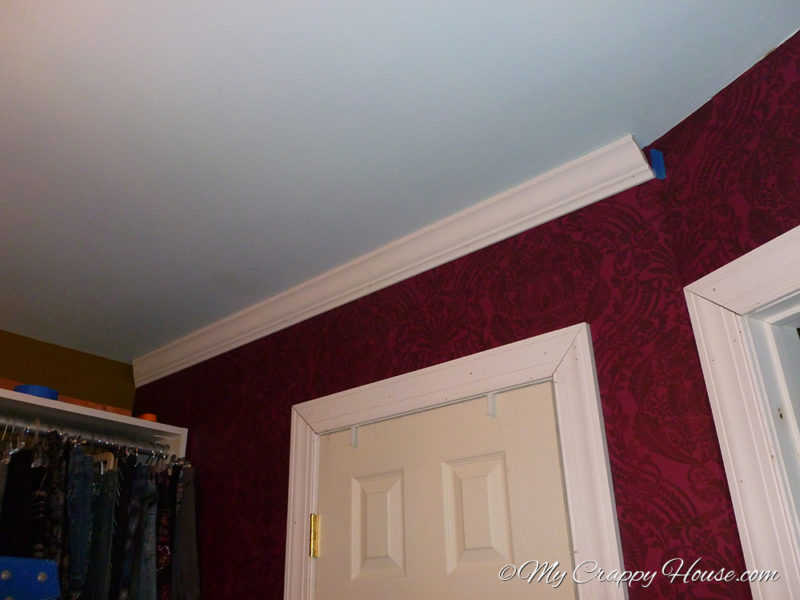 Click on any image to expand the gallery.
Finishing touches included painting the doors, crown and trim black, shortening the curtains and adding weighted trim to keep them in place (that window is one of Egor's favorite spots), and adding a zebra rug. Here's how it all turned out.
So, there you have it. My dressing room. Don't be jealous. You are more than welcome to live vicariously through me. In fact, you should subscribe below so you remember to come back often! If you liked this post, please share it with a friend.