The Surprise We Found Recorded on Our Ring Camera
They're Heeeere…
A crappy house is a pretty good crime deterrent. I think the bad guys must figure that a crappy house probably contains crappy stuff, so they don't even bother. (Low return on crime investment, I guess.) But our house is looking less and less crappy these days, and the less crappy our house looks, the more security becomes a concern.
With that in mind, Schmoopy bought one of those Ring Floodlight Cameras to mount on the garage. We love it. Not only is the motion light very convenient, but knowing we'll have video of the bad guys when they rob us is strangely comforting.
So far, we haven't recorded any criminal activity, but we were surprised by what we found was going on in the wee hours. We had no idea…
No, silly. We don't have ghosts. (At least, none that we know about…) That would've made for a great Halloween post though, right? Missed opportunity.
*sigh*
Hey, here's something Halloweenie for you…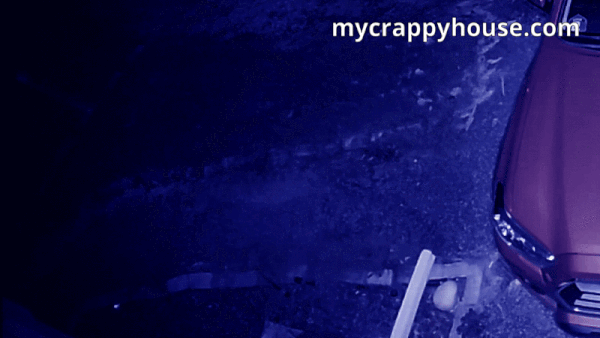 A giant spider! But that's not the surprise we found out about. Of course we have giant spiders. Everyone has giant spiders. (It's true.)
So, WTF did we see on our new camera in the wee hours? Before I tell you, let me quickly share my new morning ritual with you.
(Yes, I know I'm very annoying. I promise I'm gonna tell you right after this next part.)
Every weekday, I wake up around 10 a.m. (I know, right? I'm a Princess…) to a notification on the Ring app telling me the camera has detected motion at around 8:30 a.m. I then watch a video of Schmoo leaving for work. Please enjoy this video montage I made to share with you. (You can click here if you don't see it below…)
I love his little goodbye videos. Especially since they don't disturb my sleep the way a goodbye kiss does. (Guys, I really don't like to wake up before 10. Even for a kiss from the love of my life. Sleep also happens to be the love of my life. It's OK. They know about each other. I can love two things.)
In case you're wondering, that last clip was recorded only a week ago. My honey tore a tendon whilst trying to help a damsel in distress. (That'll teach him to help other damsels.) Our new shed will have to wait until the spring. Oh, darn. I just hate putting off the big projects. You guys know how motivated I am. Big projects are my most favorite. (Ha, no, not really, dummy.)
OK, so, WTF is the freaking surprise, already!?! Well, we don't have ghosts and we don't have criminals, but what we do have are a couple of stealthy feline trespassers…
Guys, cats! You love cats! Who doesn't love cats? Only people who are dead inside. Dead. Like the ghosts that we do not have. (That we know of.)
Best we can tell, there are two of them. They're obviously little bad asses, surviving near such a busy road. I'm not sure why they picked our crappy yard to loiter in, but now that I know they're out there, I can't not be concerned. Winter is coming and, while I can't take them inside (assuming they would even want to come in), I can't leave them outside without a proper shelter from the cold.
There are a lot of plans on the interwebs for building feral cat shelters. I like elements of many of them, but I didn't find a single plan that felt right, so I decided to design and build my own.
(Since, it's Halloween, I have for you a trick and also a treat.)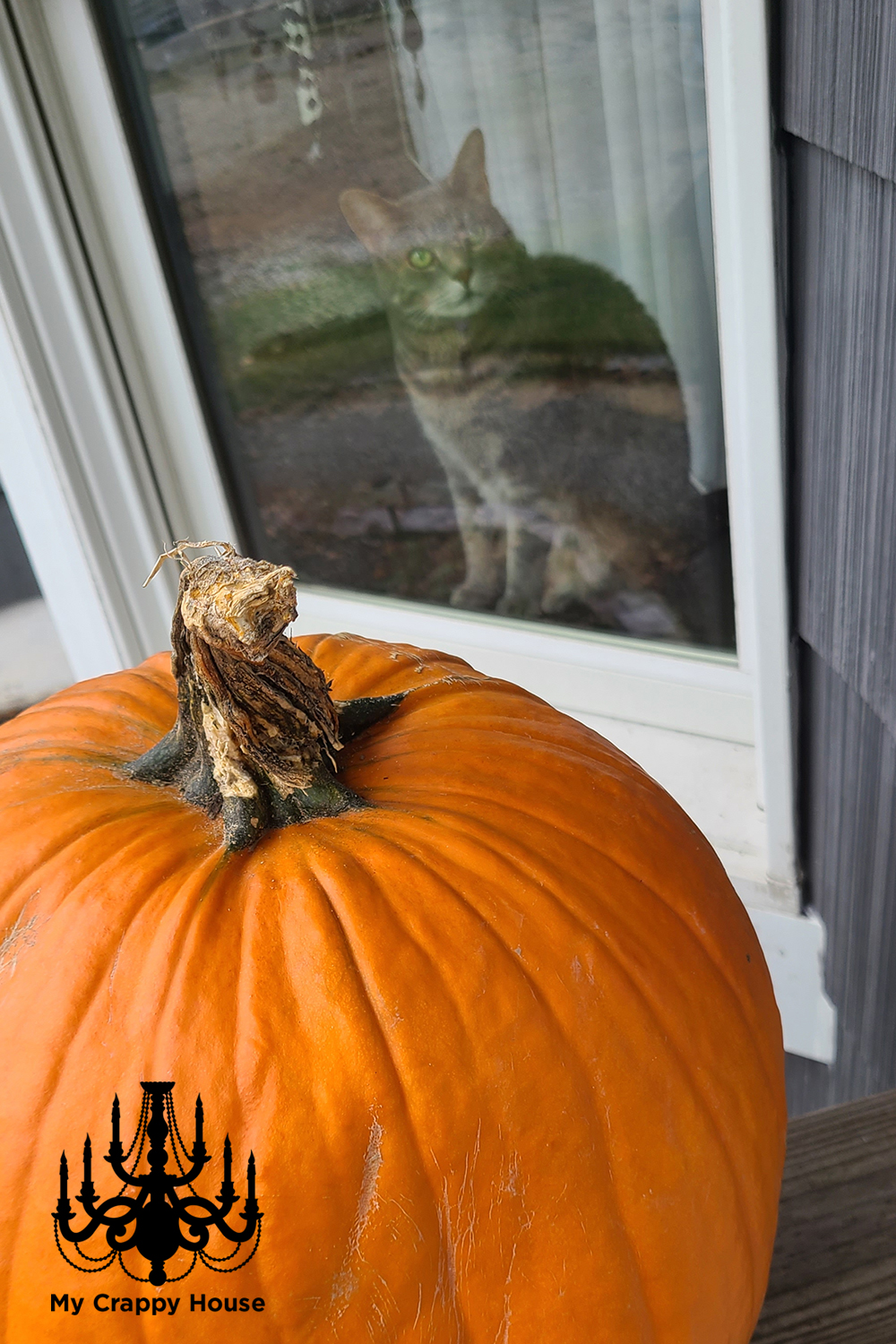 I'll be telling you all about the cat shelter in a future post. (That's the trick.) Yeah, I know. I suck. But I'm still working on it, so you just have to be patient. Make sure you subscribe below so you don't miss it.
For the treat (hopefully you'll think it's a treat), I recently recorded a podcast with Doug over at thumbandhammer.com. You can listen to it here. It's about 30 minutes of me and Doug (but mostly me) chatting about My Crappy House. Tell me in the comments below if you think I have a New York accent. (I try very hard not to, but remember, My Crappy House is on Lawn Guyland in New Yawk. I'm at a disadvantage…)
***Time travel links! Just when you thought you'd have to wait to see how my cat shelter turned out… well, you don't! There are three more posts in this series and you're going to want to read them all. Trust me. Part I is where I discuss the plan, Part II is where I show you exactly how I built it, and Part III (my favorite part) is where I show you just how crazy a person can be when designing a house for cats to live in.
*This post contains affiliate links.