Last time on My Crappy House, I framed and hung a piece of my grandma on my wall.
Ew, no! Not literally! What is wrong with you?
You scare me sometimes.
It makes me happy to have her work on display, though it is bittersweet. Having this mini afghan on my wall meant sacrificing the rest. While it's true, much of it was damaged beyond repair, I had to do even more damage to keep this portion intact and, if I'm being honest, that did make me a little sad.
So, what to do with the remains? The whole point of the project was so I could let the rest go, but tossing it into the trash just felt all kinds of wrong. Somehow, burning it felt like a respectful solution. That's how the Jedi do it. And, hey! Grandma was Norwegian. A Viking. What could be more appropriate than a Viking farewell?
It sort of felt like I was sending it back to her, in a way. Releasing its essence back into The Force…
I know, right? I'm very nerdy deep. I'm like Yoda. But, thanks to grandma, I'm also Norwegian. So… does that make me like Rose?
No, we really don't have a lot in common, Rose. I've never been to St. Olaf and I've never blown my own vertubenflugen. Maybe my grandma did. We'll never know…
Well, this post has taken a turn…
OK, back to business. Please join me now in saying goodbye to grandma's afghan.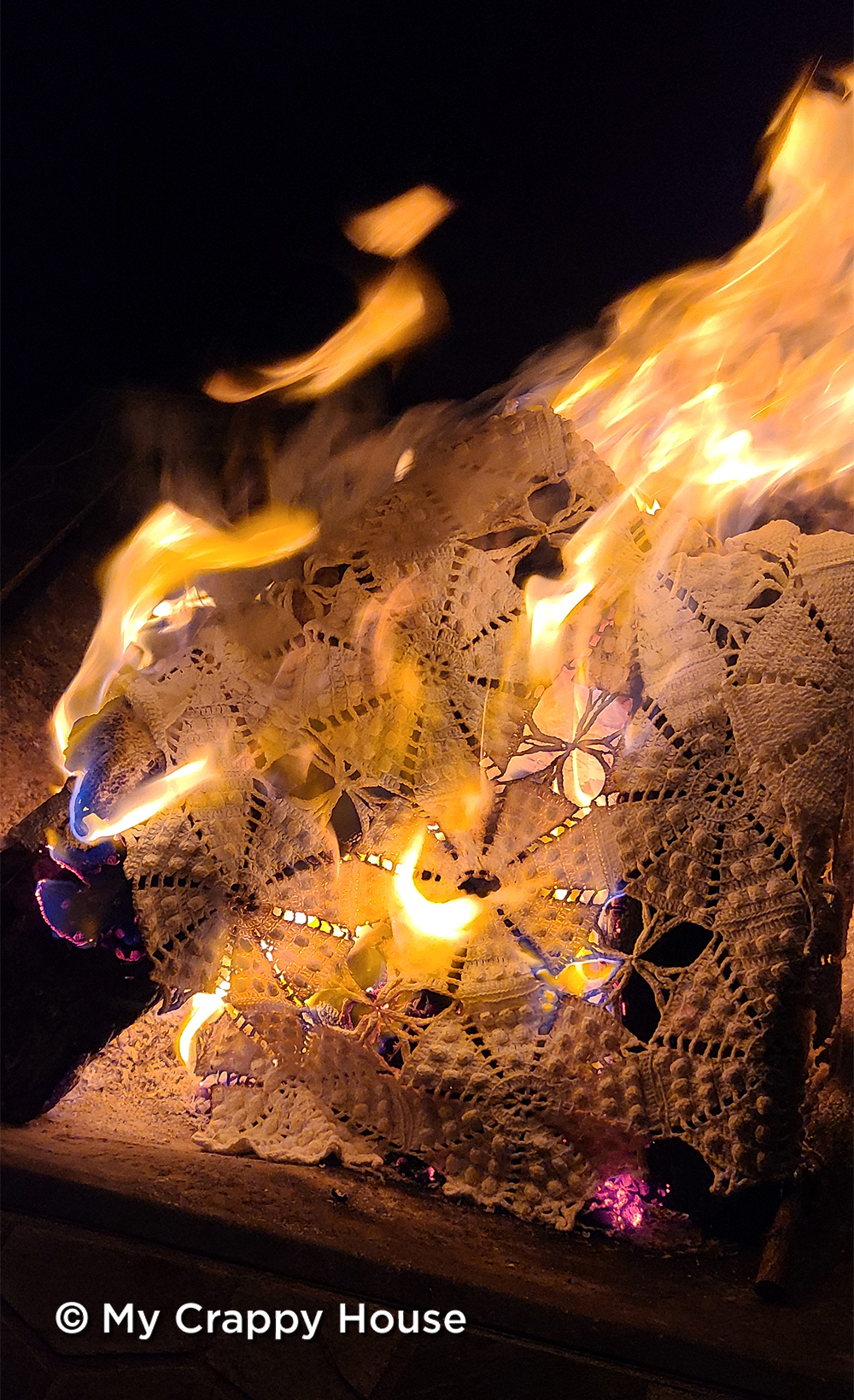 I think the pictures are really beautiful. It was a perfect night and the afghan burned in minutes. I documented as much as I could, including some video.
It would be better if I could have that Sarah McLachlan song playing, but I don't know her and she'd probably be mad if I used her song without permission. Feel free to sing it while watching. You know the words. Here, I'll sing it with you…
In the aaaaaarms oooooof the angel…. Fly awaaaaaaaaaaay from here…
.
I'm working on another little video to show you how I attached grandma's afghan to the linen background for framing because a few of you asked me about that and, as a professional blogger, it's my job to answer you. That's why they pay me the big bucks! (Just kidding. There's no "they" and I make no bucks.) I'll have that up on Instagram shortly, so make sure you follow me. Also, please subscribe and like and share.
Ugh. I'm a "like" whore now.