My Crappy Advice: Add Curb Appeal Without Remodeling

Season 1 | Episode 4
What Color Should I Paint My House?
Welcome to another episode of My Crappy Advice, where I solve your crappy design dilemmas for free. (Seriously. Who even does anything for free anymore? I'm a wonder.) This week, I'm helping a reader virtually transform the exterior of her home. Sure, I'll be changing the color, but I won't be stopping there. Keep reading for advice on how you can add curb appeal without remodeling your home. This transformation is going to shock you! (OK, maybe not shock you, but this is the internet! Where we exaggerate stuff to keep viewers interested!) It's actually a really cool, unusual home. Check it out:
Homeowner, See May, writes:
Dear Crappy,
I have the most hideous color on my house. I'm gonna repaint it but what color? It's a stucco house. Help!
I'm actually really psyched to tackle this one. I think this home has so much potential! It's actually a two unit structure, but See May has converted it to a single family home. While I agree, the color (Pepto Panther Pink?) is very unbecoming, there's a lot more that can be done to increase the curb appeal of this home without any serious remodeling. Color is just the tip of the iceberg. Let's start at the beginning, shall we?
Repairs
Honestly, you can't (well, you can, but you shouldn't) start spiffing up your place until it's in decent shape. For this home, that means fixing the cracks in the facade, the broken window, and the collapsing steps (which are a safety hazard anyway). Photoshop repairs are my specialty…
Yes, that's better. You'll notice I also removed the snow (I hate snow), as well as that extra trim detail that ran along the foundation. Judging by the column to the right of the stairs, that trim was surface applied and could be easily removed. (Not Photoshop easy, but easy.)
With the repairs out of the way, we can move on to the fun stuff.
Color, Contrast & Texture
"Curb appeal" is real estate lingo for how visually attractive your home looks from the street. Whenever you're trying to make something more aesthetically pleasing, you want to keep some basic elements of design in mind; namely color, contrast and texture. (Trust me on this. I went to art school.) When you're thinking about those three design elements, realize that they're all related. You can add contrast using color (dark and light) or texture (rough and smooth, matte and glossy). You can also add texture using color (like a pattern) or contrast (like another material). Let's see how those elements can help add some curb appeal to See May's house.
Paint It
No doubt, changing the color of your home has the potential to make the greatest impact for the least amount of money. Remember how much less crappy my house looked after I painted it? (Click here if you don't remember. It's OK. My memory sucks too.) For See May's home, I chose Jogging Path, by Sherwin Williams, SW 7638.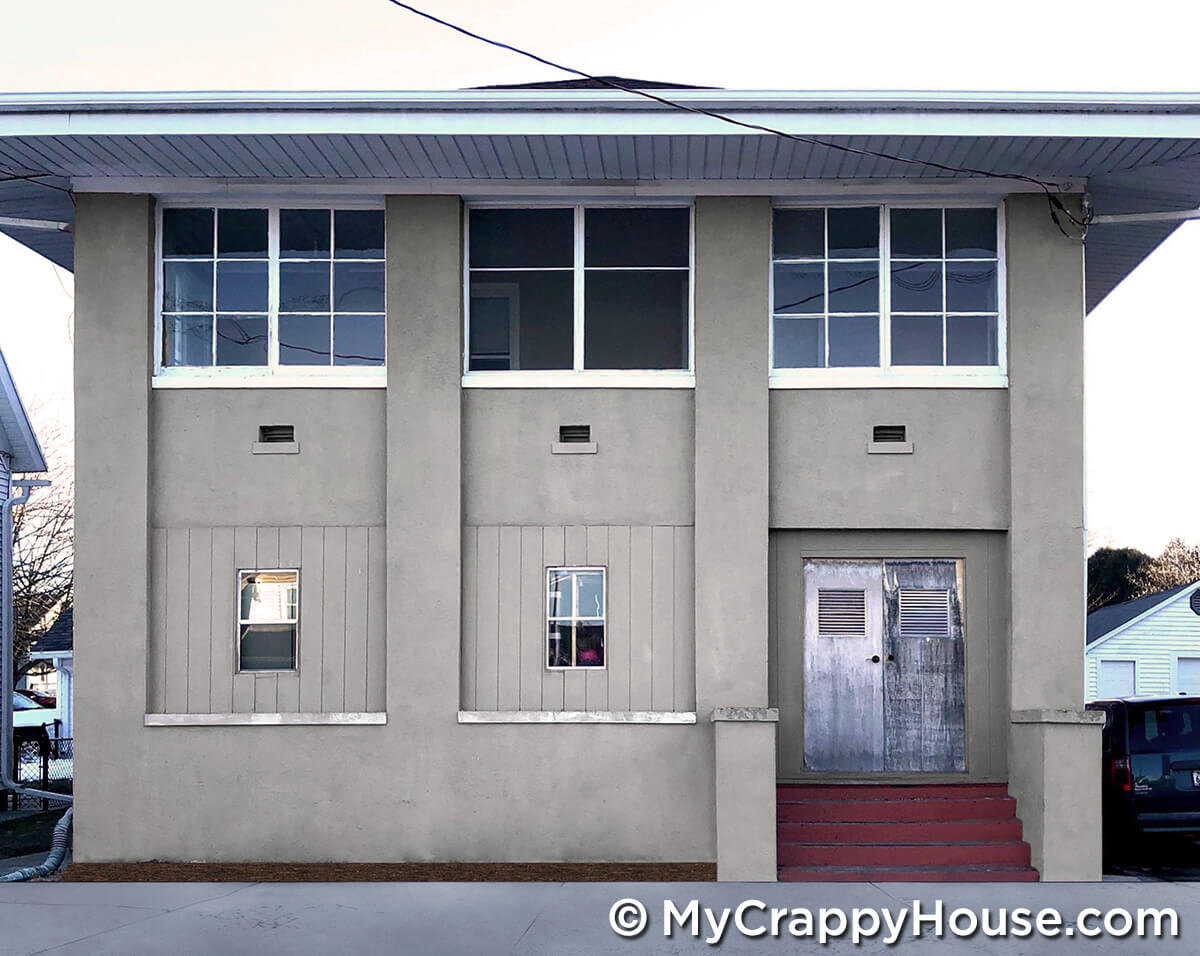 Well, that looks a lot better already.
Add Another Material
The front door of your home is a fantastic place to add a little bit of contrast. Whether you paint it a different color or pick something with a little bit of "wow" factor, use it as an opportunity to add some visual interest to your home. This wood was so pretty, I added more of it to the facade of See May's home. Not only is it a nice color contrast, but the texture of the wood next to the stucco is visually interesting. (Color, contrast, texture, people…)
Update Your Windows
Updating your windows isn't exactly cheap, but it's definitely not as expensive as a remodel and can really increase your home's curb appeal. See May's home has a mish mash of window muntin placement. (I had no idea what a muntin was either. Click that link and learn something.) Sometimes, the muntins are faux, meaning they're just a plastic grid over a full piece of glass, and you can just pop them off. I don't believe this is the case for See May, but I can pop them off for her…
Ah, much better. But, now the white is bothering me…
Paint the Trim
Since this is such an usual home, it doesn't have obvious trim that we can paint, but I consider the frames of the windows to be trim. And, as long as See May is replacing her windows, she might as well get dark framed ones… And paint her soffit to match… (I used Urbane Bronze, by Sherwin Williams, SW 7048.)
Doesn't that look so sophisticated? See how that dark trim contrasts (there's that word again) nicely with the lighter stucco color? I think, maybe, the red steps aren't quite working. (Just kidding. They're awful. Let's fix them.)
There. That ties everything together nicely. We could stop there, but I'm not done yet.
Highlight Architectural Elements
Another way to add visual interest is to highlight architectural elements, either with color or texture. For, you know, contrast. Like this…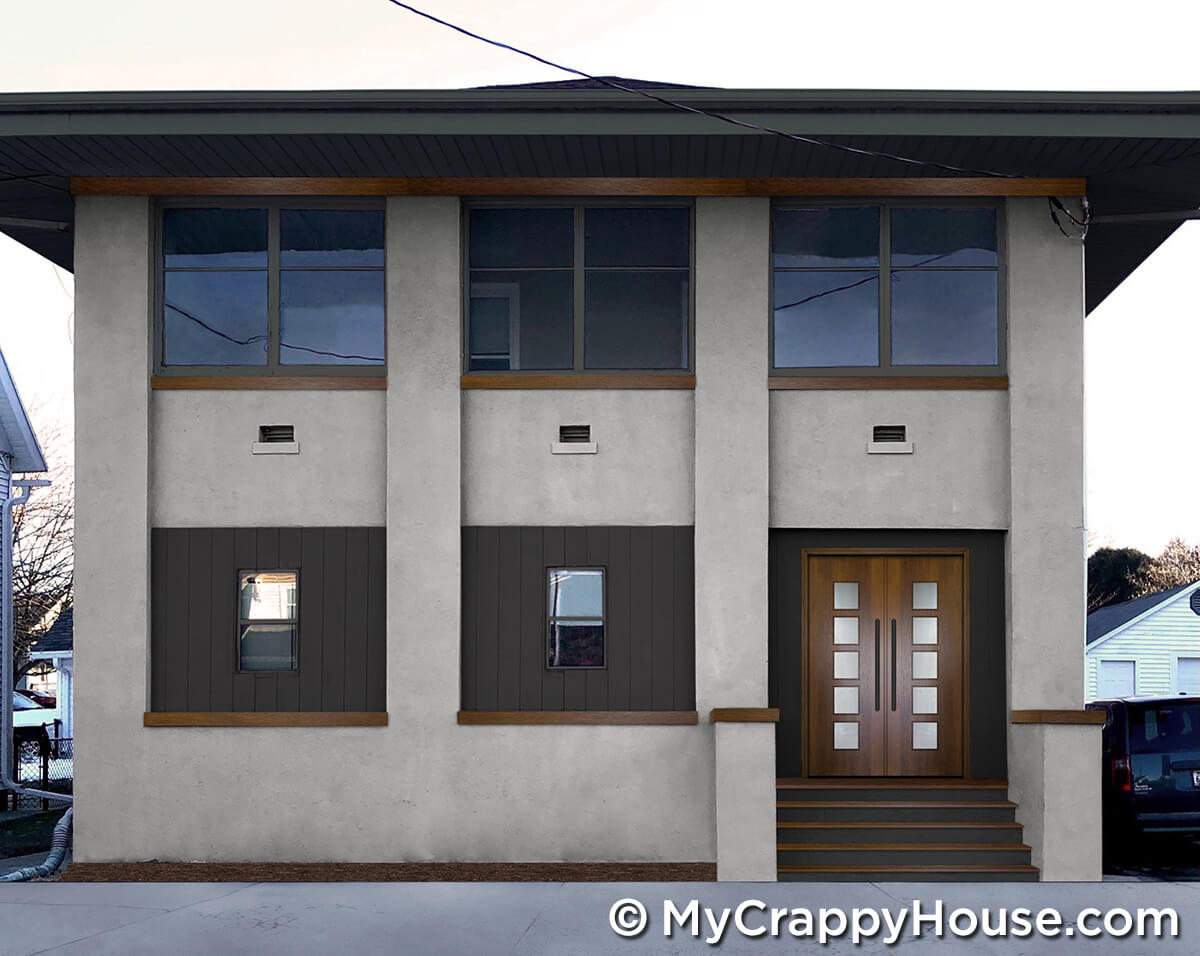 Those recessed areas kind of blended in before, but they really stand out now (metaphorically speaking) in the darker color. Actually, dark colors tend to recede, visually, so painting the recessed areas dark gives this facade even more dimension.
OK, I'm almost done, but we need some foliage.
Add Landscaping
Landscaping can be expensive, but adding a few bushes won't cost a fortune and will make a huge impact. Of course, it helps when your front yard is only two feet deep…
I chose round bushes for… you guessed it: CONTRAST! If you've got a lot of squares, add some circles. Words to live by.
Decorative Details
The last thing I'm going to mention is to add some thoughtful, decorative details. A pretty door knocker. Hanging planters. A welcome mat. A cute mailbox. All of these details are relatively inexpensive, but can add a lot of curb appeal. For See May, I added a couple of window boxes and house numbers to finish off the look.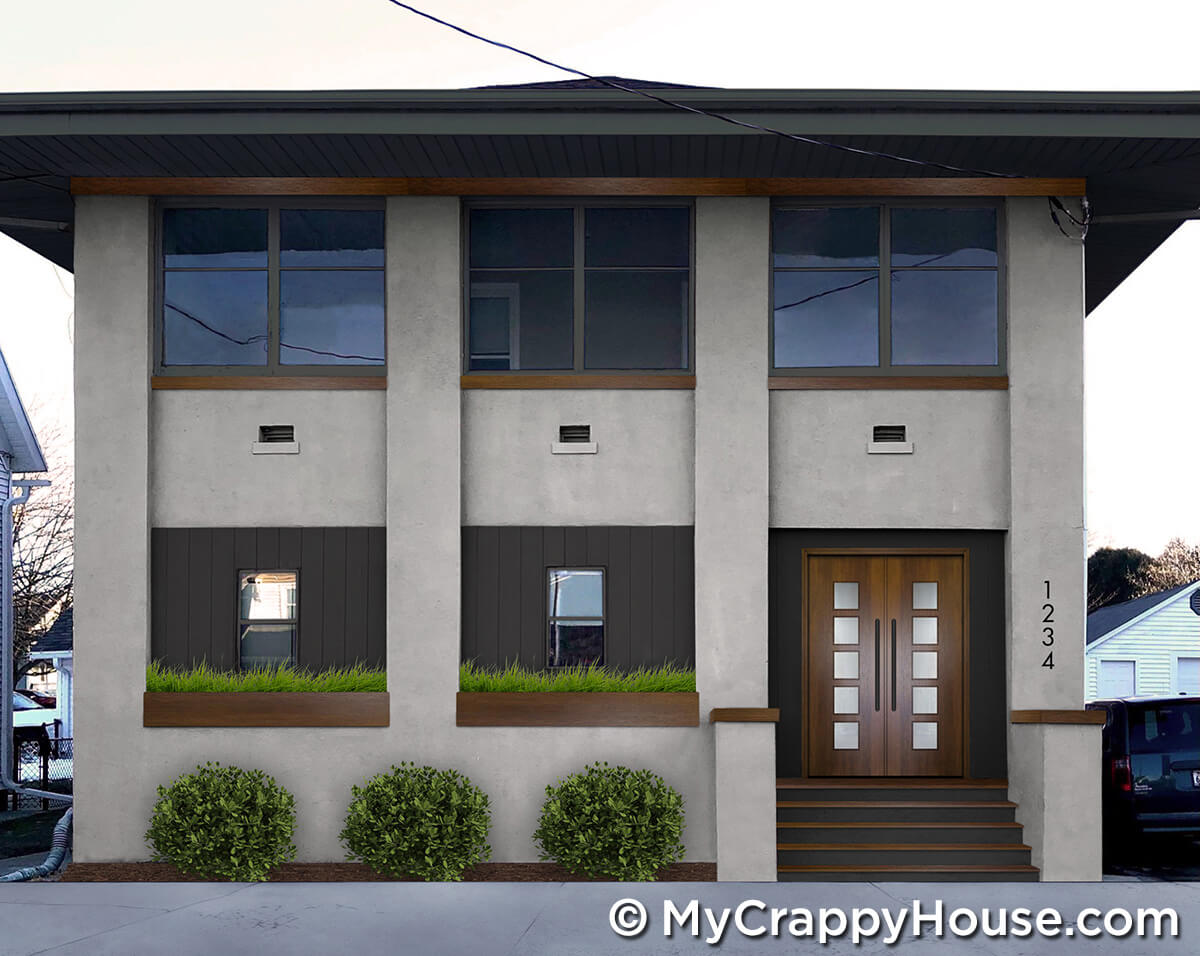 Did you ever think this house could look so good? Check out this fun slidey thing for the before and after: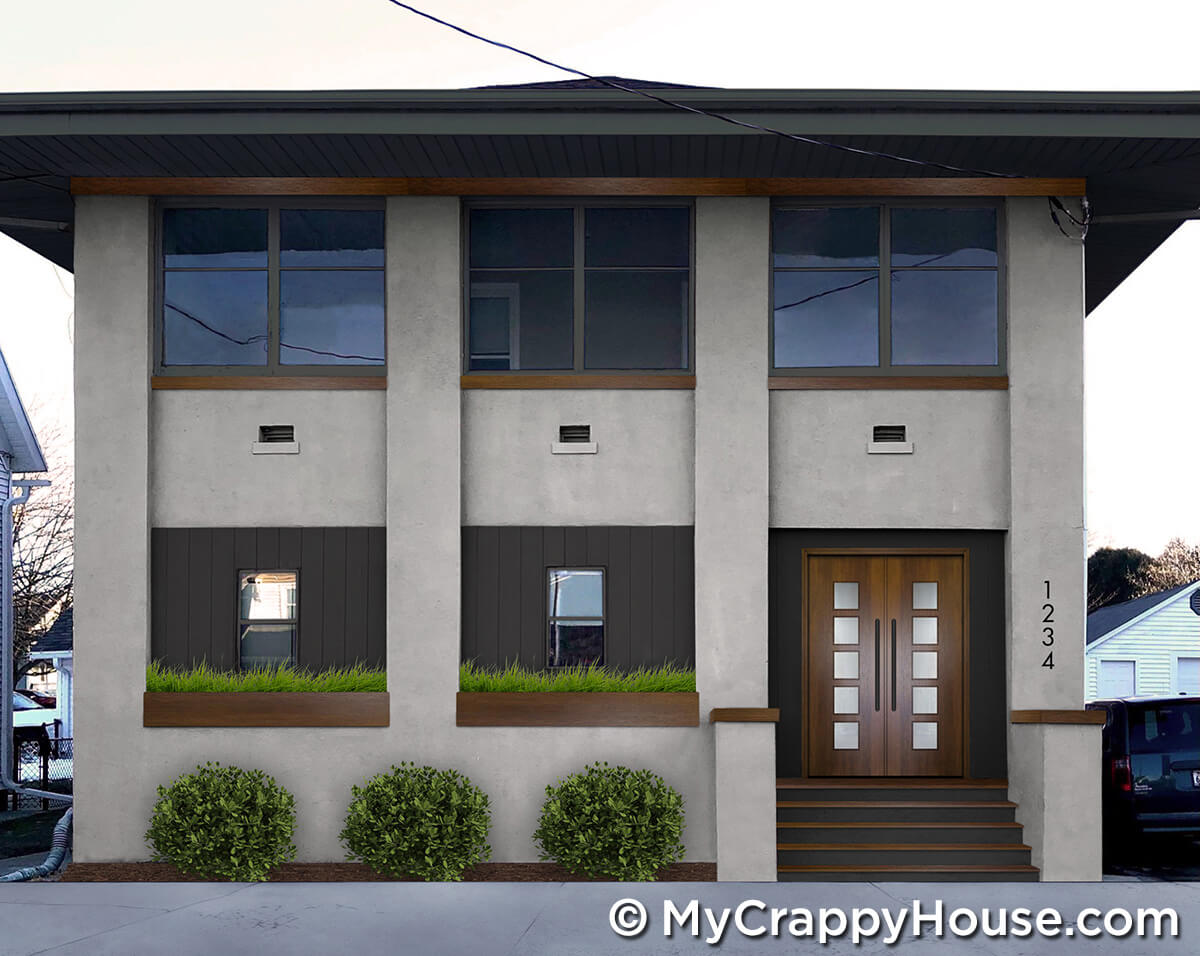 Boom. Curb Appeal Without Remodeling.
So, to recap: You can totally add curb appeal without remodeling your home. Remember: Color! Contrast! Texture! Think about how you can use these elements to create visual interest. Even the crappiest of houses can benefit from some basic sprucing. And, if you're like me, and it'll take more than some basic sprucing ($ I really need a driveway $), you can take comfort in the fact that ugly houses are less likely to be burgled.
Need some crappy design advice? I'm your girl. Just click here to submit your design dilemma and help me help you.
And be sure to check out past episodes… Episode 1  Episode 2  Episode 3