I see posts on design blogs all the time, written by people complaining about their brick wall "eyesores". They're seeking advice on how to remove/cover/disguise their brick. Personally, I think they're nuts and should just replace those brick walls with padded ones. I love brick walls. Beautiful, vintage, NYC loft kind of brick. The kind of brick that looks like it's been around the block a few times. (Metaphorically speaking, of course. Brick walls tend to stay put.) I guess you always want what you don't have because, while those crazy people are taking brick out, I am putting it in. Like, on purpose…
From the moment I stepped into my crappy house, my brain started to rehabilitate it. Oh, this sad, little, crappy house. I knew it could be so much more! I used my mad 3D skills to create some renderings to see how it might look post decrapification. If you're interested, you can see my whole plan in the post, The Plan (I was really thinking outside of the box for that title…), but basically I wanted to go from this:
to this:
What I didn't show you in The Plan was the view from the dining room. This is how it looked before: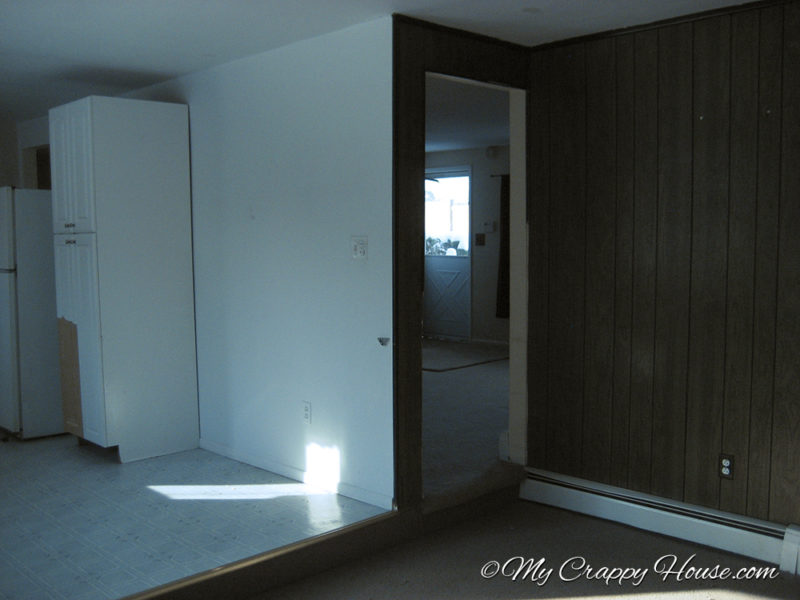 And this is what it will look like…
The renderings look pretty good, right? But don't be fooled. The images are not real and do not represent the actual state my crappy house is in right now. While the basic remodeling is done (see that here), I don't have wood floors (unless you count plywood). Or a kitchen. Or even a railing around the stairs, so I'm basically one trip over the cat away from death or paralysis. (If you're confused about where those stairs came from, you really should check out The Plan…)
Anyway, doesn't that wall look fantastic as brick? I was originally only planning on bricking the wall in the dining room, but I decided to do a rendering with the brick wrapping the corner and going into the living room just to see how that might look…
And I love it! I think it adds so much to the view when you walk in the front door. Another texture to keep things interesting. (So what if it doubles the cost… *sob*)
I've actually already started this project and it's coming out freaking awesome. Here's a sneak peek at the brick I chose:
I will tell you all about it in Brick Love, Part II. Make sure you subscribe (below) so you don't miss the big reveal! It's going to be legen… (wait for it…) dary. Legendary!