Use This Faux Mercury Glass Technique to Make a Vintage Style Mirror
I'm sharing a wedding project with you this week, but if I didn't tell you it was a wedding project, you never would have known. In fact… forget I said anything and please enjoy this exciting, yet generic DIY décor project using a faux mercury glass technique to make a mirror that looks vintage, but totally isn't.
So, remember this ugly thing from my post last week?
I know art is subjective, but… Seriously. Who is hanging this in their house? No, really. I'm asking. Is it you? It's OK if it is. I won't judge you.
(Much.)
I got this thing at The Salvation Army last summer for like eight bucks. Of course, I didn't buy it for the "art". I bought it for the frame…
I knew I could do something pretty with it, so I scooped it up. After talking about how much I love mercury glass a couple of weeks ago (here), I decided to make this into a pretty, vintage-y looking mirror for my wedding crappy house using this DIY faux mercury glass technique.
How to DIY Faux Mercury Glass
First, I picked up a piece of glass at the hardware store to fit my frame.
(Side note: When you text your Schmoopy to ask him to please measure the frame insert for you because you forgot to do it yourself before you left the house, make sure he knows what you mean by "insert" or you'll get dimensions for the frame opening and… well, you'd think it'd be obvious what measurements you need because the mechanics of a picture frame really aren't all that complicated, but it won't be to your Schmoopy. Just continue to love him anyway and know that you're the brains of the relationship.)
Then, I gathered my supplies. You'll need this specific paint: Krylon Looking Glass spray paint. Accept no substitute, for it will not work for this project. You'll also need a spray bottle filled with a 1:1 ratio mix of white vinegar and water (I used a cup of each), and some glass cleaner.
Next, I pulled the staples holding the "art" in the frame. (Wow, that's kind of mean, isn't it. Putting "art" in quotes like that. I mean, someone created that artwork and thought it was good enough to put it in a frame. Their mom was probably proud and stuff. I should respect that. I could go back and edit the quotes out, but then you wouldn't be able to bear witness to my growth as a person.)
Anyway, here's a picture of me pulling out staples.
Through the Looking Glass
OK, let's get to the fun part. After cleaning my glass with Windex, I sprayed my Looking Glass paint onto my correctly sized piece of glass.
Just so you know, the paint goes on the back side of your project. For a flat piece of glass, it doesn't matter at this point, but if you're doing any kind of container, the paint would go on the inside. It's probably a good idea to tape off the outside so the overspray doesn't get onto it.
Apply a thin layer of paint, then immediately spray it with your vinegar and water solution. I kind of sprayed high and let the drops fall onto it.
I'm sure there's a way to mess this part up, but I'm much too talented to have experienced that myself, so I can't really tell you how to avoid it. I'm sorry. (Maybe practice first on that extra piece of glass you have because you trusted your Schmoopy to give you proper measurements.)
I let this dry for a bit, then repeated the process.
Spray a thin layer of paint
Spray some vinegar solution randomly
Let the vinegar solution evaporate
Repeat
Then again. And again. About five or six times. I let the last coat dry overnight.
Making the Frame Pretty
Meanwhile, I worked on the frame and the "art".
(Crap. I did it again. I meant art. No quotes. Still trying to grow over here…)
I sprayed the frame gold with Krylon Metallic paint in Gold Leaf. I did this part in my crappy basement because it was so windy outside, but I don't recommend that. I think I made the cats high.
Then I painted the art black with Dixie Belle chalk paint in Caviar, but any paint you have on hand will work here. It's going to be behind the mirror to help give it that vintage-y look.
Bye, art…
Next, I watered down some of that chalk paint and brushed it onto the frame, then immediately wiped it off, leaving some black in the details. You could probably use any black acrylic paint for this, but again, chalk paint is what I used.
I painted the inside lip black because the faux mercury glass mirror will reflect that little edge back and you'll be able to see it later on. Just trust me.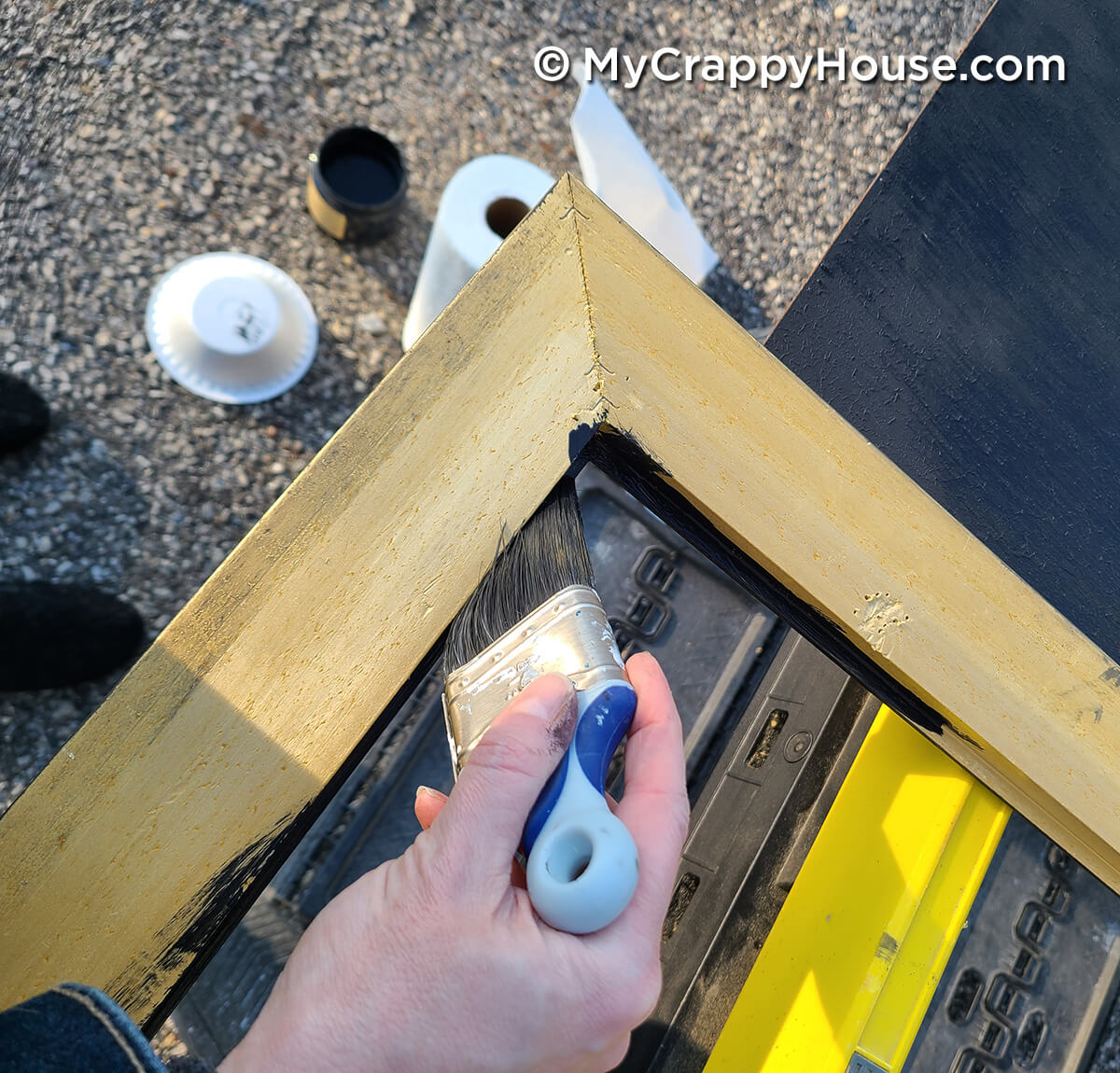 I did go back in with a little more gold spray paint and even let some overspray get onto the black insert. (The insert formerly known as art.)
Putting it All Together
The next day, once everything had a good amount of time to dry, I assembled it all. (Remember, the painted side is the wrong side, so that side (the painted side) will face the inside. No, that's not confusing at all. Read it again.)
I picked up this cool gadget that's used for framing. While it's true I don't do a whole lot of framing (or, any?), I didn't want to mess this project up trying to hammer in teeny nails so I felt $35 bucks wasn't too much to spend. And, hey, you never know what projects will come up in the future. It could come in handy. You don't know.
I also bought these rigid inserts. (I don't know why they call them "inserts". That's confusing, especially considering I'm already using that word for another purpose in this post. Let's call them stabby things.) There's also a flexible kind of stabby thing, which will allow you to bend them so you can swap out pictures in the frame, but I got the rigid ones because I have no intention of ever removing this mirror.
This tool works for multiple kinds of stabby things, but I now have 384 rigid ones, so I probably won't need to buy anymore for, like, ever. In fact, I now have enough for all of us. Let me know if you'd like any for your framing project needs. I'll mail you some.
Then watch me get arrested for sending tiny weapons through the US mail…
Anyway, it was really easy to use. Please enjoy this little gif I made for you.
I bought brown craft paper at the dollar store to glue to the back and I plan to add hanging hardware, but I didn't get to it before this post was go for launch. You guys don't really need to see that though, right? Just close your eyes and imagine a brown, paper rectangle with a picture hanging wire screwed into it. We can pretend it's all done. Thanks for pitching in.
A Beautiful Vintage Style Mirror
Anyway, here's the (practically) finished mirror, photographed in various locations around my crappy house. (None of which are Instagram worthy, but whatever. I'm really real.)
The cats seemed very drawn to it. I didn't ask them to pose.
I want to show you how cool it is up close, but the camera won't focus on the mirror. It wants to focus on what's in the mirror. This was the best I could do.
I guess you'll just have to take my word for how cool it looks.
Here's one last picture taken outside. I thought maybe our stray cats would want to be in this one, but they must not be attention whores like Egor and Zero…
Guys, I'm kind of shocked at how much this paint really does look like a mirror. I could've done more coats, but I wanted the black to show through a bit for that antique look. There's a lot of room to make this faux mercury glass project your own. (Or really mess it up, but, again, that never happens to me. I'm an excellent DIYer.)
I bet this would look really cool as wedding décor. Probably. I don't know. What wedding?
*This post contains affiliate links