Happy Anniversary to Me!*
Three years ago today I closed on my crappy house. My, how time flies! I thought I'd write a post to chronicle just how far I've come since the day I signed my name 47 times and relinquished all of my money in exchange for a set of keys. (Stalling? Who said anything about stalling? This is not just a filler post to keep you interested while I get my ass in gear to make some actual progress on my crappy house. At all.)
Please join me on this trip down memory lane. (Memories… light the corners of my mind… misty water-colored memories…) Remember this?
Ew! (Spell check is warning me that 'ew' not a word, but in my world, it's a very prominent one. Can you believe that 'bootylicious' is in the Oxford Dictionary, but 'ew' is not? And now I'm off topic…) So, anyway, as I was saying, ew. In my haste to make immediate improvements to my crappy house, I neglected to take decent before pictures. I know, right? If some smarty ever invents time travel, I promise I'll go back to my May, 2011 self and tell her about this awesome blog of ours and how I need her to pick up a freaking camera for like 5 minutes.
These pics are grabbed from a video I took on the day after closing. (You can watch the director's cut of that masterpiece here.) This was the day I showed up with my hammer and pry bar prepared to kick some drywall ass. Here's a picture of the aftermath of day 1.
I had two months from closing til move in day. Enough time to completely gut my house, but not quite enough time to put it all back together. I lived with open walls for the first year and a half…
Here's a super fun project I never shared with you. Someday, I will be installing kitchen cabinets and a microwave on the wall that is shared with the bathroom. (You can see that wall in the photo above on the right.) The medicine cabinet and plumbing vent stack are both in the way. I'm a little bit psycho, so I mapped out that wall with a photo collage and meticulously measured drawing…
There aren't enough studs where I need them to be, so I installed a ¾" plywood overlay (by myself, of course) on that whole wall the day before installing drywall. I literally carried the plywood sheets in on my back. (This job is how I knew installing a subfloor by myself would be a colossal bitch. And it so was.)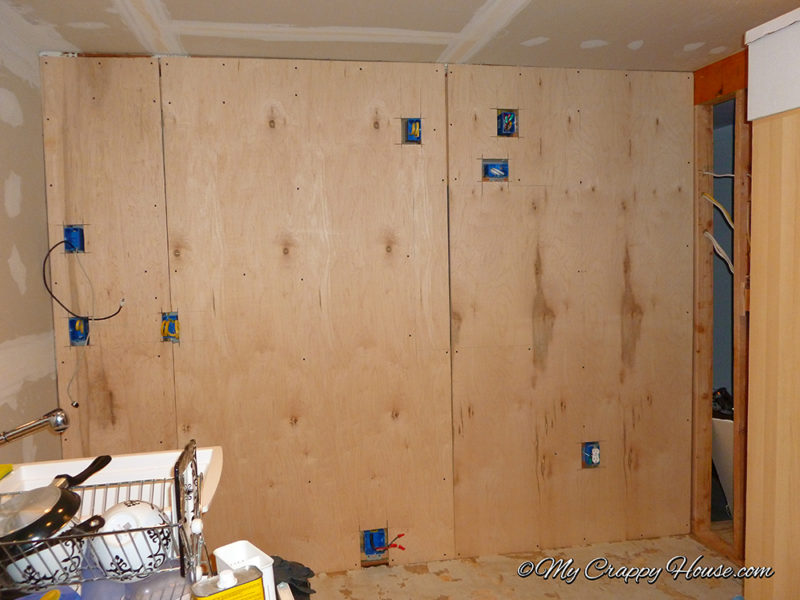 Now, when I am able to afford a kitchen in 2018, the installation should be easier. In theory…
Here's how things looked after installing drywall and the subfloor…
It almost looks like that right now, only with pretty crown molding added. And also, there's even more crap in my dining room that has spilled over into my kitchen.
A trip down memory lane would not be complete without my two favorite (completed!) rooms. There's my pretty dressing room…
And my sexy bathroom. Remember how ugly it used to look?
Actually, it doesn't look so bad from this angle. I'm trying to use pictures you've never seen before, but this one doesn't do the old bath justice. I've got to bust out this one:
There we go. That brings back memories of grossness. I can almost smell it… Of course you know how it looks now, but I just love to show it off. Please indulge me, if you will…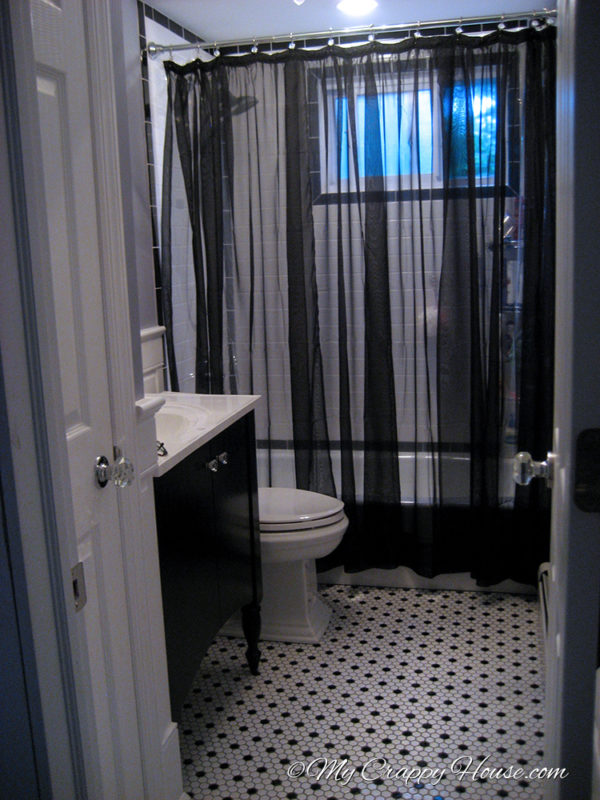 There have been lots of other improvements in these past 3 years; a new roof, new front steps, my Egor's bay window, my home office (still in progress), some tree removal, my beautiful brick wall and even a new mailbox…
I wish I had a picture of the old mailbox. (I use that term 'mailbox" loosely. The mailman was almost better off throwing the mail on the ground.) I'll get you one if that time machine thing works out.
Hallmark says that the traditional 3rd anniversary gift is leather, while the modern gift is glass or crystal. I guess those are OK, but I'm really looking forward to next year when the modern gift is appliances! I need a stove and a dishwasher and a microwave and a TV… (yuh huh, that's an appliance!) I can't wait!
Please subscribe and like and share and Tweet and Pin and all that nonsense. I'm on a quest for popularity.
*Also, Happy Anniversary to my mom and dad, married for… well, a lot of years. Don't you worry about how many…