Before and After Crappy House Tour
Happy Blothday to Me!
On October 3, 2013, my blog was born. It's my blog's 7th birthday! Can you believe it? My, how time flies… In this post, we'll take a tour of My Crappy House with some shocking before and after photos to celebrate seven years of blogging.
Also on October 3, in 19-BLEEEEEP, I was born. Here's a picture of me to celebrate. Guys! It's my Blothday!
Yep, that's really me. I've heard there's not much left for an unborn baby to do in the last month but to pack on the pounds. I guess I really enjoyed my mom's accommodations (accommommadations?) because I tried to add an extra month to my stay. You know, late checkout. So, on the day I was born, I was already three weeks old and needed a haircut. I weighed ten pounds and twelve ounces.
Sorry, Mommy.
But enough about me. It's blog day! Let's look at some crappy before and afters, shall we?
This is the famous (not really) before picture of My Crappy House.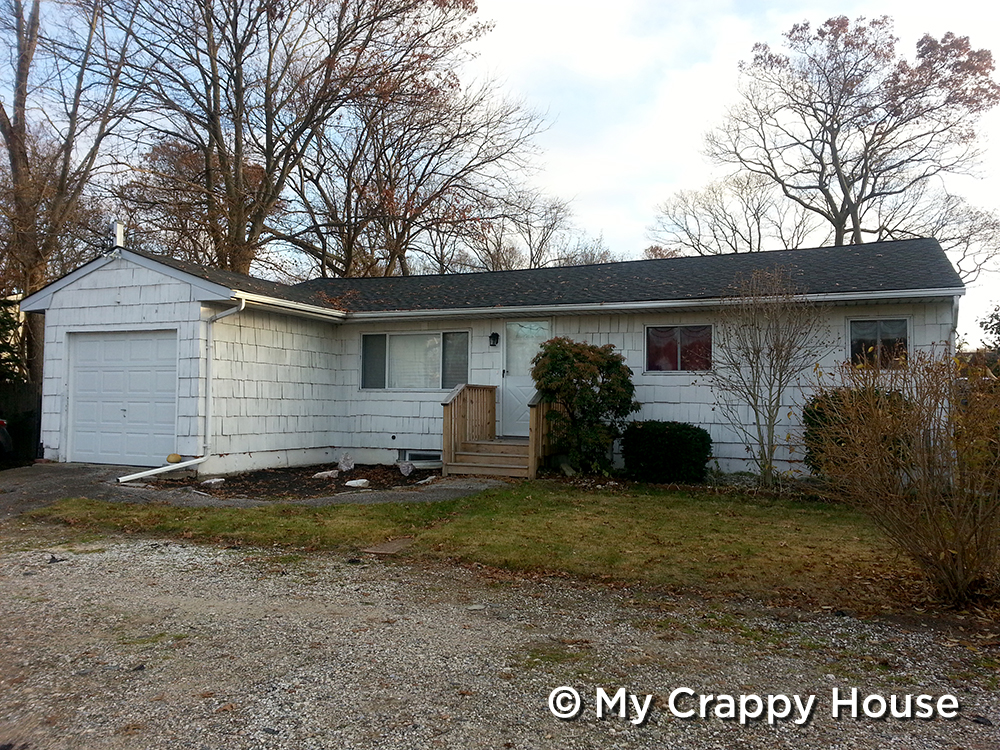 It's the one I always use, but it's not the actual before. This is.
Yikes.
Guys, this house was crappy. I still have a long way to go with the landscaping, but the house looks soooo much better now with the new roof, paint, trim and bay window. (I put those links there so you could relive (or discover, if you're new here) the journey. You're welcome.)
Let's go inside.
My living room is finally looking lived in, which is what you want in a living room, (it's right there in the name…) but that wasn't always the case. Here's what it looked like before…
This does not look lived in. This is the room where they find the body. (Eeeshk. Glad I renovated!) Here it is now…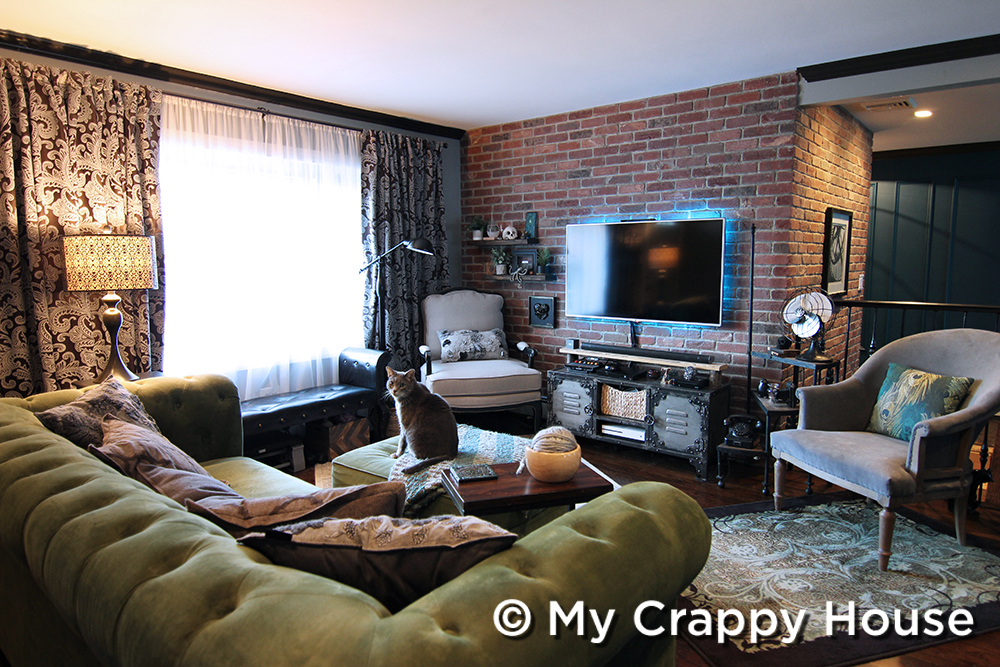 Man, I love before and afters! And I really love my living room!
Moving on with our tour, let's turn around and look behind us. You may remember that, in addition to all of the renovating, I also did a little bit of remodeling (i.e., structural changes) in My Crappy House. There used to be a wall blocking the view of my kitchen…
Mercifully! I'd hide behind a wall too if I was this ugly.
Not only was it ugly, but it was filthy. I decided I'd rather have no kitchen at all than this one, so I ripped it out. Here's how I lived for five years…
I regret nothing. At least this setup was clean(ish) and it functioned well enough. I bought my house in 2011. It only took me until 2016 to save up enough money for my pretty kitchen. The only thing left to do in here is to address the window treatment on the left. It's on my list…
The tour continues. Stay with the group, please.
This was the dining room. What an eyesore, with its 70s paneling and smelly commercial carpet. It was a pleasure to gut this room. (No, not really. Demo sucks.) This room was also affected by the remodel. If you need a visual, click here for a floor plan, but basically, the wall on the left (the one with the door to the garage) was removed…
…and rebuilt on the other side of basement stairs, incorporating them into the house. Yep, my stairs used to be in the garage. Weird, right? No door or anything. Just open stairs. This is a picture (taken from inside the garage) of the wall that would be removed. You can see the dining room through the doorway, although it looks like a storage room. That's because, at that point in time, it identified as a storage room.
In the picture below (taken from the living room) you can see the dining room hiding in the back (probably ashamed, like the kitchen) and the walls that would eventually be removed to expose the stairs and kitchen.
And here's an after picture from a similar angle with those walls gone. This picture isn't quite current, but I can't take a new picture for you right now on account of my being gross. (My dining room table is barely visible underneath a ton of crap.) The room still looks just like this though, except my piano lives in here now, along with one other cabinet. I promise I'll show you eventually. (My crap is very nomadic. It'll migrate to another room at some point.)
The renovated bathroom looks basically the same as it has for years, but I'm going to include it here anyway, just in case you've never seen it. (Plus, it's one of my most favorite transformations.) Pink tub, yellow walls, blue curtain… clearly, this bathroom was designed by someone who hates eyes to be a powerful weapon against them.
This is mostly what it looks like now. I did make a few changes to accommodate Schmoopy when he moved in with me, but they're not in this picture. Look for that in a not-too-distant future post.
So, what's left? My dressing room has changed a bit since you last saw it (again to make room for Schmoo), but I'm planning a post on that as well so I'm not going to include it here. You just saw my office a few weeks ago when I showed you how gross I am. That just leaves the master bedroom; the one room that I have literally not done anything in since I first moved here. (Well, I mean, I do stuff in there. Just not… Well, you know.) Perhaps renovating the master will be my winter project. It's about time I DIY'd in my bedroom!
Yeah, I heard it.
You might have noticed I'm a couple of days early with my weekly post. That's because I wanted this post to be on my actual Blothday, not two days after. Please don't panic when you don't see a new post this Monday. I promise I haven't fallen off the blog wagon. I'll be back to my regularly scheduled blogramming next week. And, hey! If you feel like celebrating my Blothday, I could really use some likes and shares and pins. They won't even cost you anything.
Not for nothing, but this picture looks totally pinnable… I'm just sayin…
***Time travel links! The future is now. Click to read about the changes I made in my bathroom and dressing room to accommodate Schmoopy when he moved in.