How to Clean a Room When You're Gross
Cleaning Advice From a Certified Slob
Well, who can believe this? Who do I even think I am, trying to give you tips on cleaning? You guys know I'm a slob. (Remember my office?) While it's true that I am totally gross, cleaning a room and keeping a room clean are two very different things. I know I'm the last person you would ever expect to get this advice from, but I actually do know how to clean a room really well. I've got a method… And, this week, I'm sharing that method with you. You're welcome.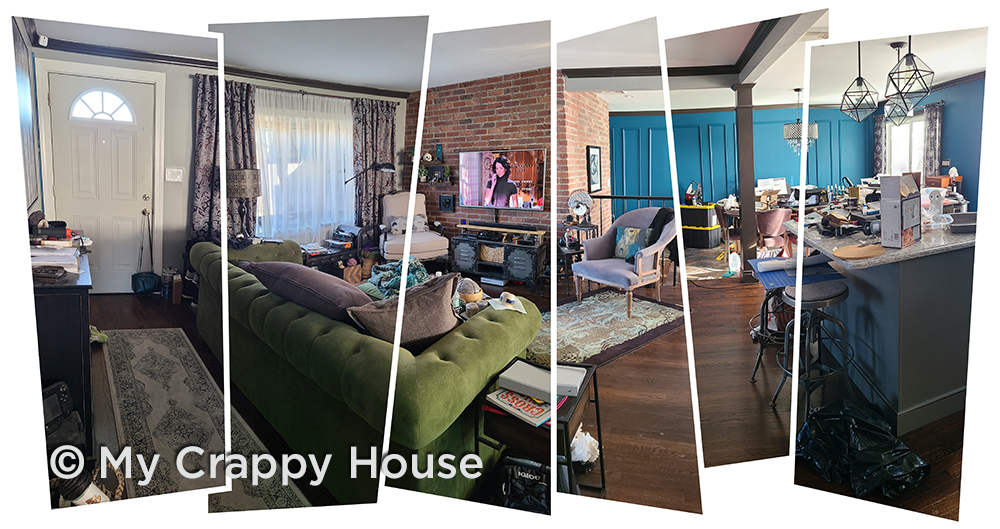 The picture above shows a typical mess at my crappy house. I rarely show you my mess because… well… it's embarrassing. Usually, I creatively crop my photos so you don't see my mess, but this time, I creatively collaged my photos so my mess looks super cute.
Jaunty, even.
When I was a kid, I read a book called, What to Do When Your Mom or Dad Says Clean Your Room. I actually already knew what to do when mom says clean your room (you freaking clean your room or she cleans it for you and your Huey Lewis and the News cassette ends up in the trash next to your rubber Madonna bracelets and your back issues of Teen Beat…), but I wasn't so clear on the "how to do it" part. My mom never taught me how to clean! (Clearly, this is all her fault…) That book had a perfect method for cleaning a room that I still use to this day, in my grown-up house, when it starts to look like this:
How to Clean Your Room Before Mom Flips Out
Here's the method from the book (that was written for kids…): You make your bed, then you put every single thing that isn't where it belongs onto that freshly made bed. Then you can dust and vacuum and, hey! The rest of the room looks great now! Except for the bed. That's a mess. So, one by one, you take items from the bed and put them away. There's built-in incentive to finish in one day. Unless you want to sleep on your (freshly vacuumed!) floor, you really have to commit to the process.
I have literally cleaned this way ever since I read that book at thirteen years old and it freaking works! For that unsightly wreckage above, I used my kitchen island as my "bed" and I piled everything on it that was out of place.
When I was finished, my living room looked like this:
Creatively cropped to omit this, of course…
And my kitchen was super clean:
But only up close…
My dining room table hadn't been seen in ages!
Just don't look to the right…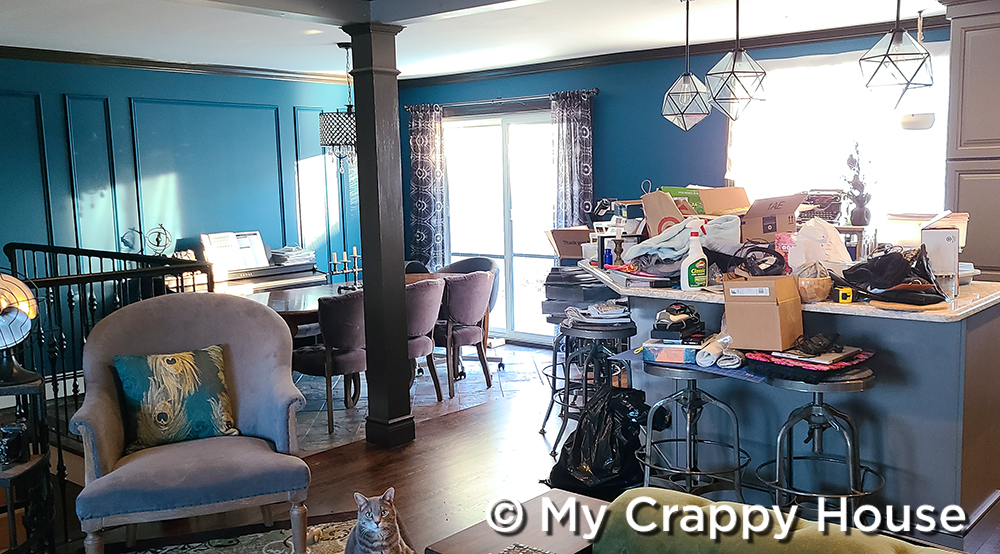 Honestly, the task does become less overwhelming when it's condensed into one spot like this. It took me about a day to clear the island of my crap, but I did it!
Here. Have a look around… (It's one of those 360° photos, so you can drag the image around and explore.)
Amazing, right? I know.
Some of my crap had homes and had just lost their way getting back to them (because I was too lazy to provide transportation), but other things were homeless and needed a permanent place to live. I was like a real estate agent for transient crap. Negotiating new crap homes during a housing shortage is difficult, and I made zero commission, so is it really any wonder why I procrastinated the job for so long?
So, that's how I clean a room. Keeping it clean is where I crash and burn. This is what my (formerly) nice, clean office looks like now:
And this is why you never see my bedroom:
(Well, one of the reasons. Clearly, this room needs a lot of work. It's next on my list…)
Unless I can get a handle on the "keeping it clean" part, I'm doomed to live in a perpetual state of disarray.
But I have hope! A kind soul, who took pity on me and my plight, recommended I read the book, 'Decluttering at the Speed of Life', by Dana K. White.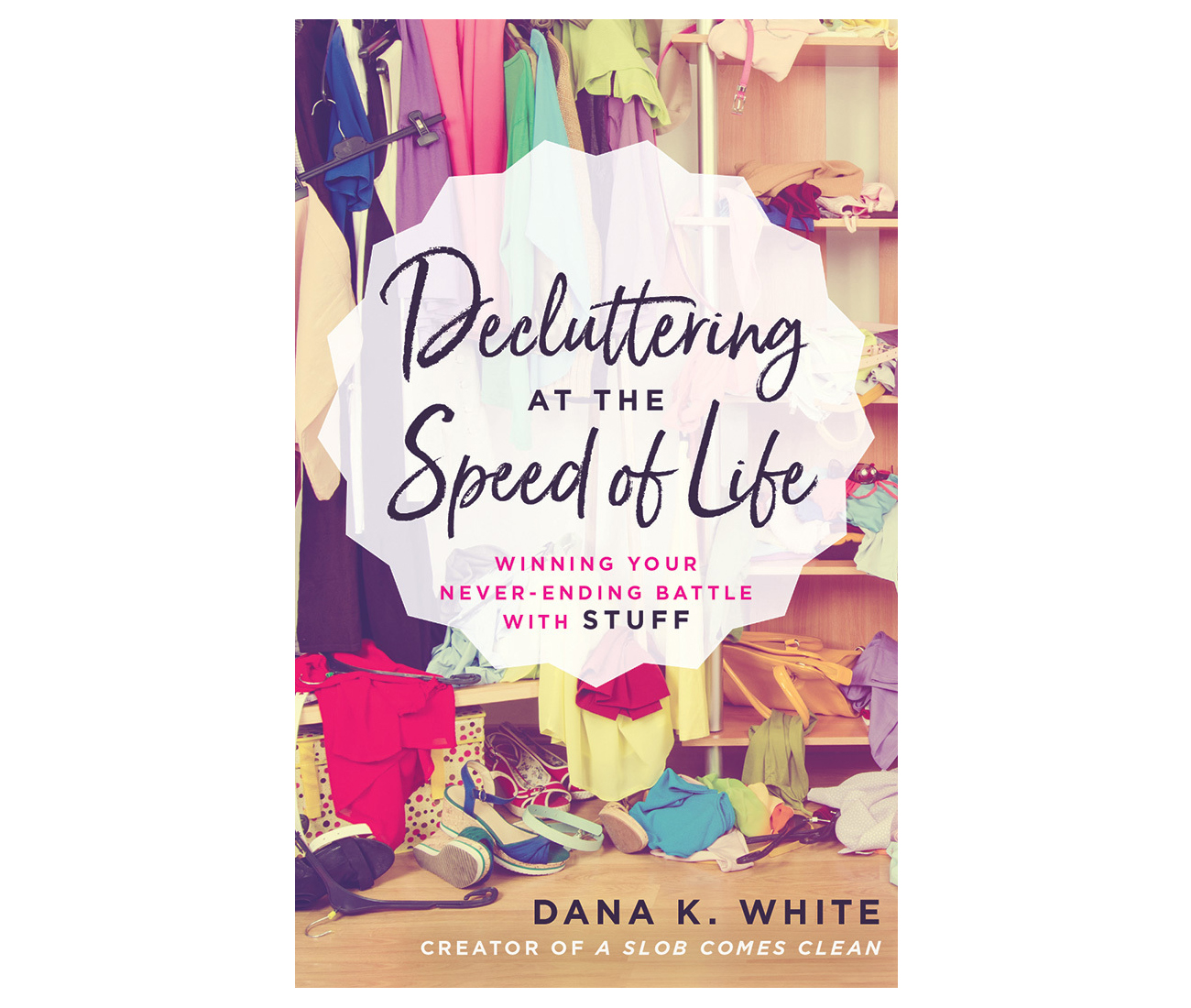 I've read many books on organization, but they've all been stupid. Marie Freaking Kondo is not my people. I haven't finished it yet, but this book seems to be much more my speed. (The speed of life!) It's really helping me to understand my packrat ways and how to address this very unflattering side of myself, and the author has a funny, down to earth writing style that I'm really digging. Kind of like a certain witty blogger that we all know and love…
(Oh, come on. You know who I mean…)
So, maybe 2021 is the year that my house stops identifying as an obstacle course o'crap. I'll probably gain weight because navigating the course is my main source of exercise, but I'm willing to sacrifice my health for a clean home. I'm hard core. You guys know.
If I find success with this latest self-help book, I will be sure to let you guys know in a future post. Subscribe below so you don't miss it.
Princess Spackle says, "Help me, Dana K. White. You're my only hope…"
*This post contains affiliate links.