The Case of the Smelly Dishwasher
My Dishwasher Stinks
In the five years I've had my dishwasher, I've never cleaned the inside. I mean, it's self cleaning, right? It gets washed with, like, every single use. So, I never really gave it much thought until it started to smell. Apparently, you're supposed to clean the inside of your dishwasher once in a while. (I should've known. Self cleaning ovens are a big fat lie too.)
So, wtf was causing my dishwasher to smell? To the naked eye, it looked squeaky clean, but something must be causing that odor… It was a mystery, I tell you. (One that could have easily been solved by consulting the user manual, but what fun would that be?) Keep reading to follow my investigation: The Case of the Smelly Dishwasher. (Spoiler alert: I cracked this case wide open and my dishwasher now smells like a freaking meadow.)
Similar Dishwasher Magnet
Meet My Dishwasher
My dishwasher is only 18 inches wide. When I designed my kitchen five years ago, I sacrificed having a full sized (24 inch) dishwasher in order to have a pantry. (This window prevented me from having both.) Since I lived by myself, I didn't mind a smaller dishwasher in exchange for more storage space. You would think that smaller would mean less expensive, but… does it?
18 inch dishwashers are RIDICULOUSLY over priced and there's only a handful of models to choose from. After buying (and returning… long story…) three (!) other dishwashers, I ended up with this über expensive Bosch. Guys, I spent over a thousand dollars for eighteen inches of German engineering. Do you blame me for thinking this thing should clean itself?
My First Lead
After five years with my Bosch (which, incidentally, I love), it started to get stinky and our dishes weren't getting as clean as they used to, so I decided to launch this investigation. My first order of business was to run a wash cycle and empty the dishwasher. I then removed the bottom rack and took a look around inside the tub. Here's what I observed:
A cursory examination revealed a mysterious plastic cap towards the rear of the dishwasher. My first lead! It was too dark to get a visual, so I dispatched the camera on my mobile device to get a closer look.
Hmm. A series of strange letter groupings embossed on the cap… Some sort of code, perhaps? Or… no, wait! I spotted a word I recognized… "Salt."
A clue!
Salt. Why salt? Curious, I did a little digging on the interwebs and discovered that some dishwashers have a water softening system built in and special dishwasher salt keeps it functioning properly. Who knew? Armed with this new information, and my keen deductive reasoning skills, I concluded that all of the letter groupings on the cap were likely words that mean "salt" in other languages.
Indubitably.
I had a hunch this lead was a dead end, but I had to know for sure. I removed the cap to take a look.
As I suspected; super clean in there. This was not the culprit.
My Second Lead
I replaced the cap and turned my attention towards the front of the dishwasher tub, where this round, plastic port, resembling a drain hole, caught my eye. My second lead…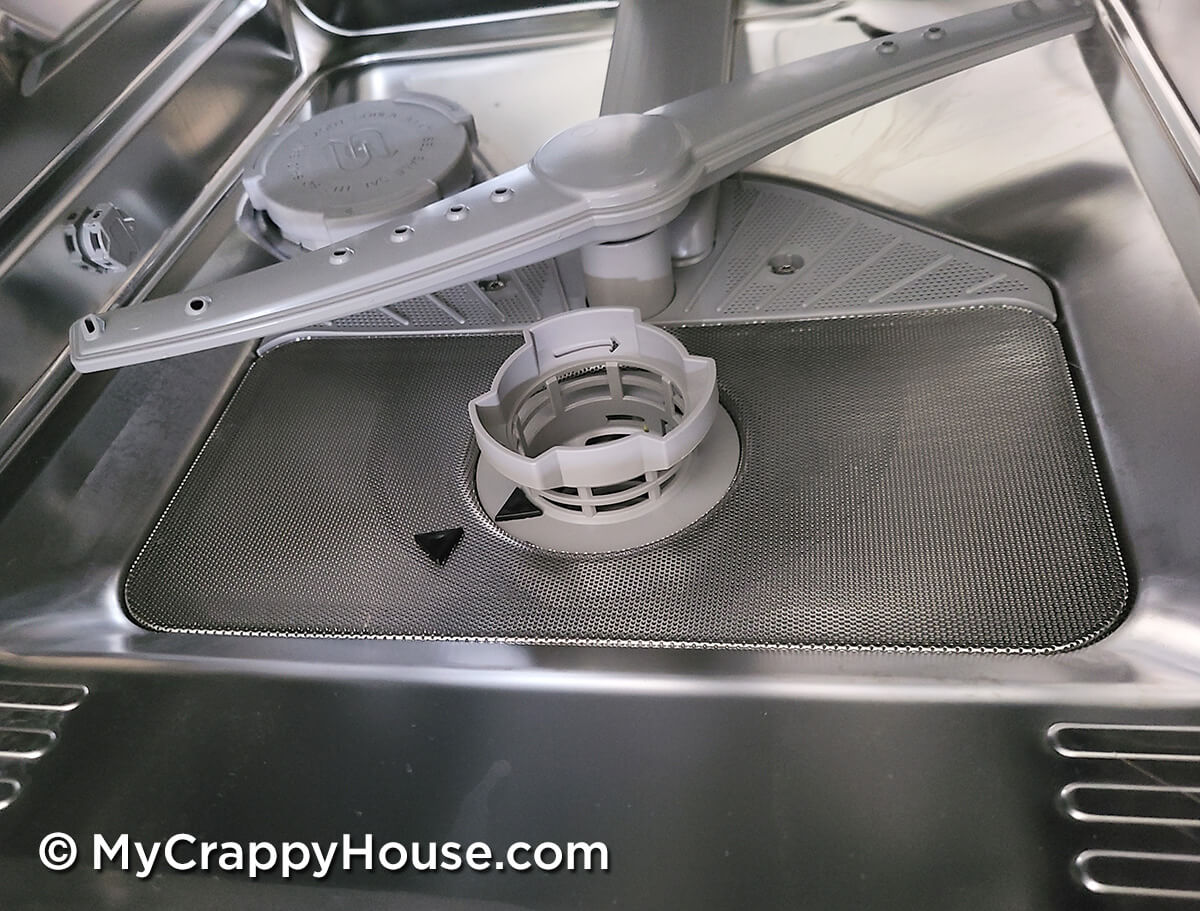 The arrow, pointing to the right, suggested the piece was moveable, but, in my experience, righty is almost always tighty… On a hunch, I turned it lefty loosey and…
I was right! (It was left.) Anyway, the thing came off with minimal effort.
*The following images may be disturbing to some readers. Viewer discretion is advised.*
Removing this assembly exposed the remains of food particles, accumulated over five years of neglect. This discovery was the break in the case I was hoping for.
The component itself was quite gruesome, covered in the remnants of decomposed consumables. I quickly identified this as the dishwasher filter assembly (which the user manual would confirm, if we were consulting the manual, which we are not.) This component became my number one suspect.
Mostly, because it was smelly.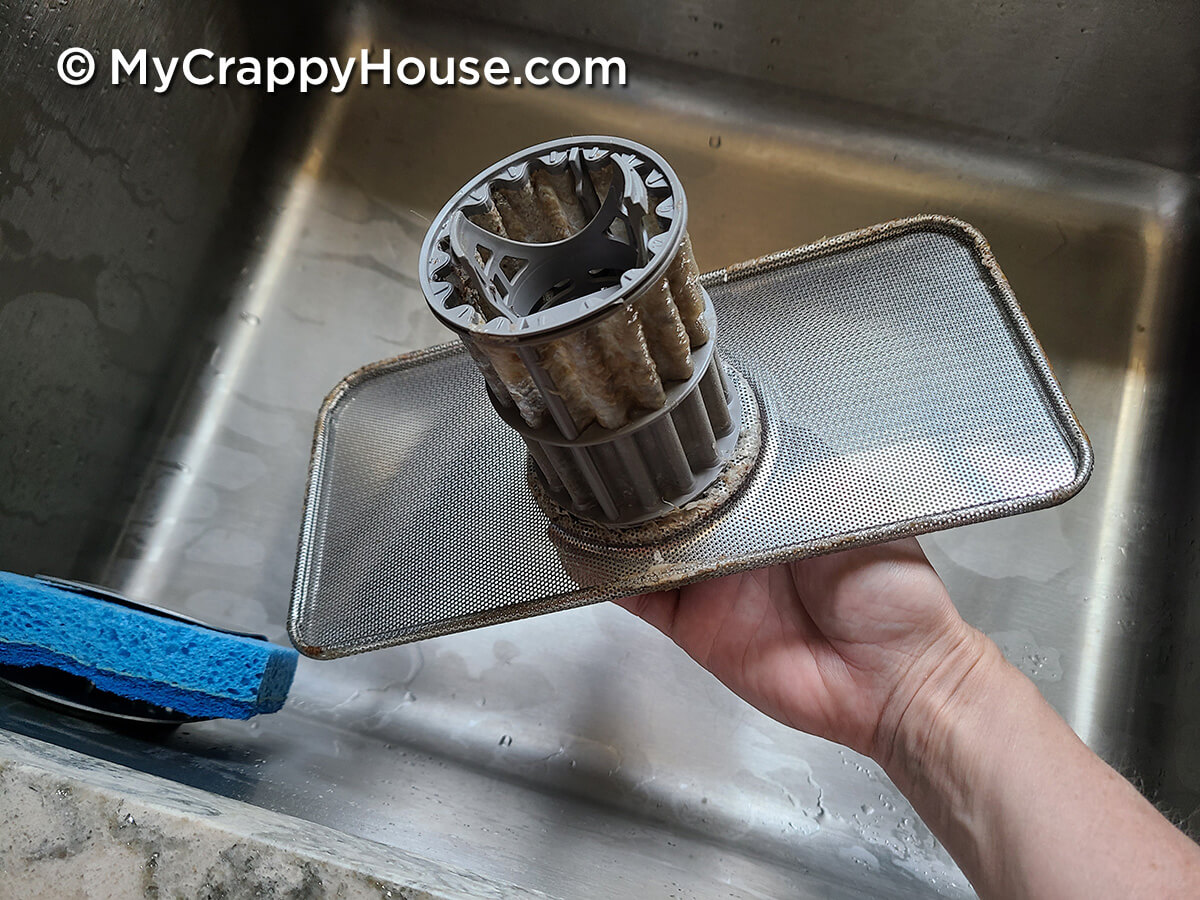 Sponge Holder
Fortunately, rehabilitation was easy. I removed the filter and rinsed off the screen and plastic thingamabob.
Next, I carefully rinsed the filter itself. I could tell the mesh was very delicate, so I made sure to proceed with caution.
Before reassembly, I scrubbed the scene. I wiped down the filter housing, as well as the hinges and crevices of the dishwasher door.
Reinstalling the filter assembly was easy. Righty tighty…
Making sure the triangles lined up with each other…
At this point, I had solved The Case of the Smelly Dishwasher, but I still had to tie up loose ends…
The Loose Ends
Once I disassembled, cleaned, then reassembled the dishwasher's grody parts, I needed to freshen up the parts that were harder to reach. I filled a glass bowl with white vinegar and placed it securely in my dishwasher's top rack. I then ran my dishwasher on its hottest cycle. (Warning: If you do this, don't use detergent, as the chemicals could mix with the vinegar and create something dangerous. Because, science.)
I'm sure that would've been enough, but I know me; I won't be cleaning my dishwasher again for an embarrassingly long time. I wanted to get it extra clean, so I ran a second hot cycle, this time with baking soda sprinkled into the bottom of the tub.
Not just clean. Über clean.
My dishwasher is no longer smelly, so I'm officially closing this investigation.
The Case of the Smelly Dishwasher: Solved!
Similar Dishwasher Magnet | Cascade Detergent
My dishwasher now smells as fresh as unicorn breath and our dishes are, once again, über clean. Thanks, Germany. You really know how to make a kick ass dishwasher. Case closed!
*This post contains affiliate links