Ironically, my bathroom was the first room in my house to stop being crappy. (Get it? Bathroom…? Crappy…? Oh, never mind.) It was fully renovated before I moved in and it didn't cost me anything. I know! What??
I bought my house with the help of the Long Island Housing Partnership (or LIHP), a not-for-profit organization that aims to help young professionals afford to own their own homes on this criminally expensive Island called Long. I met with a counselor and qualified for a great program involving my (former) employer that helped me buy my house and get a grant for renovations. Sweet!
With my grant money, I was able to have some much needed improvements done on my crappy house that I could never have afforded to do otherwise; the most significant being a Brand. New. Bathroom. Here's when it was the epitome of crappy: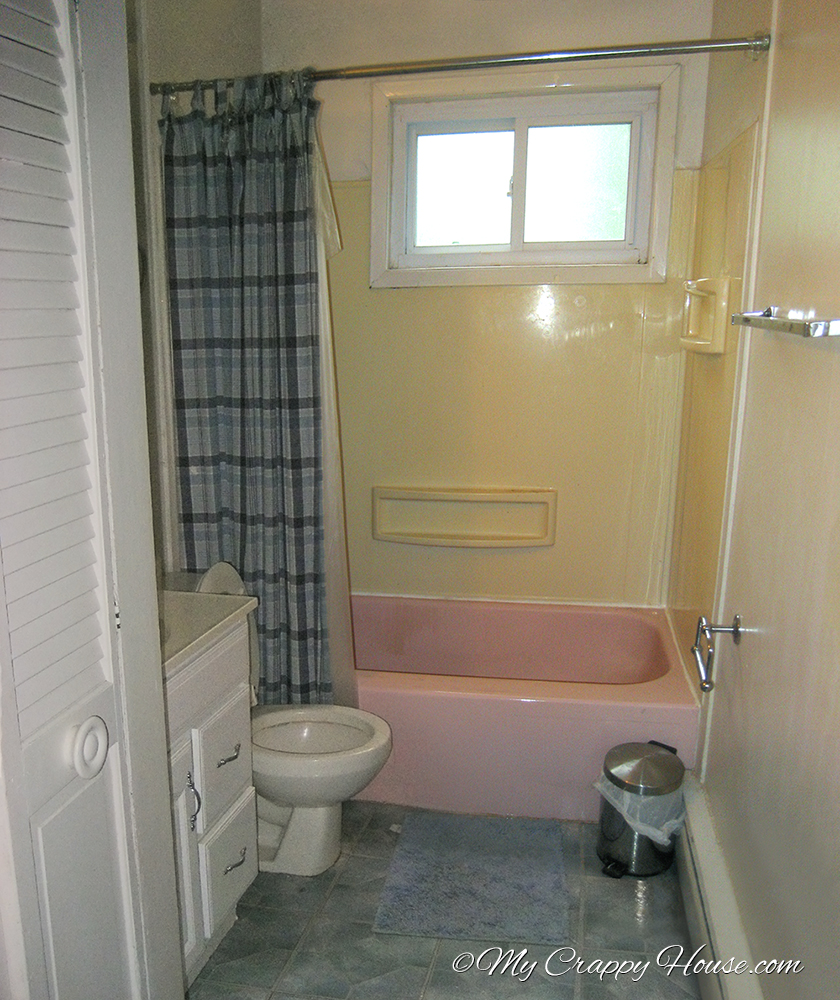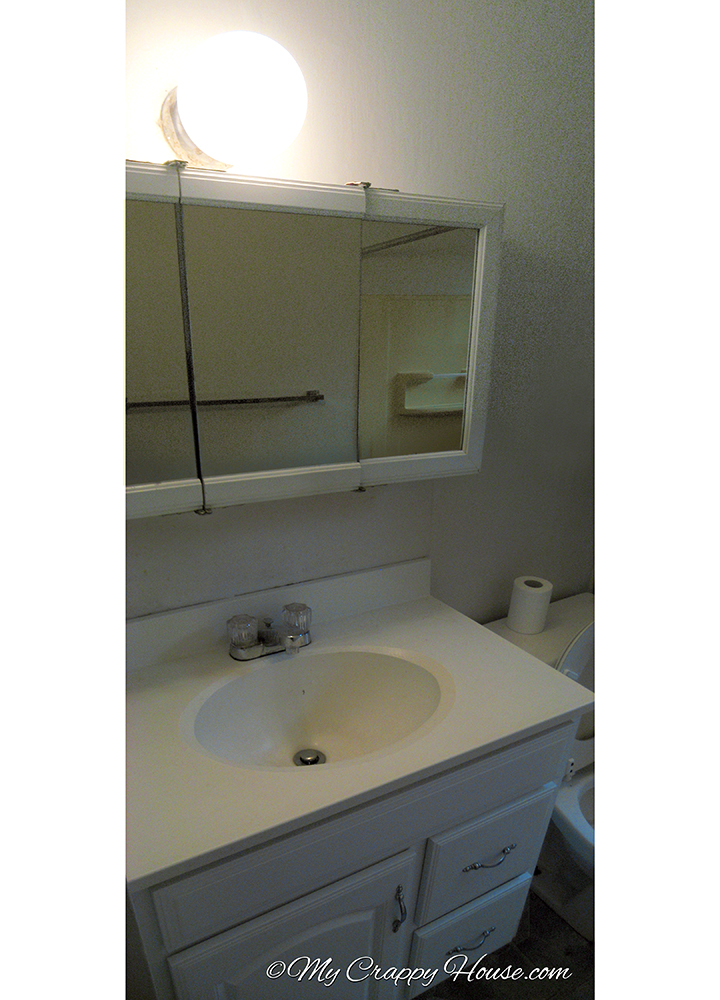 I don't think it had been acquainted with cleaning supplies for some time. It did not smell like fresh meadow… Also, it's impossible to see in the photos, but that's paint over wallpaper on those walls. Makes sense. A person who is too lazy to clean their bathroom is definitely a person that is too lazy to strip wallpaper.
I was able to design every aspect of my bathroom myself, from crown molding to hex tiles, but a stipulation of getting the grant money was that an approved contractor would do the work. I'm a control freak. If I can't do it myself, I'm gonna make damned sure whoever does it does it right. (Because, you know, I have tons of experience remodeling bathrooms…) My contractor thought I was crazy when I gave him this 3D rendering, but I needed to make sure he shared my vision. (He just loved working with me…)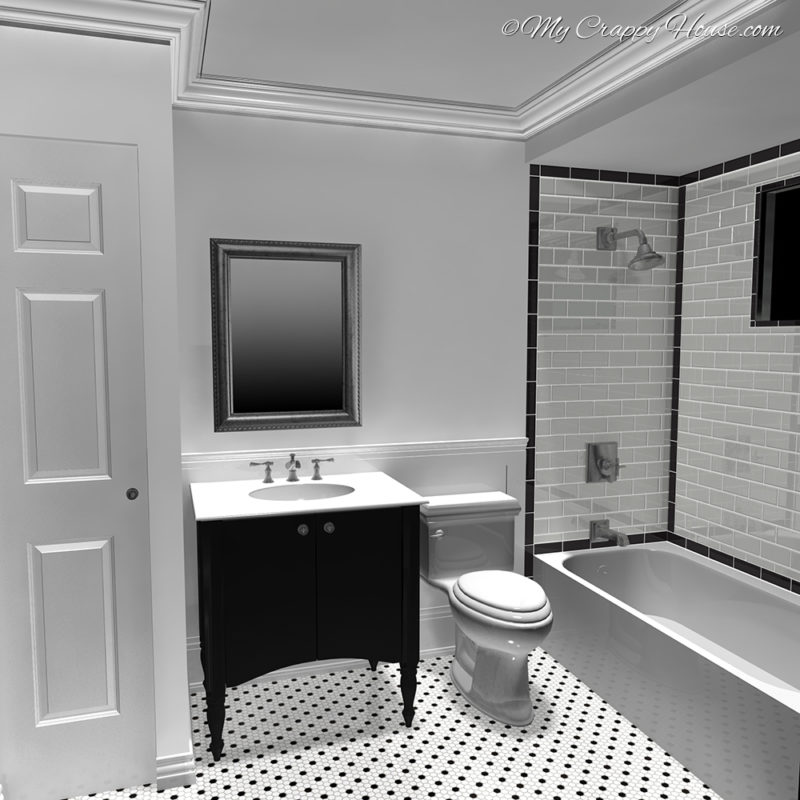 Please enjoy this independent film I made. It's the story of an ugly bathroom that grows up to be a beautiful… um… bathroom.
I know. My movie is missing a toilet. I do have one, of course. I never thought I would have an opinion on a toilet design, but doesn't this one look perfect?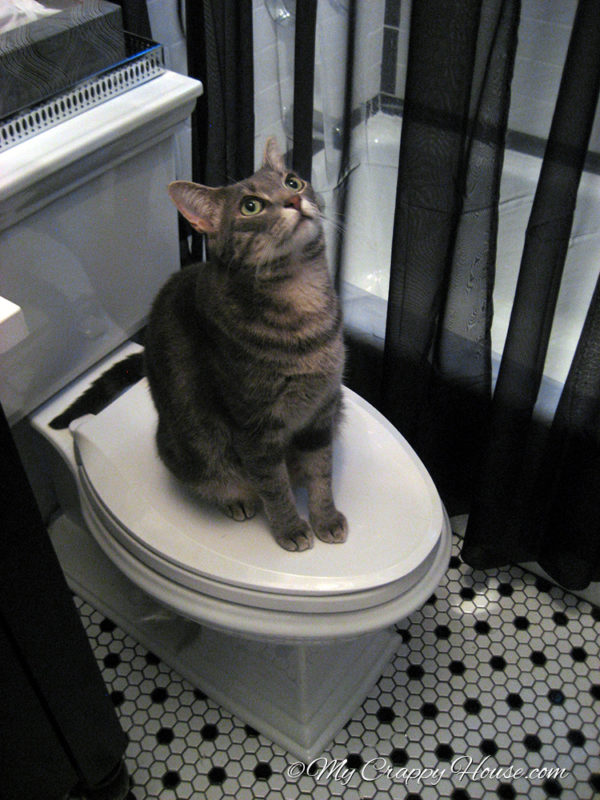 My contractor tried to tell me the one that I chose (this one) was too big and went ahead and installed a smaller, generic one. Unacceptable! I made him change it. I always get what I want. (Seriously. He loved working with me…)
Here's how it all turned out. If you ask me, my contractor should have been happy I freed him from builder grade bathroom monotony…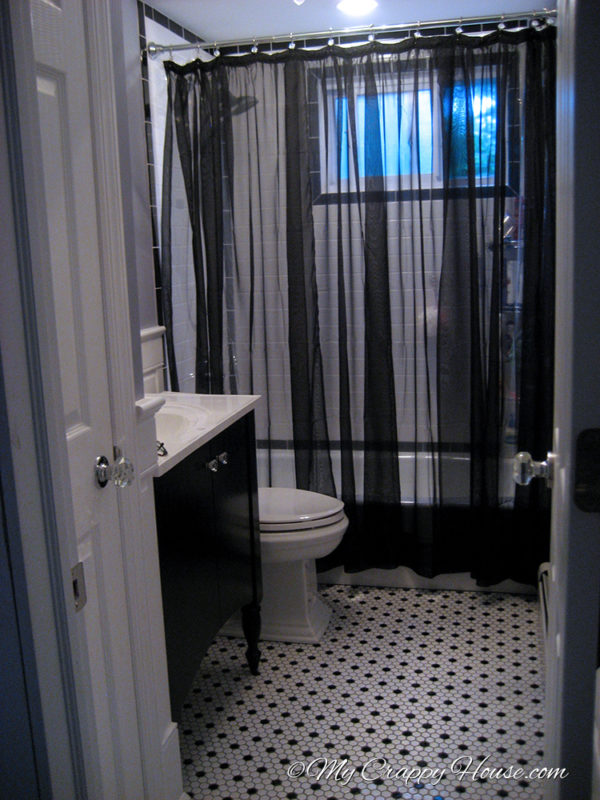 I made this shower curtain myself. I wanted something sexy like lingerie that would still show off the tile in the tub area.
Who says you can't put a chandelier in the bathroom? Well, my contractor did, actually, but what does he know? I made him install it anyway. (Did I mention he loved working with me?)
Ahh, my sexy bathroom! Sure, it's a little bit girly, but I'm a girl, so… whatever. I answer to no one! Not even a know-it-all contractor…
(Who loved working with me, by the way…)
I made a terrible tutorial that barely teaches you to make your very own sexy shower curtain. See that here, as well as a few more bathroom pics…