No, not the big pile of dishes in my mom's breakfront. The COUNTRY!
OK, yeah, I know it's been, like, forEVer since I've posted anything and this is supposed to be a blog about My Crappy House, but everybody deserves a vacation, amirite? And… HELLO! CHINA! How can I not share this with you?
In the spring of 2017, I spent two whole weeks with my family in Shanghai and Beijing and it was the trip of a lifetime. I took over 1,000 pictures! It's been a challenge to distill those down to a manageable number to share with you guys, so naturally, it's taken me over a year and a half to write this post. Because, if you're me, you procrastinate. It's what you do.
I'm making all of these photos clickable so you can see them larger. It'll be like you were there.
That's Shanghai, where we began our trip. It was a beautiful, clean city. This is where my sister in law was born. (Somewhere in the city. Not on this street.)
So, a couple of things I noticed about China right away:
The first thing is, surprisingly, the food tastes exactly the same as it does in the United States! KFC tastes like KFC. Pizza Hut tastes like Pizza Hut. McDonald's tastes like… well, you get it. And hey, they even had one of these:
Oh, thank heaven.
Since I have the palate of a four year old, I mostly stuck with the fast food I'm familiar with, but I did legit try some Chinese food. (That's just a tofu noodle, but I also tried ox tail and something called stinky tofu that smelled like dead socks, but tasted like dead socks.)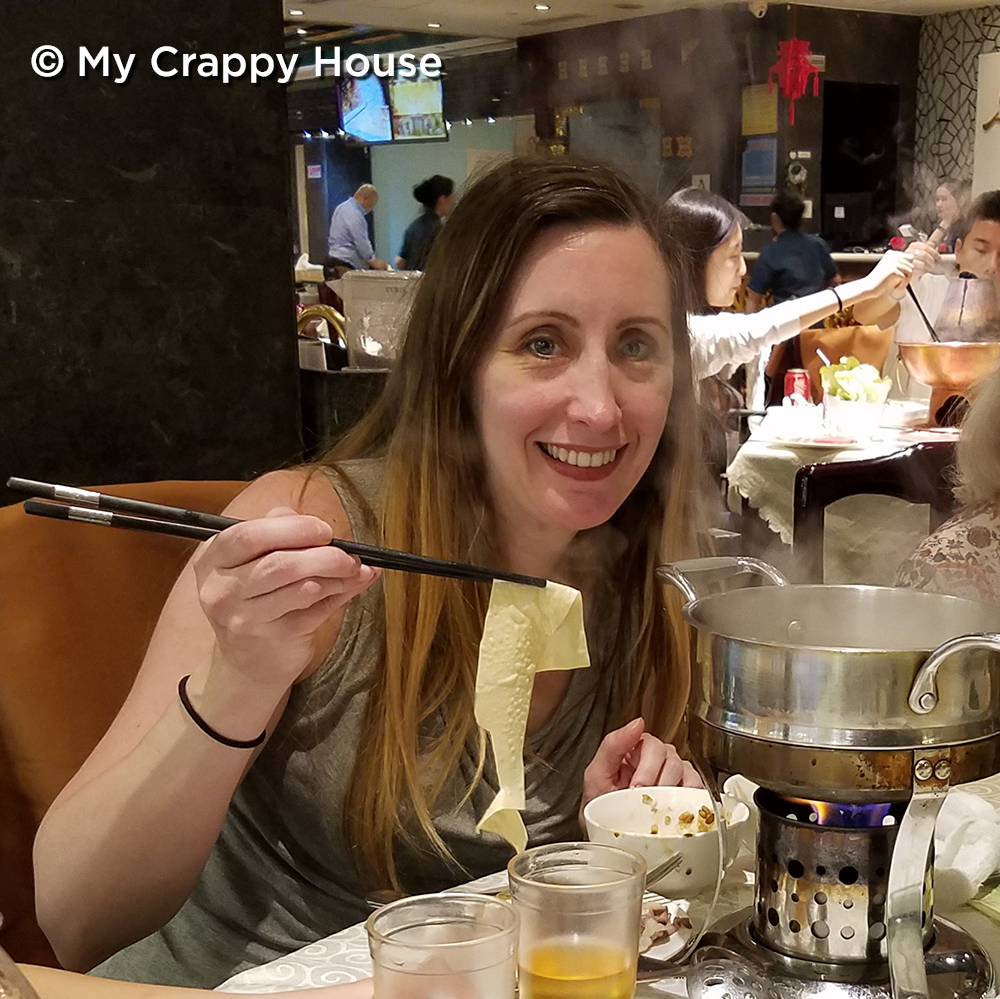 And I survived! (whew) But I sure looked terrible doing it. I blame the steam. And bad lighting. And jet lag. And big government.
The second thing I noticed is how obvious it is to the natives that you're from a foreign land. It's not like the U.S. where all nationalities are represented. The people in China are overwhelmingly… well, Chinese. Visually, we were were totally "one of these things is not like the others…" That's probably why I ended up in the circus. I was totally profiled. Let's all laugh at the foreign, little, white girl… ha ha ha
My mom got tons of attention too, what with her white hair and Irish coloring. Not bad attention. Just curious attention. We were like zoo animals.
Here's me and mom in a rickshaw about to ride through "Old Town" on our first day in Beijing. I don't know if that's the actual name of the town or just one of many "old towns" in Beijing. I suspect the latter.
After that ride, I was feeling really bad for the residents. The poverty was very apparent. Or was it… Our tour guide told us that those people are sitting on little gold mines. Each square meter is worth something like 70k US dollars. What?? So they're not poor at all. Just crazy.
Here's mom and I in Jingshan Park with a view of the Forbidden City behind us. From the name, you'd think you couldn't go in there, but we totally did.
Here are a few more pictures from in and around Beijing…
Yes, that was The Great Wall. Good eye!
Back in Shanghai, we visited some really beautiful gardens. The Chinese people totally know how to landscape.
You just want to be sure to cherish the green grass, as it ripples easily.
One of my favorite pretty places was Tongli, AKA "Water Town". It reminded me of Venice. It's a beautiful place to get married.
Or hold a floating business meeting.
Or, my personal preference, walk around and take pictures of pretty things.
Besides all of the pretty in China (there was so much more than I can show you here), there's an unbelievable amount of history. Centuries of history everywhere you look. We visited many palaces and temples in both Beijing and Shanghai. Among them was Jing'an Temple (kinda sounds like it's written).
I liked this one because of this Pagoda. You're supposed to throw coins to try to get one inside and, if you do, your wish will allegedly come true. I did, and I did, and it did! A word of advice, though. If you decide to travel here to make a wish, wear a hat. Coins falling from the sky hurt like a mofo.
OMG there was so much more! But if I don't wrap this up, you're never getting this post, so the last thing I'll share with you is Chenghuang Miao Temple (you're on your own with the first word, but the second one sounds like "meow").
This is actually a kind of shopping "mall" where there are tons of trinkets to buy as well as local artisans selling their talent.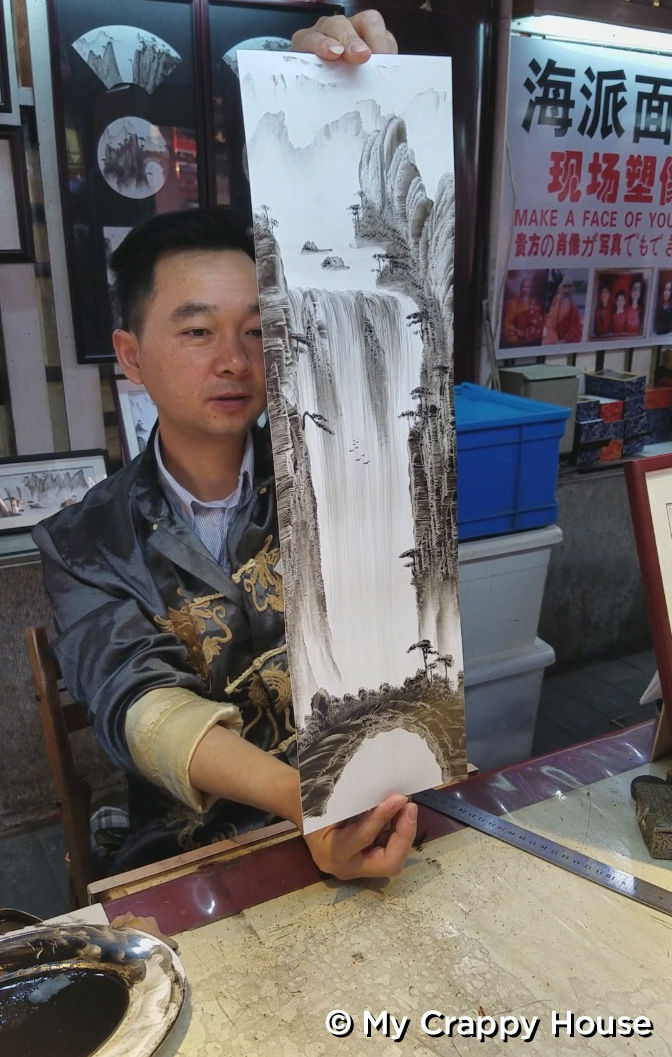 This man creates ink paintings using only his hand and nails. No brushes! He reminded me of Bob Ross. Only, he's Chinese and doesn't use brushes or paint. Or canvas. But you can't tell me those aren't happy little trees and rocks in there.
Anyway, my mom and I were going to brave the market by ourselves, but my SIL's mom didn't think we should go alone. She was so right. Having a native speaker with you is imperative in China. It's not like Europe where tons of people speak English and the languages sort of sound familiar. Chinese is not the least bit familiar. You can't wing it. And no one speaks English, so, best case scenario, you don't get to buy the thing you want, or, worst case scenario, you do get to buy the thing you want, but it costs you 5x more than it should have and then you realize it wasn't actually the thing you wanted but a bag of duck heads.
It's so hard to stop this post! I haven't even told you about squatty potties! (That's something you should look up if you're ever planning to go.) Or the mopeds with the comforters attached!
Or Fangbang Road!
Or the early morning elderly workouts!
So freaking much to tell you! But I have to write an ending to this post and so I will write this: I got the sense that the Chinese people were happy we were visiting their country. Despite the language barrier, I felt very welcome.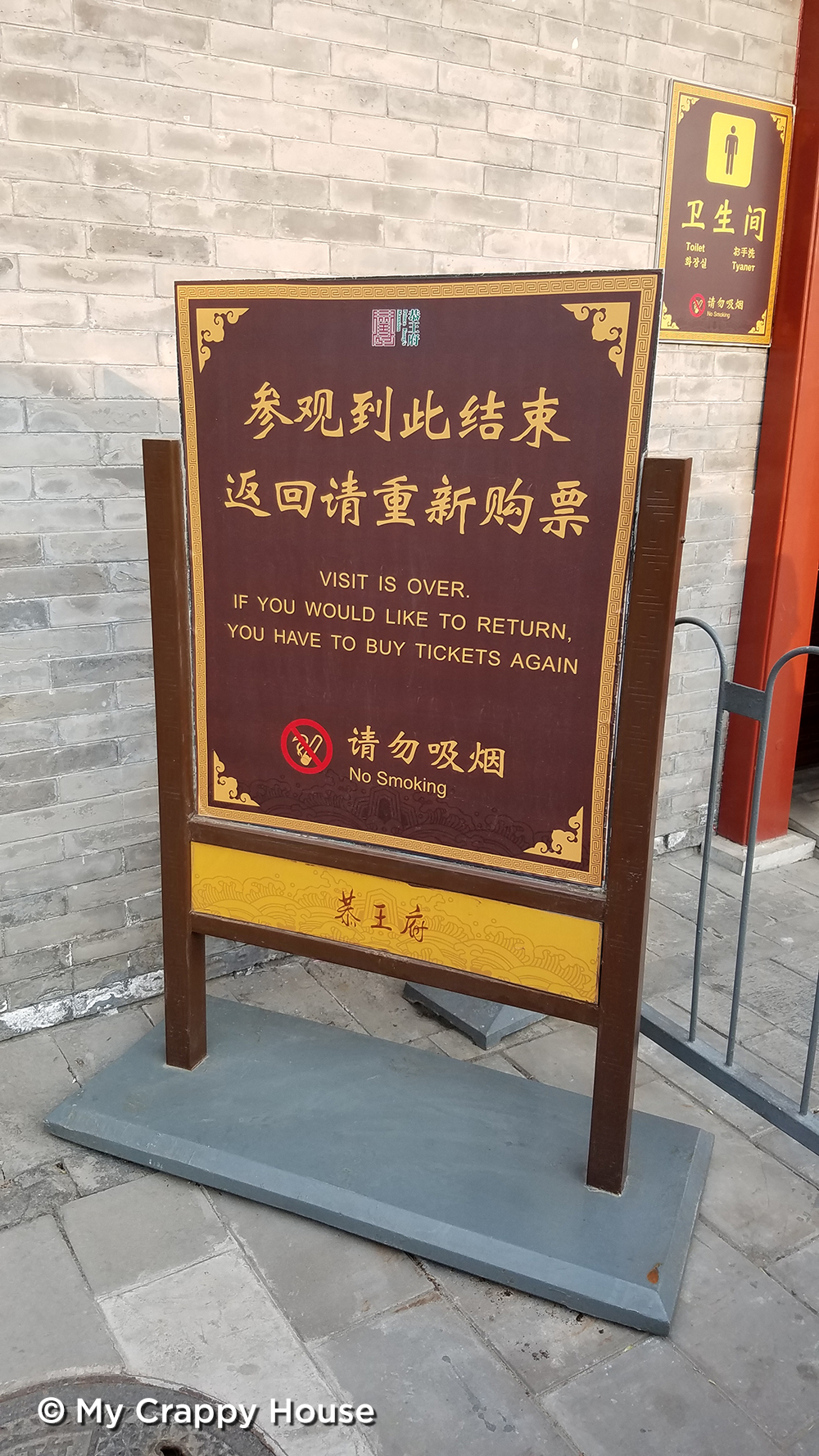 Post is over. If you would like to read it again, you have to scroll back to the top.