My Bitchin' Kitchen: Part II
I promise this is the last time I'm ever going to post this picture of my (not really a kitchen, but doing its best impersonation of a) kitchen. Have I ever mentioned I lived FIVE YEARS with this set up? I feel like I must have told you that at some point…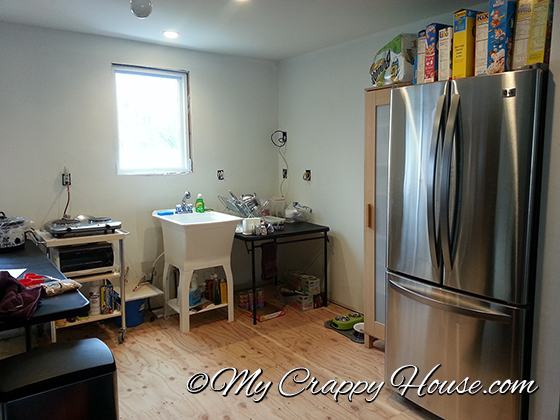 In my last (extremely disappointing because it had zero "after" pictures) post, I shared my kitchen design plan with you. Complete with mood board…
I found those gray cabinets online four years ago from a company called cabinets.com and ordered a sample. At that point, I didn't think I would actually order my cabinets on the internet (I mean, do people really even do that?), but I liked having a tangible piece of my kitchen to be able to gaze at longingly and daydream and, occasionally, (uncomfortably) snuggle with. It also came in handy when I picked out my floor stain color.
When it came time to actually buy cabinets, I went to a few local places and had them price out what I wanted. Not only couldn't I find an option that I liked as much as my door sample, but their prices were like 40% more than cabinets.com. So… I read every review I could find, watched every one of their construction videos, waited for a sale, took a Valium, and ordered my cabinets. On the internet. Turns out, yes, people do really do that.
Disclaimer: I'm going to say a lot of nice things about cabinets.com now. So many nice things that you're going to think that they sponsored this post. So here's where I tell you that I received absolutely no incentive whatsoever from cabinets.com to write anything wonderful about them. Nothing free, no discount (beyond what any regular person gets.) I'm just super happy with my cabinets and feel compelled to tell the world. (Well, you guys, which makes up like .000000000000001% of the world.)
I designed my kitchen myself (because I'm insanely talented) and sent my plan to cabinets.com where one of their designers, Ashlee, looked everything over, made a couple of suggestions (because insane talent doesn't equal experience), and then sent me these renderings of my kitchen to approve.
In case you're wondering what happens if you want a pretty, new kitchen like me, but you're not nearly as talented as I am to design your own… well, not to worry. The designers at cabinets.com are used to dealing with people with no talent just like you! They'll design the whole thing for you from scratch. (For free, by the way. They're cool like that.)
Anyway, once I got my renderings, all I had to do was click one button to buy every piece I would need to build my kitchen. Even with my years of extensive Amazon training, I'd never bought so much with a single click.
My cabinets took seven weeks to arrive. Not bad, considering they build everything to order. (This isn't all of it. There's more in the garage…)
I didn't install my kitchen myself. I briefly considered giving it a go, but (even the less expensive) cabinets are expensive! I'd be so pissed if I ruined them. Given that I'd never installed a kitchen before, it seemed a good idea to get help. Then, while watching my cousin fight with my ridiculously crooked house every step of the way, I was super glad that I didn't even attempt to do it on my own. Some things are just better left to professionals. Like installing kitchens. And neurosurgery. And pedicures.
OK, so here we go… A blank slate. It's hard to see in this picture, but I marked out where all of the studs in the wall are and also blocked out where the medicine cabinet is so no one would accidentally put a screw into it from behind, thus breaking the mirrored back. (This wall is shared with my bathroom.) I'm so efficient, it's disgusting.
And so it begins. I'll be quiet now and let you scroll.
I put two pictures together here. That's what that line is.
Here's the island being configured. I helped with this part. Tape. And math.
This is what an "unclad" island looks like. (I put that in quotes because I didn't think it was a real word, but spellcheck is down with it so I looked it up. It means naked. So, behold, my naked island…)
OK, so don't be angry with me. I'm ending this post with this picture because my house is becoming less and less crappy and I'm going to run out of things to share with you. So, let me ration this stuff out, OK? Just be cool. We'll get there.
My next kitchen post will be about the counter top. Remind me to tell you the story about how the guy who came to measure for it almost burned my house down. It's hilarious!
P.S. My kitchen wouldn't have happened this year without the help of my family. I just want to say here how grateful I am for their generosity and support. I plan to hold my very first dinner party (ever!) in their honor and I'm going to make sure I do a really good job with the cooking so they don't regret being generous and supportive and arming me with a kitchen.
Wait, did I say arming? That was weird…