Check out what I picked up for (mostly) FREE at ReStore! Isn't it beautiful?
Nope. Definitely not beautiful, but it's going to be. Doesn't everyone love a good makeover story? Sure you do!
I've seen some crappy stuff at ReStore. Seriously crappy stuff. But this desk must have been even too crappy for them because it was unceremoniously exiled to the parking lot with a sticker on it that said FREE. This would have made total sense to me if it were made out of crappy particle board, but this was a solid oak desk! Yeah, it had some issues, but I definitely saw potential. A $20 delivery charge later (so not quite free) and this baby was in my garage, ready to be transformed.
Lazy girl that I am, the transformation took about a year. Luckily, it won't take that long for you to see the end result! (Unless you're a reeeeeeally slow reader…)
First, I pulled the trim off from around the top. And then I sanded. For hours. Days. Weeks. Months? I don't know. I lost track. And also the feeling in my hands. It was always my intention to paint it, so why all the sanding? I just don't know. Some things can't be explained. 80s hair. Planking. Honey Boo Boo.

You can see there was some damage to the bottom of the sides that I had to repair. (Go on. Scroll back up and look. It'll take you like two seconds.) I used a nifty tool called the Fein Multimaster to scrape off the old trim that was nailed and glued so I could nail on new. (Speaking of things that can't be explained, I can't think of a way to adequately describe this tool. If you don't know what it is, you should click that link above and read a couple reviews. It has come in handy many times at my crappy house.)
The desk in its before state was mission style. I guess it was supposed to look hand made or whatever because it had these circles cut into it to look like pegs. It really wasn't fooling anyone. I didn't want the fake peg circles, so I filled them with Bondo and sanded them smooth.
You'll notice I also added some decorative trim. That wood was fragile and lightweight, so I skipped the nail gun and just attached it with wood glue and used painter's tape to hold it in place while it dried.
As you can see, I quit the inexplicable sanding by the time I reached the back and just went over it lightly to take off the gloss. That was really all I needed to do for the whole desk. No wonder it took a freaking year to finish…
Once I added the rest of the trim, I was ready for paint. I primed the top, since that's the part that will get the most use, but I left the rest naked. I gave the whole thing two coats of black latex paint, then another two coats of super glossy poly.
This desk is so massive that, in order to fit it into my office, I actually had to take the door out of the frame. Like, the whole door – jamb and all. It's also ridiculously heavy and my hallway is a weird shape, so getting it from the garage into the office was a production. I carried it in on my back. Like a donkey. Or maybe my dad and brother moved it in there for me. I can't remember.
Before I show you the end result, here's a reminder of the before state. So sad…
And here it is now! I totally rescued this desk from the trash. (OK, parking lot. But it was only like 40 feet from a dumpster, so…) I'm like a super hero, saving furniture. One piece at a time…
These drawer pulls are from Home Depot. Pretty…
I love how shiny it is!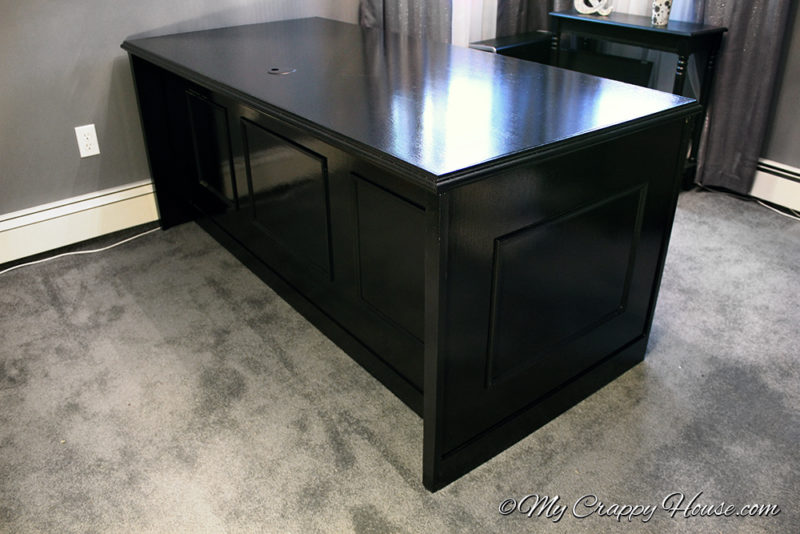 I spent about 100 bucks for all of my supplies (trim, paint and hardware), so with the $20 delivery fee, this project was about 120 bucks. Not too shabby for a ginormous solid oak desk…
I'm quite pleased with the results. My home office is coming along nicely… Next up: built in bookcases! I've never built furniture before, so that should be entertaining. Subscribe so you don't miss it…