A Peacock Blue Dining Room
All of the Peacock Blues
Yes. I know. It's been a while. And where the hell have I been? Don't I know people are waiting for a post? Do I even care about their disappointment? How selfish am I that I've deprived my followers of… well, of me! For months?! Turns out, pretty freaking selfish. I haven't even thought about you guys… like, at all. I've been enjoying the hell out of my summer. Consequently, I haven't done all that much on my crappy house. Lucky for you, I did finish my pretty, Peacock Blue dining room before the summer even started. I was just too lazy to write about it.
Hey, remember this?
You can call that indecision. Or pickiness. Or psychosis. Whatever. I found it! The perfect shade of Peacock Blue!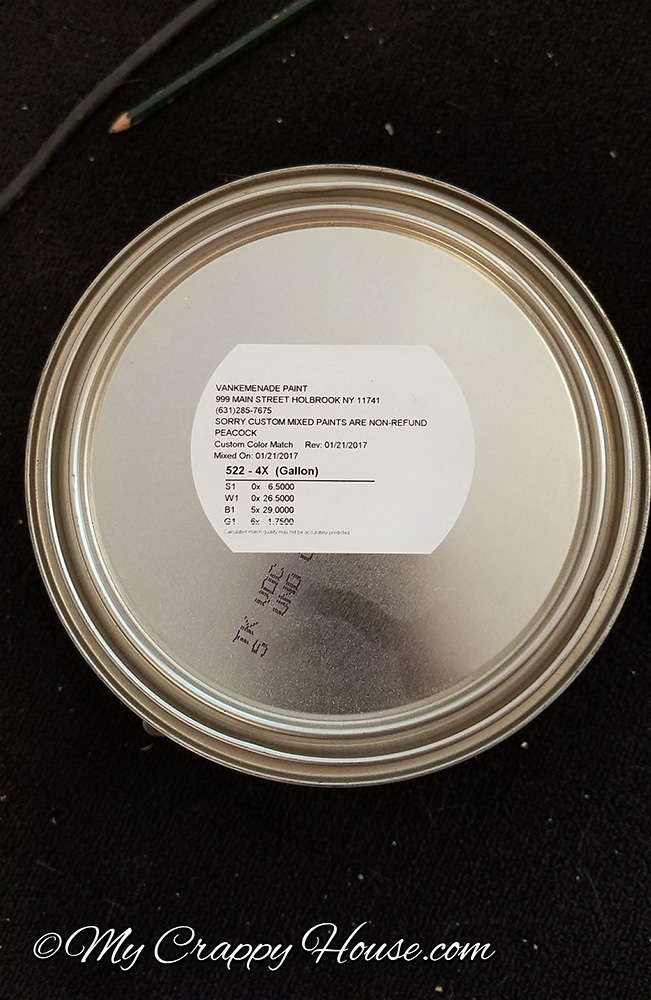 That's not just a paint can. That's a custom mix. My secret perfect shade. That I just shared with all of you. (Shh. Don't tell anyone.)
But, before we get to the color portion of this post, we have other stuff to discuss.
Five years with no stair railing: Zero fatalities. Zero paralysis. I'm happy about those stats. Especially since, statistically speaking, I would have most likely been the dead/paralyzed person, being the one who lives here and all.
I drew up plans for exactly how I wanted my railing constructed. All I needed was a welder who didn't think that two day's labor was worth two thousand dollars. I finally found one, but it was not an easy task. Seriously, though. I may be in the wrong line of work.
So, that's done. Next was a whole lot of crappy prep work. Spackling and caulking and priming.
My Fancy Dining Room
Next, let's talk about my plans for molding. Of course, crown molding (duh), but I thought it would also be cool to do fancy panel molding too. Because, you know. I'm fancy. I did two layouts:
I chose "B", and then went and bought some long ass molding…
And then I installed it. Like a bad ass.
Those red things are hangers to help a person install crown molding all by themselves. A person with no friends to help them. Or, more likely, a control freak who won't let anyone help them. (That's me. I'm the second one.) (And whether you're also a control freak or just unpopular, you can get your own hangers here.)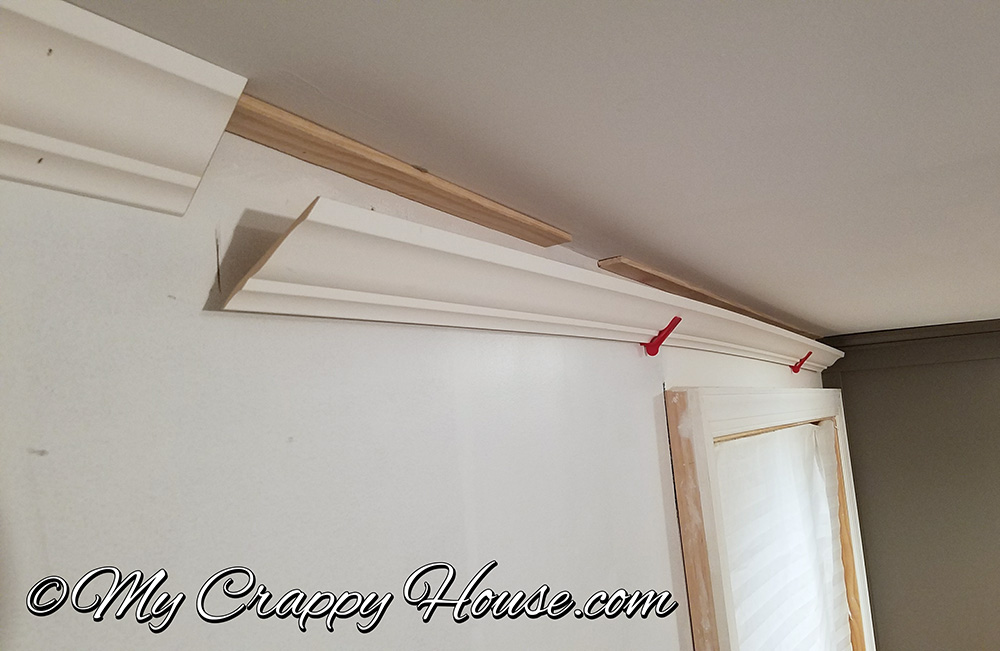 I addressed this support post too…
And then I installed the panel molding.
Pretty.
(In case you're wondering, installing panel molding sucks a lot and then caulking and painting it sucks some more. You can try it yourself, but don't hate me when you realize how much it sucks. Remember, I told you. It sucks a lot…)
But, pretty.
Painting a Dark Color Sucks
Finally, the paint. I sprung for Benjamin Moore's most expensive "Aura" paint. I had my doubts, but the salesman assured me even a dark color like my beloved Peacock Blue would cover in one coat. Yay!
So, anyway, he's dead to me. Here's Egor modeling in front of two coats…
And here's three freaking coats. Three.
I kind of feel like I might have ended up doing four, but I'm not sure. I can't remember. I've already started repressing the memory. Painting sucks.
Anyway, the trim is only primed in that photo above. I just wanted you to see how it looks 'white' because I just know someone's going to ask me why I didn't paint the trim white, so this is my answer. It looks crappy white. See? I wanted something darker and richer with this deep blue. I went with Seal Skin by Sherwin Williams. I've used that color before here in my bay window. So here's the darker trim:
I'm loving how the trim looks with the Peacock Blue. I'm going to paint the radiators too. And, of course, I now have to repaint the trim in the living room to match. All of you white trim people should prepare yourselves. That's coming. You have plenty of time to get used to the idea though. You know me. Snail's pace and all… Trust me. It's gonna look awesome.
Anyway, here's the almost finished dining room.
Seriously, guys. The color is perfect. I could not be happier with it. Totally worth the psychosis. I didn't take a close up pic of the chandelier, but this is the one I got if you're interested: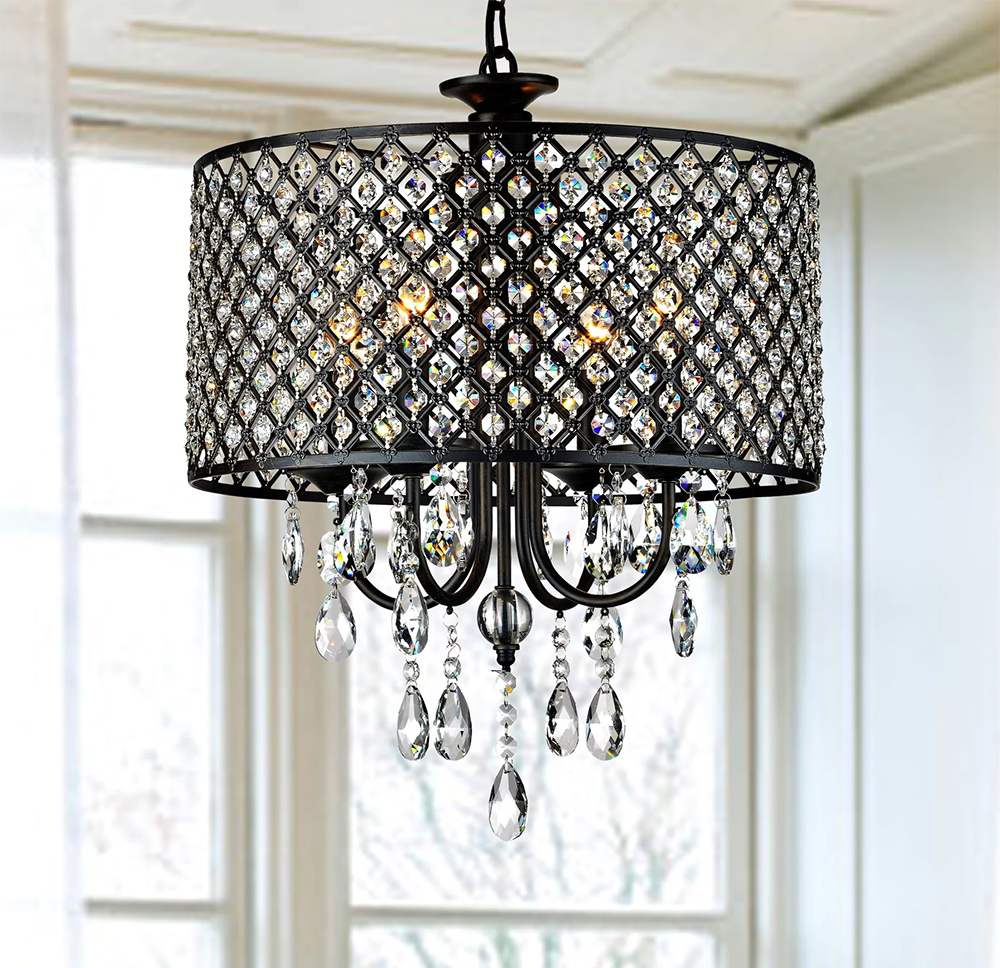 OK, so I hope that we're friends again. This was a pretty good post, right? I mean I put lots of pics in there and stuff. You still like me, right? Yeah, you know you do…
I'm working on a post about my trip to China. (BTW, I went to China!) It was an amazing trip and I think it needs to be documented and shared with all of you. Something to look forward to… Eventually…
Happy summer, friends!
*This post contains affiliate links.