It's almost 2017! This year flew by sooo fast. I know I kind of sucked with the infrequency of my posts in 2016, but… well, that's it. I sucked. Sorry. I'll try to do better next year. (But I probably won't. Please love me anyway.)
It's my annual Favorite Things post! You may have thought, given how lazy I was with the writing this year, that you might not get a Favorite Things post, but here it is! What a relief, right? Whew. Can you believe this is my fourth one!? All that time just flew by. Whoosh. Gone. Time is such a jerk.
Anyway, you know the drill by now, this being my (one, two, three) fourth one and all…
Favorite Thing #1
I seriously hate doing yard work. If I could have a plastic lawn and fake trees, I totally would. When the leaves fall, I run over as many as I can with my lawn mower, but there are always the ones that collect against the house and get tangled in the shrubs. Can't mow those little bitches… That's where this thing comes in. I rake the leaves into a pile, then suck them up with this vacuum. It chops them up really tiny and makes it easy to transfer them to a yard waste bag. If you're one of those weirdos that actually likes yard work, you'll have fun using this vacuum. For me, this vacuum makes yard work tolerable until I can afford to hire this guy…
Rowr.
Favorite Thing #2
These were a splurge for me, but totally worth it. They're made exceptionally well and I love the industrial look. I will admit that they aren't exactly ass magnets (They do have a slight torture device look about them, don't they…), but this only encourages my friends to stay vertical and, hey, as long as you're standing, why not whip something up in my pretty kitchen? I'll just sit here and "suffer" on this Toledo stool and keep you company while you whip it good.
Favorite Thing #3
My mom surprised me with this for my kitchen and I love it! And the image of my sweet, little mommy walking up to the check out counter at TJ Maxx to buy this shiny, chrome skull for her grown ass daughter makes me all kinds of happy. She's always saying she doesn't know what I like and then *boom* there's a skull timer in my pretty new kitchen. She knows me better than she thinks…
Favorite thing #4
Not having any counter space (or a stove) for the last 5+ years, I had to microwave water if I wanted to make tea. Since I unpacked my Hot Shot a month ago, I've been using it every day and my tea just tastes sooo much better. This thing boils water for a single cup of tea (or soup or oatmeal or whatever…) faster than a microwave and it's pretty cheap. And if you drink coffee, … well, sorry. I have nothing for you.
Favorite Thing #5
What goes better with a nice, hot cup of tea than half a bag of (Serving size=2. Yeah, right.) delicious chocolate chip walnut cookies? I have to limit how often I buy these because I seriously cannot stop myself. They are soooo freaking good! They're made on Long Island (home expensive sweet home) so, while I have no trouble finding them in my local grocery store, I'm not sure how readily available they are in the rest of the world. Luckily, they sell them on their website. If you buy them, you won't be sorry. (Until you eat half the bag in 3 minutes with your Hot Shot tea. Then you might be sorry.)
Favorite Thing #6
If I wasn't so addicted to television, I might get more done around my crappy house. That's not an apology. Just a fact. This season, there a few new shows that I really like, but my favorite is This is Us. Do yourself a favor and don't Google it. You might inadvertently stumble upon something that will spoil it for you. Just watch the first episode and you'll be hooked. New episodes start on January 10, so you have time to catch up.
Favorite Thing #7
As addicted as I am to TV, it seems counter intuitive that I would cancel cable, but that's exactly what I did this year. The only thing I was missing was the ability to just turn on a channel for background noise. I find that if I choose a specific show or movie to stream, I always end up parked on the sofa watching it. Sling TV has about 20 live channels, so I can usually find something interesting to not watch. (I'm not watching Iron Man right now as I write this post.) I'm pretty well set over here now. My addiction isn't going away any time soon.
Favorite Thing #8
I hate to write about three TV things in a row, but I did tell you that I'm an addict, so, obviously, I can't help it. For streaming television, Roku is the best. (You can check it out here.) I have Roku boxes in my living room and bedroom, but how excited was I to find a smart TV with the Roku interface built right in for my office! (Very.) OK, I'm done talking about TV now.
Favorite Thing #9
Egor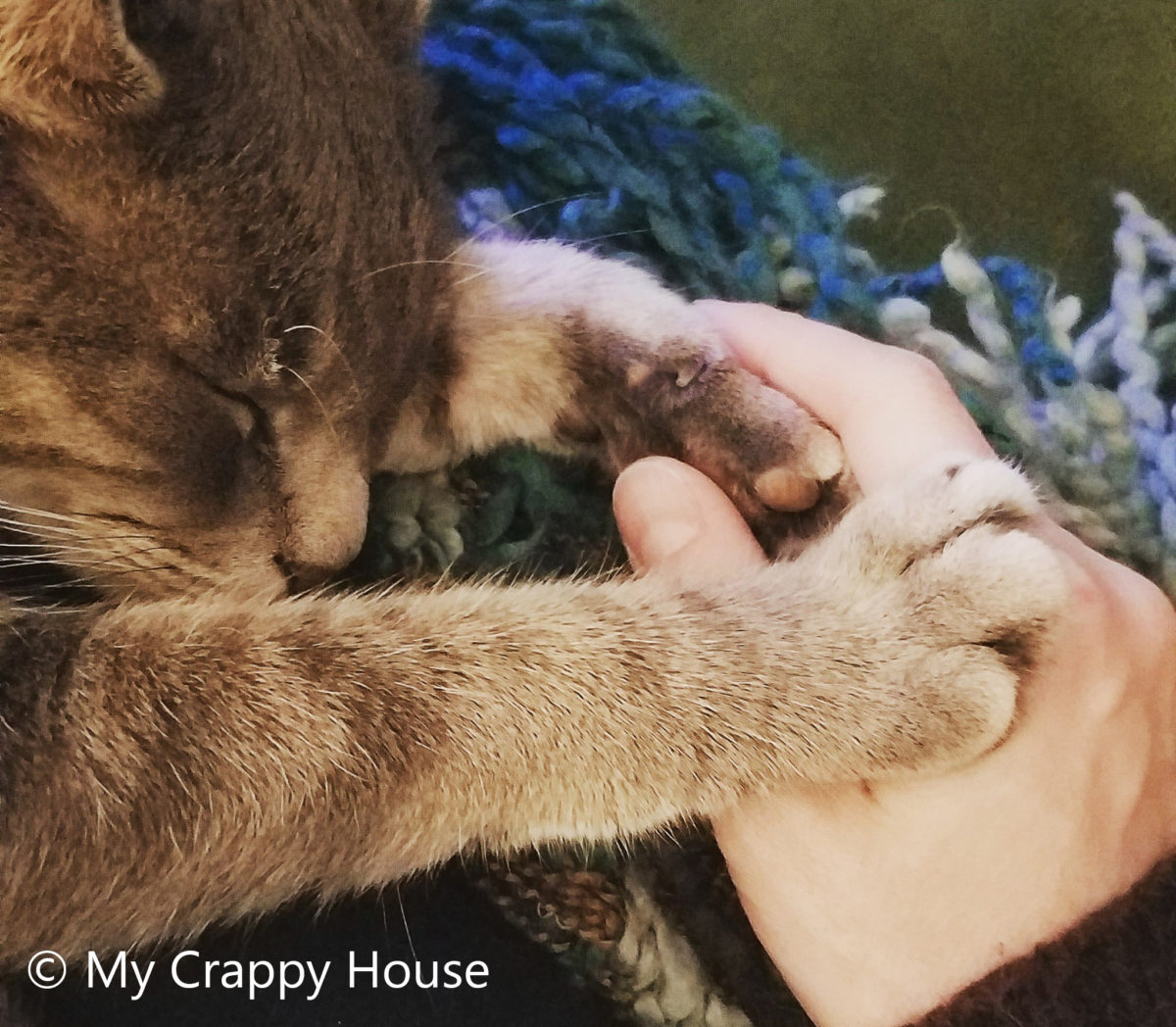 Egor, also known as Baby Head, Monkey Face, Muffin and Stinky Butt, had a rough year. This summer was especially hard for him when we had to be out of our house for ten days while the floor was being installed. We stayed with my brother and his family. And their cat, Zero, who was very unwelcoming.
Egor was like, "Hey, wanna be friends?" and Zero was like, "NO. GTFO."
Egor seemed to be handling things really well though until the day we came home. He was fine when we walked in the door, but only hours later, I was rushing him to the 24 hour emergency vet at 1 am thinking he might die. My poor baby could barely stand. The doctor told me he had an infection and that his sugar was through the roof, so he was probably diabetic. I was just stunned. He seemed fine only hours before! So I left there at 5 am with an antibiotic for him and instructions to take him to my regular vet in a couple of days for another blood test. Thankfully, in those couple of days, Egor made a miraculous recovery and when I took him to his doctor, his sugar was totally back to normal. Stress, apparently, can have a huge impact on a little kitty.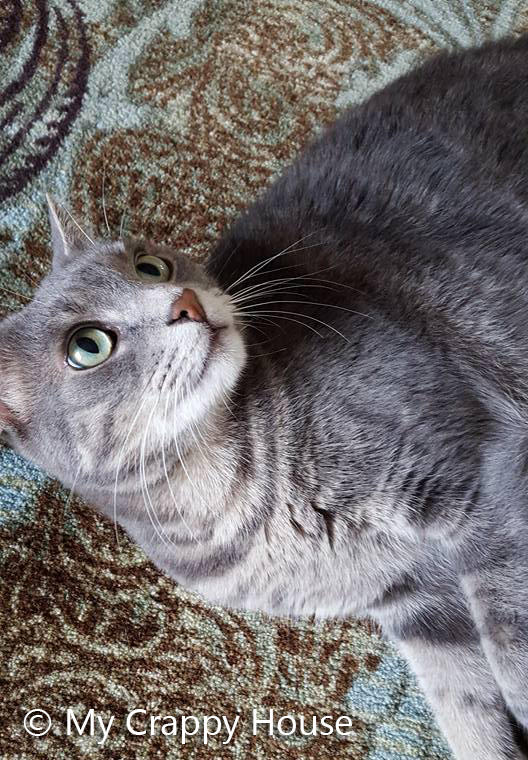 Who knew?
So, good things that happened for me in 2016:
I got my floor installed
My kitchen is 85% finished
Egor stayed alive
Good kitty.
I'm not making any specific promises for 2017 except that I will do stuff around my crappy house and I will write about it. What and how often is TBD. See you next year!