Hello? Remember me? Is this thing on? Yeah, yeah, I know. 2017 has been a complete #blogfail, but I still love you guys. No, really, I do! It's just that I have had the best time this year and, as "best times" are wont to do, it freaking flew right by! And whoosh! here we are, mere days away from 2018, another year gone with only, like, two (well, three now) blog posts to show for it! But whatever. How many blog posts did you write this year? Yeah, that's what I thought…
Anyway, I wasn't about to let tradition fall by the wayside… It's my annual Favorite Things post! This one is number FIVE! Yes, 1, 2, 3, 4, FIVE! (Duh, I know you know how to count. I just put the links to all my past Favorite Things posts there for you. You're welcome.) So, what's been keeping me so busy this year?
Favorite Thing #1
I know. We're adorable. He's Schmoopy. I'm Schmoopy. (No, he's Schmoopy.) Yep, we're totally annoying and also ridiculously happy. Most of my time is spent with him now, so I pretty much kicked you guys to the curb. Sorry. But, for those of you who couldn't care less about my personal happiness and well-being and only want to see me slave away on my crappy house and then write about it on this blog in my extraordinarily entertaining and hilarious prose, well… there is a bright spot for you selfish, selfish people. This year I managed to complete the backsplash in my kitchen (You haven't seen it yet because I've been much too busy with Schmoopy to show you, but it's so gorgeous!) and paint my living room trim dark (which also looks awesome and you'll just have to take my word for it for now because… super busy, you know.) I promise to get around to showing you those projects (No, for reals. I promise.), but this is a favorite things post and I have more favorite things to share with you. Like…
Favorite Thing #2
One of the best things I ever did for myself was join the APA. Sure, I enjoy pool and that part is super fun, but I can't even tell you how many great people I've met because I joined this league 12 years ago. As adults, we don't have many avenues to meet new people, aside from work, and maybe the gym if you're one of those weirdos who talks to strangers at the gym. So if your coworkers suck and you're not a gym weirdo, but you want to make some new friends, I highly recommend you check it out. (I linked it up there for you.) You don't have to be good at pool. Like, at all! I'm not going to explain all of the details here, but people who suck at pool are actually highly desirable teammates. I know, sounds illogical. You'll just have to trust me on that. It's a numbers thing. Anyway, if you live in the US, Canada or Japan, I recommend you check it out. Meet some new people in 2018!
Incidentally, the APA is where I met Schmoopy. Just sayin.
Favorite Thing #3
This Underwood Typewriter
With the above mentioned APA, I traveled to Canada this past November with Schmoopy to play in a tournament at Niagara Falls. (See? The APA is really fun. I told you… I've also played pool in Vegas five times. Just sayin…) On the way back, we had some time to kill in Buffalo, NY before our flight, so we wandered around a mall. That's where I saw it. This antique beauty. It was love at first sight, but it was also very sad because there was no way I could get it on the plane home. It was very heavy, so I knew shipping would be ridiculous. So, heartbroken, I left it there in Buffalo. Fast forward to Christmas and guess what was under my tree? The same exact typewriter! Schmoo had to jump through a bunch of hoops (it was actually a consignment shop that refused to ship anything), but he managed to reunite me with my beautiful Underwood. This one is a no. 4 model and I believe it was made in 1906. Nineteen o'six! How great is that??
Favorite Thing #4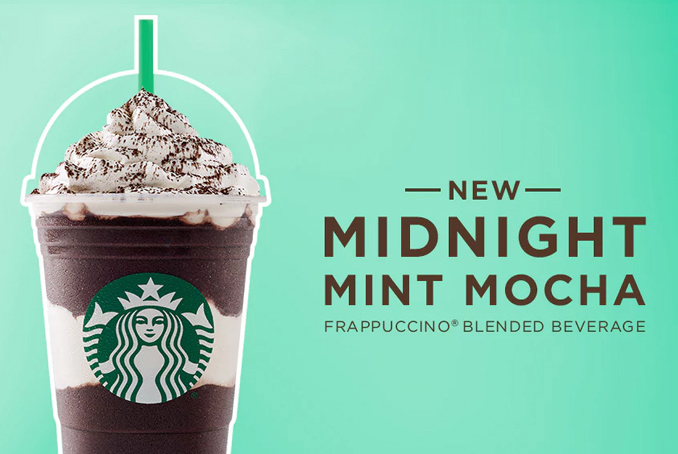 I'm not a huge coffee drinker (I like tea), but this concoction is delicious. I took to calling it Midnight Mocha Madness because "Midnight" just goes with "Madness" in my brain. One time, I ordered it with extra "Madness". Said the Barista, "You mean whipped cream?" "Yes!" said I. Yes! to the madness that is whipped cream! Don't hate me, but it's off season so you can't have one now. I'm a jerk. I'm hoping it'll be back though. I first tasted it in May, so be on the look out this spring! If you follow me on Instagram, I'll be sure to post a pic when (if) I find it again. And just in case they don't bring it back, here's a copycat recipe you can try.
Favorite Thing #5
I forgot to tell you that I now share my home with a disembodied voice that calls herself Alexa. She's not much for conversation, but she plays music that I like, so that's cool. She swears she's not Skynet, so that probably means she is Skynet because if you were Skynet, you wouldn't say you were Skynet. Anyway, Amazon is taking over the world and I think I'm not only OK with that, but maybe happy about it. This is probably the beginning of the end.
Favorite Thing #6
I hate water, but I love Aspartame. It's probably shortening my lifespan, but I'm kind of between a rock and hard place here. They say drink lots of water to be healthy, but I hate water, so do I drink no water and die or do I drink lots of poison water and also die? Which death will come sooner? I'm banking on no water leading to a quicker death, so I'm going to keep drinking the poison. It's very tasty!
Favorite Thing #7
My God, do I hate that this fragrance has Paris Hilton's face on it, but it smells so good! I've been wearing it for years now, but I got another bottle this Christmas from Schmoopy, so I was freshly reminded of how pretty it is. I wouldn't say go and buy it because perfumes smell differently on everyone, but spray a test on yourself next time you see it in a store and see what you think. Ignore the Paris part.
Favorite Thing #8
Also known as cryptograms, I've been really enjoying these puzzles lately. The book above has a stupid cover, but the puzzles are fun. If you don't know what a cryptogram is, it's a quote, usually said by someone famous, that's been encoded so that every letter represents a different letter. Like maybe it looks like this:
R N T T D Q L S D L N Y!
which would decode as:
H A P P Y N E W Y E A R!
Punctuation and patterns are clues when solving these puzzles. I like to pretend I'm an international spy when I work on them.
No, not really.
Favorite Thing #8
Egor
Every year, you know the deal. Egor is on my list of the best things in life. He brightens all of my days. Everyone should have a cat. Except for the people that don't want a cat. They should not get a cat. Dark days for those catless dummies…
So that's it for 2017! Three whole posts from me! WTF, right? I know. I went to China in April and I've been working on a post about that experience ever since. I took over 1,000 pictures, so it's been rough to edit. And then, as I mentioned above, I finished my kitchen backsplash and painted the trim in my living room, so I need to show you guys those projects. I said back in 2016 I wanted that to be the year I put siding on my house. Not only didn't that happen in 2016, but not in 2017 either. So, crossing my fingers for 2018.
I don't want you guys to worry that Schmoopy will be taking over projects around here. He knows I'm fiercely independent and, while he's very handy himself, he lets me do my thing on my own. I told him he can do whatever he wants with the outside. He actually likes yard work! Men are weird.
Here's to no crappy lawn mowing in 2018! Wishing you all a happy and healthy new year, and a Schmoopy to mow your crappy lawn!
See you in June! (I kid!)
(Prolly…)