When the Year Bites…
Pink kitty noses and all finished kitchens. Bright copper projects and DIY missions. Grandma's framed afghan and engagement rings… These are a few of my favorite things.
After a two year hiatus, I'm back with my "annual" (*sigh*) Favorite Things post. I feel pretty terrible that I neglected to write this post for the last two years. In 2013, when this blog was born, I started a tradition and I broke it in 2018, like a lazy jerk. I let you guys down. I let myself down. And it's not like I can go back and fix it. Those years are gone. I don't even remember what my favorite things were back then. I guess it would be easy to just blame Schmoopy…
So I will.
Hey, that was easy.
Let's get on with the list, shall we? Here are the things I've been enjoying all (crappy) year. I'm going to start with a real game changer.
Favorite thing #1
Years ago, I tried to make a meal in my crock pot. You're not supposed to be able to screw up crock pot recipes, but, over-achiever that I am, I totally did. Spectacularly. I wrote a post about it that people seemed to enjoy. I vowed never to try the pot again (just say no, kids), but this thing is so much more than a crock pot. In fact, its best function is as a pressure cooker.
Not to be confused with the "Instapot" (which, in fact, does not exist), the Instant Pot has actually made me feel like I know how to cook. I know it's just an illusion. Throwing ingredients into a pot and pressing a button isn't really cooking, but the food tastes so freaking good, people think there must be skill involved. And it's not polite to correct people. So, I don't.
Favorite thing #2
If you have an Instant Pot (or you plan to get one so you can pretend to know how to cook, like I do), I highly recommend Jeffrey's recipes from pressureluckcooking.com and his awesome cookbook, The Step-by-Step Instant Pot Cookbook. I had my Instant Pot in a closet for a whole entire year before I was brave enough to use it. Jeffrey has this video where he gives you a basic intro to using your pot and he made it not scary, so I started making some of his recipes.
I've made bourbon chicken over rice, and meatloaf and the best freaking mashed potatoes I've ever had in my life (sorry mommy), but my most favorite recipe to make is this creamy lemon orzo soup. You won't believe there's no dairy in it. It's made with eggs, and I add chicken to mine, so it's got a lot of protein. I make it so frequently that my cookbook opens to that page automatically. It's so freaking good!
Favorite thing #3
Speaking of food (yes, cookies are food), these are my favorite cookies. Actually, they call them "breakfast biscuits", so that totally counts as food. (Told you.) They have a ton of flavors, but Golden Oat is my absolute favorite. I have them pretty much every day with a cup of tea. A package of four cookies is only 230 calories, so it satisfies my sweet tooth without killing my diet.
Favorite thing #4
Perhaps you read my post a few weeks ago where I exposed myself as a personal product hoarder. Our bathroom has a drug store's worth of grooming products, but I only regularly use a handful of them. (The rest are things that I've tried, stopped using for whatever reason, but that I can't throw away because that would be wasteful and that's bad for the planet. Duh.)
One thing that I consistently finish and buy again is this three pack of anti-aging serums from Tree of Life. If you've ever purchased anti-aging crap, then you know it's pricey and, a lot of the time, it doesn't do a damned thing. These serums are inexpensive and I really feel like they do make my skin look and feel better. I can actually get away with wearing minimal makeup without feeling like a troll, and people rarely guess what an old lady I am, so that's a win in my book.
Favorite thing #5
We don't subscribe to cable anymore. We really don't miss it. Between Netflix, Hulu, Amazon Prime, and Philo, we've got a ton of options when it comes to rotting our brains. The one thing I did miss about having cable, though, was the cable box. Specifically, the clock on the cable box. I just like being able to see what time it is without pulling out my phone to look. This little clock looks like a cube made of wood. I really love the minimal design (no visible buttons!) and the numbers are just big enough to see from the couch.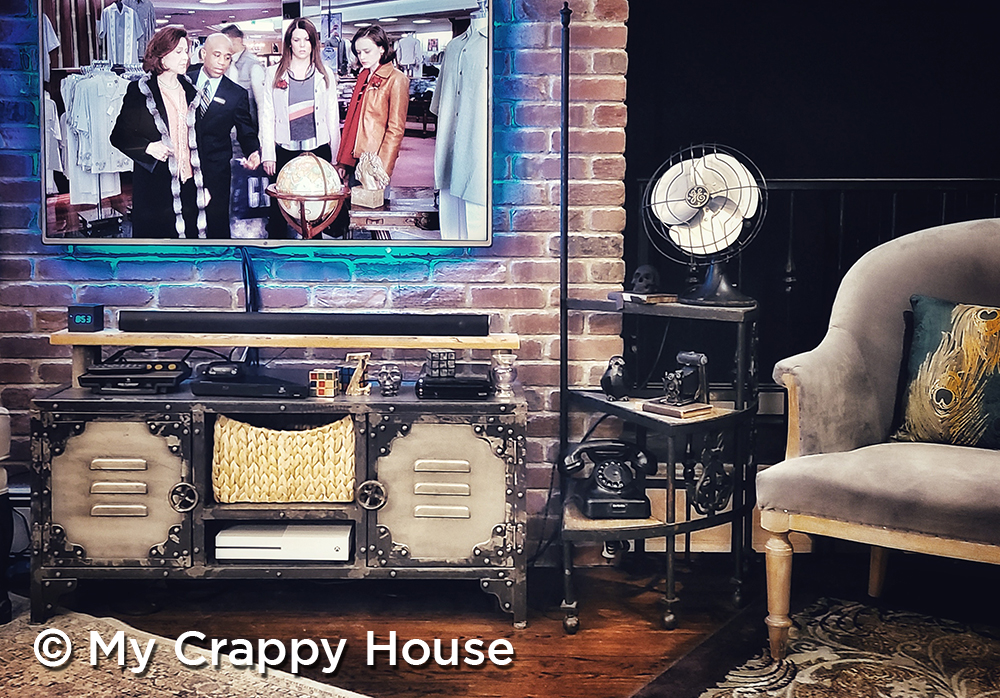 The time is 8:53. See? Didn't even need to get up to read that.
Favorite thing #6
Speaking of TV, my favorite show this year was The Marvelous Mrs. Maisel. It's by the same writer that gave us Gilmore Girls, which I also loved (as you may have noticed on my TV screen above…) I can't say enough good things about Maisel. It's one of those shows that just brings me joy. It's funny, smart, and beautifully shot with it's period clothing and sets. I adore this show. You can find it on Amazon Prime.
Favorite thing #7
If you prefer to curl up with an excellent book, I highly recommend Where the Crawdads Sing, by Delia Owens. To be honest, I didn't expect to like this book. I'm not usually drawn to fiction that's set in the past, but a trusted friend suggested I give it a try and it did not disappoint. It was so well written, I couldn't put it down.
Guys, don't wait to read this. They're making a movie based on the book and, if you're like me, you want to read the book before you see the movie. The book is almost always better.
Favorite thing #8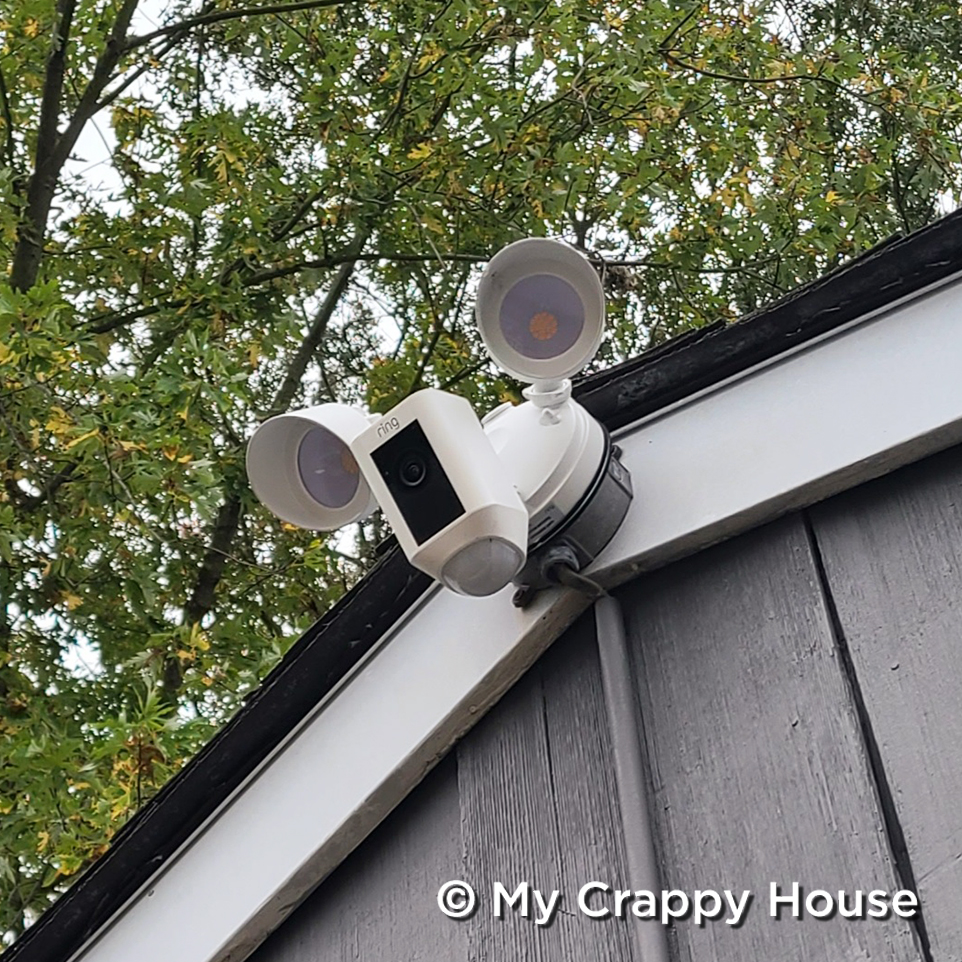 I mentioned this camera a few weeks ago here, but it's worth mentioning again. The Ring Floodlight Camera has not only been a great source of entertainment, but has also provided additional security for My Crappy House. You never know who (or what) is lurking around outside. I feel better having this gadget keeping an eye on things, hung high enough where it'd be hard for the bad guys to tamper with, and it's nice to have the bright light pop on when I'm taking out the trash at midnight because I forgot to do it earlier.
Favorite thing #9
I get so many compliments on this cute little mason jar night light in my bathroom. It's light sensitive. During the day, it's got a dim little decorative flame, but when the sun goes down, it's bright enough to enable you to use the bathroom in the middle of the night without turning on the main light, thus facilitating that "half asleep" state we all try to maintain when it's necessary to conduct business at 3 a.m.
Favorite thing #10
I've got a lot of hair and washing it is a whole production, so I only do it once a week. I know that might sound crazy to some of you, but it's really not good for your hair to wash it every day, as it strips your natural oils. I use Not Your Mother's Clean Freak Dry Shampoo around day five, when it starts to get a little bit greasy at the roots, or even earlier in the week if I just want some extra body. I've used many other brands of dry shampoo and they all usually have an unpleasant smell, but literally, every single time I use this product, Schmoopy tells me I smell so good and then I tell him it's because my hair is dirty. It smells like vanilla, which is my most favorite scent. I promise you will love this stuff.
Favorite thing #11
As I mentioned above, I have a lot of hair.
(Yikes! Just look at those roots. I don't often see the back of my head…)
Thanks to this stupid pandemic, I haven't had a haircut in well over a year. Clearly, I need one, but, even so, my hair is in pretty good shape. I attribute that to washing once a week (see above) and to the Aquis Hair Towel. The one I use is specifically for long hair, but they also have shorter versions for both fine and thick hair, as well as a turban type. I prefer the regular towel shape and I make my own turban.
I shower at night and I never go to bed with wet hair. After washing, I wrap my hair in this towel for about 15 – 20 minutes, then I only need to blow dry it for less than five minutes. The Aquis towel really cuts down on frizz, which is probably especially great for curly hair. It's also supposed to minimize breakage, and I even found an article where a girl claims it made her color last longer. I'll never wrap my hair in a terry towel again.
Favorite thing #12
Egor and Zero
Egor has been on every Favorite Thing list since I started, but now that he's got a little brother, I have two cat sons to love. They got off to a rocky start, but now, they totally love tolerate each other. (They pretend not to be friends, but then I find them both sleeping on the bed at the same time, so close to one another… I think they may be faking.)
And I'm pretty sure they're telling cat secrets…
Or maybe plotting… Whatever the case may be, I'm just happy they're getting along. I started an Instagram account for them this year. They're well on their way to getting more followers than I have, which makes sense. They post way more than I do. They have very busy cat lives.
So, that about wraps it up. Have you got any favorite things you want to share with the rest of the class? Let us know in the comments below. See you next week!
*This post contains affiliate links.