My Roaring 20s Speakeasy Wedding
It's Like Déjà Vu
Welcome to my roaring 20s speakeasy wedding! It's been a hundred years since the roaring 20s, but here we are again with a global pandemic and an economic collapse. It's like déjà vu. (Or, it would be if any of us were alive to actually experience it the first time around…)
Sometimes it feels like the world is ending, but those folks in the 1920s managed to have a good time in spite of their crappy circumstances and so can we. How do I know? Because we did! Our speakeasy wedding was the cat's meow and I'm here to tell you all about it!
Finally. I mean, it's been over a freaking year already. What took me so long?
No, really. I'm asking. I have no idea.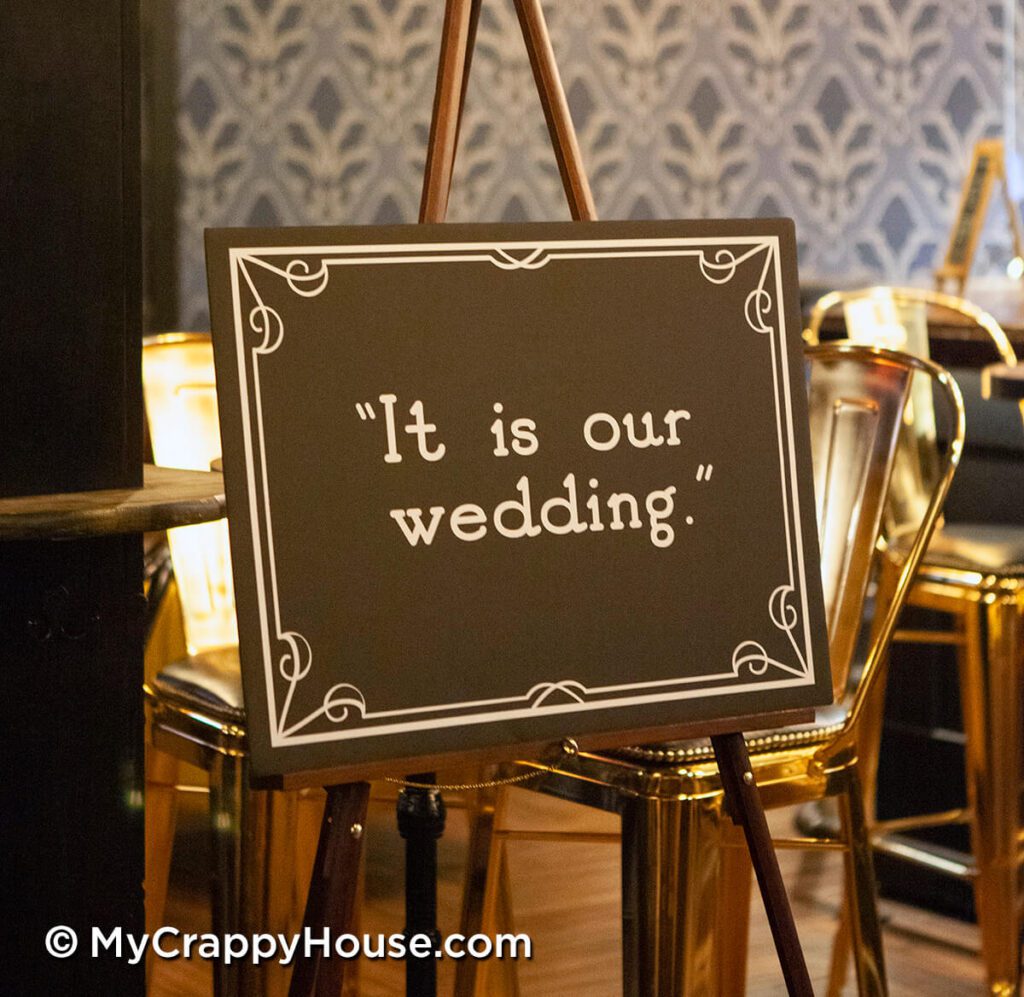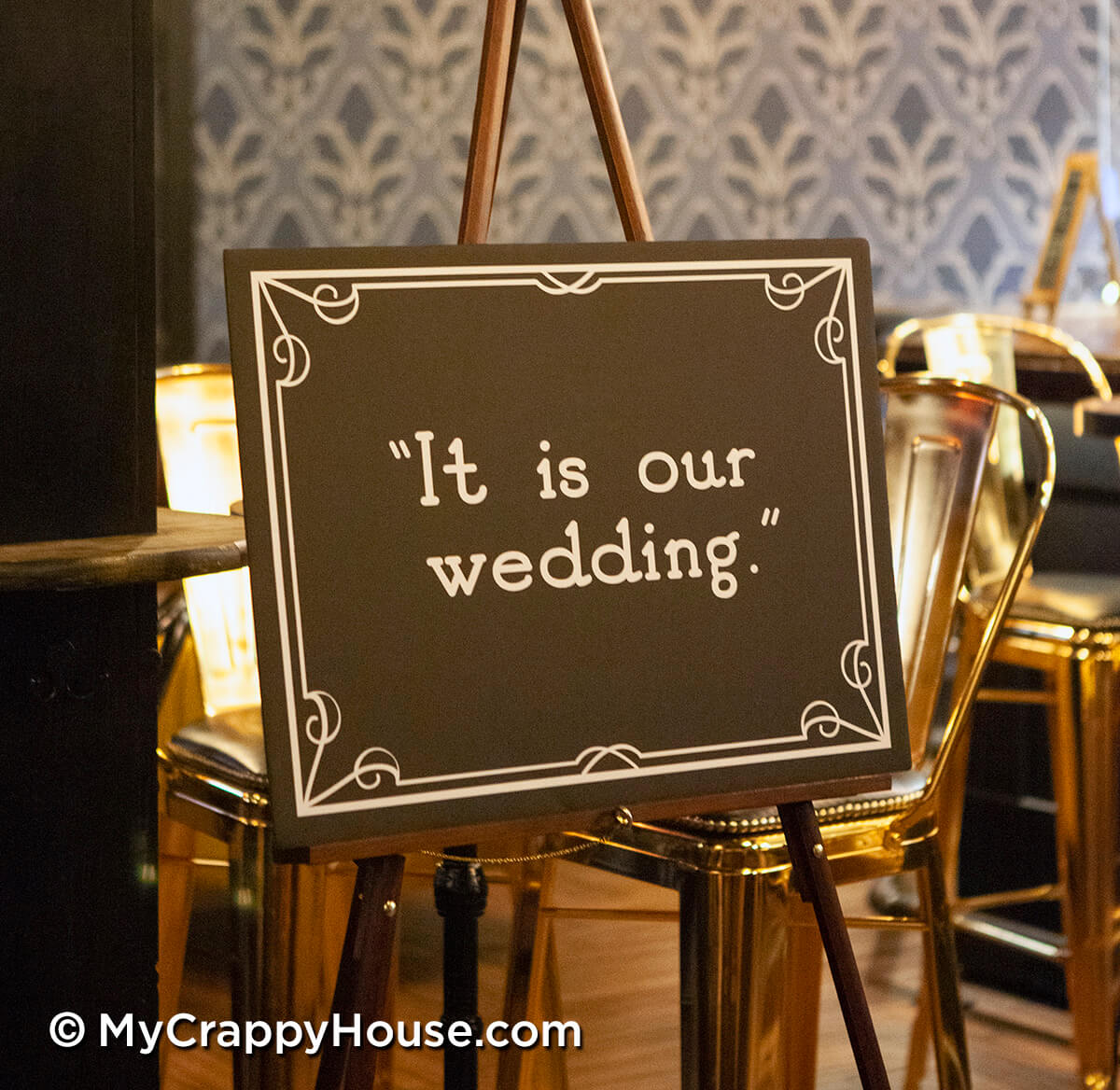 What's the Secret Password?
You may remember (or not, it was so long ago…) I got handcuffed (i.e., engaged) back in November of '19 and got hitched to my fella in May of 2021.
Back when we were planning our wingding, we thought, what with this being the 20s and all, it would be berries to ankle down the middle aisle in a genuine speakeasy! I know, right? Turns out, it was the bee's knees!
I'm so excited to share all the details of my roaring 20s speakeasy wedding with you, so if you'll just kindly provide the secret password, we can get a wiggle on…
(Psst… The password is SOUP SNAKES)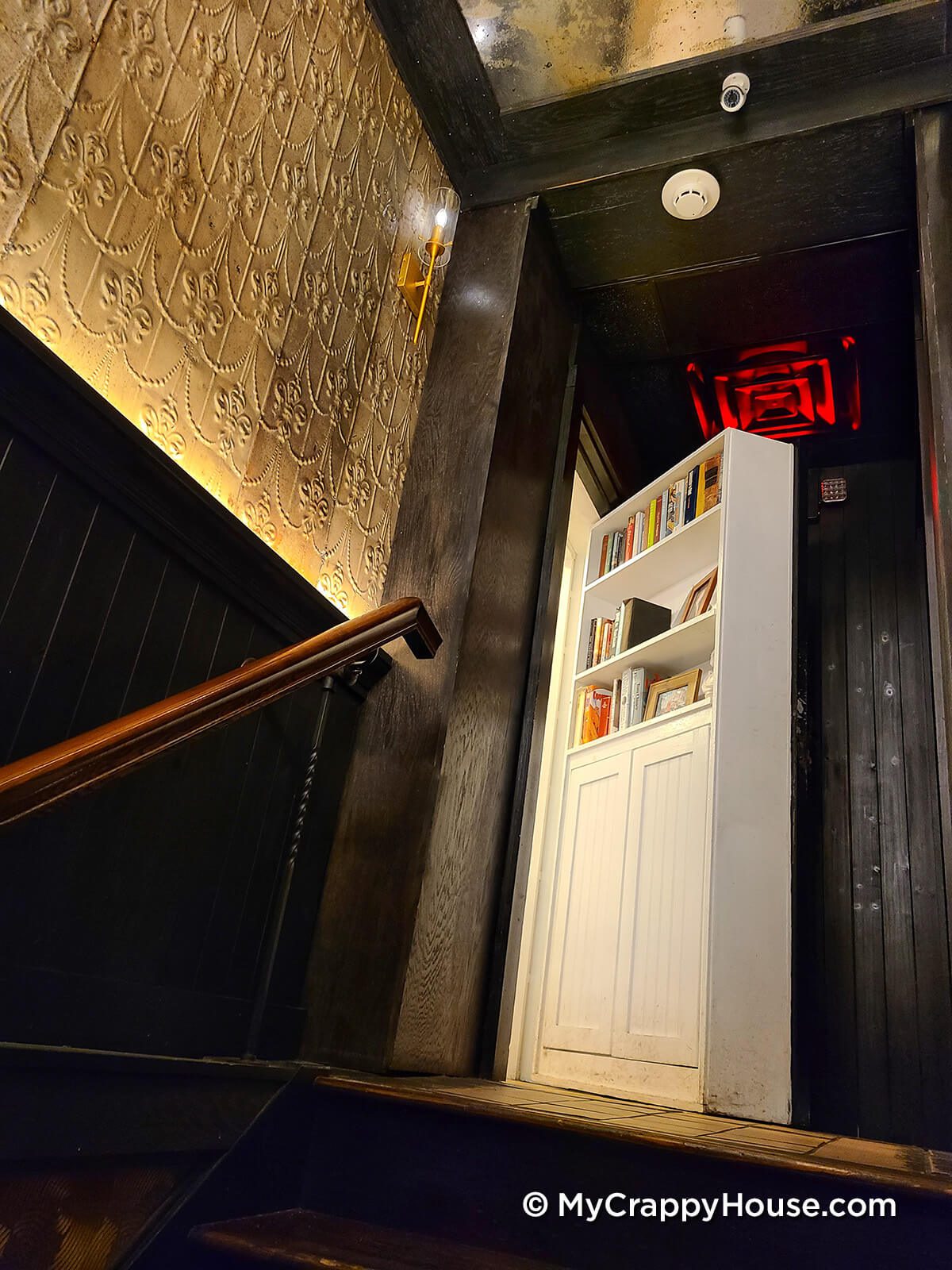 You made it! Swell.
Well, Don't We Look Spiffy!
I'm jumping ahead a little, but I feel like I might lose you if I don't show you a freaking wedding picture already, so let's remedy that right now. Here's Schmoopy and me on the big day.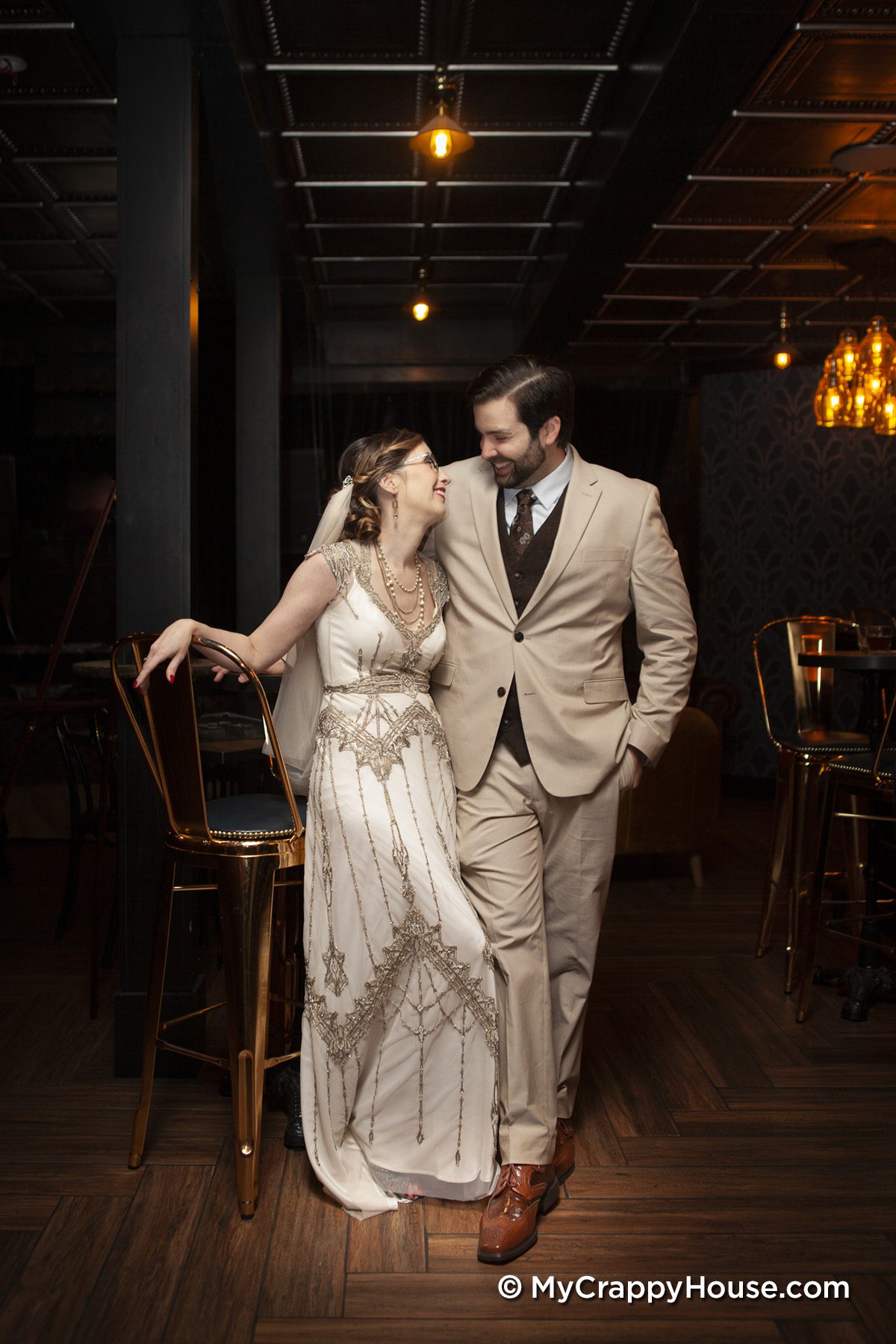 Dress: Sabine, by Gwendolynne
I know, right? We're heckin' cute. Keep reading and I'll have plenty more pics of us to show you (and a sweet, sweet video!), but please allow me first to brag about all the things I DIY'd for this very special day.
I mean, this is still a DIY blog.
In theory.
I didn't DIY this next part though. So, if you're keeping track, so far, this theory isn't panning out.
The Venue
We booked our venue less than two weeks after we got engaged. Charlotte's was the first and only place we visited.
If you didn't already know better, you'd probably be thinking… a dessert shop? What kind of weirdos would ever get married in a dessert shop?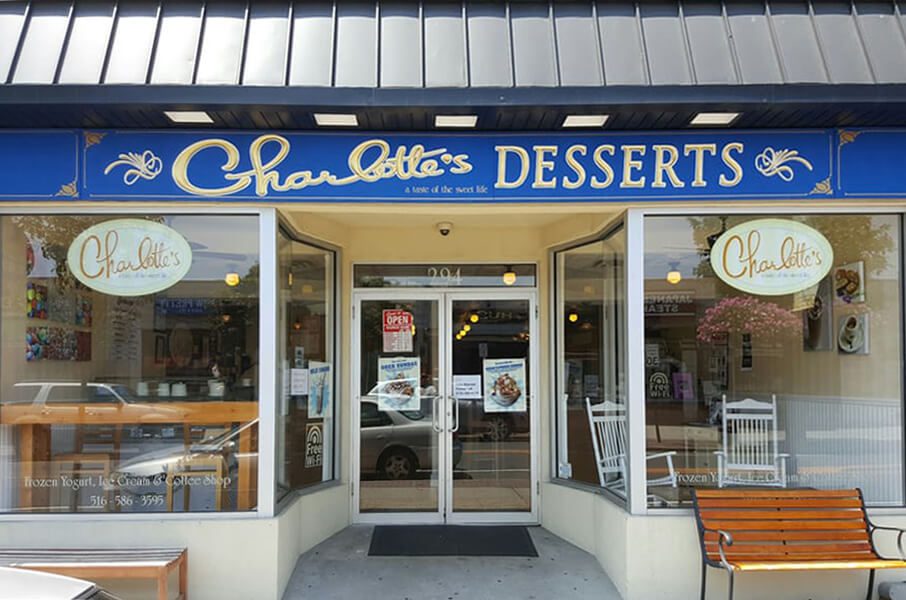 The truth is we're totally the kind of weirdos who would get married in a dessert shop, but, since you're reading this post, you know we really picked this place because the basement is actually a genuine speakeasy that was used during the Prohibition era!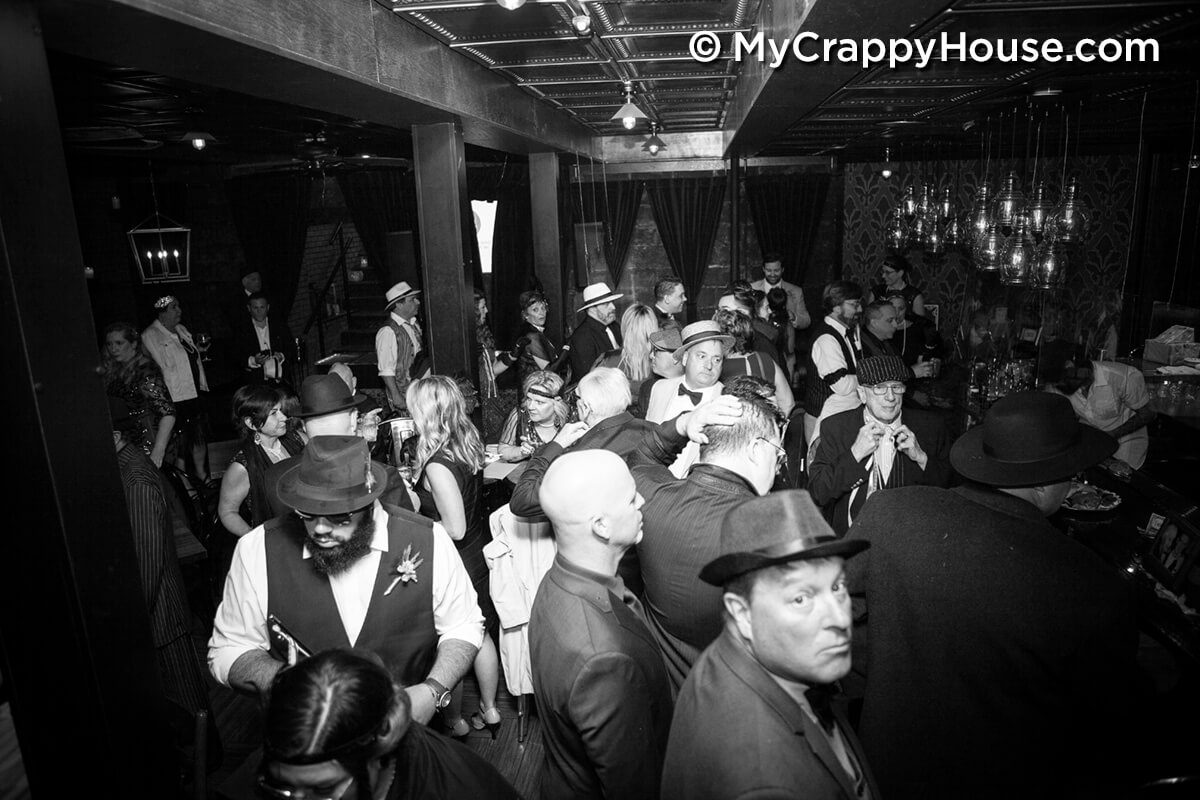 What's Prohibition, you ask? (Feel free to skip this next part if you didn't ask and I was just hearing voices again.)
A Little Bit of History
Picture it: Sicily America. 1920. The United States government decides to ban the sale and consumption of alcohol. You know, for the good of the nation. Of course, if you want to make sure people don't do something, the worst thing you can do is to tell them they can't do it. (Ask me how I know…)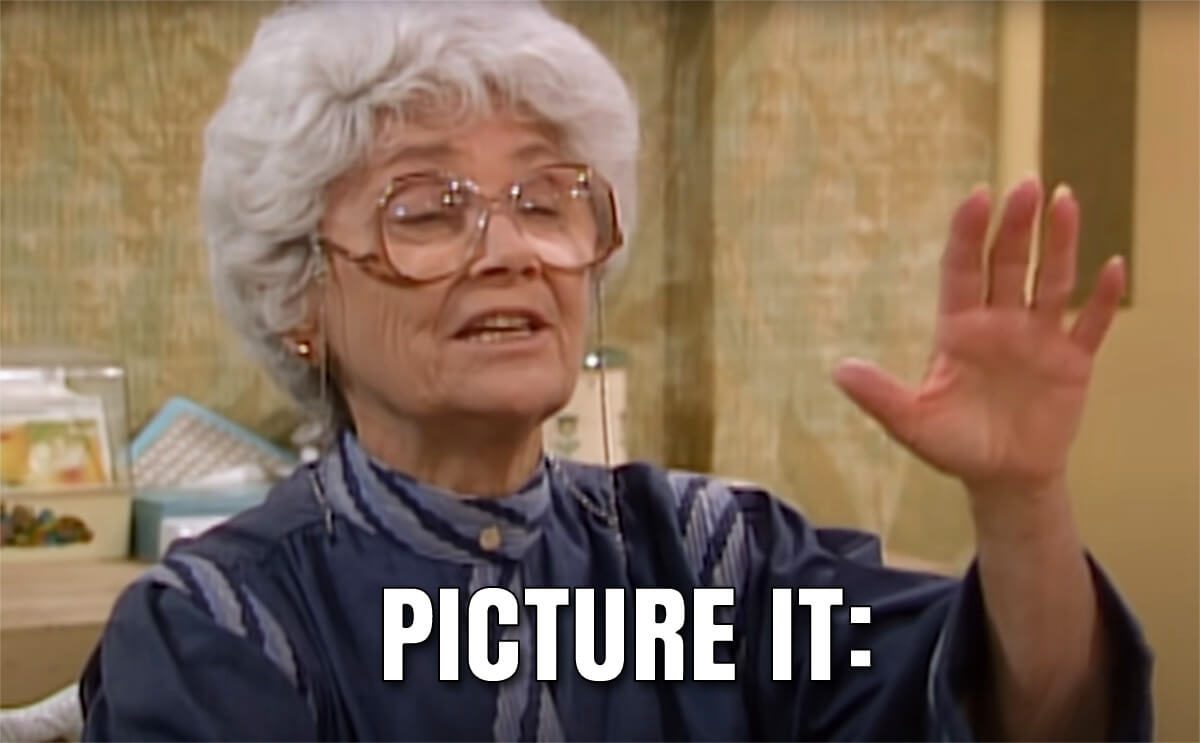 So, once people figured out a way to drink on the DL, alcohol was consumed more than ever. Only now, it was crappy, dangerous alcohol because legit manufacturers were banned from making the good, safe (ish) stuff. Crime increased, tax revenue decreased, and speakeasies became one of the most lucrative businesses of the era.
Way to go, government.
Back to the Venue
In the 20s, Charlotte's was a women's clothing store named… I don't know… something old timey like Myrtle's Dress Shop or Betty's Lady Frocks, with a speakeasy in the cellar below, complete with an escape tunnel for when the fuzz busted in.
When the current owners bought the building, they had no idea of its bootleggy history, but they were delighted to discover it and decided to restore the space to its former glory.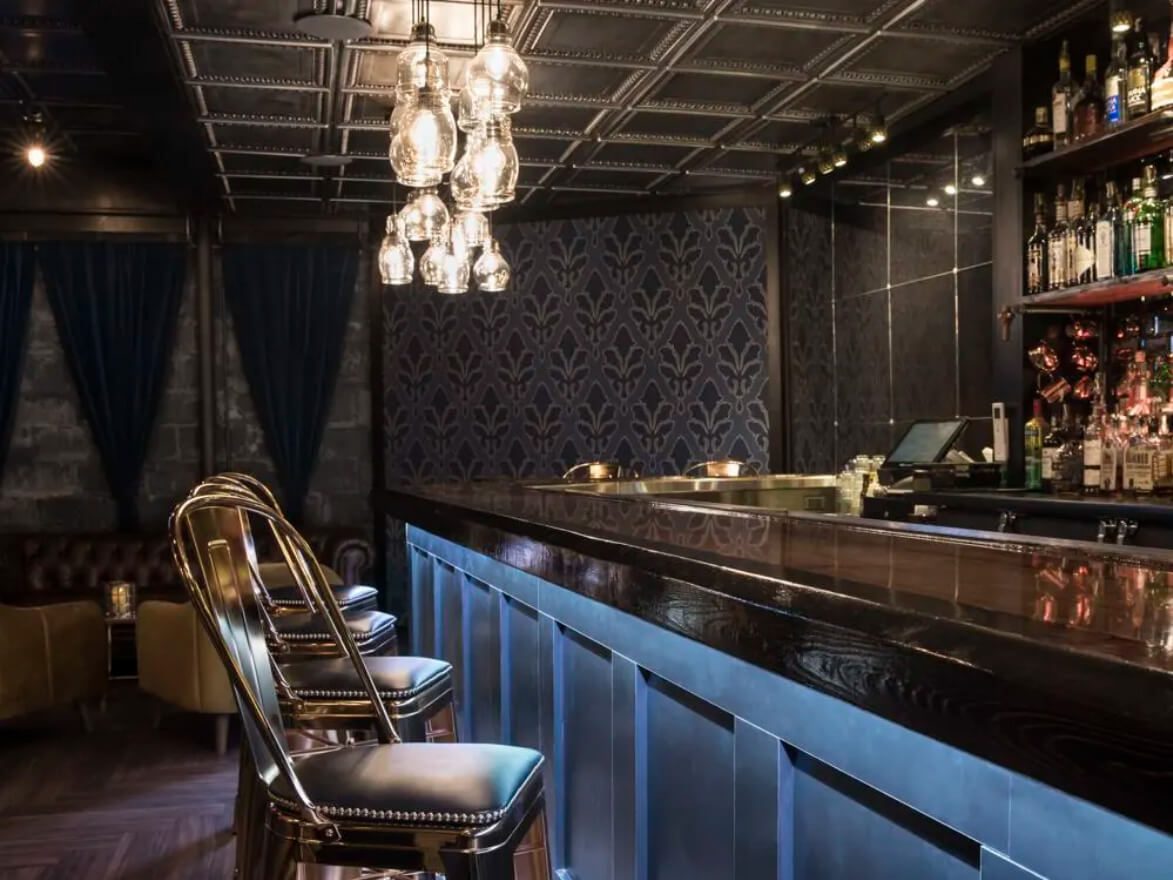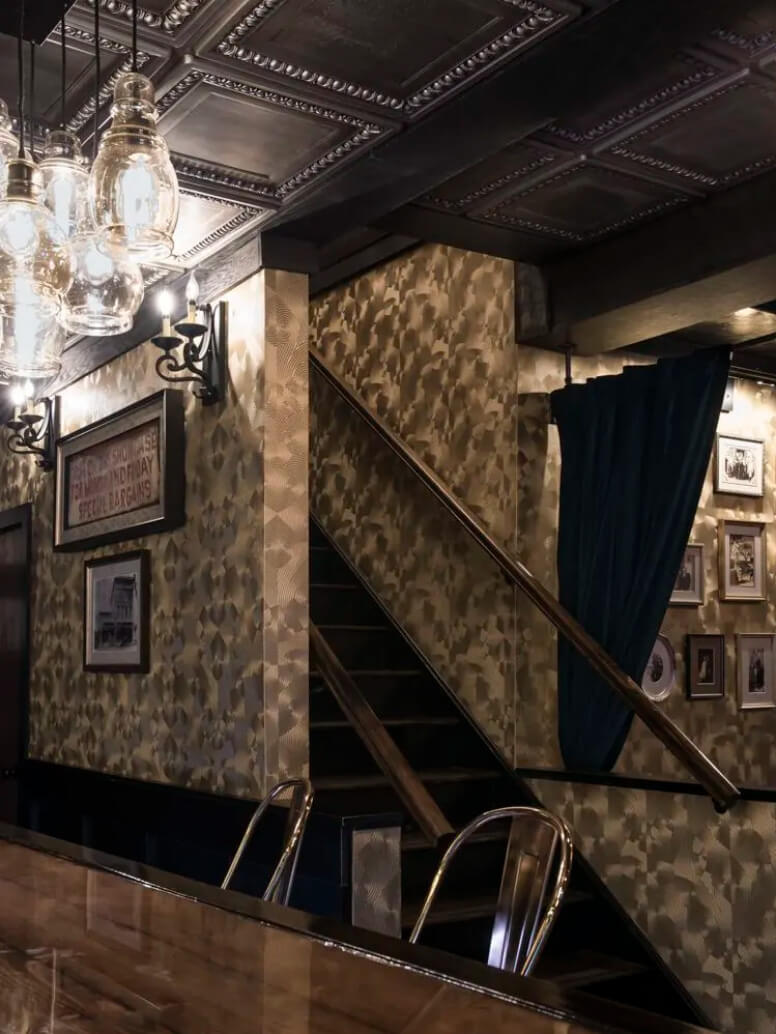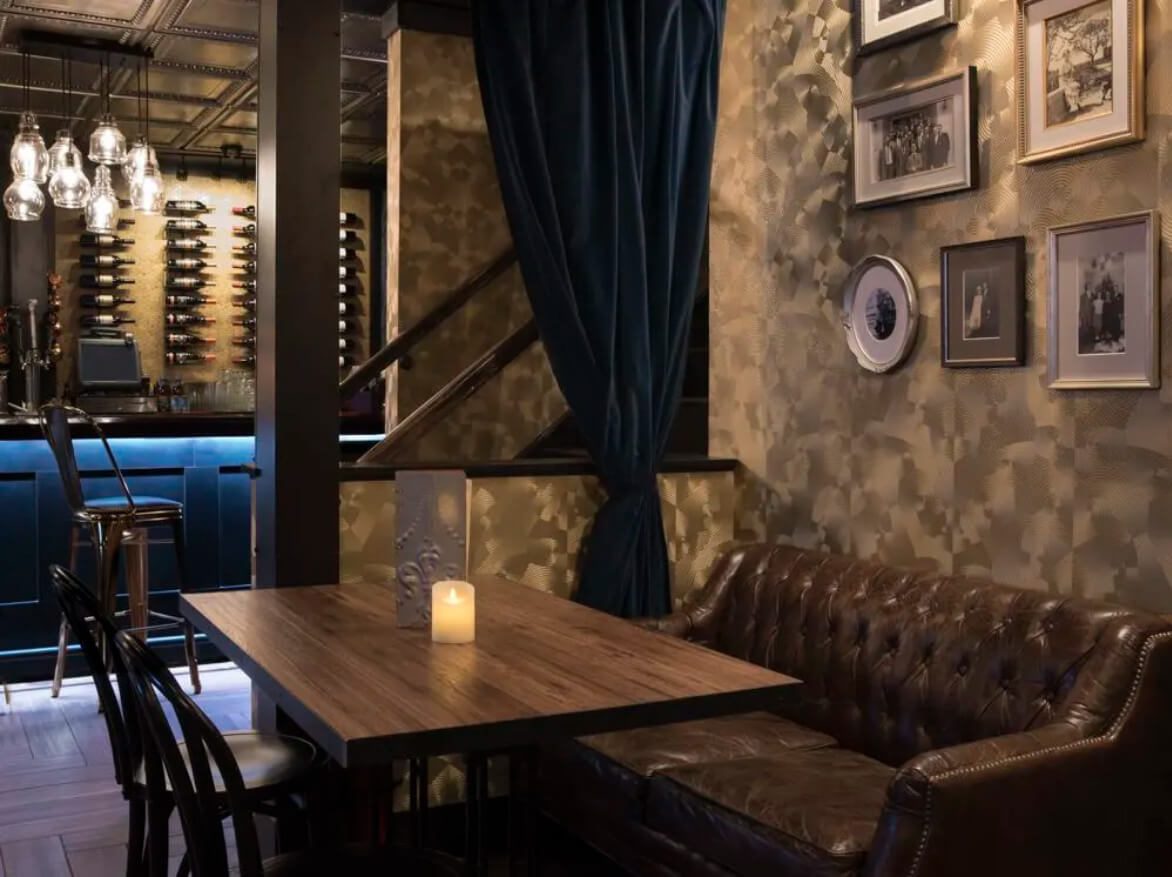 For me and Schmoopy, it was love at first sight and we booked it on the spot. We're nothing if not nontraditional. Which is to say, we're not. Clearly.
Save the Date!
As you might imagine, Fridays and Saturdays are jumping at Charlotte's, so Sunday was our only option if we wanted a nighttime affair. (And we did. I look much better at night.) We chose May 30th because it was Memorial Day weekend and most people had Monday off from work so they wouldn't mind staying out late. Aren't we clever?
I made our "save the dates" myself (HA! I told you this was still a DIY blog!) using my cheapo laser printer and this no frills laminator to add gold foil to my design. My printer was low on toner, but I quite liked the aged quality that resulted.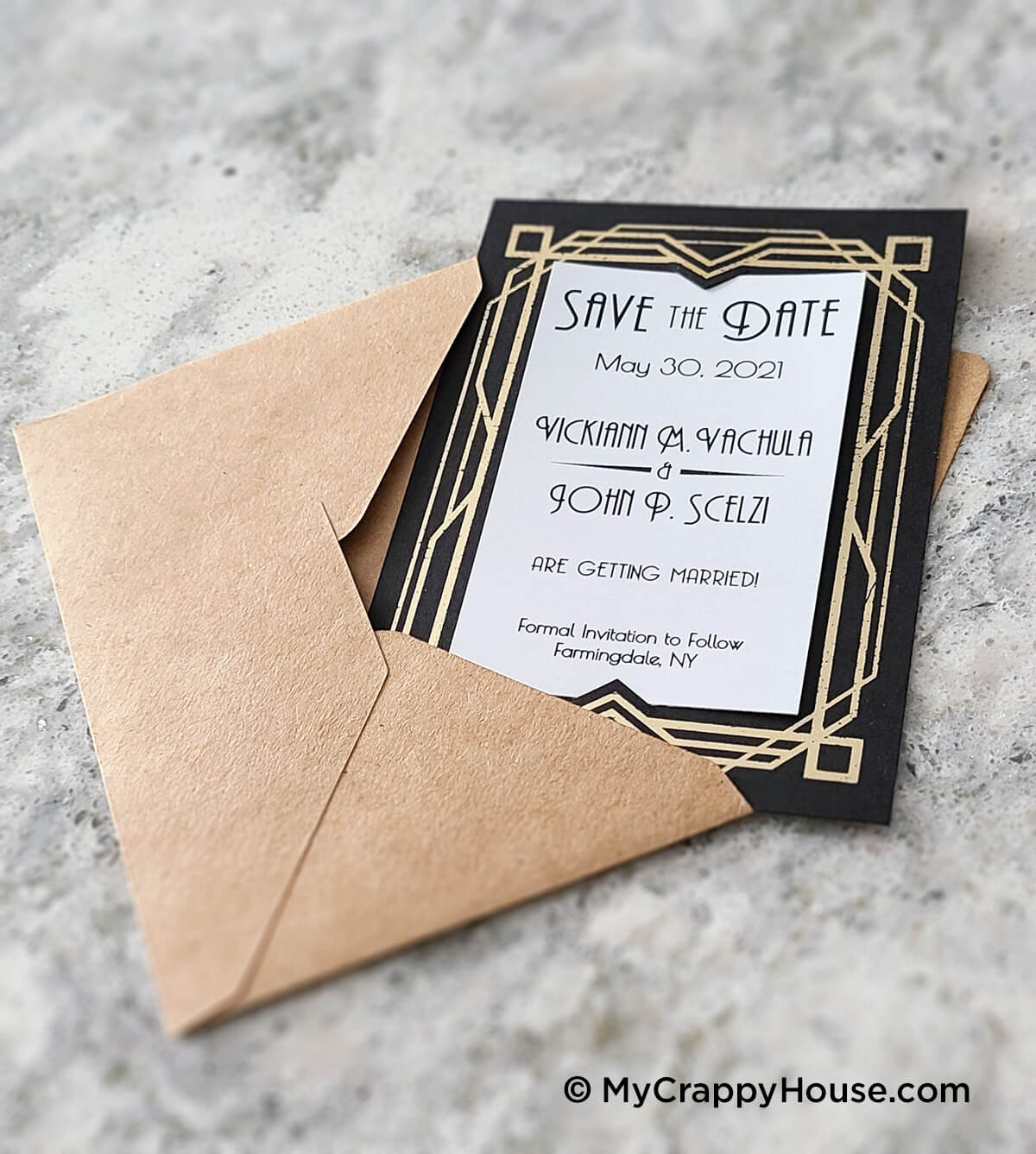 I had a custom stamp made from rubberstamps.com to go over the seal.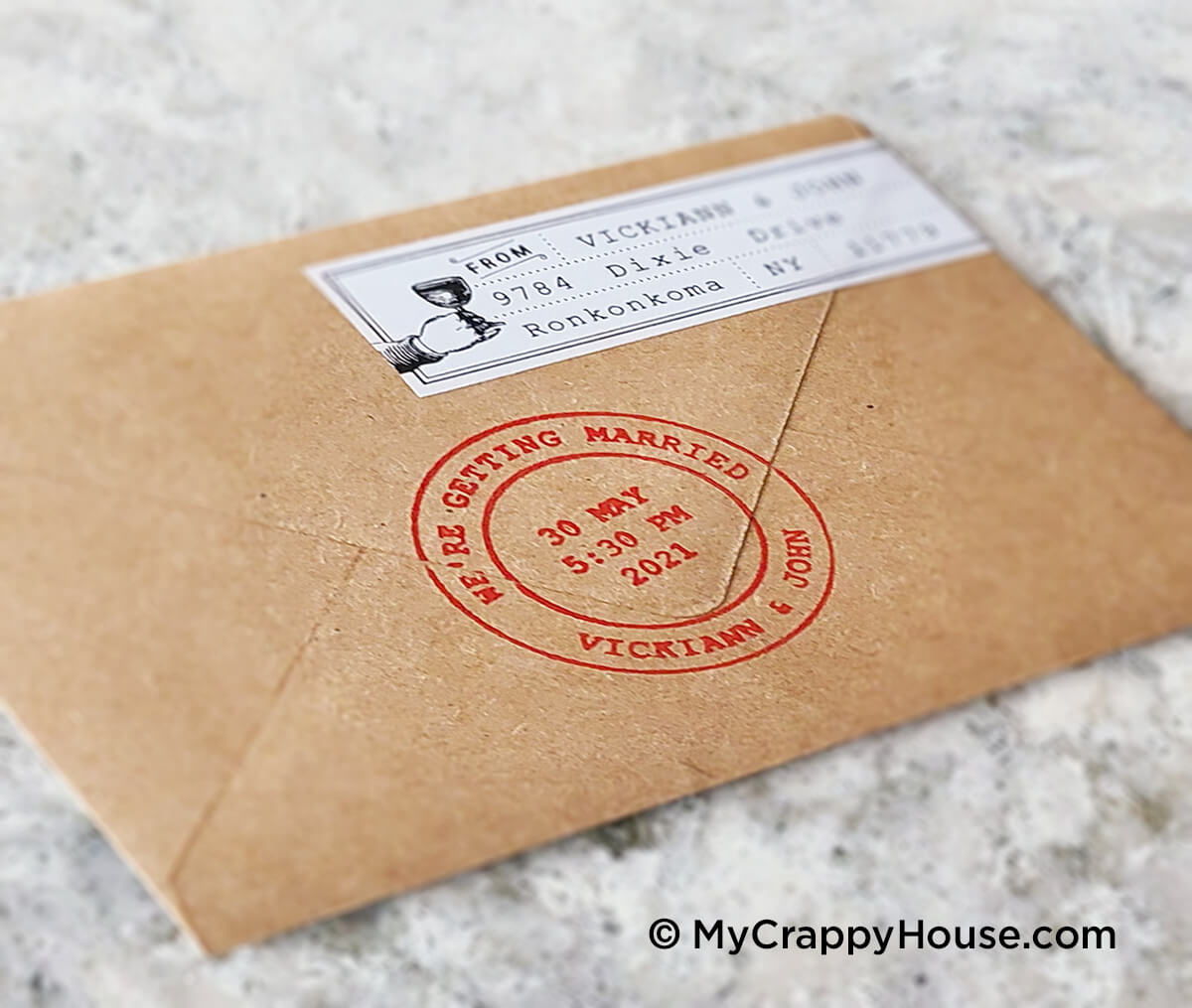 Custom wrap-around return address labels completed the look. (None of this was enough to impress Ms. Buffy Summers, as she did not even bother to RSVP…)
If you'd like a tutorial on how to make save the dates like these, I'm very sorry I can't make you one because I don't want to. However, you can go here for lots of videos over on the YouTube, made by some very crafty people, that will show you the technique I used.
You're welcome.
Making the Invitations
Our invitations were newspapers that I printed (published?) on tabloid sized parchment paper, which is perfect for making a four page spread. Folded into quarters, it fits into a standard booklet envelope. I purchased brown craft paper ones and tied the papers with twine for that vintage vibe.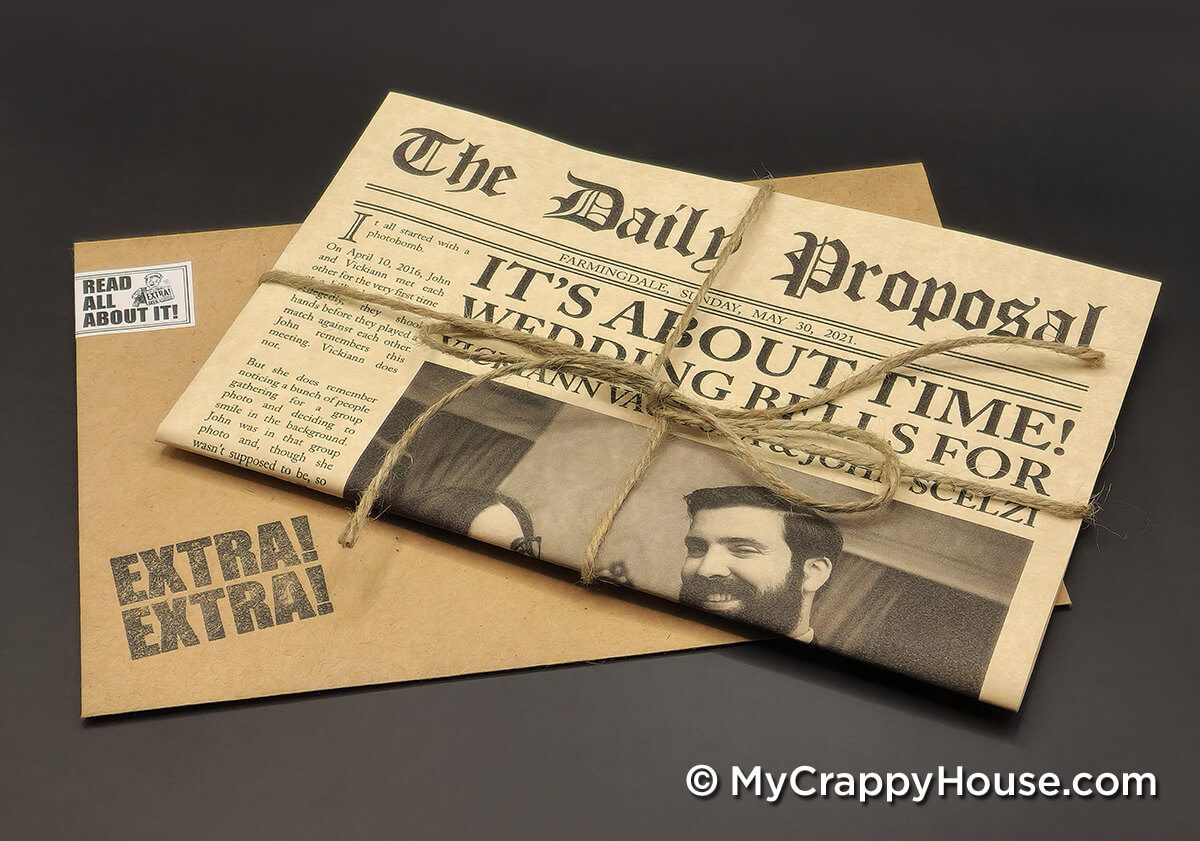 The paper was comprised of articles I wrote about how we met and the history of the venue, ads from the 1920s, and detailed information about our big day. I even included horoscopes for those guests in need of serious life guidance and a word search because… well, no one knew wtf Sudoku was in the 20s.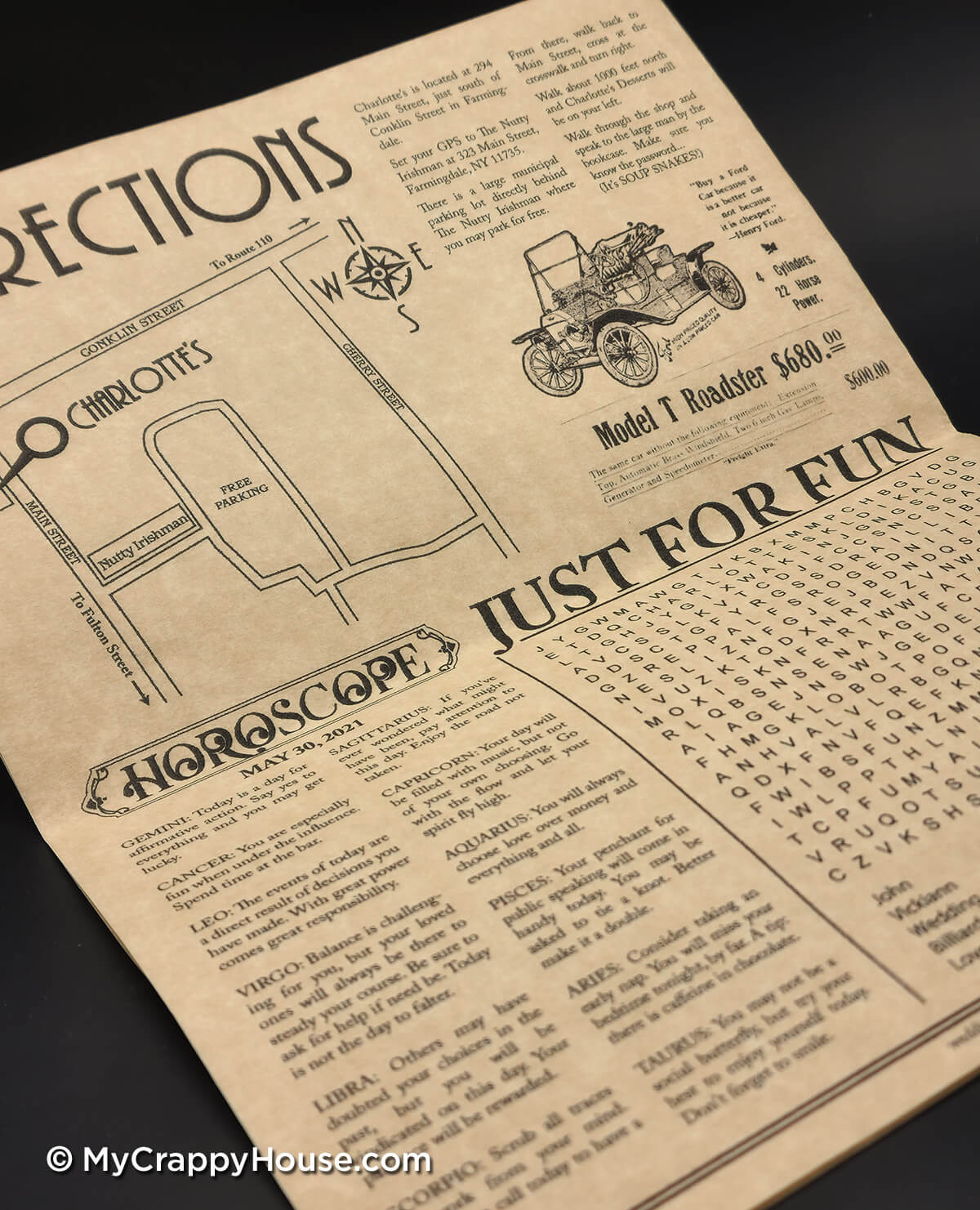 Many of my guests told me that it was the best wedding invitation they'd ever received and I was like, "I know."
My Bouquet
I made all of the bouquets for my wedding using artificial flowers. Now, before you poo poo fake flowers, hear me out. Real flowers are stupid expensive, they need to be delivered the day of, and then they die. Control freak that I am, there's no way I could have made all of the bouquets myself using real flowers.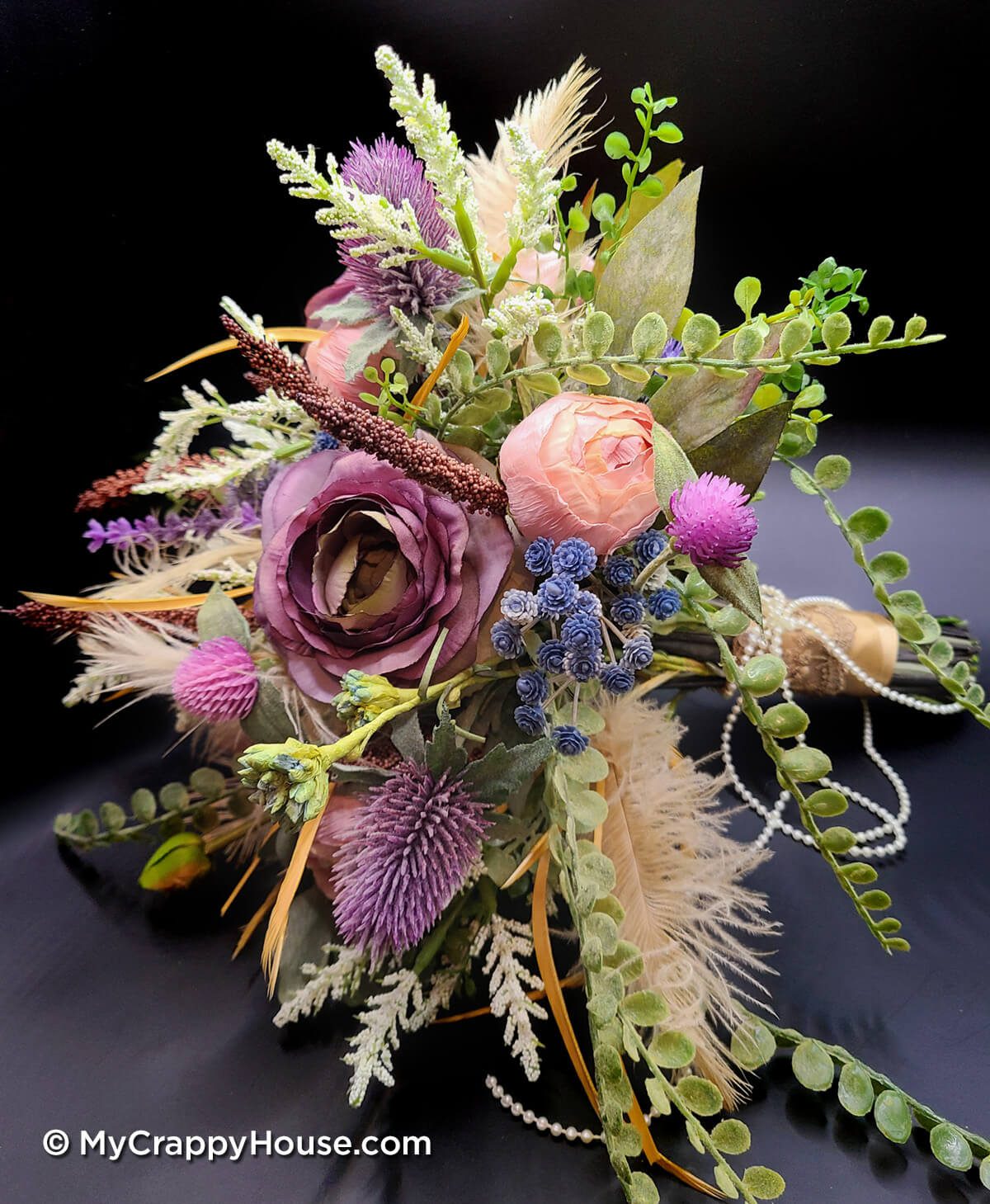 Now they live in a vase on my piano. (Well, they don't live there, because they're not alive, but that's where they hang out, pretending to be alive.)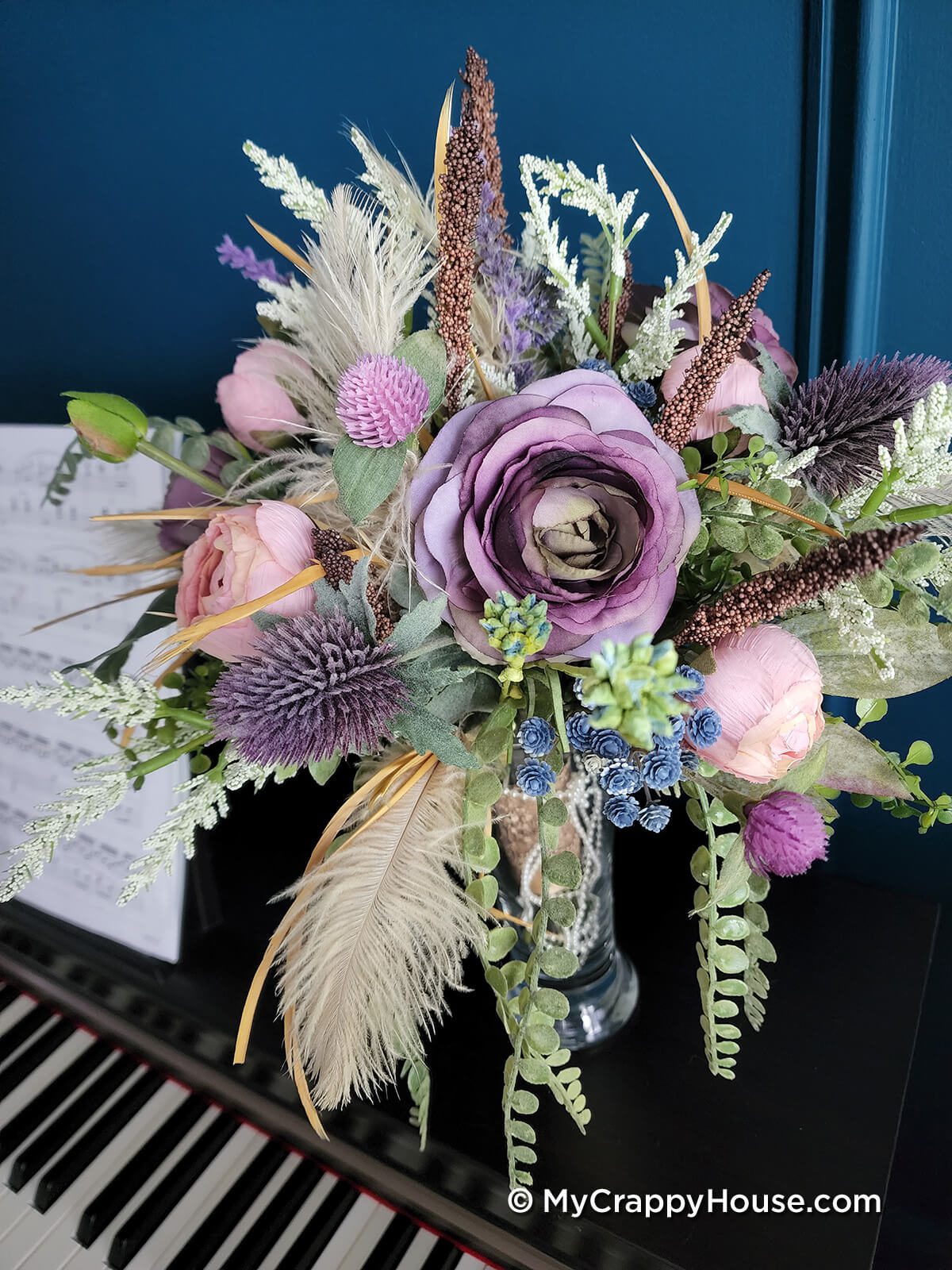 I'm probably going to do a tutorial on how to make a bouquet because I'm awesome at it and I feel a slight responsibility to share that gift with all of humanity. (Or, at least the handful of humanity that reads this crappy blog.) I'll put a link here when that happens.
Our Vow Books
I wanted a nice keepsake for our vows, so I learned how to bind my own books on YouTube and made these…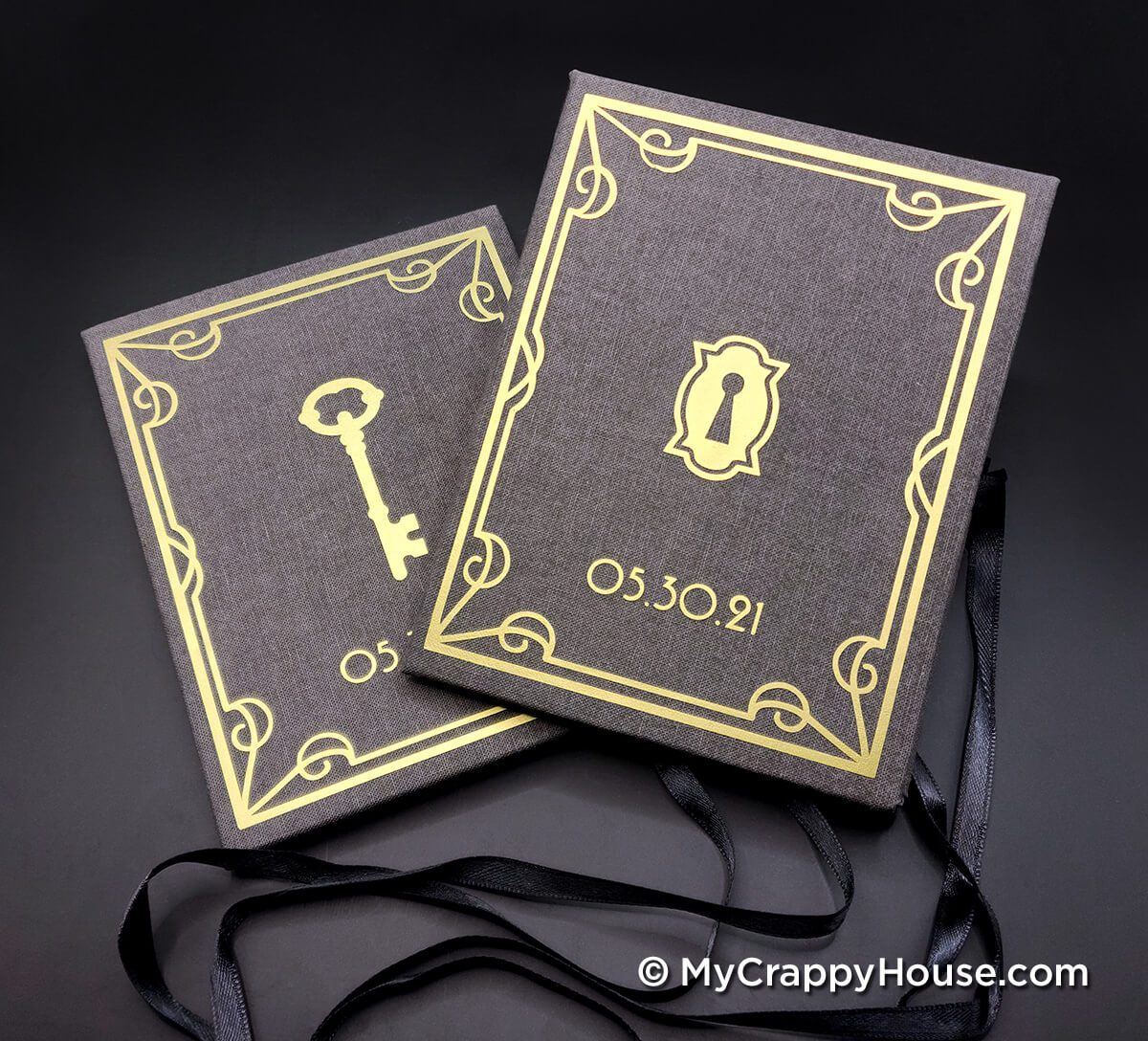 I know, right? I'm amazing. I used my Cricut to make heat transfers for the covers. I thought the lock and key was romantic because there's only one key for every lock and he's my key.
Except, that's not true at all because you can have copies made at the hardware store, and you can even have locks rekeyed so that's actually a terrible analogy. All I know is those slutty whore locks better stay away from my man's key…
Signs
Speaking of my Cricut, I used it to make a bunch of "silent movie" signs for people to pose with in photos.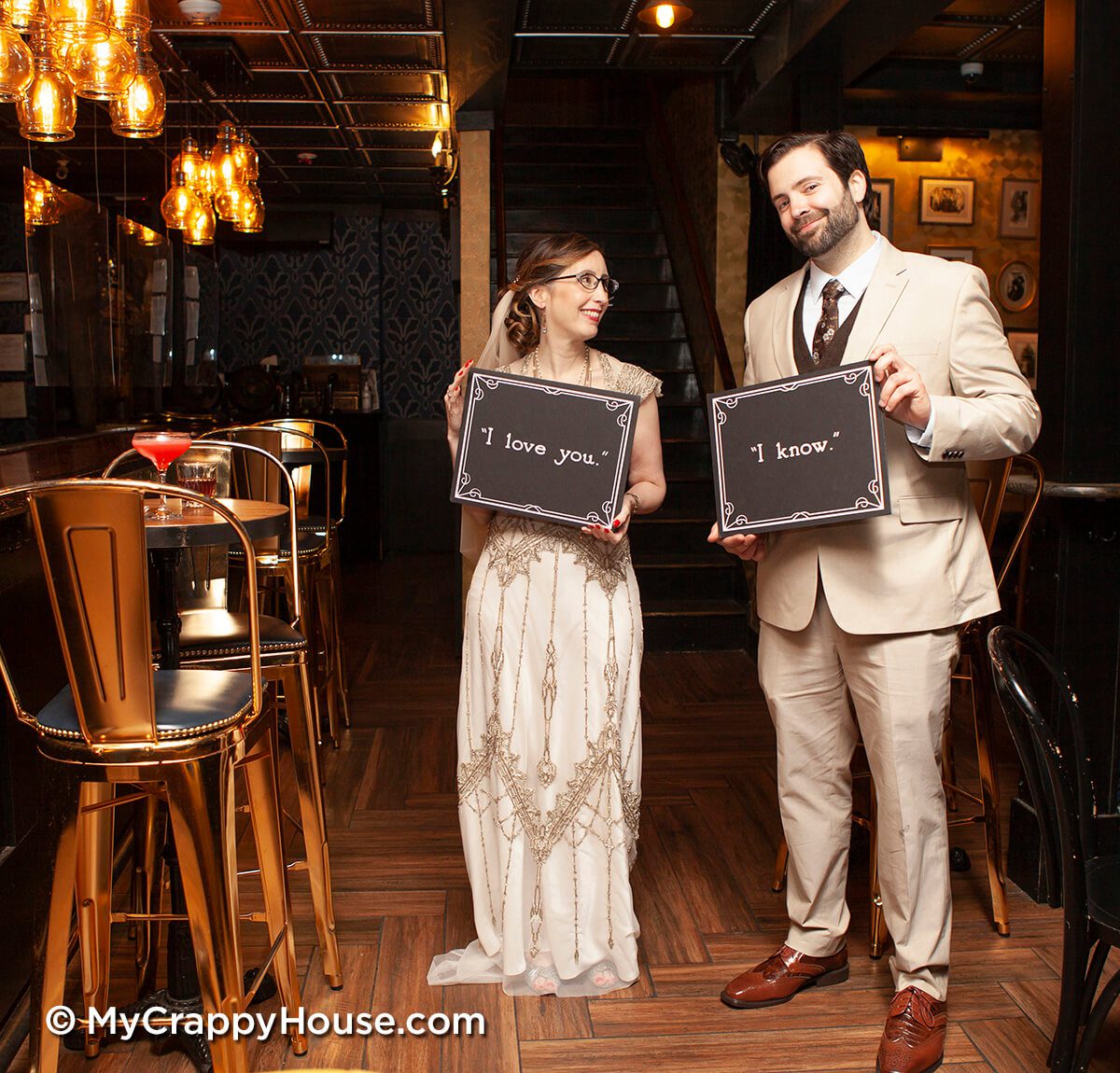 It was a fun way to incorporate some of our favorite movie and TV show quotes into our theme. Bonus points if you know what movie those signs above are from. (Don't get excited. Bonus points mean nothing.)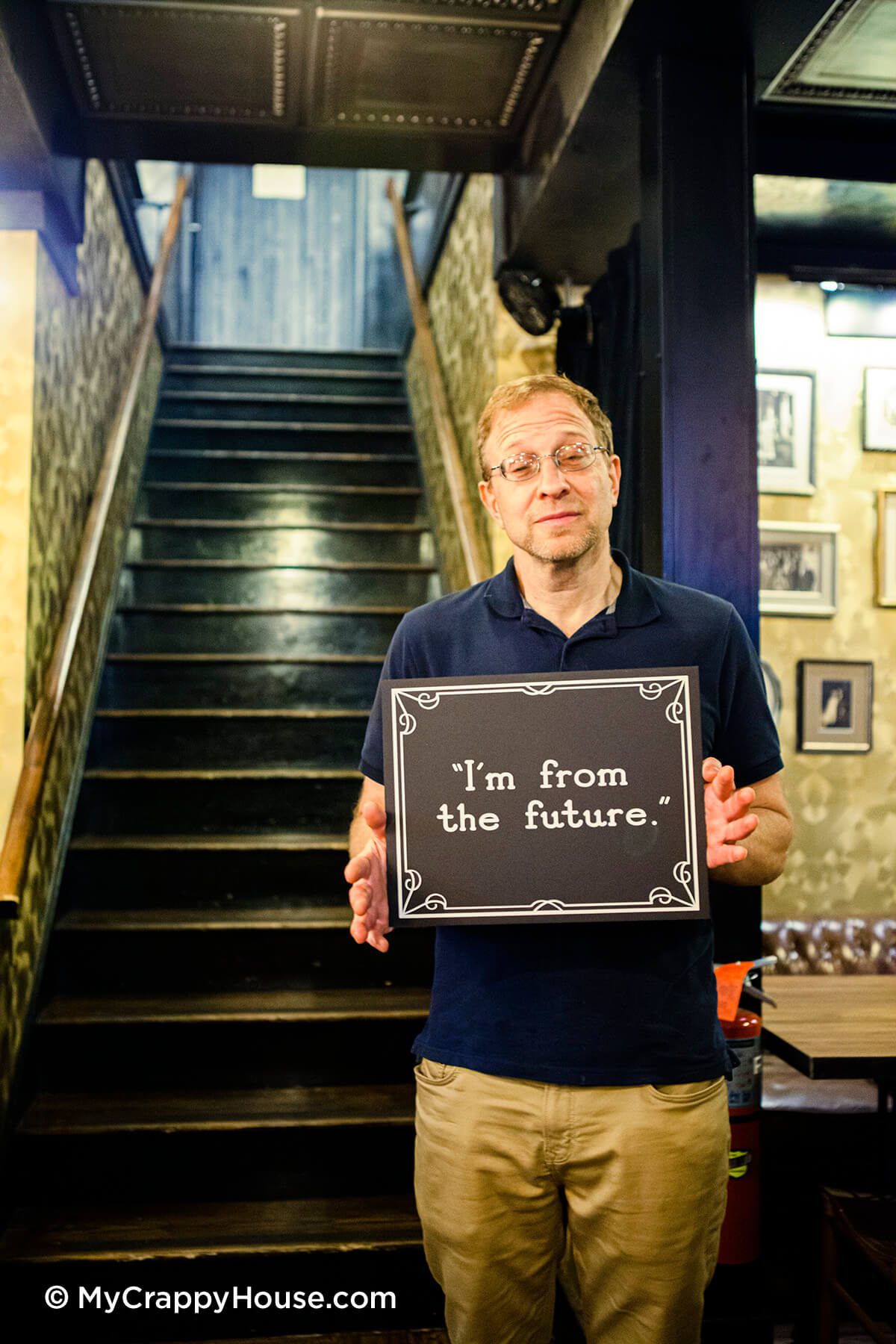 Props Box
In addition to the signs, we had a bunch of other props for photo ops. I purchased a vintage suitcase to hold them all and dolled it up for the occasion.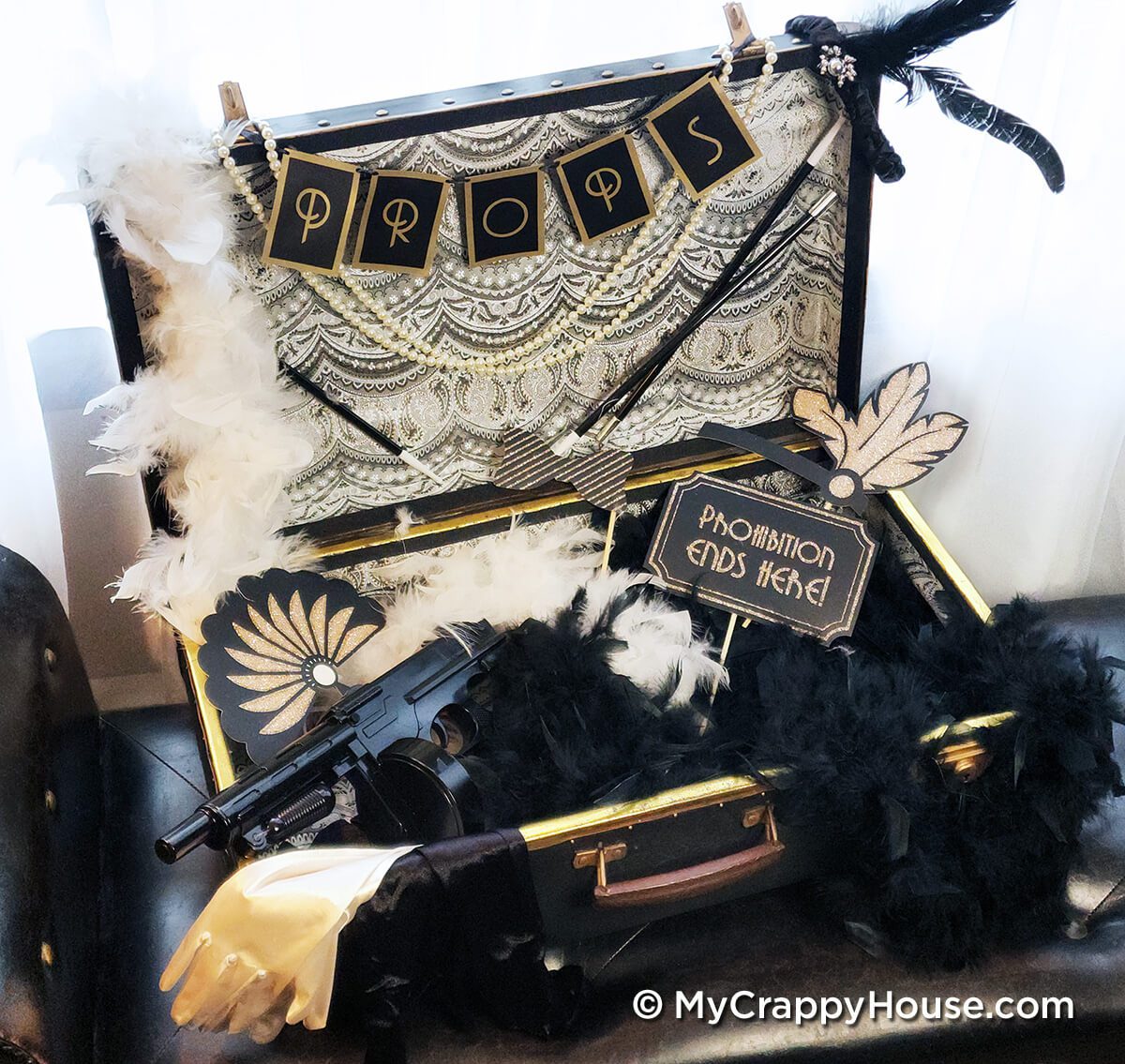 Other DIY Touches
I made candle holders for the aisle using stair balusters, wooden bases, metal trinket dishes, gold spray paint and lots and lots of pearls.
My centerpieces were bud vases from Dollar Tree, more pearls, styrene balls, and ostrich feathers. I bought the votives on clearance and sprayed them to look like mercury glass using this technique.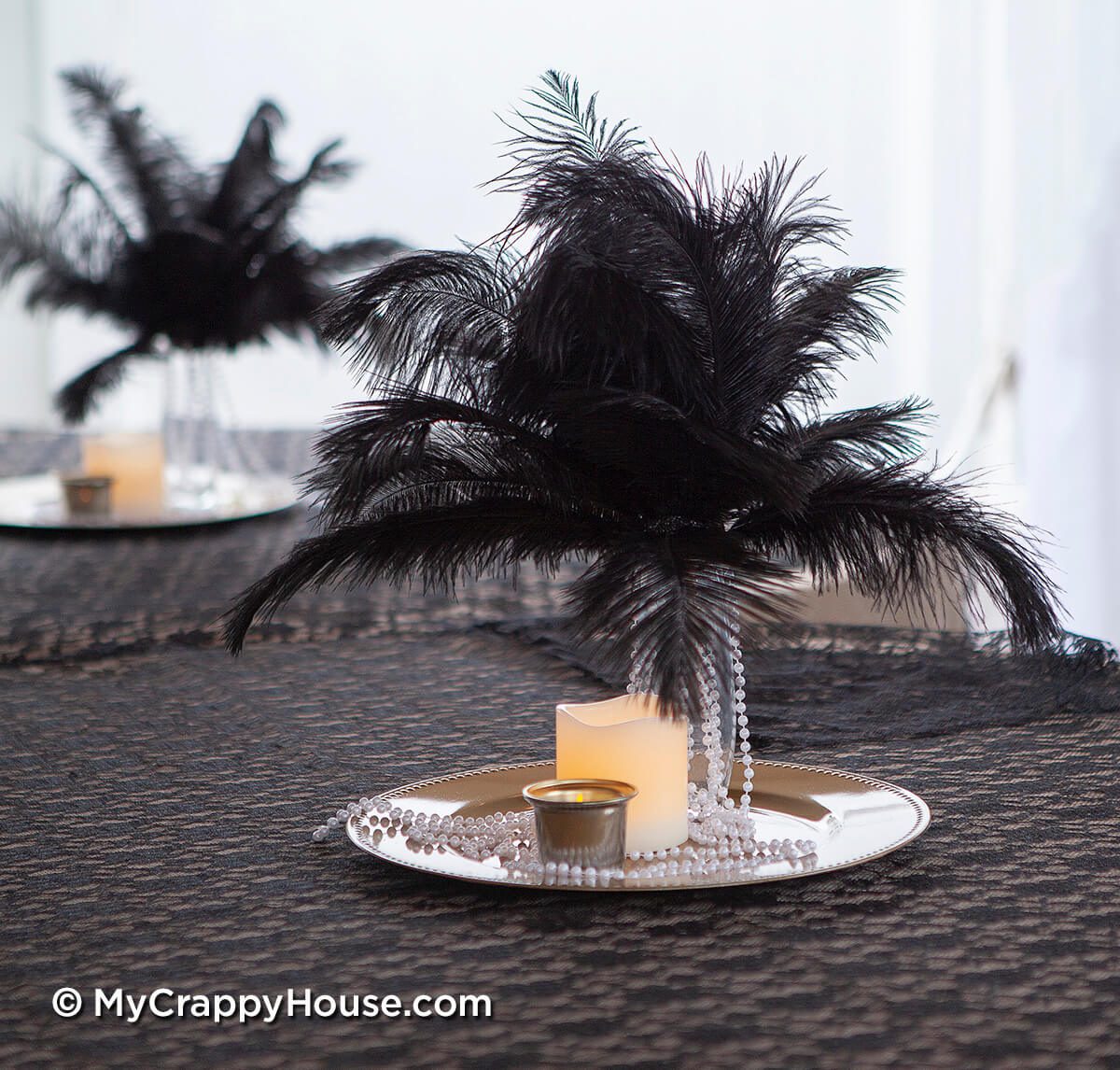 I'm not sure how common this is in the rest of the United States, but in New York, people don't usually buy wedding gifts; they bring cards with money. In anticipation of this tradition, I painted a birdcage gold and decorated it with ribbon, pearls and feathers to hold them all.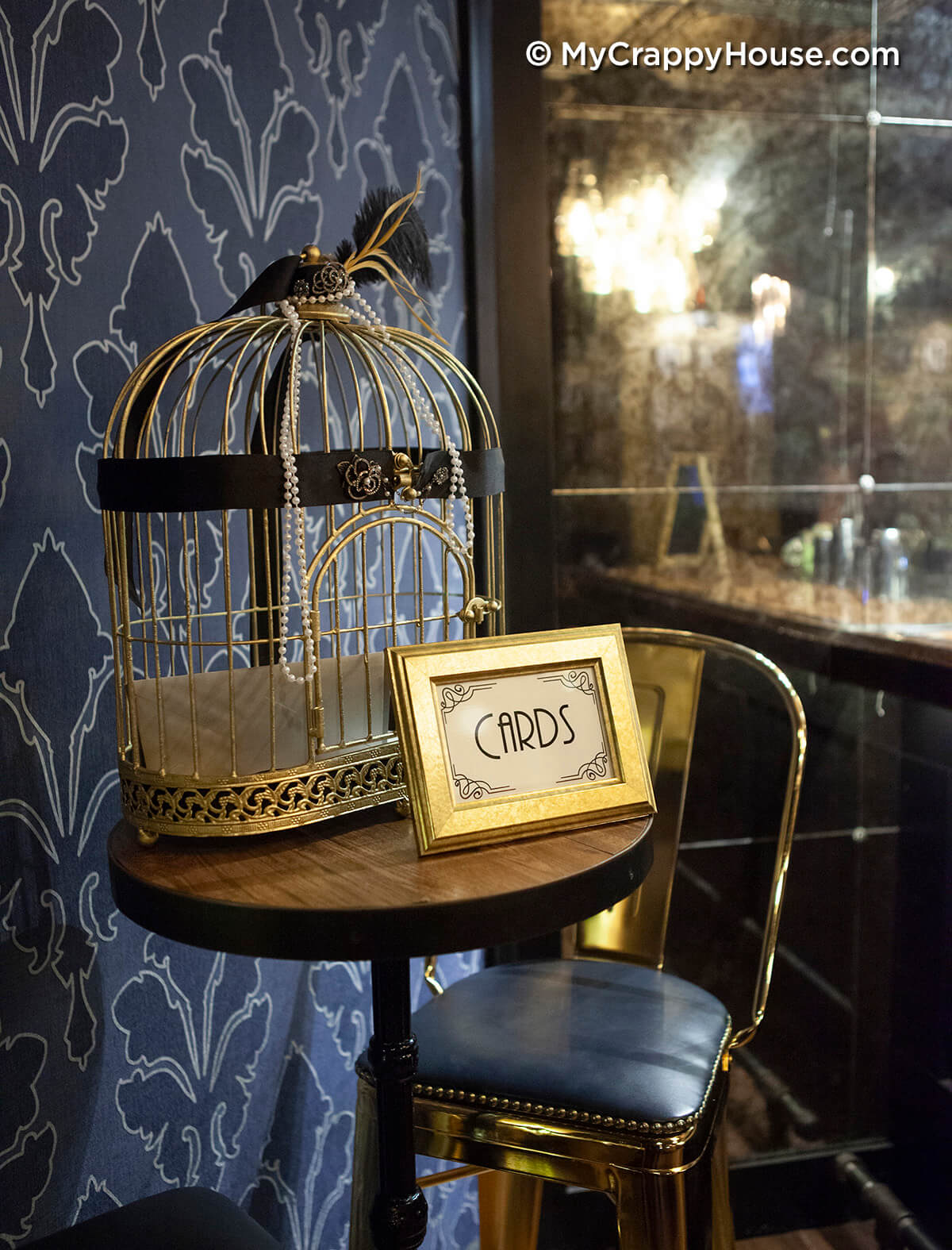 And maybe you remember these guys. I dedicated a whole blog post to painting this figurine. I'm not sure it warranted a whole entire post, but, at any rate, you'll have to go there if you want to see what it looked like before.
It's OK to be curious. Go on. Go see…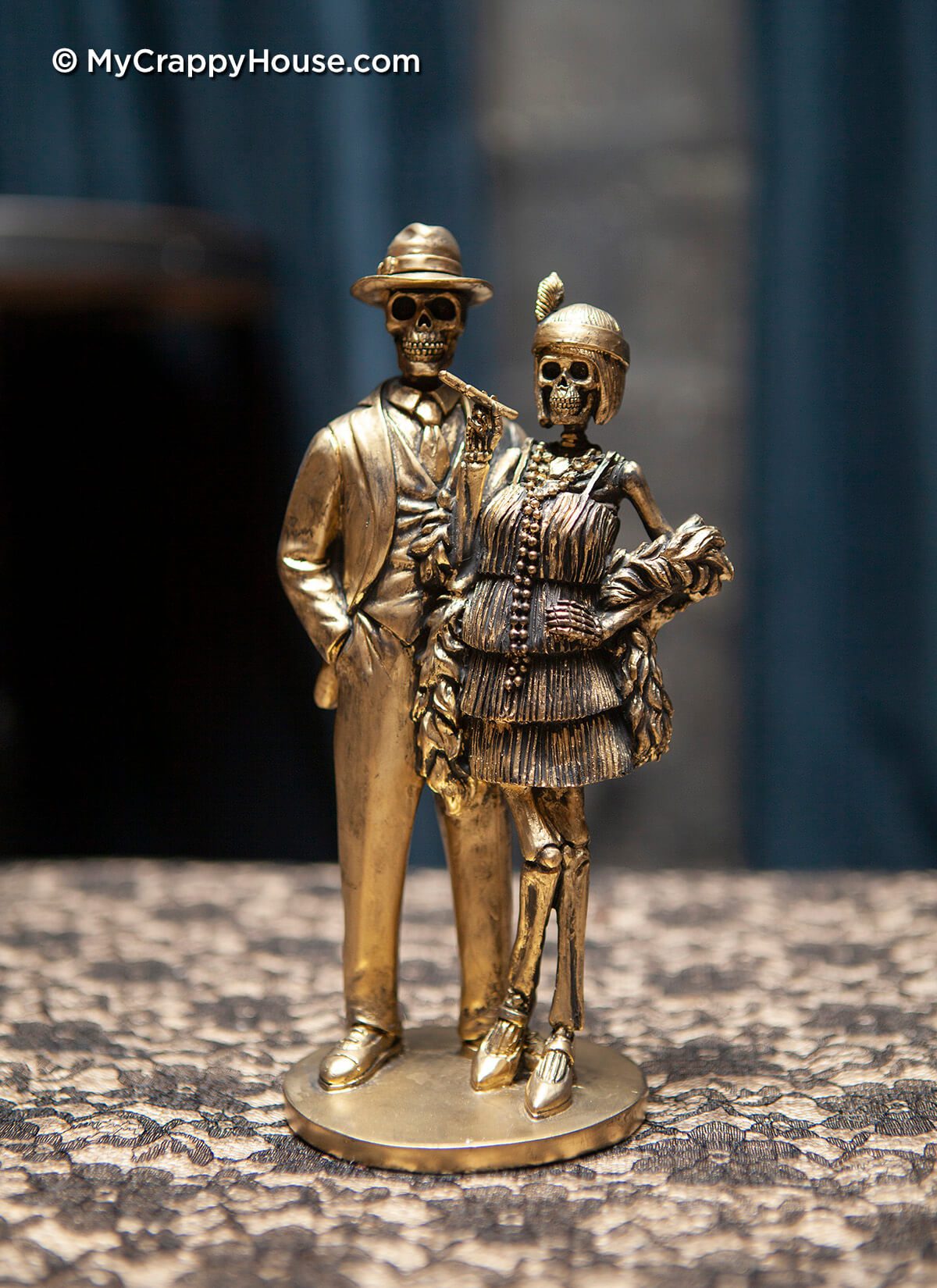 There are probably a few more things I'm missing, but it doesn't matter. The DIY I'm most proud of is our wedding movie…
Our 1920s Wedding Movie
We didn't have the budget for a videographer, so I asked a few friends to record our ceremony using cameras I rented from wedit.com. The upside to using wedit.com was that they provided a link to download all of the pictures and footage, so no begging my guests to please send me the moments they captured on their own devices. The downside to using wedit.com was that their cameras truly sucked.
Coincidentally, movie quality in the 20s sucked too, so I just rolled with it. (If you don't see the video below, click here.)
Much of the music in my movie is by a very talented piano musician named Scott Bradlee, creator of Postmodern Jukebox, who covers modern songs in a vintage style. We only played PMJ (that's what the cool kids call them) at our wedding. Lady Gaga in a 20s style? Yes, please. Gatsby Gangsta's Paradise? Fo shizzle.
Our 1920s Speakeasy Wedding
If you watched the movie, then you know how amazing our wedding was. If you didn't watch the movie, then I guess these pictures will have to do…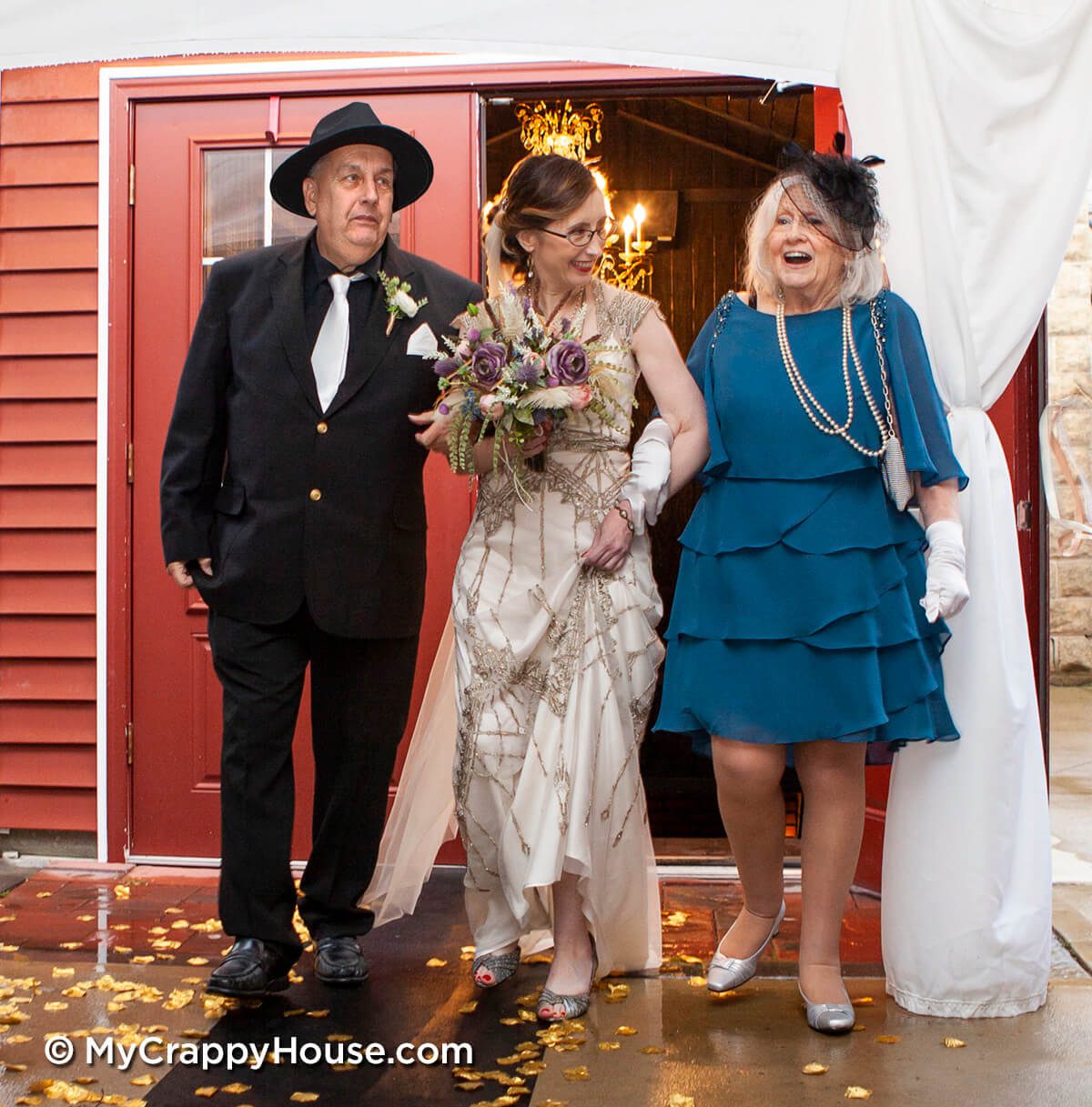 Both of my parents walked me down the aisle to the song, The Stripper. I didn't tell anyone what song I was using, so it was really fun to see recognition bloom on my mom's face in the video. (If you didn't watch the movie, you really should. My mom is so cute dancing to The Stripper.)
Thank goodness everyone kept their clothes on. It wasn't that kind of wedding.
My best friend of nearly forty years performed our ceremony. I know, right? How does that math even work? Obviously, we met well before we were born…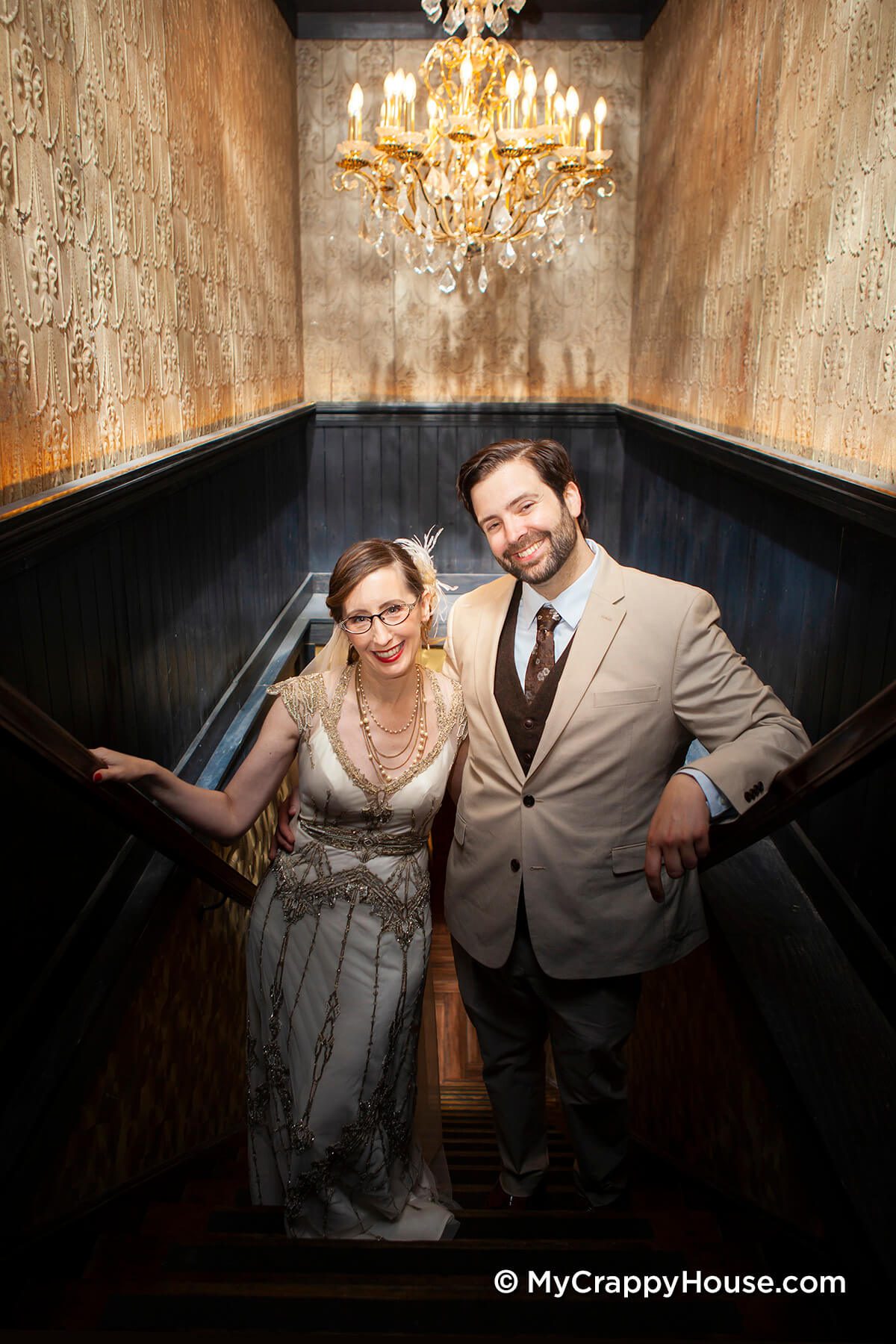 I bought my dress used from a wedding dress marketplace called stillwhite.com. The designer, Gwendolynne, is based in Australia and her beautiful, art deco gowns are made to measure, which means they're custom fit to each individual bride and, thus, way out of my price range.
Luckily, one of those rich Australian brides put her dress up for sale on the website for a fraction of the price she paid, making it almost affordable, so I bought it. It came to me in pristine condition and only needed minor alterations to fit me perfectly.
Schmoopy's suit was from Macy's. Men have it so freaking easy.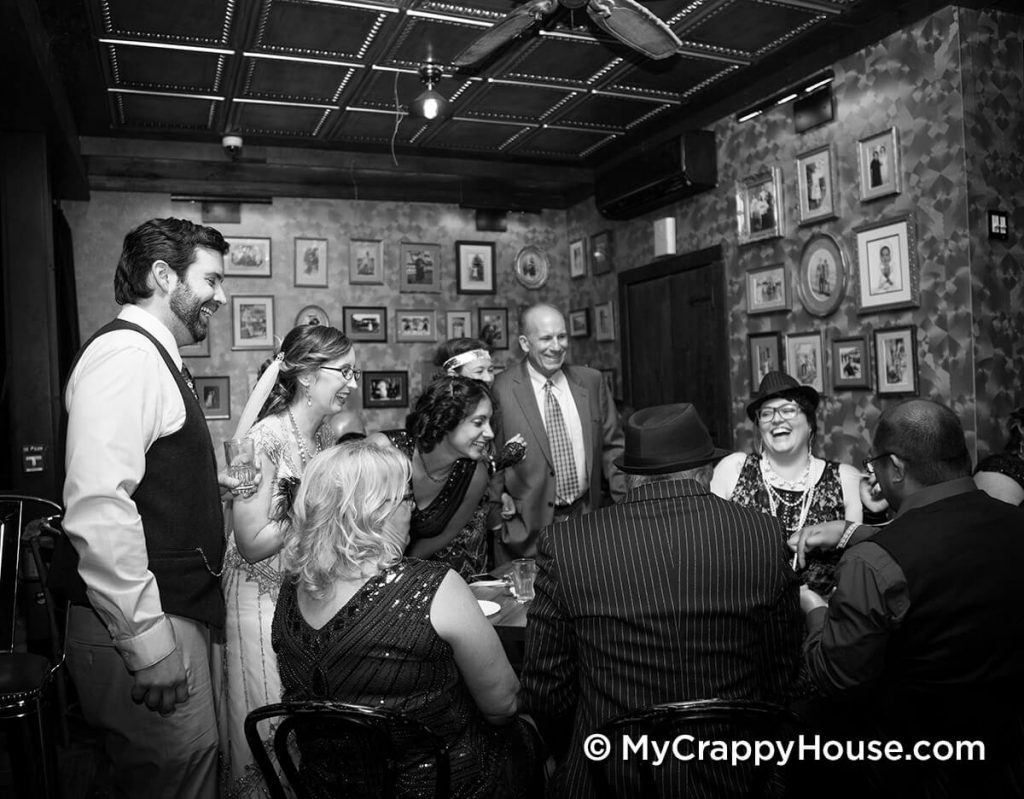 I instructed our photographer to take candid shots of us and our guests. Some of my favorite photos of the day are of people just enjoying themselves.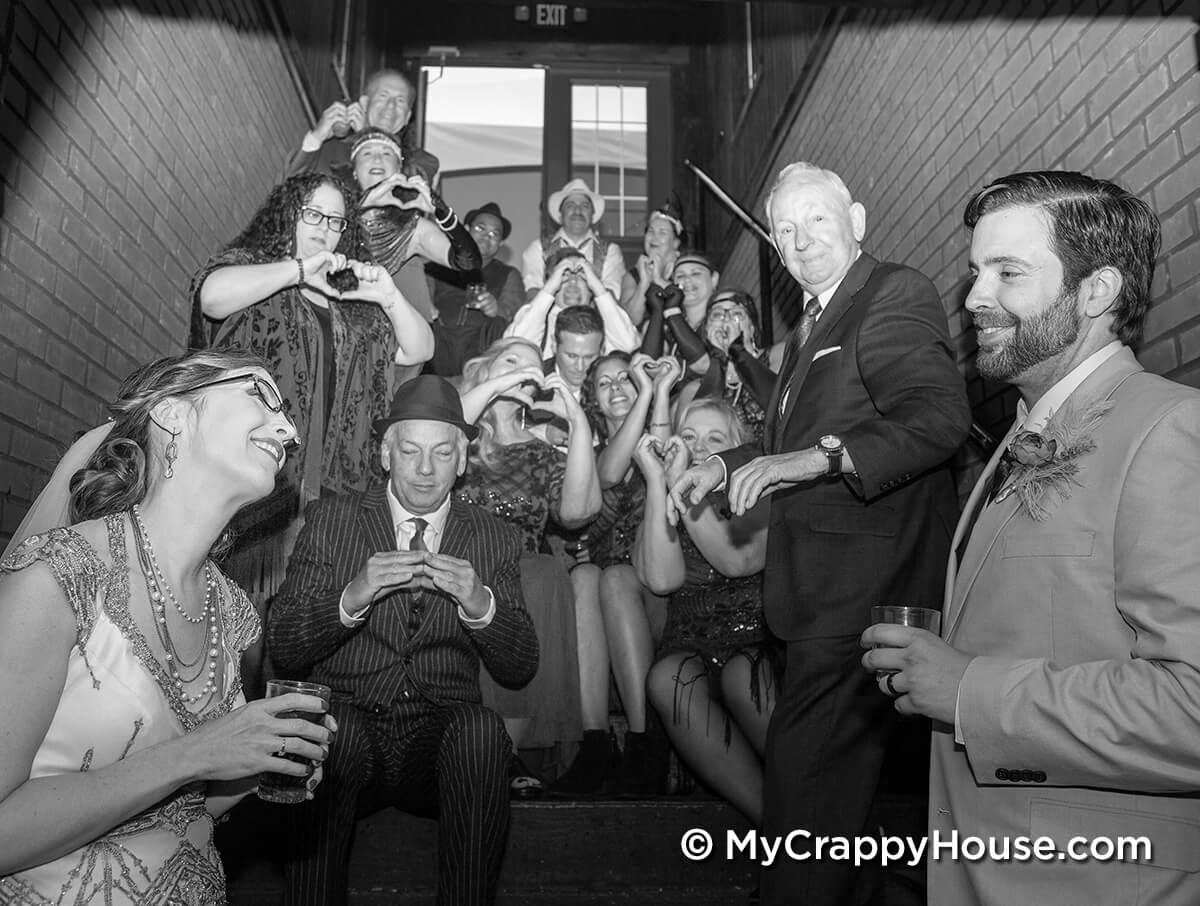 In this photo, someone suggested making hand hearts, which is clearly a girl thing because, as you can see, the men don't know wtf they're doing here.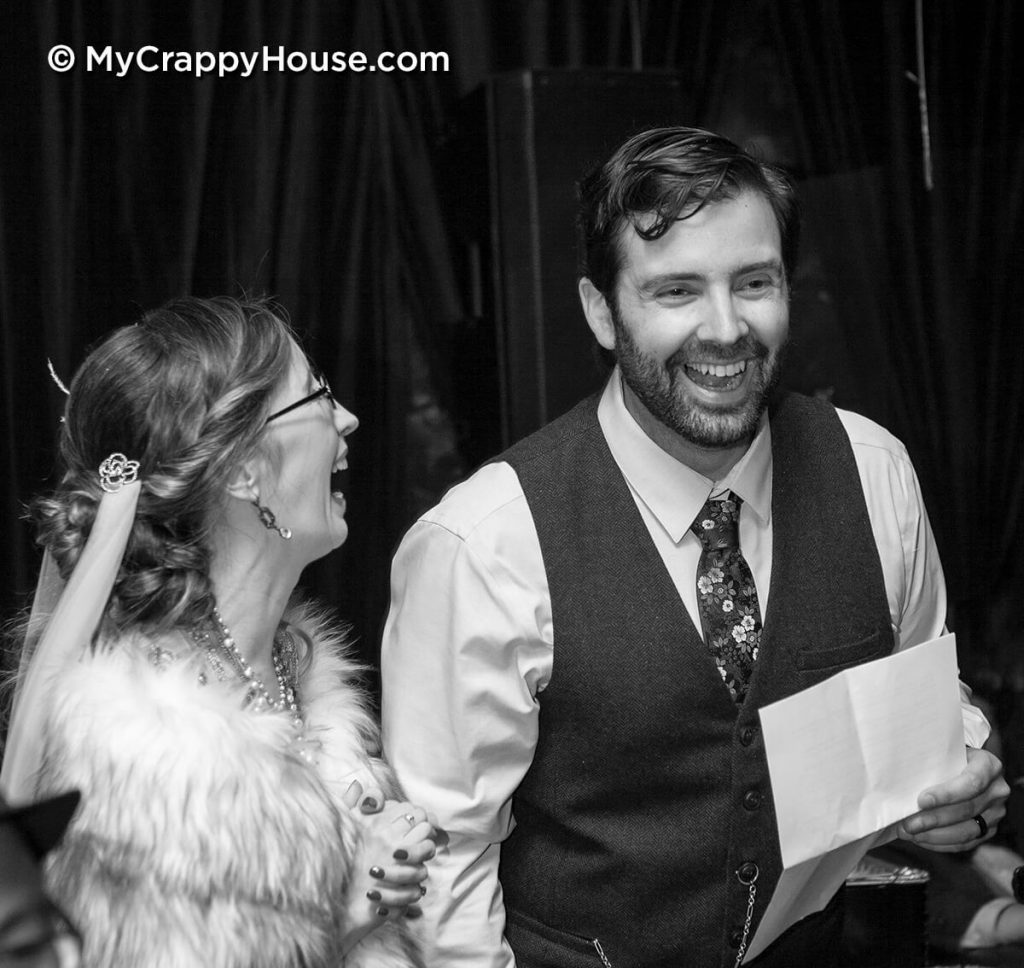 Our thank you speech was hilarious. Schmoopy is almost as funny as I am, so you can imagine just how entertained our guests were.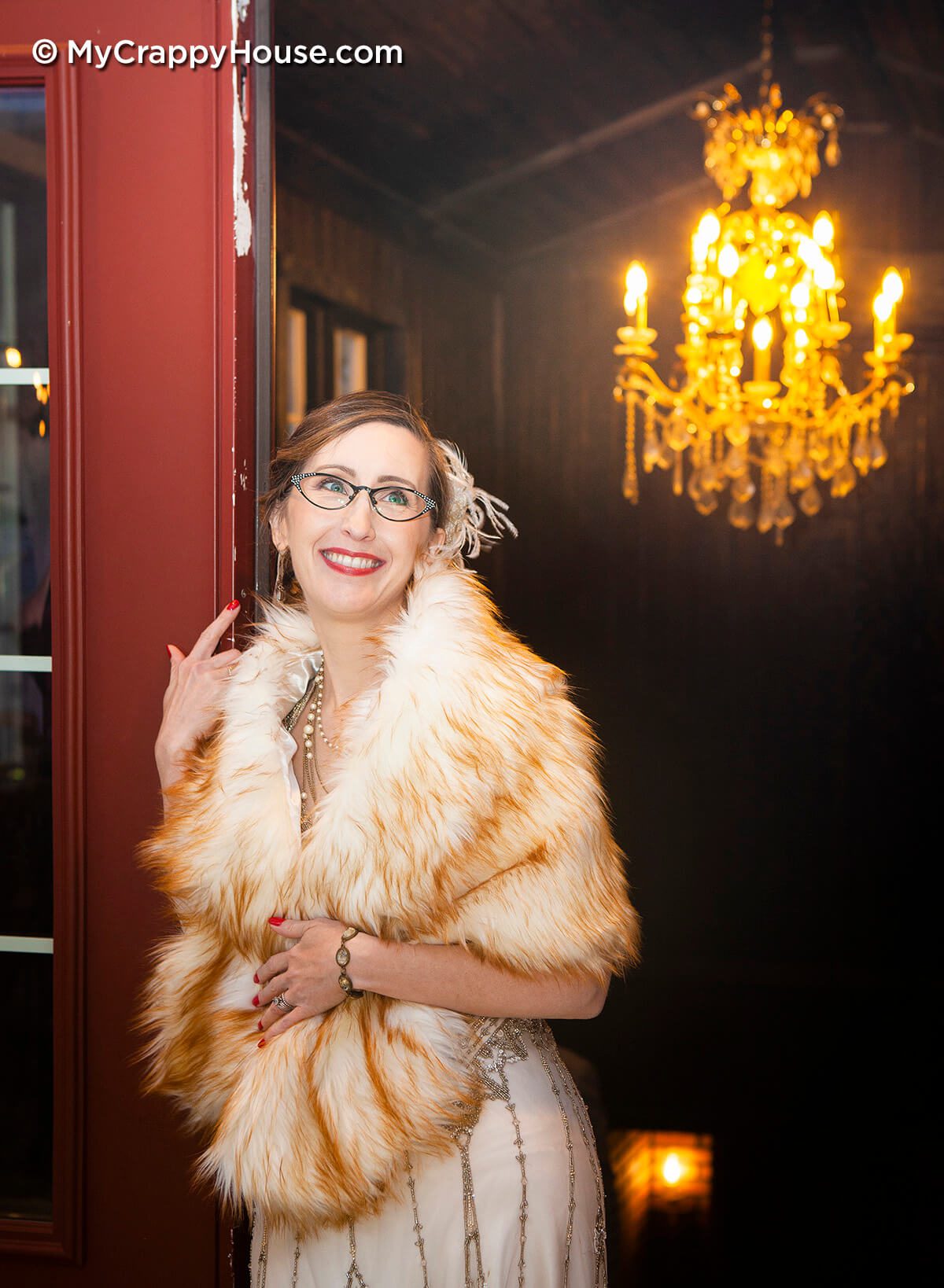 A week before our wedding, the weather forecast called for a perfect day in the 70s with sunshine and no humidity. The day of our wedding, it rained and the temperature dropped into the 50s. Ironic. Don't you think?
I was able to snag this faux fur wrap on Amazon just in time and, fortunately, it made for some super cute pictures. And who would've thought? It figures.
Thank You
Our guests received Western Union telegrams to thank them for attending our wedding. This one below is just for you.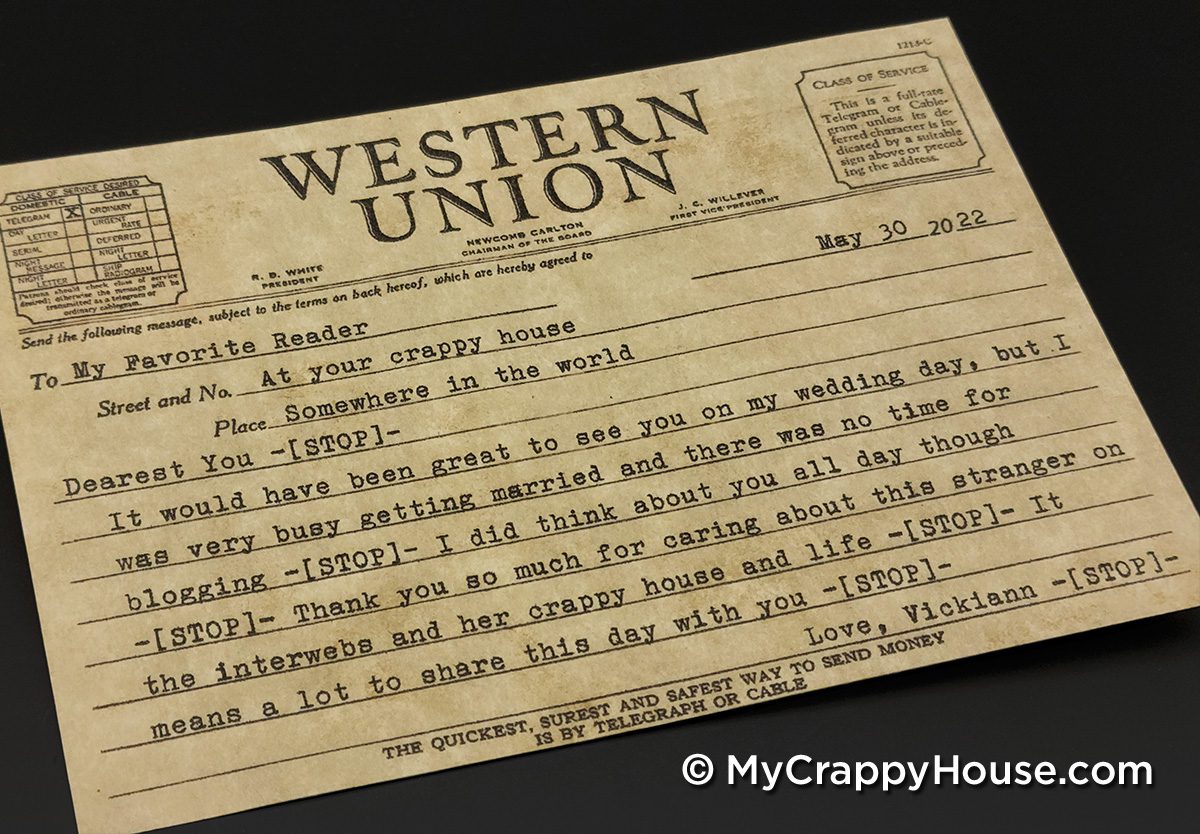 I hope my crappy wedding post was worth the wait! Now, if you'll excuse me, I hate to give you the bum's rush, but I have to go and see a man about a dog…
(Note to my dear husband: That's just an expression from the 20s that means 'I have to leave'. We're not ready for a dog. Slow your roll, my love…)
*This post contains affiliate links