My Saybridge Sofa Review | Six Years Later
Sofa, Still So Good
Once upon a time, there lived a handsome sofa named Saybridge. I wasn't looking for love, but, as the proverbial saying goes, that's when love found me… My relationship with Saybridge began six years ago in a romantic Macy's showroom. We're still together, but… are we still happy? Wouldn't you like to know…
(Yes, I get that's why you're here. Keep reading.)
Diet Coke Wishes and Hot Pocket Dreams
Six years ago, I went to the mall to buy a pair of jeans and, as people often do, I bought a sofa instead. It wasn't the sofa I had planned on. No, I had been lusting after this beauty, by The Comfortable Couch Company…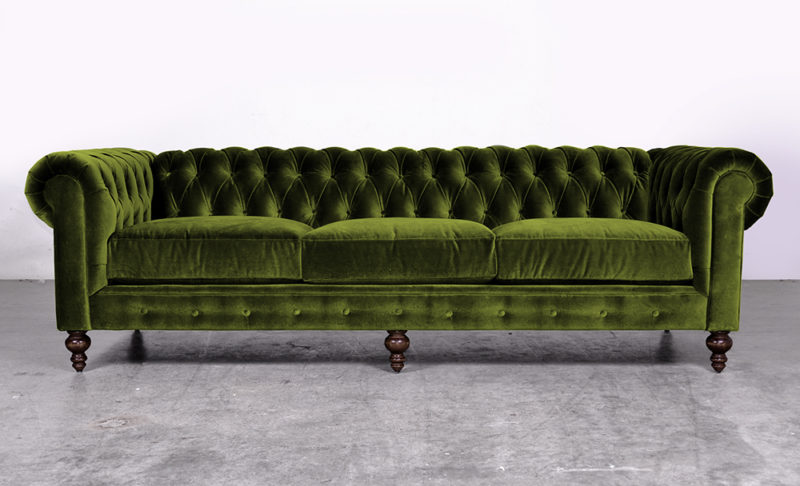 Sexy, right? But, guys. It was pricey. Probably worth every penny, but… I didn't have that many pennies.
When I spotted Saybridge that day, he was looking kind of pale, but I could see he had really good bone structure. He was also less than half the price of my fancy pants dream couch…
Here was a sofa made for the common folk. He might not have had the sophisticated upbringing that the CoCoCo couch had, but, then again… neither had I…
What was I even thinking, pining for the CoCoCo couch? I drive a Toyota. Sometimes, I even shop at Walmart. I love Hot Pockets. Guys, I am totally common.
(Plus, I didn't have a floor or a kitchen at the time, so it really made sense to PIVOT my couch plans for something less expensive.)
It was a Whirlwind Romance
I made arrangements, that very day, for Saybridge to move in with me. (Yes, it all happened very fast, but my mom approved.)
Eight weeks later, he moved in.
I loved everything about him! Except for his feet. Who would put these chunky, blocky feet on such a handsome, classic sofa?
Martha Freaking Stewart, that's who.
(Not her actual middle name.)
(Which is Helen.)
Martha designed my sofa for her Macys collection and, therefore, is responsible for this Frankenfoot situation. I don't know what she was thinking. It's like she put Fred Flintstone's feet on Prince Charming's body.
I performed the transplant myself with these feet I acquired on the black market.
(OK, I got them on e-Bay…)
The procedure was a complete success.
This Post Needs Some Cat
Everybody loves Saybridge, but especially my kids cats. They're not interested in abusing him, only sofa snuggles.
Please enjoy scrolling through these family photos from the last six years, to the tune of the song, Our House.
(No, it's not going to play. You'll have to hear it in your head. Here, I'll help… Oooour house. Is a very very very fine house. (Fine house.) With two cats in the yard… Life used to be so hard…)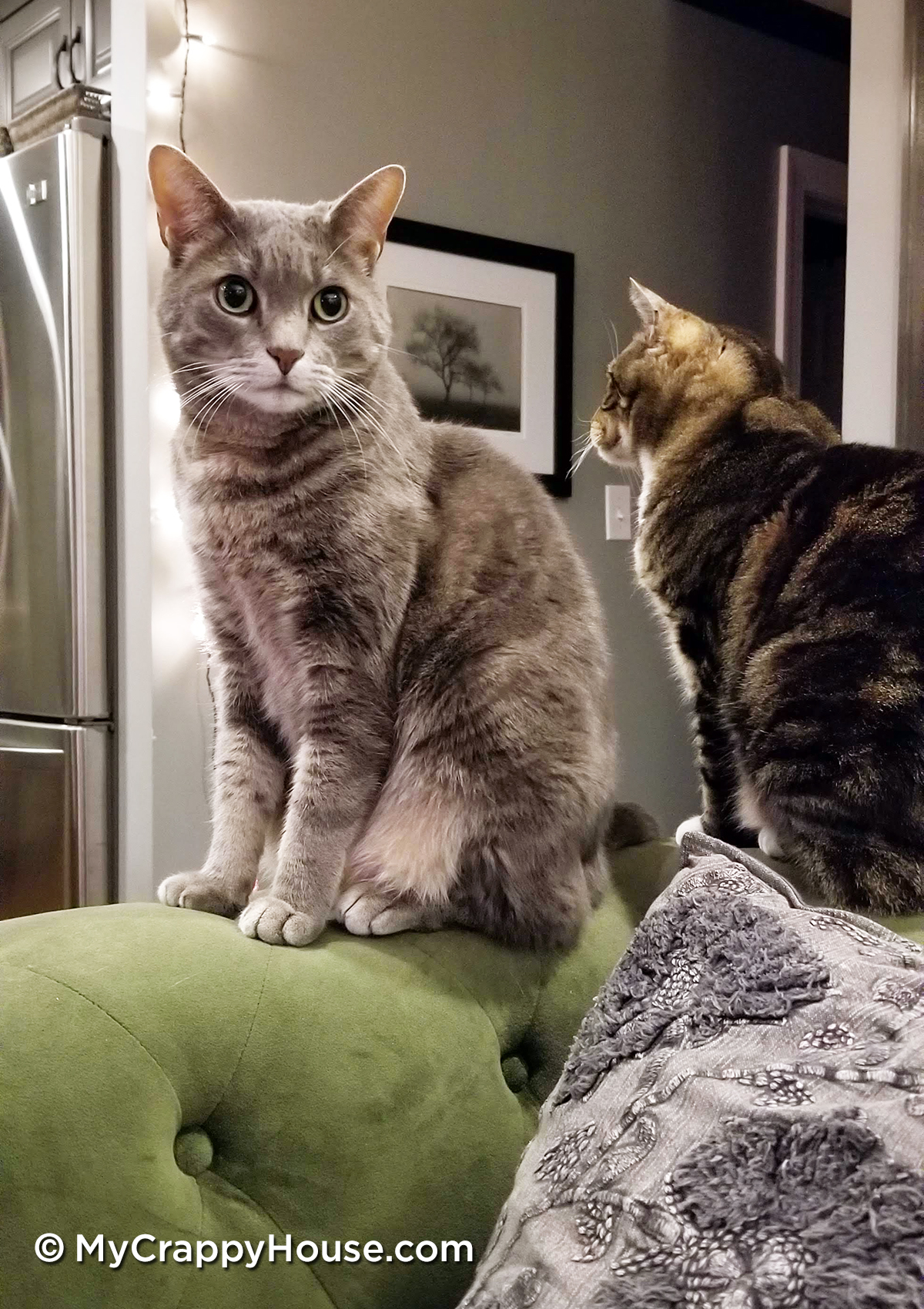 Did You Think I Forgot the Review?
I actually did! Sorry. I'm back on track now. The whole point of this post is to answer this one question: Do I still love my Saybridge? The short answer is, yes.
(The long answer is, yeeeeeessssss!)
Guys, I freaking love this couch!
He's been sat on (which… duh…), but also stepped on, slept on, spilled on, and puked on (by the cats, not me) and he still looks as dashing as ever.
Sometimes, the cats (it's always the cats…) leave an unidentifiable stain on Saybridge, but they're always super easy to remove. (The stains, I mean.) (And, also the cats.) I just take a wet washcloth (with water only), scrub a little, and it comes right off.
Let's not speculate what that was, OK?
This method also works for fur. This corner is the most cat-sat-on corner of the couch. A wet washcloth gathers the fur right up.
Between surface cleaning and semi-regular vacuuming, Saybridge looks as good as new.
I know it seems I've been hung up on looks this whole post, but Saybridge is quite comfortable as well; even more so than six years ago. When he first arrived, he was very firm, but, over the years, he's softened up a bit. Not that he's let himself go, by any means. He's just a more relaxed version of himself now. A real family sofa.
The Bottom Line
I feel like I'm supposed to sum this post up with some final statement to make it an "official" review post. Not that there's a governing body for review posts (yet), but if there were, I'd want to be in compliance. So, here's my bottom line:
If you're looking for a tufted, velvety sofa that won't break the bank, I highly recommend the Saybridge sofa, by Martha (Helen) Stewart, for Macys. It's comfortable, durable, easy to care for, and kid cat friendly.
I made you this pointless GIF, purely for your enjoyment. (Wait for it…)
So, there you have it; my "official" Saybridge sofa review. Six years in and our relationship is still going strong. He's attractive, resists corruption, anticipates my relaxation needs, and knows just how to hug my butt. What more could you want in a relationship with your sofa?
*This post does not contain affiliate links and was not sponsored.
---
Oh, the irony… This post was done, but I can't not share this with you. It's 5PM on Sunday, the day before this post will publish. I sit down to do some final edits with my leftover piece of cheesecake that I brought home from my brunch yesterday at the Cheesecake Factory and this happens…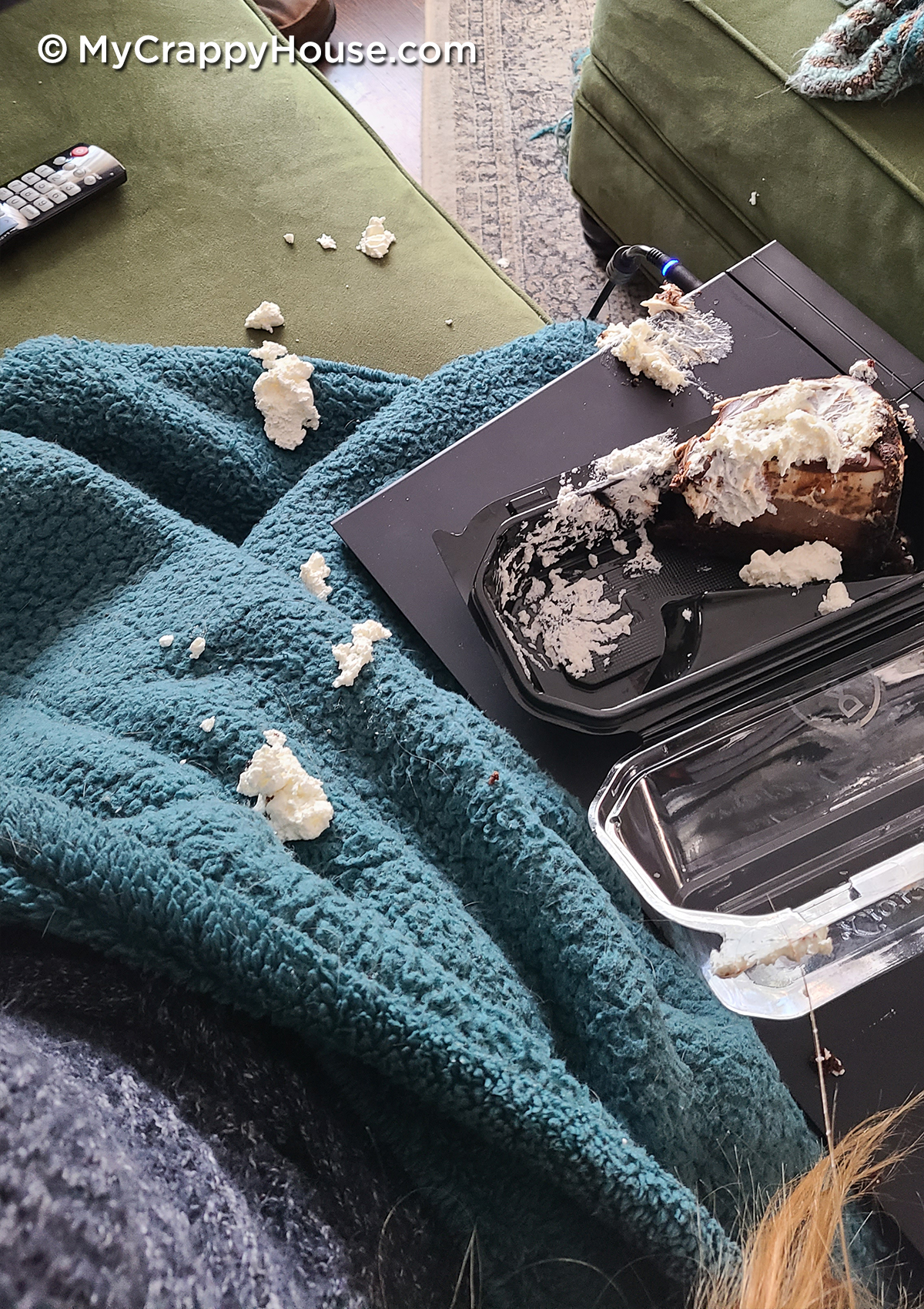 As if I needed more evidence to add to this post that I've literally just finished writing about how well my couch has held up over the last six years of life in my crappy house, my cheesecake leaps out of the container and onto my laptop, splashing whipped cream everywhere. It's OK though. I had it cleaned up in a few minutes.
And my cheesecake was delicious. (Of course I still ate it, silly…)