One Thing Leads to Another
I know. You've been wondering when I'm going to get around to doing another big project at my crappy house. It's all you can think about. (Besides thinking about your own life and stuff.) The problem with the big projects (besides funding…) is that they're related to other big projects. There's a chain of events that has to happen before I can get to the really big ones. This post is about that chain. (All about that chain. 'Bout that chain. No project.)
This is my kitchen. (Using the term loosely there…) I desperately want to have a real kitchen, but I can't even think of that until I do the floor.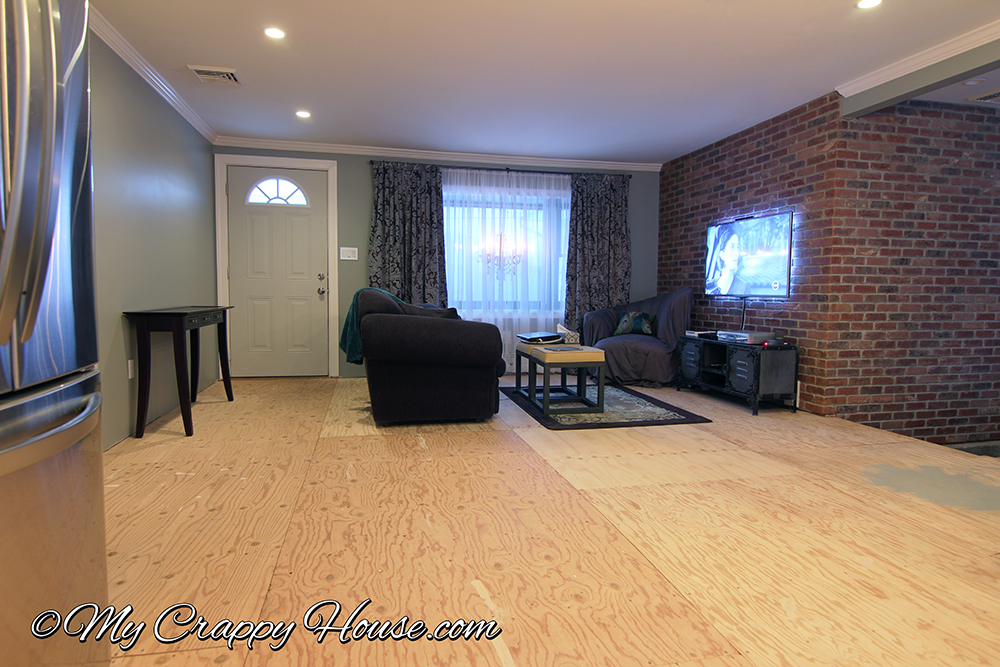 Having an open floor plan means my kitchen and living room will have the same floor. It will be wood. I am in love with walnut, but I hear it's a very soft wood and I'll probably be sorry if I install it. I'm trying to decide if I care more about the beautiful color and grain than the durability. The jury is still out. But I don't need to make a decision yet because before I can do the kitchen and living room floor, I really need to do the dining room floor.
I'm going to put some sort of tile in here. I have some ideas, but nothing definite. So why is it important to do the tile floor first? Well, because tiling floors is messy. And before I can even do the tile, I have to level the floor with concrete. Concrete is abrasive. I don't want to install beautiful wood floors only to have them ruined because my messy, abrasive tile project overstepped its boundaries. So what's stopping me from tiling? This.
I bought a pool table. It's totally in the way. It's eventually going in the basement. Why didn't I put it down there to begin with?
Because this is what's happening in my basement. These boxes have been packed for the last 5 years. I don't even know what's in them. I need to bring them all upstairs so I can open them and sort out what to sell in my monster yard sale this spring. The stuff I'm keeping needs a place to go, so I really need to organize my garage.
I have storage ideas in mind, but I can't build anything until I finish taping and spackling the walls. And I can't finish the walls…
…until the weather gets warmer. I'm too dainty to spackle in the cold. I am a delicate little flower.
Yeah, right. You know I'm a bad ass. I just really hate the cold…
So, there you have it. Remember the old lady who swallowed the fly? (I don't know why she swallowed a fly. Perhaps she'll die.) She's a distant relative of mine…
There once was a girl who waited for spring. Winter sucks, so she waited for spring… She waited for spring to spackle her walls. She spackled her walls to organize her garage. She organized her garage to make room for the boxes. She moved the boxes to make room for the pool table. She moved the table so she could tile. She needed to tile before installing the wood floor. She installed the wood floor to get a kitchen. I don't know why she wanted a kitchen…
She doesn't cook.