I am a lazy girl. You might not realize this because of the things I post here, but trust me. I could (I should!) be way more productive. I am a sloth. I am also always cold. I am a cold sloth. And also, I really like technology. (Especially pretty technology.) I am a cold techie sloth. So imagine how happy I was when I first saw The Nest!
The Nest appeals to the tech loving cold sloth that is me. It wasn't cheap, but… can you really put a price on being able to turn up your thermostat using an app on your cell phone while lying on your couch eating Cap'n Crunch out of the box and watching Veronica Mars reruns? I don't think so.
Before I bought myself a Nest, I had a perfectly fine Honeywell programmable thermostat that looked like this…
…but it might as well have been this…
…because I never programmed it to do a damned thing. (Lazy sloth girl…) So the Nest was especially appealing because it programs itself. What?! Yeah, that's actually not all that shocking given today's technology, but it's still cool. All you have to do is adjust the temperature whenever you feel the need. Nest remembers and makes a "mental note". Once you establish a pattern, Nest is like, "Hey, you don't like to freeze your ass off when you get out of bed in the morning! I get it! Let's turn up the heat before you wake up, K?" And I'm like, "Yes, Nest." Yes!

So how was Nest to install? In theory, super simple. In my crappy house, it was slightly more complicated because some crazy heating guy hooked up a bunch of wires that didn't go anywhere.
See how I've got a blue, a yellow, a red, a green and a white? The red and white ones go down to my boiler. The rest? Well, they don't. (I'm actually currently planning an attic excursion for some time in the early to mid spring to research and document the migration path of the roaming wires…) I know this now, but when I was installing my Nest, I had no idea those 3 wires were attached to nothing on the other end so I hooked them all up to the Nest.
Nest did not like this. Nest knew those wires didn't go anywhere, but wasn't sure how to tell me, so it decided to take a nap instead. (That's actually one of my coping techniques too.) I called tech support and got a nice guy from Texas on the phone. He concluded that I had a faulty unit. A trip to Home Depot later, I was back at home installing my second Nest. Guess what? Same thing. So I called tech support again and this time I talked to a woman from California. She knew her stuff. She quickly diagnosed the wires to nowhere and had me unhook them. Nest woke right up and took me through the installation process from there. Girls are just smarter. True story.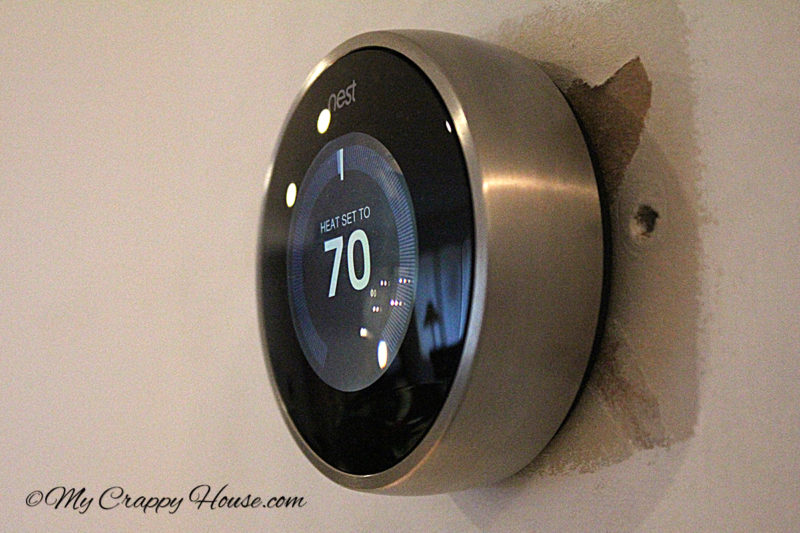 I love my Nest. As you can see, I still have a couple of holes to patch up. I'll get to that when I paint. Hey, don't rush me, man! I'm only one person! I'll get around to it eventually. Now shush. I'm watching The Big Bang Theory…