Magically Floating Shelves
What Sorcery is This?
Having been well established in My Crappy House for many years, surrounded by all of my many crappy possessions, you would think that it would have been a challenge making room for Schmoo when he moved in with me. It wasn't. Lucky for me, he wasn't attached to much of his stuff. Just his clothes, tools, a few manscaping products, some books, and a handful of treasures.
This post is about the treasures.
We had only been dating for two months, eating takeout Chinese food, when Schmoopy cracked his cookie and got this fortune…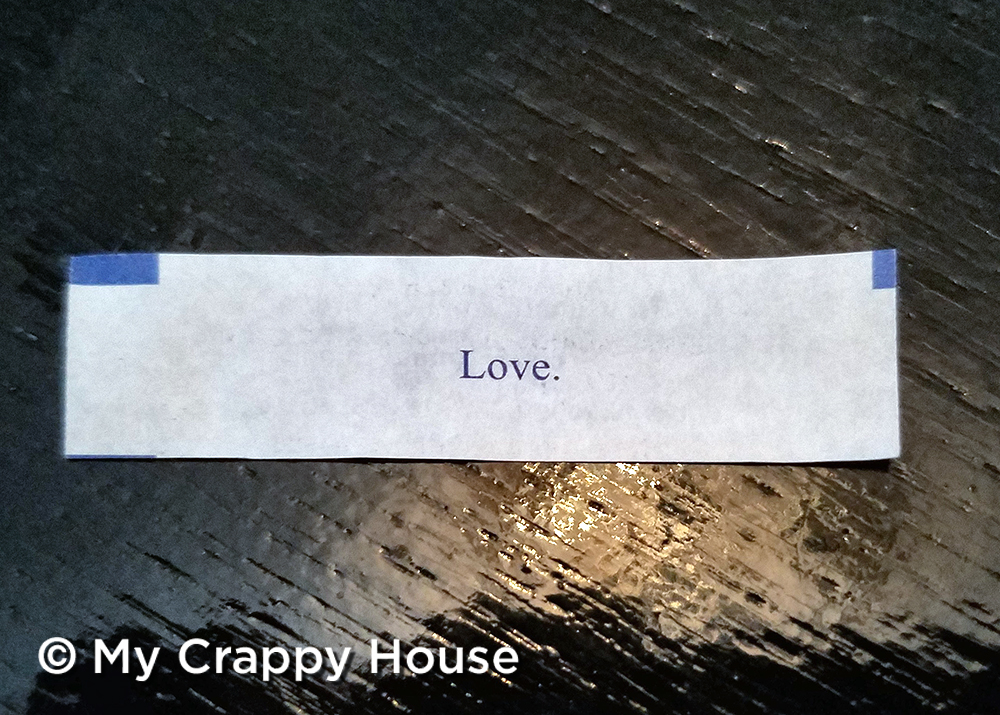 As the "L" word had yet to be dropped, it made him visibly uncomfortable and he quickly threw it away without showing me. He blamed his sudden sweating on the Kung Pao.
Smooth.
Of course, I fished it out of the garbage bag and I saved it. Such an unusual fortune was surely a sign… Three weeks later, post "L" word, I gave it back to him in a frame for his apartment so he would always remember how a Chinese cookie blew up his spot. (See? It was a sign.)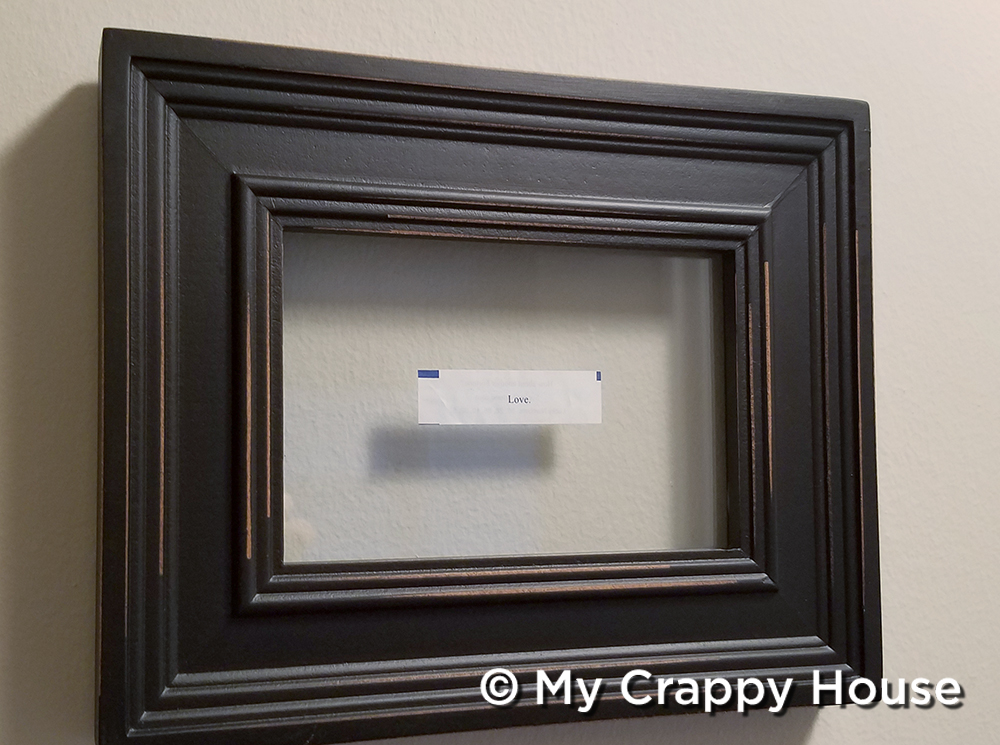 I know. We're so freaking cute, right?
Nine months later we moved in together and I had to live with a boy.
It's been surprisingly easy, actually. We get along really well. We've literally only had one fight in three years.
It was about the dryer vent.
I won.
Anyway, between the two of us, we had a nice little collection of treasures that needed a place to be appreciated. We decided the brick wall would make a nice backdrop for a couple of magically floating shelves. (I know, right? How do they do that?? Where are the brackets! What sorcery is this?!)
The exact ones we have are discontinued, but these look super similar and they have even better reviews than the shelves we have. (I'm supposed to tell you that's an affiliate link, even though it doesn't cost you anything more if you buy the shelves by clicking it. I just get a little commission for the referral. What a litigious world…)
Installation wasn't complicated but, there is sheet metal behind my brick (you remember), so I had to really lean into the drill to get through that layer. My cordless drill wasn't up for it, so I had to use my corded Dewalt for some extra power.
My, what a flattering photograph.
Drilling the holes was the hardest part. The magically hidden brackets look like this:
Then the shelves just slide onto those pegs and suddenly appear to defy gravity! Truly a-MA-zing! Hey, do you think David Blaine knows about magically floating shelves and feels inspired? I do. Guys, it's like they levitate!
So, that's it. Logic defying, mind-boggling, magically-suspended, anti-gravitational, wtf!-are-my-eyes-deceiving me, floating shelves. Wow. Just… wow. Am I right?
And these are our treasures. His, mine and ours.
The glass thing is a barometer, but I don't think it does what it's supposed to do. It still looks cool anyway and it was a Christmas gift.
We got the skull from a renaissance faire and the peacock tile is from The Martin House in Buffalo, NY, designed by Frank Lloyd Wright.
I'm linking the octopus for you, but you're going to think I'm crazy for spending as much as I did. I will say it's made very well and I love it, so I'm not sorry.
I bought the fortune frame locally in a discount store. I really tried to find something similar on Amazon, but this is the best I could do. It's just as floaty, but more modern.
(The plants are not treasures. They are fake. Not only am I the Grim Reaper of plants, but the cats are jerks and they eat the real ones.)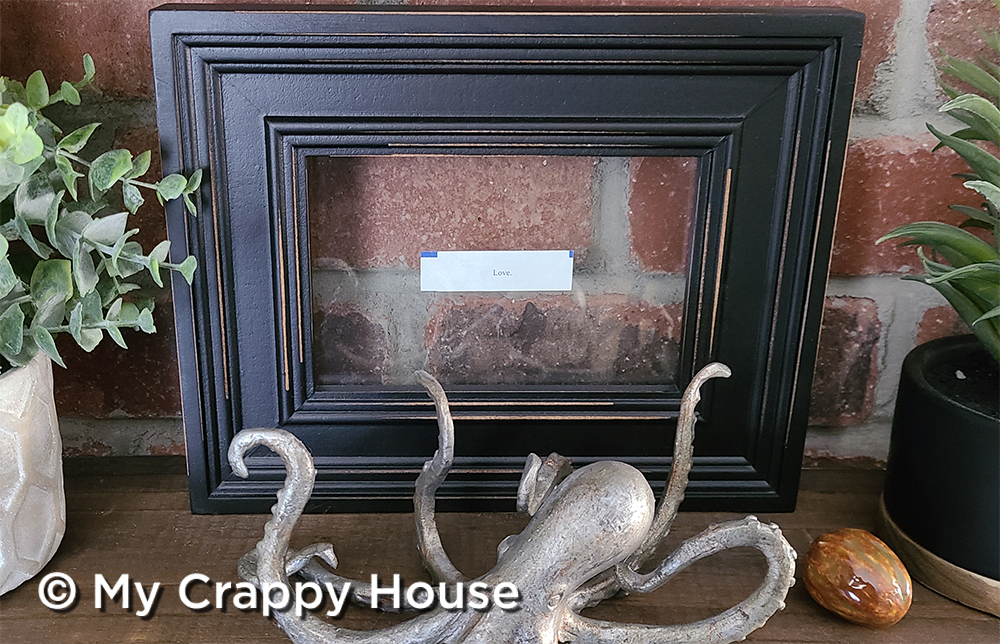 And, speaking of jerks cats, let's not forget my most favoritest treasure Schmoo brought with him when he moved in…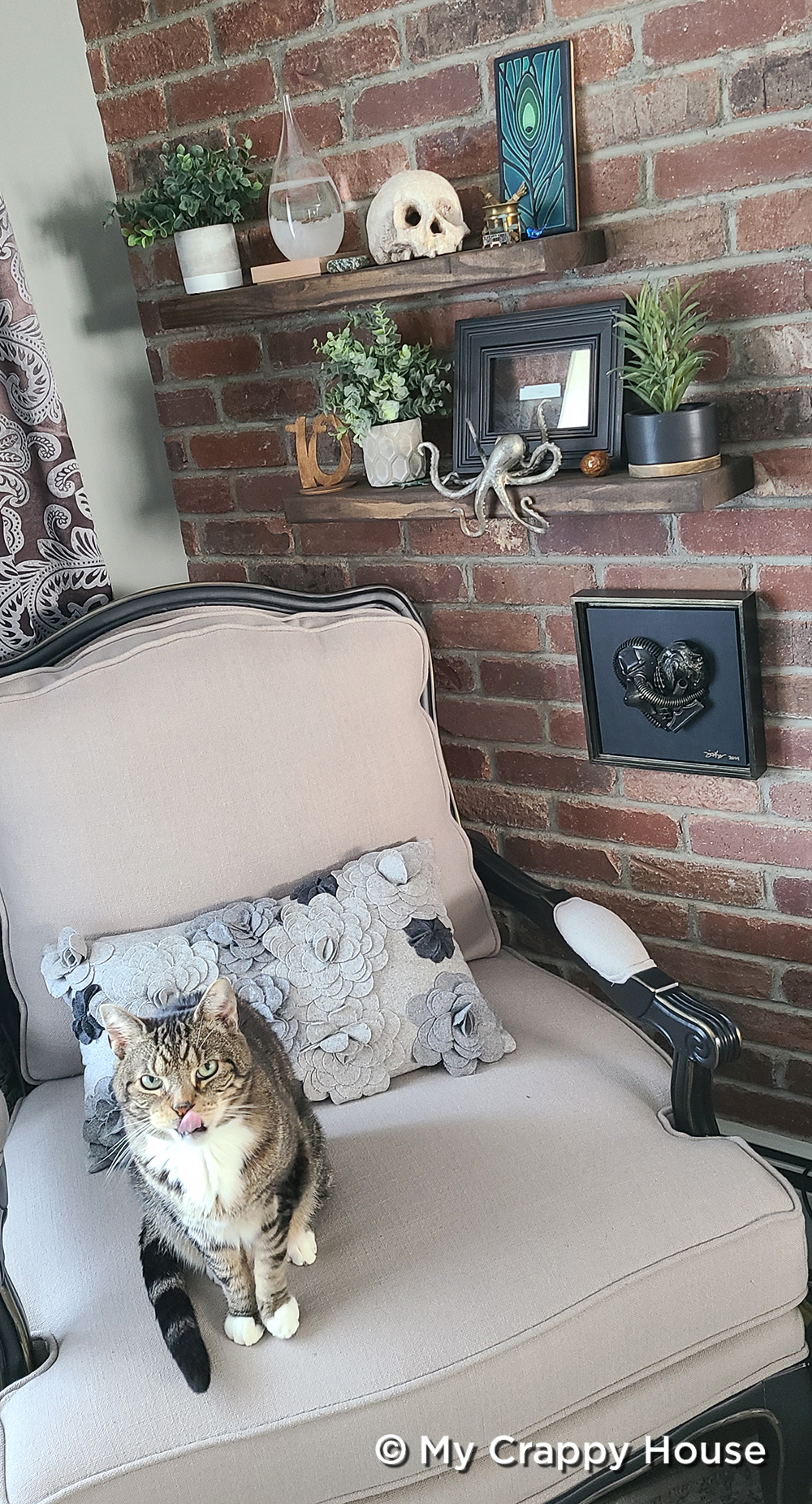 Little Zero! Just look at those teeny kitty foots…
Please share this post with your friends who like magically floating shelves and teeny kitty foots. So, like, everyone.
---
(Shout out to Jaime Kraft, who is the artist behind the framed heart sculpture hanging below our floating(!) shelves.)
*This post contains affiliate links.