Don't go down the stairs! Just trust me…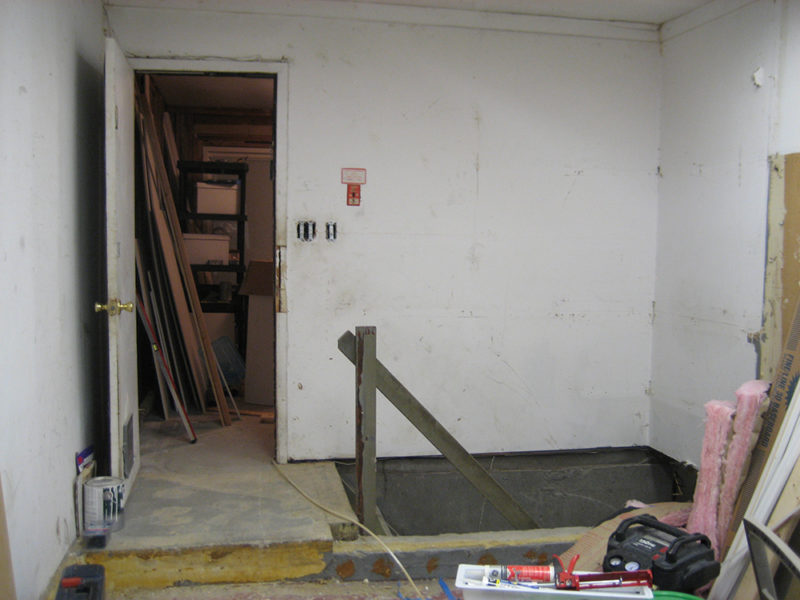 I knew you wouldn't listen. Welcome to my basement. It sucks. This post brings back terrible memories. Memories of chemical strippers, scraping paint off the floor for hours and hours, trying to melt the paint off with my hair dryer, concrete dust in my lungs and hair… And memories of f'ing water in my f'ing basement. Every time I thought I'd solved the problem, I'd walk down the stairs and… !@#%&*!!! Water. Again. And then I would cry. (Not kidding.)
My basement was wet for two reasons. Here's one:
Every time I used the water upstairs for any length of time, this would overflow downstairs. So that meant showers and washing dishes would create a flood in the basement. (Thankfully, toilet contents made it outside with one flush. I guess things can always be worse…) The problem? Roots in the pipes and a cesspool that was on the verge of collapse. It all had to be replaced.
The other reason for water was Monsieur Patio outside. Water would collect and sit on my foundation due to his collapse. I had him disposed of, but I continued to get water through the wall because the damage had already been done. (Monsieur Patio was a real bastard.) The wall had to be exposed on the outside and sealed right down to the footing. And then I had to replace my crappy gutters. Finally, the problem was solved. (I hope…)
So the floor was a total mess. I scraped up as much loose paint as I could (which took hours and hours and (kill me) hours), smoothed out the surface with concrete filler and a trowel (first time user) and repainted. Take a look at the transformation: (click on any image to expand the gallery)
OK, it's not a palace, but it's clean. And DRY. Notice I got a new oil tank too and turned it 90 degrees to make some more room. The eventual plan is to wall off this part of the basement and finish the other side. I really want to put a pool table down there. So here's what my laundry area looks like now: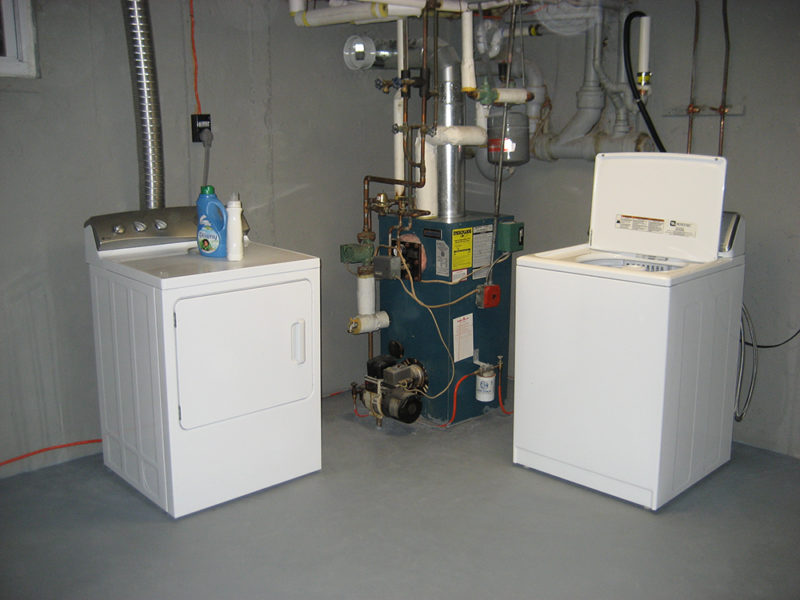 From crappy to happy(ish).