I just (reluctantly) removed my leg lamp from my bay window. At three weeks past the New Year, a leg lamp is less holiday humor and more eccentric weirdo.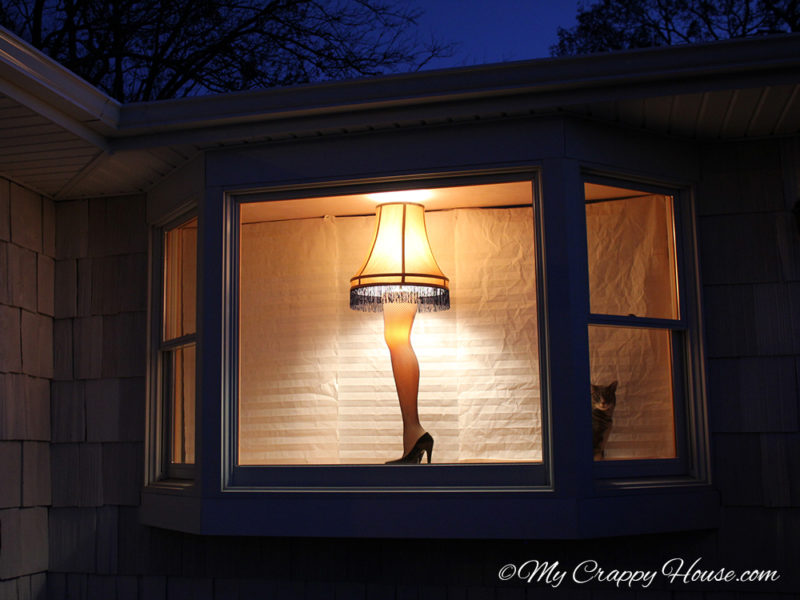 One of the nicest things about the electric sex in my front window is the lovely, soft glow that permeates my living room. It really cozies up the joint. I didn't want to lose that sexy glow just because the holidays are over, but what could I put in my bay window that wouldn't look weird year round? Hmm… What, oh what, could I put in there?… (No, I already know. I'm just pretending to ponder in order to build suspense to make this post more entertaining. Don't scroll down or you'll ruin it…)
First things first. This window needed some paint. Were you aware that painting a window sucks? I had my suspicions, but it turns out it sucks even more than I had imagined.
I taped off the glass, but I thought I could freehand around the tracks. Nope. I had to pause painting and add more freaking tape.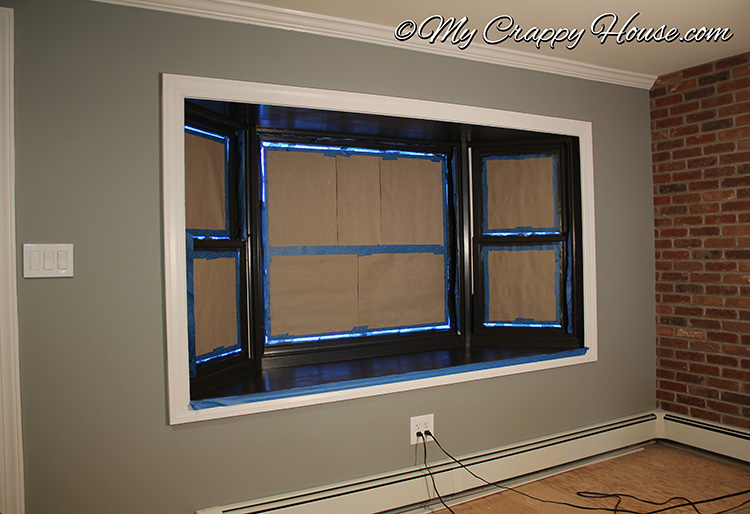 Then getting the tape off was another nightmare requiring tweezers, a razor blade, anger management, and surgical precision. I'm sure there's a better way to do this but, frankly, my dear, I don't give a damn. I am never doing this again. Evah!
I can say this with 100% certainty because the rest of the windows in my crappy house are vinyl. And if anyone ever asks me to help them paint their windows, I will politely tell them to bite me.
Anyway, here's how it turned out.
Looks pretty, right? This color is Sealskin, by Sherwin Williams in semi-gloss finish. It's a very dark… um… gray. Whatever! I like gray!
So now it's time to bring sexy back. Any thoughts on how to accomplish this? Oh, I know! How about a chandelier? What. You think a chandelier hanging in a bay window will look weird? Well, you're forgetting two things:
Everyone thinks the coolest trends are weird at the beginning.
I don't freaking care what you think.
I don't have power running into the bay window, but that's OK. I found a pretty chandelier and converted it to a swag (plug in) style. Did you even know you could convert a hard wire chandelier into a swag? Well, you can when you have mad electrical skills like I do. And it's even easier when your chandelier comes shipped to you like this:
In pieces! A welcome surprise for me, but probably not most people who buy this chandelier… So all I had to do was buy an extension cord that was long enough to reach my outlet, cut off the female end (That's the end with the holes…because, you know…females…with the holes… Come on, people! That's electric sex 101!), and thread it through the center column, then wire it up to all of the arm lights. And voila!
Perhaps, when people drive by my house, they think, Hmm. A chandelier in a bay window. That's odd. Those people are stupid. Personally, I think The Bay Window Chandelier is going to be a trend that sweeps the nation, if not the globe. You watch. And don't forget whose brilliant idea it was…
*This post contains affiliate links.