No, I'm not dying! Jeez! How morbid are you? I'm talking about real curtains! That I bought! For this window! Sheesh…
Leaving this window uncovered creates a sort of fishbowl situation in my living room. And I am just too cute to be walking um… swimming(?) around an exposed… er… bowl. #metaphorfail OK. So, unfortunately, as much as I love this dark gray color that I just painted this window, I had to cover it up…
With sheers. (yawn)
Don't worry. I'm not done.
Let's revisit my design plan, shall we? Brick? Check. Gray walls? Check. Chandelier? Check. Awesome industrial TV stand that I never really mentioned before that was a housewarming gift from four years ago that I was keeping in my bedroom because I didn't want it to get ruined, but that I've finally now brought into the living room where it belongs? Check. And now, curtains! Big fat check!
Curtains are wicked expensive. Sometimes I make my own to save money, but sometimes they go on sale. And then sometimes I get a 30% off coupon on top of that sale which makes it very worthwhile to buy them. I got these at Kohl's.
Here's a close up of the fabric pattern. Pretty…
But wait! Look how pretty the other side is…
Damn you, curtain making people! Why would you have both sides look so pretty and not make these reversible curtains? I mean, if you had made them reversible, there's a good chance that I would have been perfectly content to like the right side, but since you suck and did not make them reversible…
…of course I like the "wrong" side better. Now I have to alter them so the hems face the other way. (Like I don't have enough to freaking do.) In the meantime, they're just hanging there all backwards. Don't tell anyone. They could be this way for a while…
Sometimes it doesn't feel like it, but I really am making progress. Things have come a long way. Remember when my living room looked like this?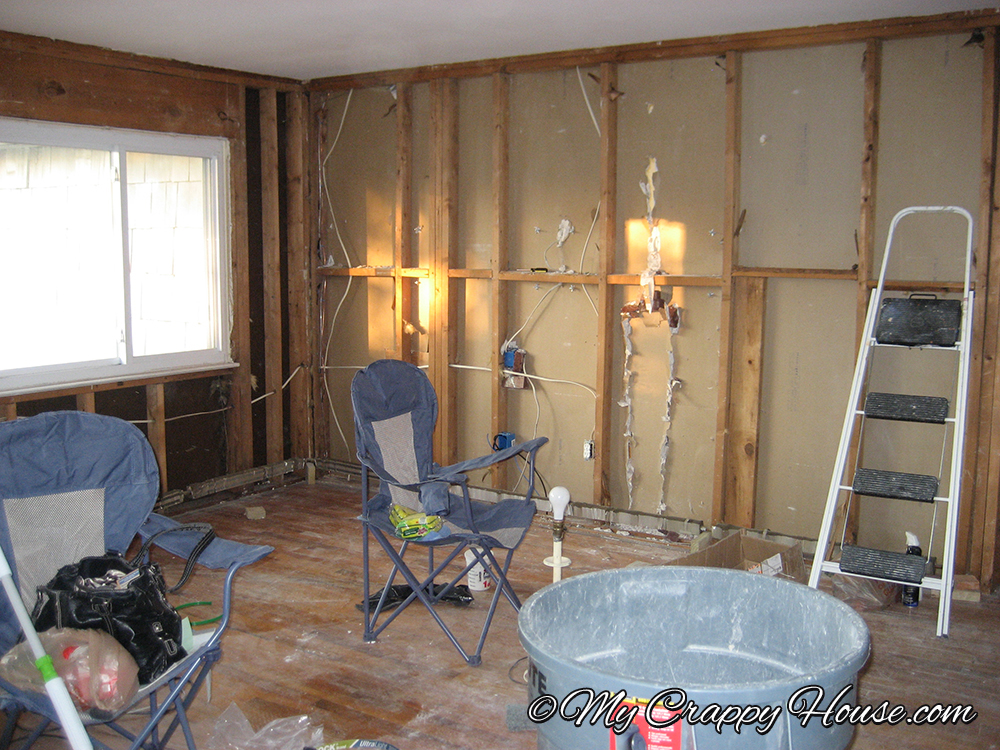 Ahh. Good times.
I don't mind showing you the room as it is now as long as you vow to ignore the things that aren't done yet. Please read this next part out loud. (Yes, even if there are people around. Vows are supposed to have witnesses anyway.)
"I, (state your name), do solemnly swear that I will refrain from commenting on the sheet covered chair or too small rug or ugly lamp on the crappy table or the ottoman nonsense or anything else that has yet to be completed in this room. I understand that Princess Spackle has no money and is also very lazy, so progress takes a very, very long time. I am thankful that she writes these exceptionally entertaining blog posts to chronicle her excruciatingly slow renovation process. I am not at all losing patience with her. I truly believe she will, one day, finish work on her crappy house and it will be glorious. I just hope I am alive to see it."
Well done. I now grant you viewing clearance. I've gone ahead and "X'd" out everything that you're not supposed to comment on so you don't get confused and accidentally break your vow. Who's got your back? (I do.)
I know. The Xs are in the way. Okay, go ahead and click the picture to see it without them. I trust you.
Yep, that's a new TV. That was my Christmas present from me to me. Well, one of my presents from me to me. I was really good this past year…
Let's end this post with a pointless poll:

Hey, don't forget to subscribe below. I post so infrequently, you'll forget all about me if you don't let me tell you when I've posted something new…