How to Install Drawer Faces
It's a Dressing Room Update!
I write a lot of fantastic posts (Hey, that's why you're here, right? That, and my charming personality…), but one of my favorite posts has to be the one that's all about my dressing room. (If you haven't read it, please go do that now. I promise you, it's worth the click. Seriously. Come back here when you're done.) In that ridiculously entertaining post, I talked about how to install drawer faces, but I'm going to get into even more detail in this post because THIS (*pause for dramatic effect…*) is a dressing room update.
If you're good at following directions, then you just finished reading my last dressing room post and you know all about how I came to have a whole, entire bedroom dedicated to my clothes. (And you get a cookie.) So, this post is about the changes I had to make when Schmoopy moved in with me. I mean, it's only fair that he has a place to put his clothes, right?
No, really. I'm asking.
So, how did I make room? The first thing I did was try on every single piece of clothing that I owned and donate the stuff that did not spark joy.
Just kidding. I keep lots of things that don't spark joy, but I did donate the stuff that was closer to fitting my eight-year-old niece than me, the ugly "wtf was I thinking?" stuff, and the too-short skirts that I had no business wearing at my age. That freed up a tiny bit of space, but not nearly enough. (Guys, those skirts were really small.)
Told you.
I shuffled and squished, but, sadly, there was only one area I could think of to add more closet space.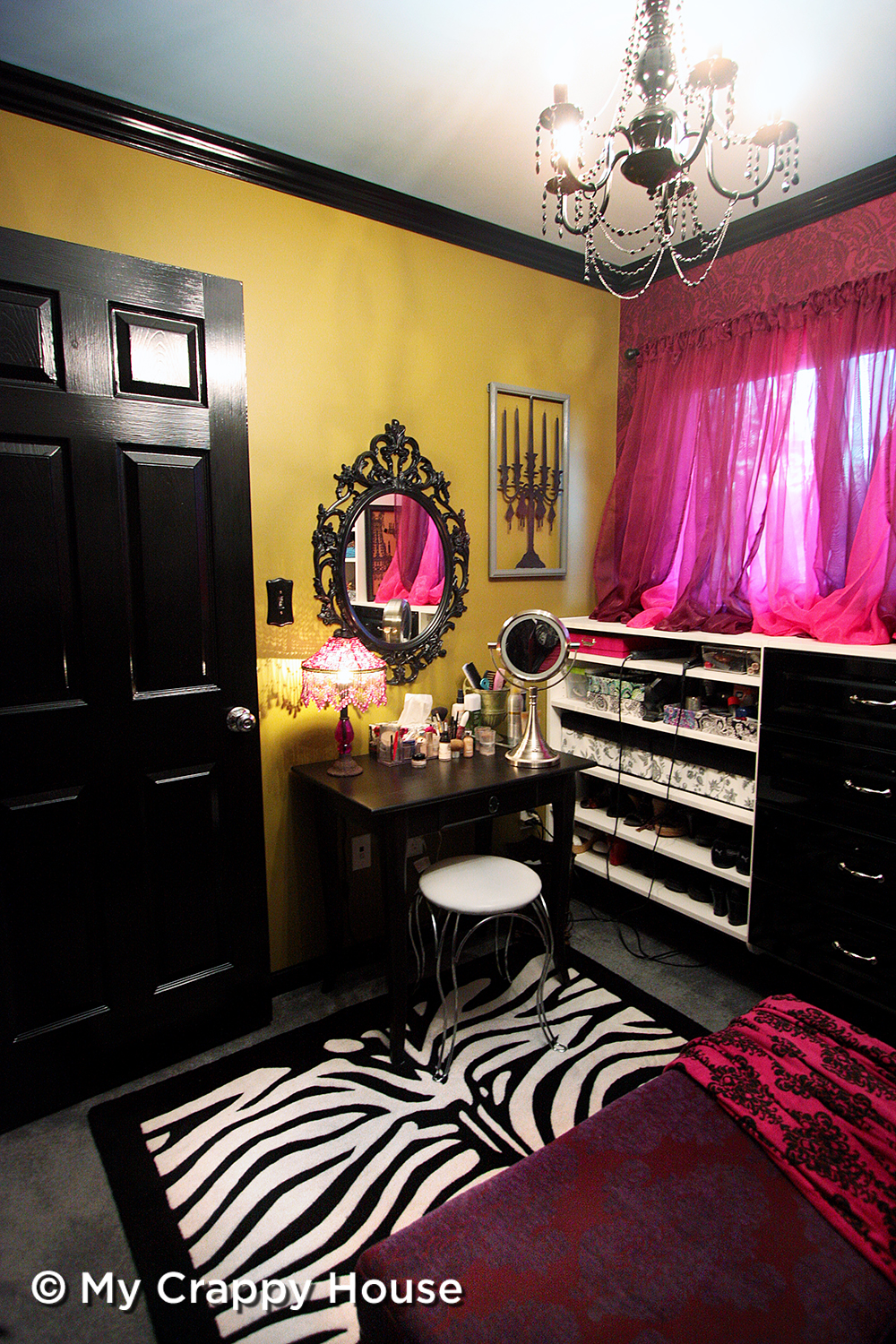 My vanity. I know! I used to love making myself look pretty whilst sitting at my pretty vanity that fit so perfectly in my pretty dressing room. I must really love Schmoopy because I gave all that up for him. Love is sacrifice, right?
No, really. I'm asking.
My Honey needed a place for his suits, so I repurposed the shelving section under the window and installed a bar for hanging. I mean, without my vanity, it's not like my hair tools and makeup products needed to live there anymore. (*sniff*)
So, with the vanity gone, I had room to add a section of drawers and shelving for my Honey's stuff. You can totally build something like this from scratch (Or not. I have no idea what you're capable of.), but it was quicker (probably not cheaper) for me to use a local closet company.
Unfortunately, I wasn't as lucky as last time in the closet parts procurement department. (I know you know what I'm referring to because you read my last post, right? Yeah, ya did! Have another cookie.)
Since I wanted the drawer faces to match what was already existing, I bought them separately from the same local cabinet maker as last time and installed them myself. Here's a step by step of how I install drawer faces, because I am all about the tutorials. (No, not really, but I want you to like me.)
To start, I measured where the handle holes would go and pre-drilled them on every face.
Next, starting from the bottom, I clamped a face in place in the exact right spot, which is overlapping the bottom shelf and sides by about 3/8 of an inch. I used a stack of books to support the face while I leveled it out. Then, I drilled right through my pre-drilled holes and into the drawer box.
I guess you could screw your handle on at this point to help keep your face in place, but it should not be the only thing attaching it to the drawer box. You need to drill a couple of holes from the inside of the drawer into the face. Be very careful when you do this part so you don't drill straight through the front. If you're gonna F this up, this is probably where it'll happen, so pay attention!
I put a piece of tape on my drill bit to let me know how deep I could go without popping through the face. Also, if you have raised panel fronts like I do, you want to make sure you drill into the thickest part of the face and not the recessed detail.
You're gonna hate yourself if you drill through your drawer face, so take it slow and FOCUS.
The next drawers are easier. Place a spacer – something rigid that's about 1/16 of an inch thick – on top of the bottom drawer edge, then set your next face on top of that. Level and clamp it in place, then follow the same instructions as above. Don't make me write them again. You can scroll up, lazy bones.
Once you get all of your faces attached, it's time for the most satisfying part of the project…
Ahhhh! Don't you just love to peel off protective plastic? Unless you're one of those weirdos who leaves the plastic on your microwave clock for ten years and gets mad when anyone tries to peel it off for you. In that case, what's wrong with you?
No, really. I'm asking.
Guys, we're almost done here. I've just got a few more pictures to show you of how the room looks now. Here's the drawer bank, complete with faces. Hey, look! They're smiling!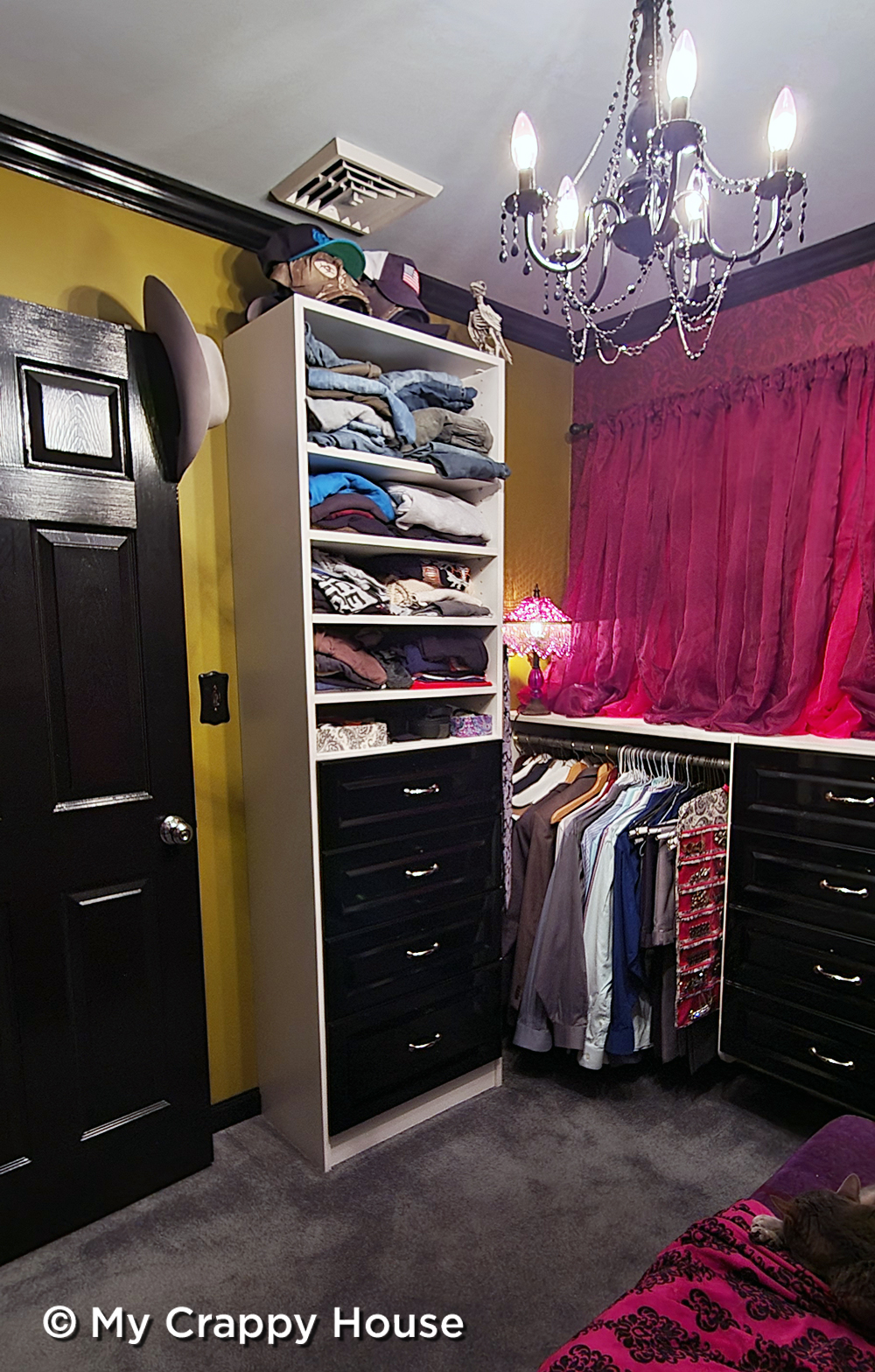 And this is the closet within the closet (remember, this was originally a bedroom), which I also gave to Schmoopy. He added some shelves for his shoes.
Here are a couple of side by side before and afters.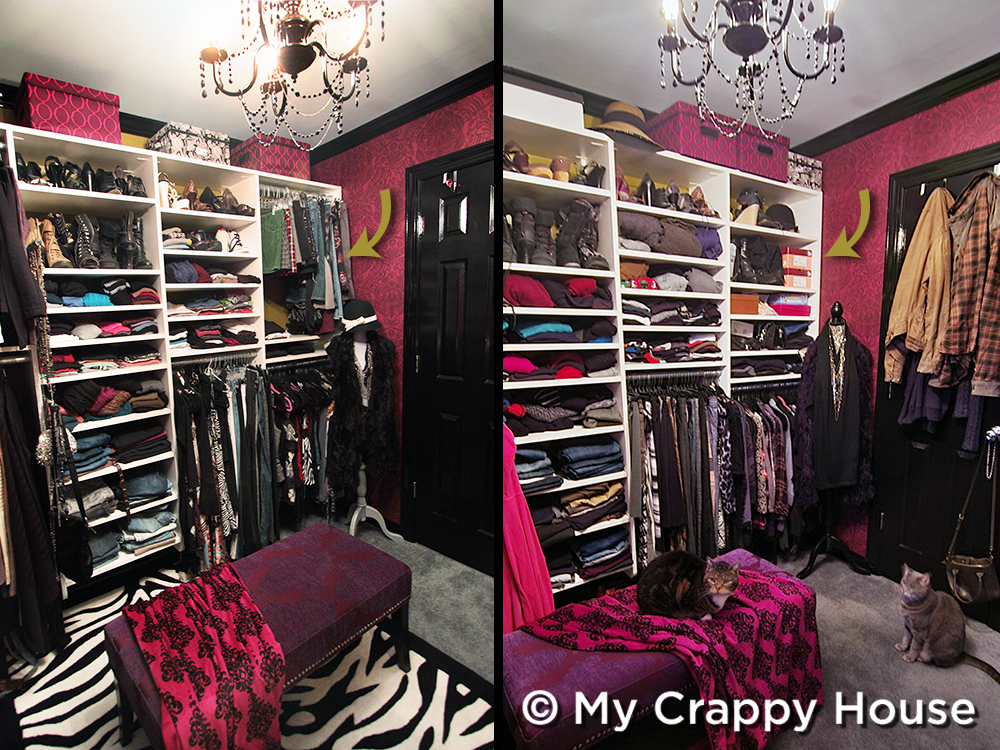 You can see where I replaced one of my hanging sections with shelves. I put arrows. See them? And you might have noticed the zebra rug is gone now. I really loved that rug, but it just got so dirty, I had to let it go. That was a sad day. And, also, cats! They love to hang out in the dressing room. (Maybe that's why the rug got so dirty. I love my babies, but damn, cats are gross.)
Schmoopy wears suits a few days a week, so we added this tie rack on the side of his section. It extends when he needs to look fancy and slides out of the way when he doesn't.
This cutie lives in here and was made by my talented Aunt Teena. She has a small business creating handmade dolls and pocketbooks. Check out her Facebook page if you're looking for one of a kind hand-sewn gifts. Her work is immaculate.
So, there you have it. An exhaustive update on the dressing room (which I left out of the house tour from a few weeks back). I hope you enjoyed it.
If you liked this post, why not share it with a friend who also digs really cool closets? And don't forget to subscribe below…
***Time travel links! If you like closets (and who doesn't!), check out this closet makeover I did with my BFF on a budget.
*This post contains affiliate links.