There's nothing extraordinary about this post. All I did was paint. It's not that hard. You can do it. You probably have done it. Big freaking deal. But my living room is finally looking like an actual room in a real house and not a pit of despair, so I think that's definitely worth writing about. In order to maximize the drama, I'm going to start by showing you this before photo.
That's not my house.
Oh, I am just too funny! OK, here's the real before.
Yes, much less drama there. Just a whole lot of white walls. I despise white walls. I know there are people who love them and I'm not judging. If you want blank, blah walls with zero personality, that's certainly your prerogative. I'm sure your white walls look very boring lovely. But me… I love color! So I went super bold and painted my white walls this lovely shade of…
Yuh huh! Gray is SO a color! One of my favorites, actually. That's why I painted my bathroom Excalibur Gray and my office Dior Gray. This one is called Stamped Concrete, by Sherwin Williams. Ahh, yes. Who wouldn't want their living room covered in stamped concrete? Doesn't the name just evoke peaceful evenings at prison home? Depressing name aside, I actually love it.
This color shouldn't come as a shock. After all, I already shared my design plan for this space with you, remember? (Yes, I updated the couch. Good eye!)
There will eventually be a lot of color all up in here, what with my peacock dining room and olive couch, but I'm counting on Gray to keep all of the other crazy colors in check. Gray is the voice of reason. Gray says, "Chill, bold colors. Keep it down. You don't need to be loud to be heard." And the other colors listen. They all listen to Gray.
Hey, did you notice this post is pretty long already and I haven't shown you much of anything? What's with all of these delay tactics? Well, I'm trying to make a mundane post more exciting for you by building suspense. I do this so that you may have a more satisfying literary experience. You're welcome.
And the after pics start… now.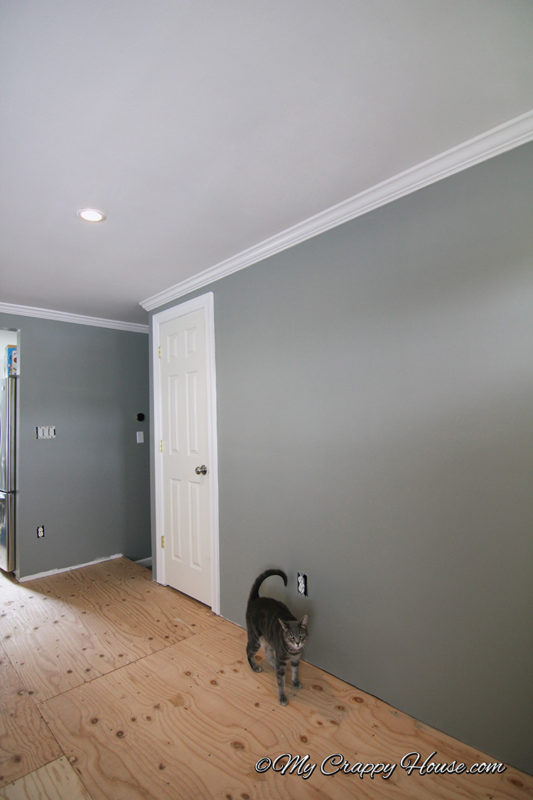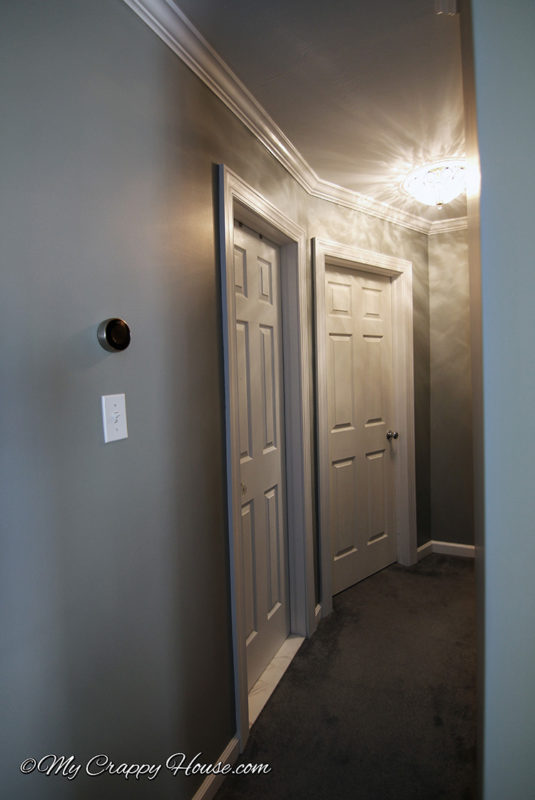 I know. The light switch plates are missing. It's not because I was too lazy to put them on before taking photos. I'm… um… thinking of dedicating a post to their installation. Yeah, that's it. I really feel the internet is lacking in light switch plate installation tutorials. It's an advanced project. I might have to make a video…
Hey, remember I promised you a close up of my trim once I finished painting it? Of course I didn't forget. It came out awesome. Here's my most vexing corner. (A close up of the previous picture above.)
I know, right? I rock. You can tell me so in the comments.
I'm also pretty excited to finally be able to hang up something decorative in my crappy house.
Yup. That's a giant squid. Why? I don't know. But I love it!
Things are looking pretty good over at my crappy house, eh? You're probably not feeling all that sorry for me anymore, are you? Hold that thought.
Boom! There you go.