I have one… two… three floors (AH AH AH!) to install in my crappy house.

A beautiful wood floor for my living room and kitchen…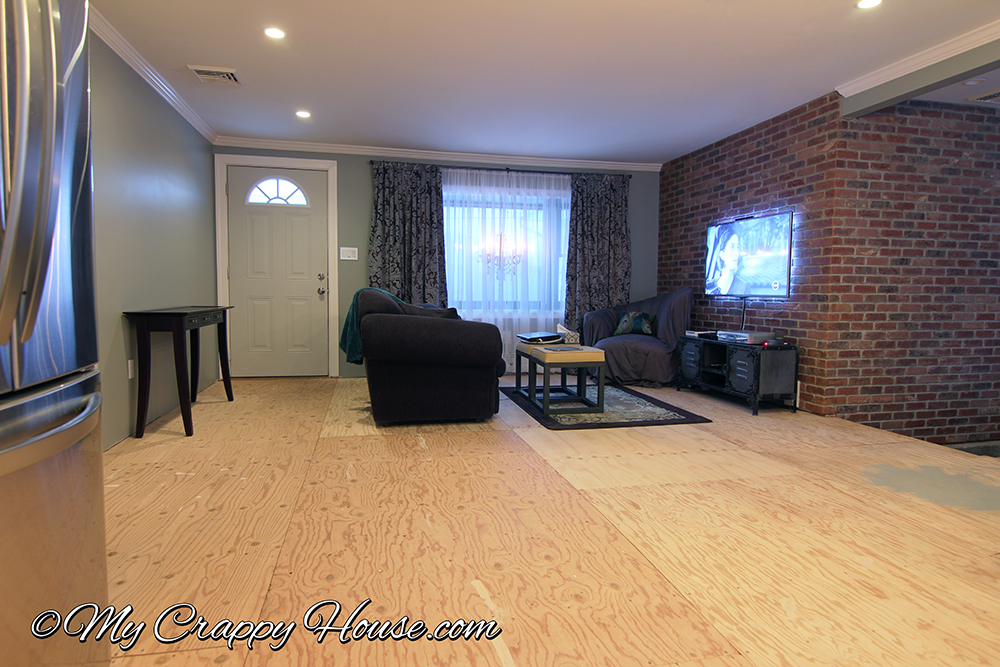 Some sort of tile for my dining room…
And in my basement…
Something inexpensive, but nice looking, moisture resistant and easy to install. Also, very low maintenance. Like me!
I've been shopping for… well, years, actually, trying to decide on what to put where. (I was totally kidding about the whole "me being low maintenance" thing…) But now, I have finally come to one… two… three (AH AH AH!) decisions!
OK, two decisions and one half decision.
Whatever. I'm trying, dammit.
Let's start with the half decision that lives in my basement. I still have no idea wtf to put down on the floor, but whatever I do choose, that concrete needs to be leveled. I thought, once I emptied out the crap down there in my super fun yard sale, I could just use some self-leveling concrete and be done with it.
But noOo…
My basement floor is painted. Doesn't sound like a big deal, but did you know that concrete will not adhere to stupid, shiny, gray paint? Yeah. It was news to me too. I have to remove all of this freaking paint. And I have to do it by hand. I know from experience that I can't use strippers on this floor because they make a huge mess and they do a terrible job.
Plus they're kinda skanky and I just don't keep that many singles on hand. (Who does, really?)
Obvs, I can't level the floor around a pool table (Duh… I have to pour concrete…), but once that's done, I'll finally be moving it downstairs. Did you catch that? I'm not waiting to install my floor before I move the pool table to the basement. I'm not using the pool table as an excuse to procrastinate! Aren't you so proud? Well, don't be. I have tons of other excuses. I don't need the stupid pool table.
I lied before when I said I had no idea what to put down there. I do have some ideas, but maybe I'll save them for a future post. (We like future posts.)
Let's talk about floor number two now: My dining room. This one was actually easy. These slate tiles caught my eye in Home Depot…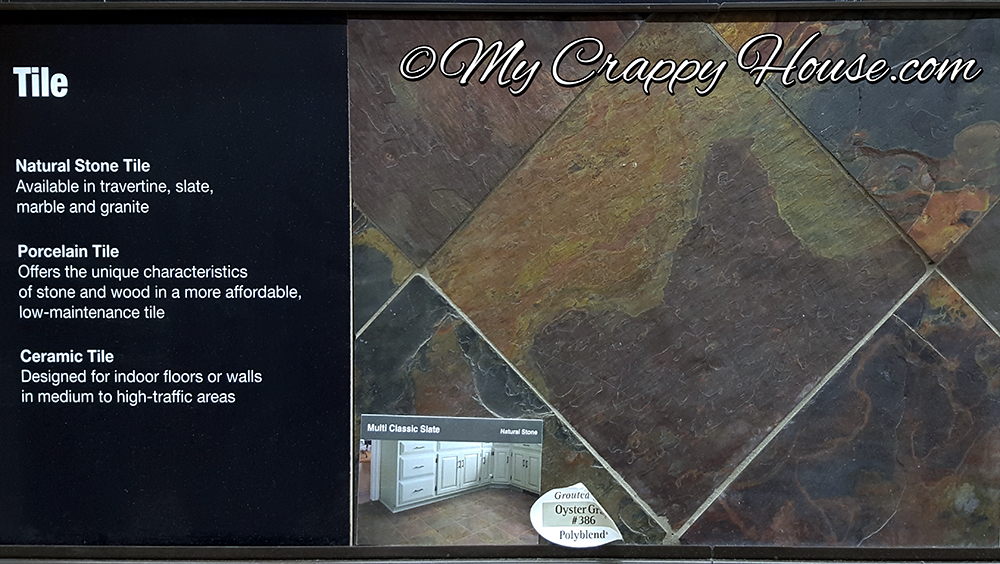 I liked them and they were cheap, so I bought a few…
And I love them! Boom. Done. That was probably my easiest decision… like, ever.
Floor number three is much more complicated. My wood floor. I've been to every flooring showroom within a 50 mile radius. I've collected every sample that has ever been milled. It's gotten to the point that, when I search online, Google says, "Dammit, woman! I've shown you everything there is! Pick a friggin' floor already!"
You can't even imagine how excited I was to finally, finally find my floor!
Only to be told by this man (I shall call him Satan) that I can't have that floor.
The devil wears gingham.
Yeah, OK. He was actually very nice. But he really did tell me I can't have that floor. He refused to even tell me what it was at first. I had to threaten violence. (That worked. People fear me.)
That perfect floor is thermally modified, rift and quarter sawn white oak. That means that it's been kiln roasted to bring out the tannins in the wood which changes the color making it look all awesome. (That floor is not stained!)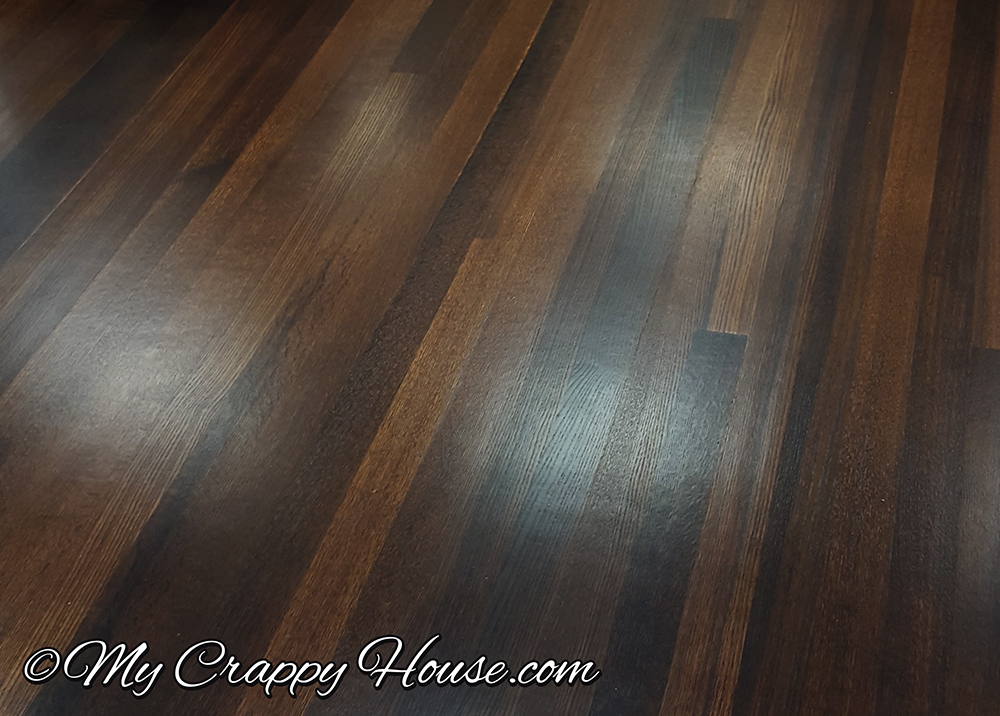 The deal with the perfect floor is that they can't seem to replicate it. It's like it was a happy accident never to happen again. Basically, they have it in their showroom to make people cry. Incompetent, sadistic, bastards…
So, that one's out. But I did promise you a decision…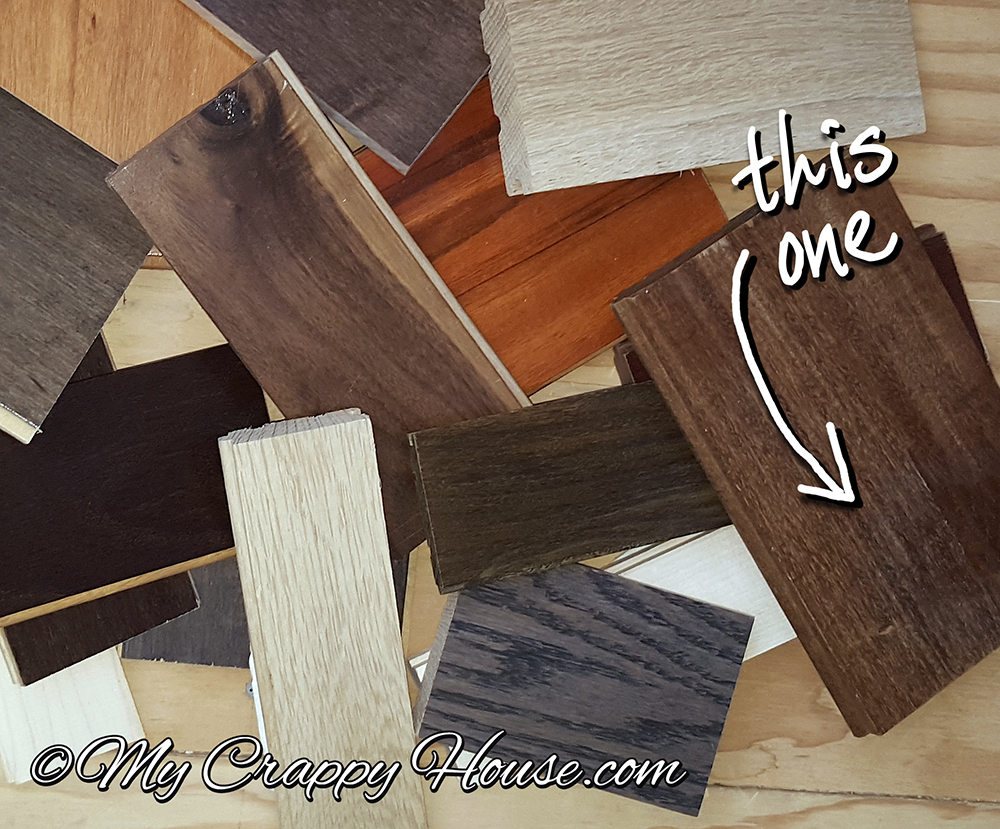 That's unfinished, Brazilian walnut. It's got a lot of variation from board to board (which I like) and the grain in it is really pretty. It's also one of the hardest hardwoods Nature makes. You may remember I really wanted American walnut, but Nature makes it stupid soft. Because she's a jerkface.
Here's a sample of finished Brazilian walnut (in the skinny boards I'm getting):
It definitely runs a bit too orange for my taste, so I'll be staining it brown. Something sheer with blue undertones to kill the orange and make it more neutral. I'll probably lose some of the variation, but hopefully not all.
Listen to me all sounding like I'm going to stain it myself. So not gonna. I'm going to try to do the installation on my own, but I'm leaving the finish work to the pros. I ain't stupid, yo. I got a guy…
So, when is all of this happening? I'd like to get the pool table down into the basement before my new couch arrives on October 17th. (Macy's finished my couch weeks ahead of schedule, but they've been kind enough to push back my delivery date.) (They're not enablers. That's just good service…)
Anyway, I'd better go and peel some more paint. Kill me.
Well, first subscribe below. Then you can kill me.
(If you're an internet psycho, that was totally a joke. Please do not kill me. Do not. Zero people killed! AH AH AH!)