Building a Shadowbox for an Heirloom
Procrastination is in My Blood.
You're in the right place. I'm going to show you how I built a shadowbox for an heirloom, but first, I want to tell you a little bit about my grandma. Please indulge me. She passed away when I was only four years old. I only have fuzzy, unfocused (aka misty, watercolor) memories of her that I'm not even sure are real.
Still, from all I've been told, I feel like she and I are kindred spirits. My creativity comes from her, as does my propensity for procrastination…
When I was born, my grandma finished a crocheted afghan for me. She FINISHED it for me, but she did not START it for me.
This afghan was intended for her own first baby, my Uncle Jack. He was born thirty-three years before I was. (My grandma actually holds the Guinness World Record for the most amount of years spent crocheting the same afghan. You can look it up.)
(No, not really. That's grandma laughing at you, dummy.)
To be fair, she picked a ridiculous pattern. The hook size was super tiny and it's not even made with yarn, but thread. Can you imagine crocheting an entire afghan out of thread in the time it takes to grow a person? She was definitely over-ambitious.
Remind you of anyone?
Yup. I can relate. I tend to go big too. Although… I'm only ten years into my over-ambitious project, so, in Grandma Time, I'm actually way ahead of schedule…
Anyway, she went on to have four more children and a whole bunch of grandchildren before finishing the afghan for me, her tenth grandchild. Clearly, she loved me best. The afghan lived on my bed all through my childhood, but it hadn't been used in a very long time. It started to disintegrate over the years. I mean, this thing was OLD. I won't say exactly how old, but it was already thirty-three years old by the time I was born, so you can do the math.
(No, I'm not going to give you real numbers so you can actually do the math. Nice try…)
After all this time, grandma's afghan ended up in storage. Falling apart. Never looked at nor appreciated. Much of it beyond repair.
A Shadowbox for an Heirloom
So I had this idea to just save a piece of it for display and let the rest go. Having it in a bag in a closet certainly wasn't doing it any justice. I talked about it with my mom and she thought grandma would approve.
I carefully separated the corners and some border pieces so that I could reassemble it all into a mini version for framing.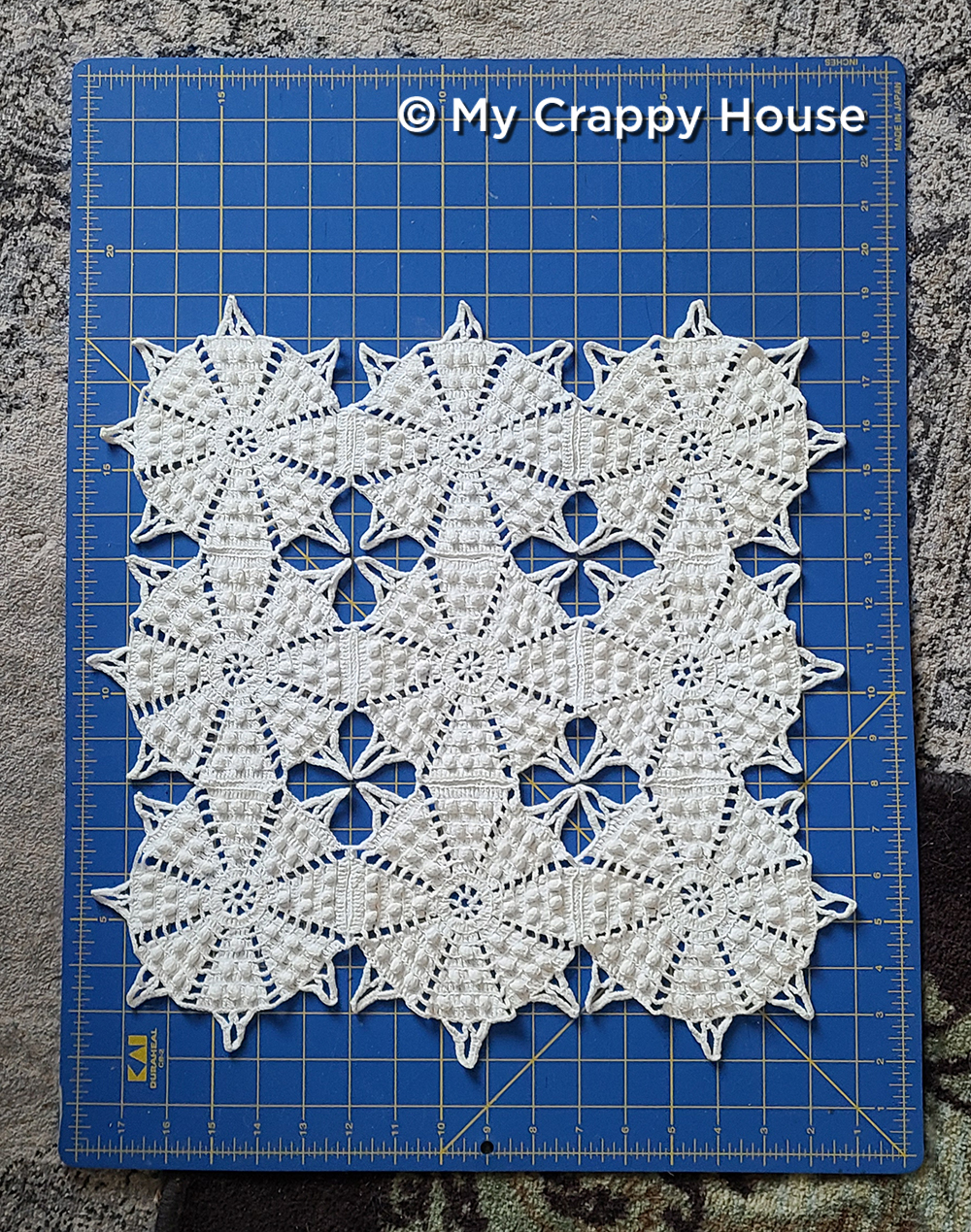 I actually crocheted the pieces back together myself, so there's a little bit of my work mixed in here with grandma's. I think that's pretty neat.
While I did want it behind glass to protect it, I didn't want it squished, so I needed a shallow shadowbox. (A shallowbox?) I decided to make one myself, because I can literally do anything. (Yes, even brain surgery. I wouldn't offer any guarantees on the result, but I could do it.)
I started by picking out some molding I liked and making the frame face.
Then I made another frame out of pine to give me the depth of the box.
(WOW. Look at all of those brand names! As a professional blogger, it's my job, my duty, to give you some product links… I used my Kreg Jig to drill some pocket holes with my Makita Drill, then I glued the joints with Gorilla Wood Glue, and clamped it all together with my Irwin Clamps. There. I'm like a Kardashian now. I feel so dirty…)
Then I ripped down some one-by-twos on my table saw to give the glass a place to sit and made a spacer for the "box" part of the shallowbox. I made you this little gif to show how it all comes together…
Guys, I'm going to fast forward to the end now because this post is stupid long. I nailed, I patched, I sanded, I painted, I procrastinated, I sewed, I glued, I drilled, I screwed and here's the photo you've been waiting for…
Just kidding. That's the back. Here you go…
Grandma's Afghan on Display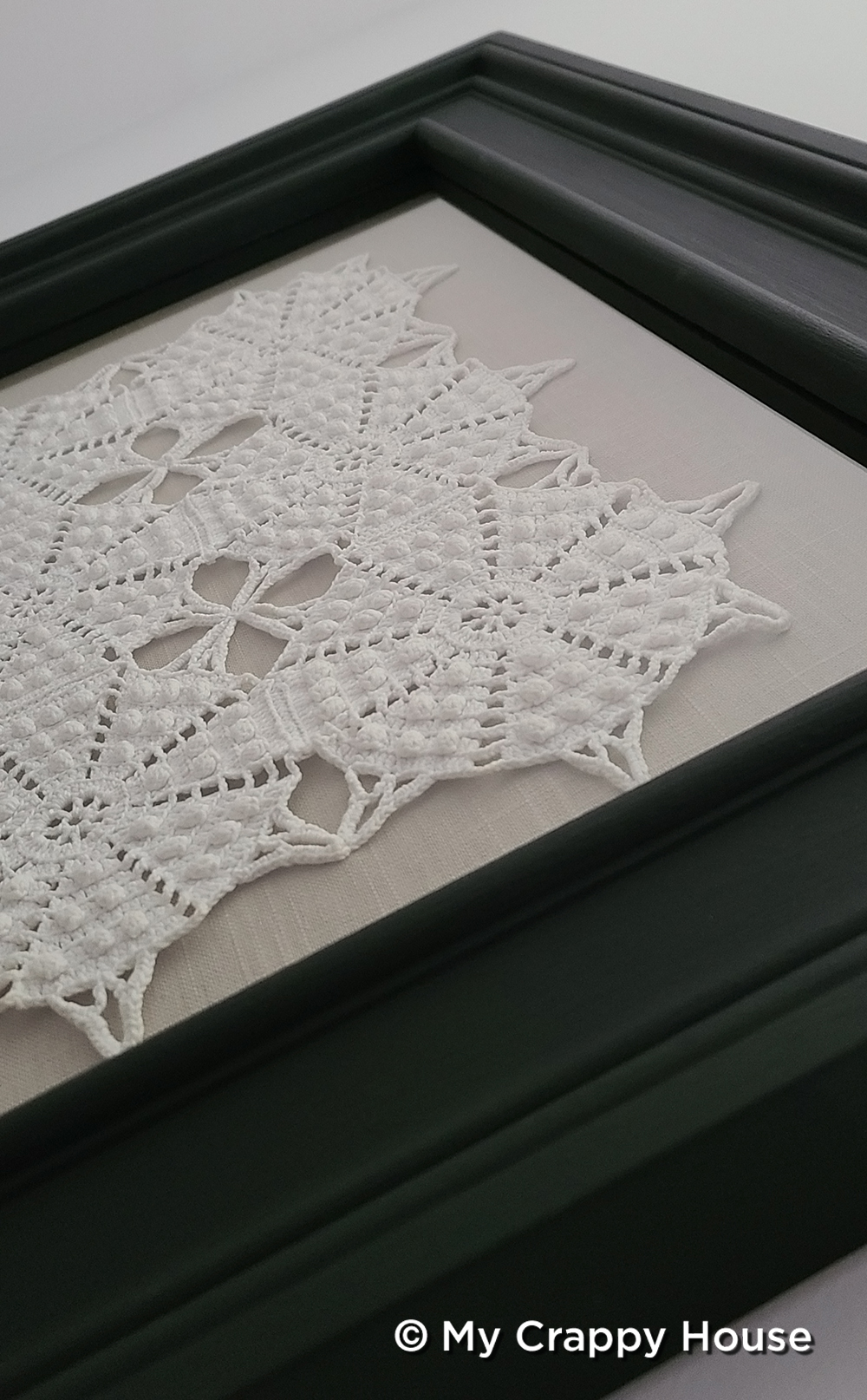 (Why, yes! I did make that afghan on the embarrassingly unmade bed! I got the crochet gene from grandma too. But not the bed making one.)
Guys, I did something really cool with the remainder of grandma's afghan, but this post is so, so long now, so I'm going to save that for my next post. Which will be next week! (Or right now.) Relatively speaking, that's damned near instant gratification on my crappy blog… (No, really. Now instant. It's right here.)
Please subscribe below if you haven't already and "like" and "share" and "pin" and all of that internet crap. You guys are the best!
*This post contains affiliate links.