Installing Slate Tile: Welcome to DIY Hell
Slate Sucks.
The surest way to guarantee that I will tackle a project myself is to tell me I should not be tackling that project myself. Tell me it's super difficult. Tell me it's not for the DIYer. Tell me only very experienced people should try it. Flat out tell me that I can't do it and I want to prove that I can do it all the more. I know. I have issues. I don't know WTF my problem is.
Everyone and their mother (and the Home Depot tile guy) told me I should not be installing slate tile by myself.
I did it anyway.
And I cried the whole time.
Slate Tile Math
This was, by far, the most difficult DIY I have attempted to date. I never want to work that hard again. Every single aspect of this job sucked, starting with simply purchasing materials. Each box of tiles weighed a bajillion (or 35) pounds and I bought like a quadrillion (45) boxes. That's .75 tons of tile. (For real. Tons.)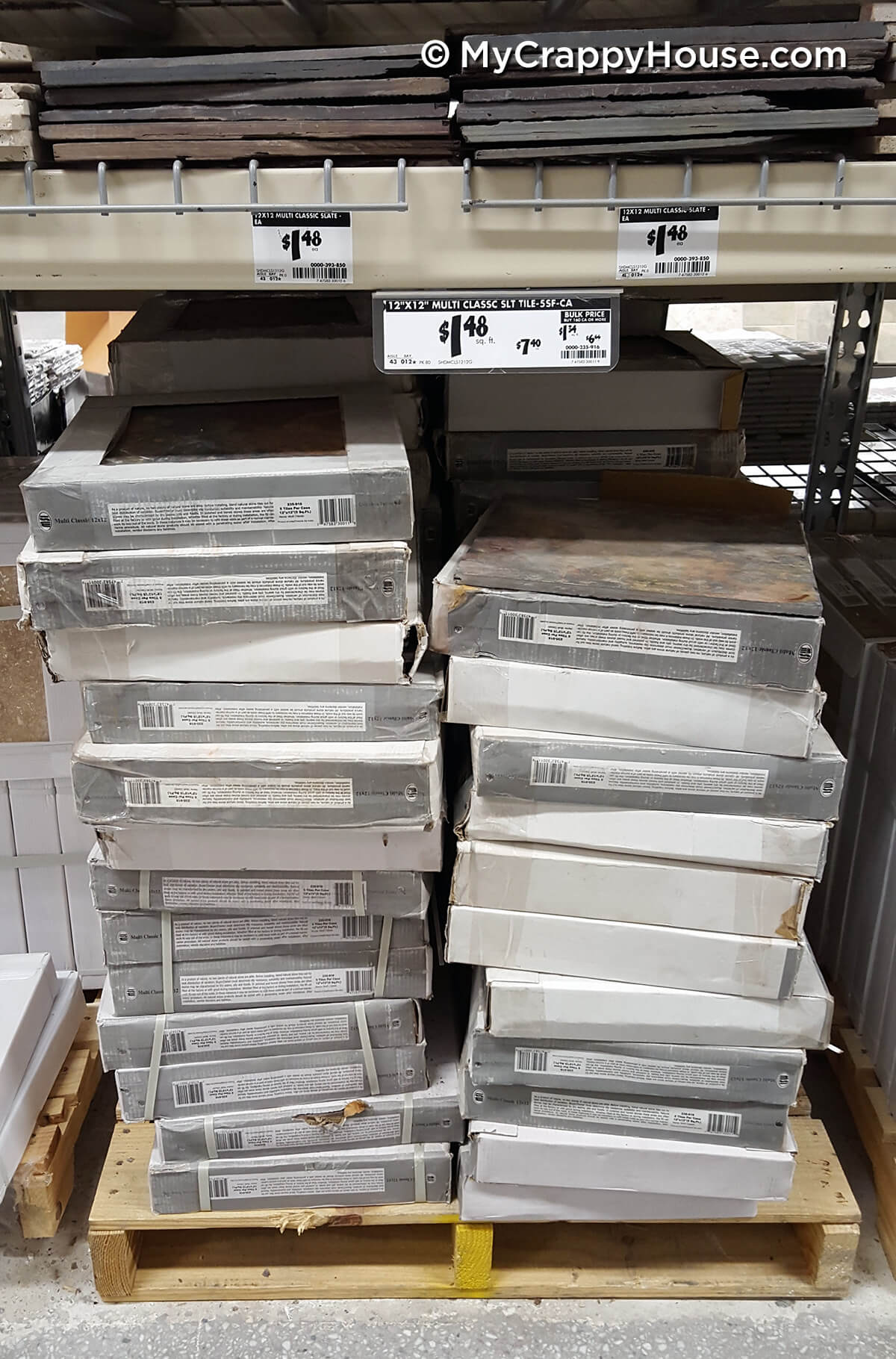 Then there was the glue. Each bag was a crapzillion (that's 50) pounds. I bought 6, so 300 pounds of special, heavy mortar for large, heavy tiles.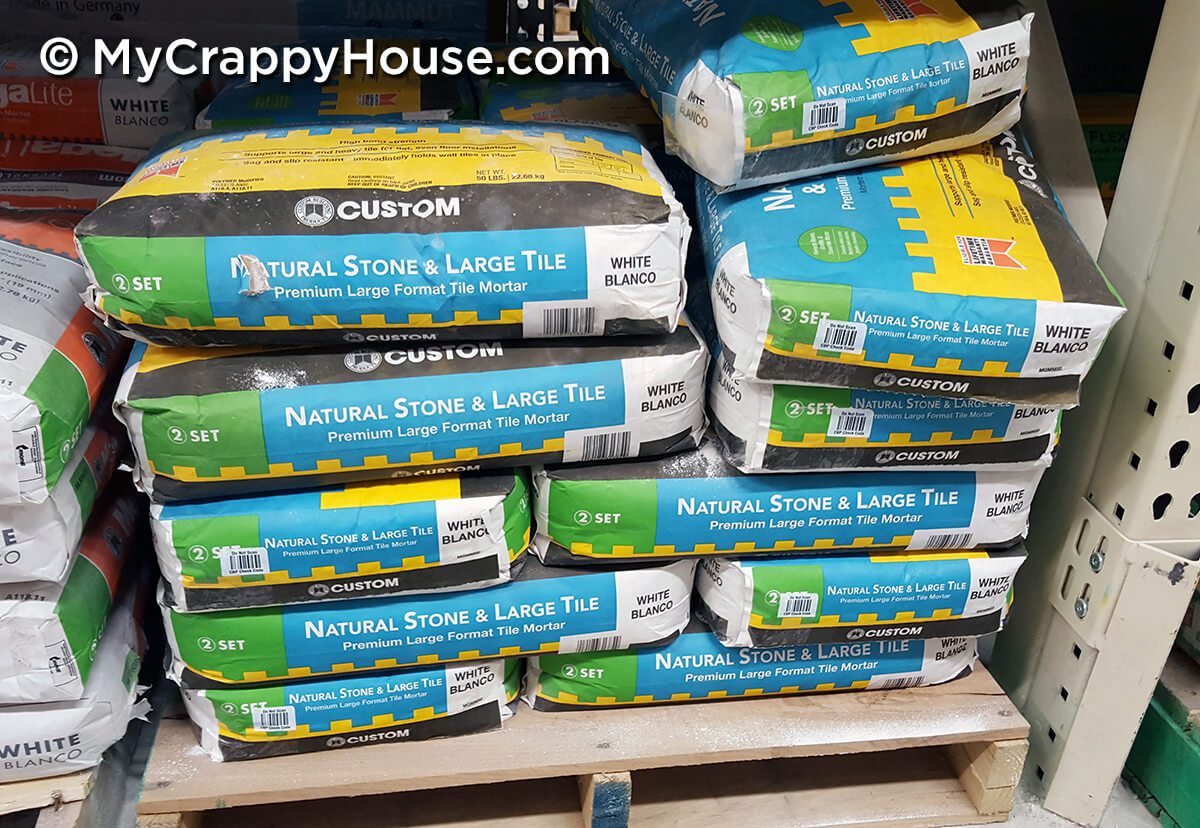 Installing Crappy Slate Tiles
I started this project the week of Thanksgiving. (I know. It's March now. I'm sorry. This project was really really hard. I only just finished like 5 minutes ago.) This was my progress after day 1: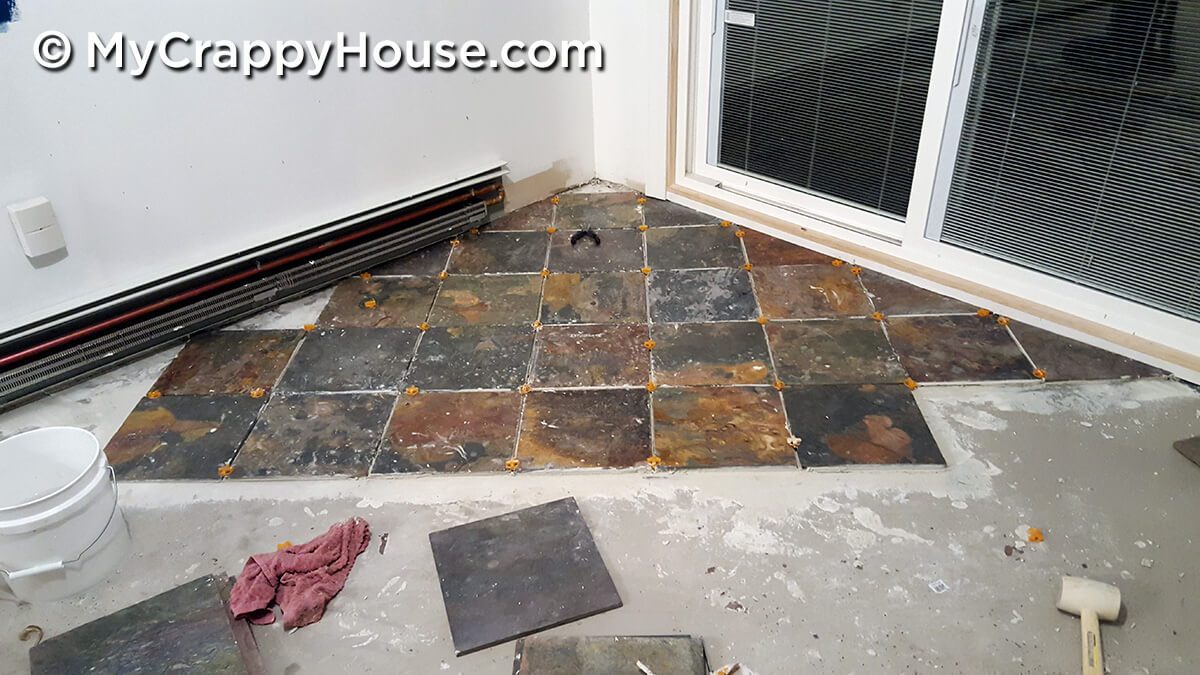 Yep. That's it. It took me a whole freaking day to do that.
Of course, being me, I had to make it just a little more challenging and install the tiles on a 45 degree angle. (Seriously. I don't know WTF is wrong with me.)
I'd hoped that I'd kick ass on day two, having had one whole entire day to become an expert at setting tile. My progress was not amazing.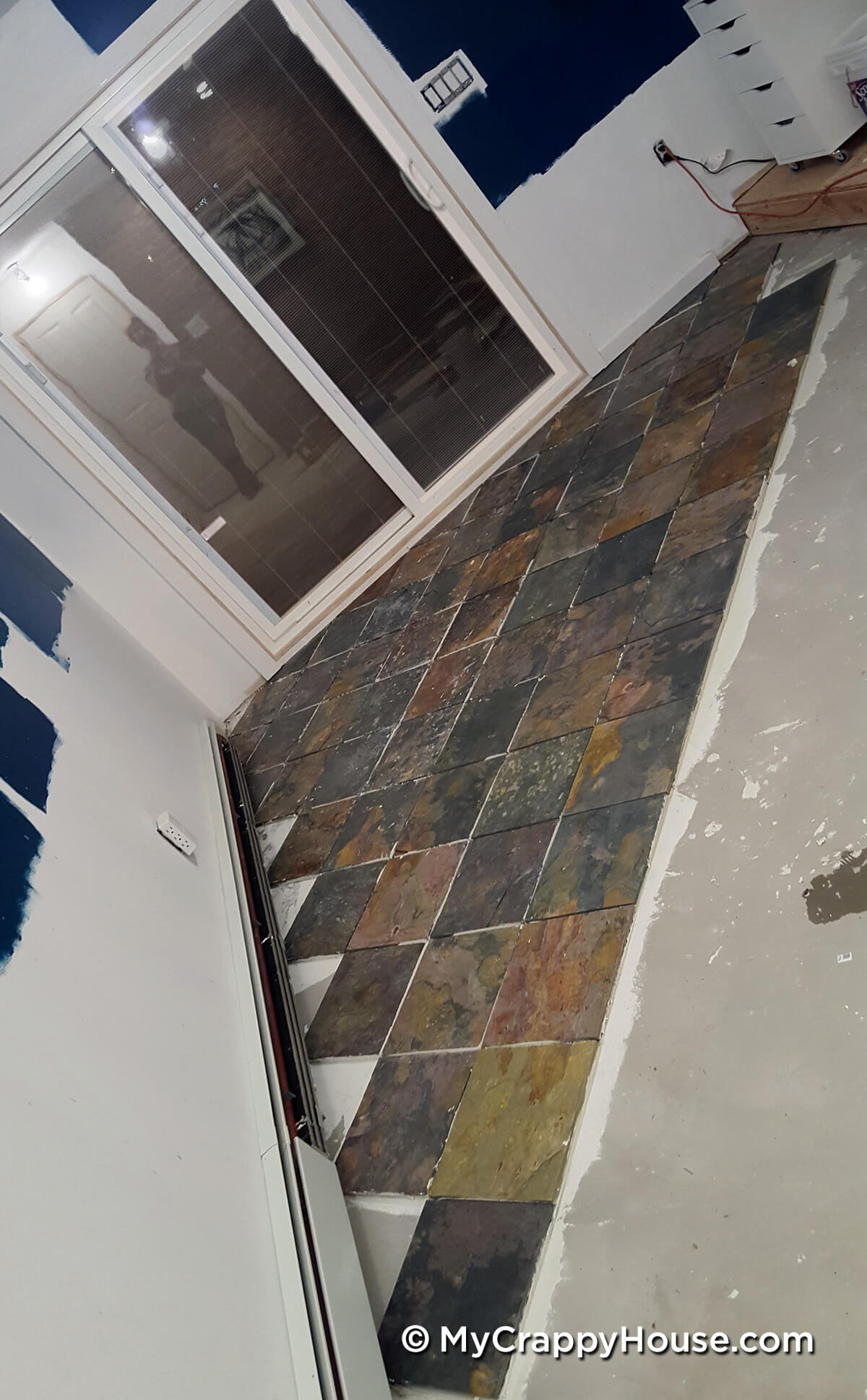 Hey, did you know you can't use tile spacers with tiles that are not perfectly square? True story. There's some visually impaired dumbass somewhere cutting these tiles on a saw and he's like, "Meh. That's close enough."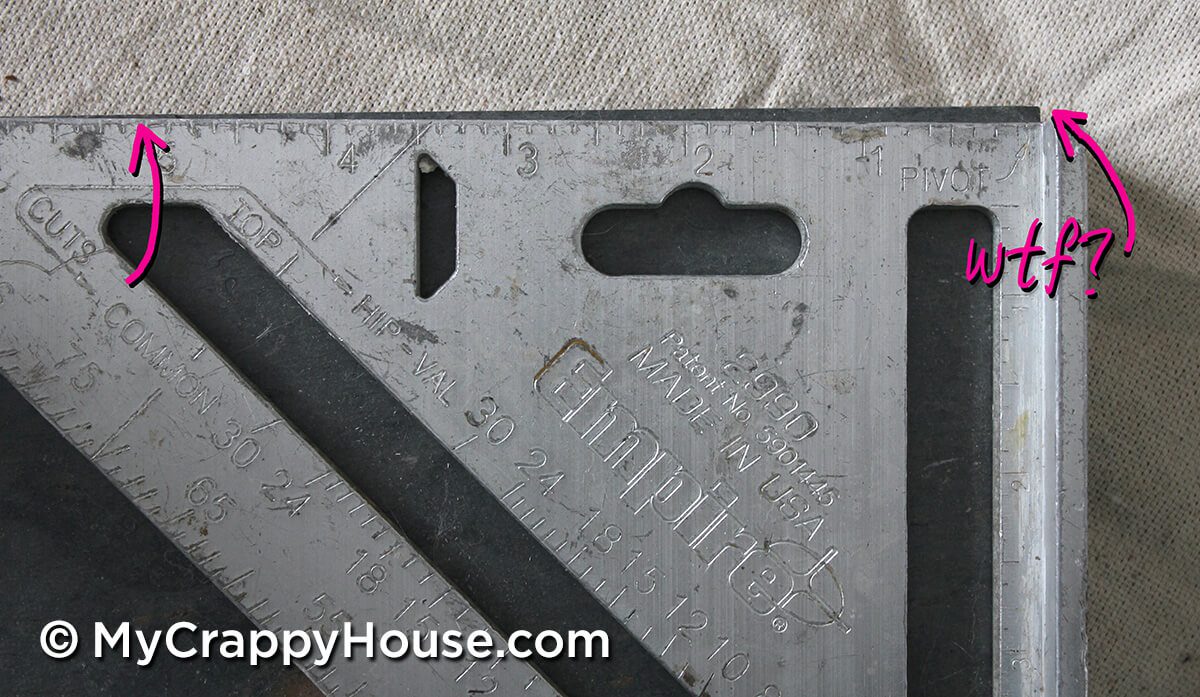 I hate that guy.
And while we're discussing slate being right angle-y challenged, let's talk about the other ways in which it sucks. Each tile is a different thickness.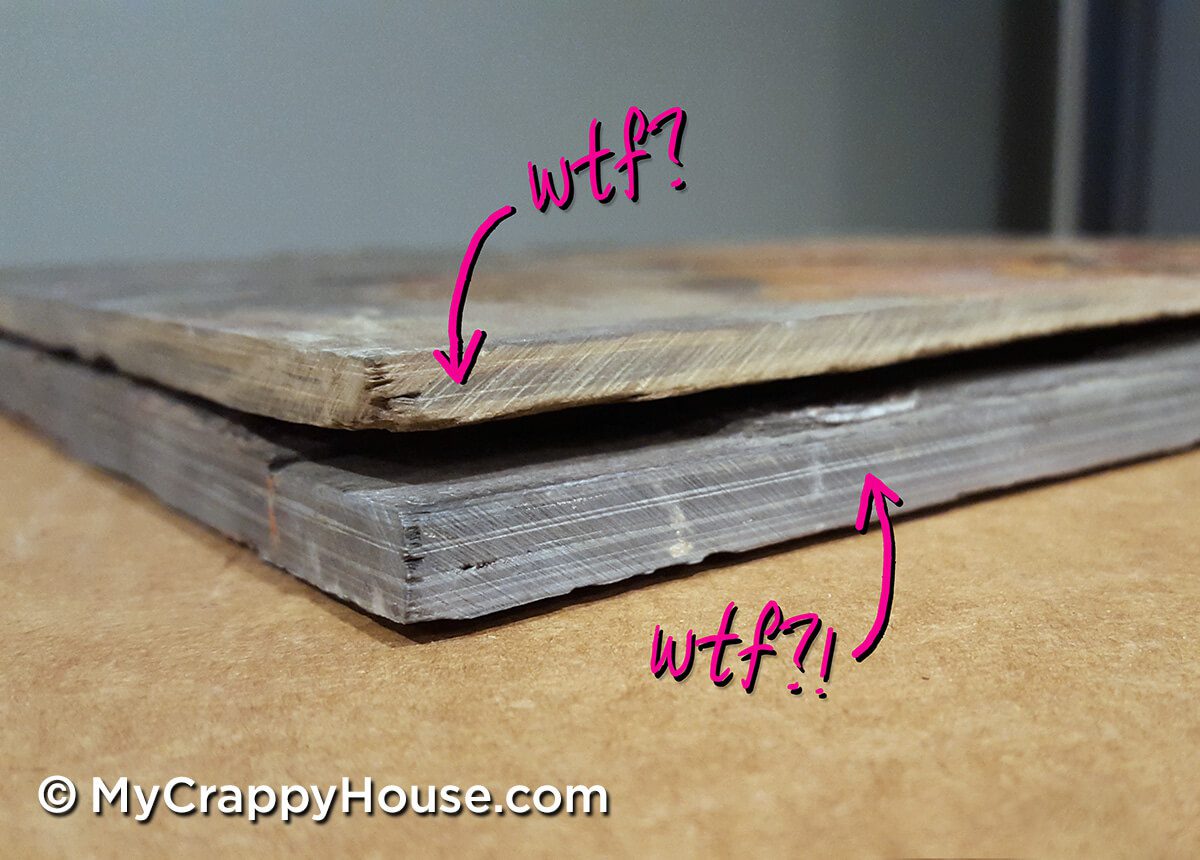 How are you supposed to install a level floor with these reject tiles?? The answer is to use a crap ton of glue.
Hey, guess what happens when you use a crap ton of glue? It oozes. And then you have to spend hours and days and weeks and months scraping the glue out from between the stupid tiles.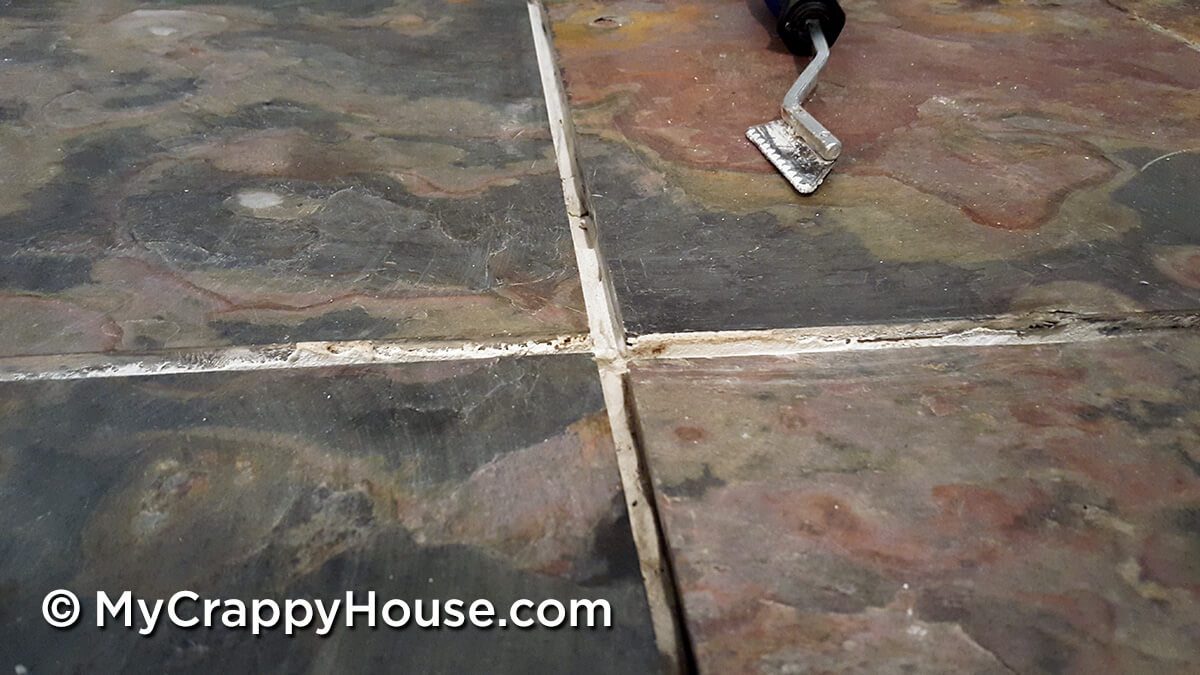 Know what else sucks about slate? It's fragile. I had to return about 20% of my tiles because they were broken in the box. Worse than that, I had about 6 tiles break after they were installed, so I had to remove them to set new ones. Remember all of that glue?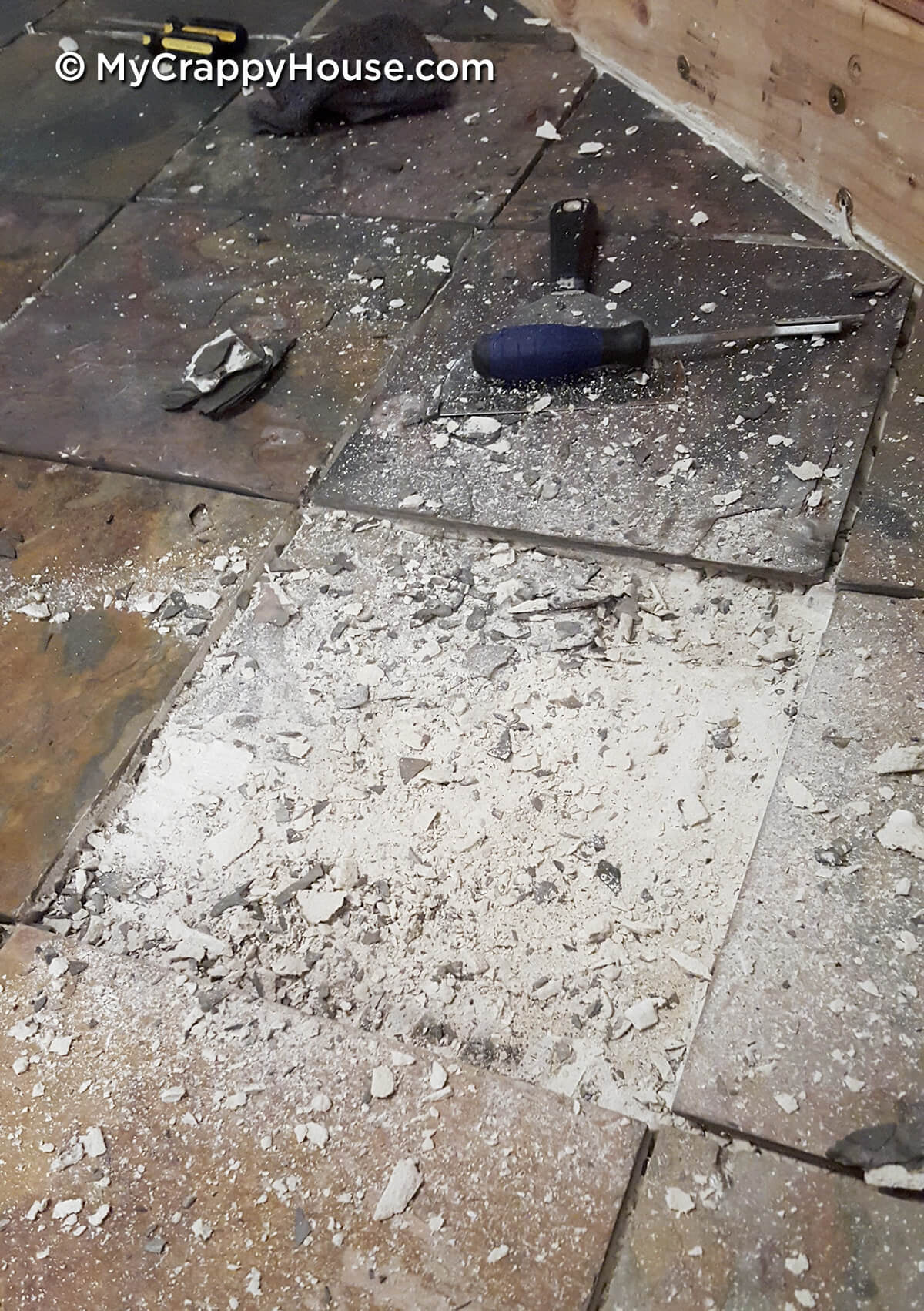 If whoever owns this house after me doesn't love slate, they're going to despise me. It may have taken me months to install, but it will take them decades to undo what I have done. Strangely, that thought makes me happy.
Anyway…
It took me a few weeks to finish setting all of the tiles, then a few more to clean all of the glue out of the joints. (Scroll back up two pics to see that again while I reiterate here how much that sucked. Because it did really suck a lot.)
(A lot.)
Porous Tiles Need to Be Sealed
Next I had to seal the tile so I could grout. I took this picture midway so you could see the difference a coat of sealer makes. (I may not write much, but I'm always thinking of you. You're welcome.)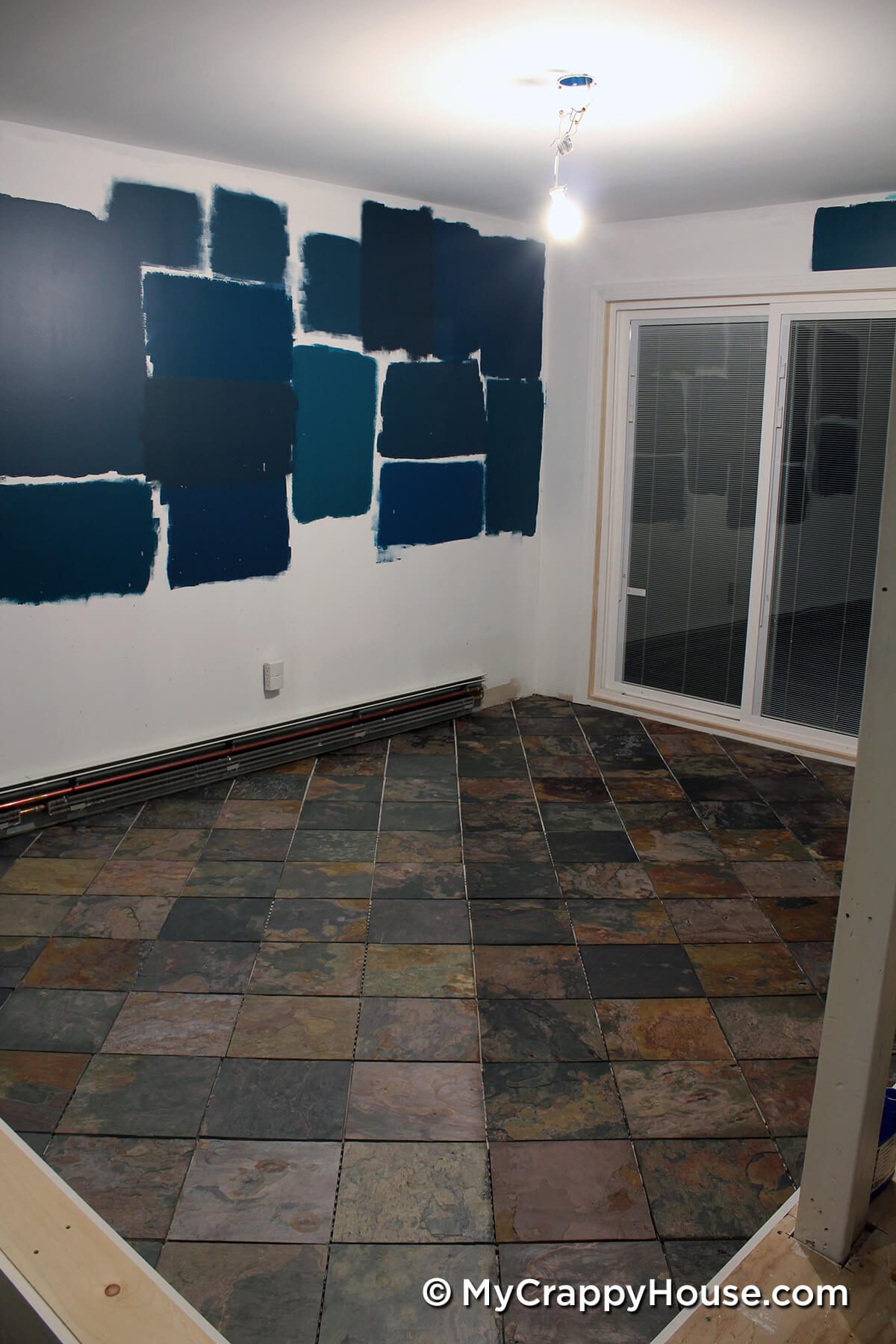 I used this sealer called 511 Seal & Enhance, by Miracle Sealants. My research told me that I should seal my porous tiles before grouting, so that's what I did.
(For the eagle eyes: Yes, there's grout in this picture. A reader asked me what product I used to seal my floor and I realized I never mentioned it when I wrote this post in 2016, so I came back here, five years later, to add this photo. I haven't had to re-apply it since, so I can attest to its durability.)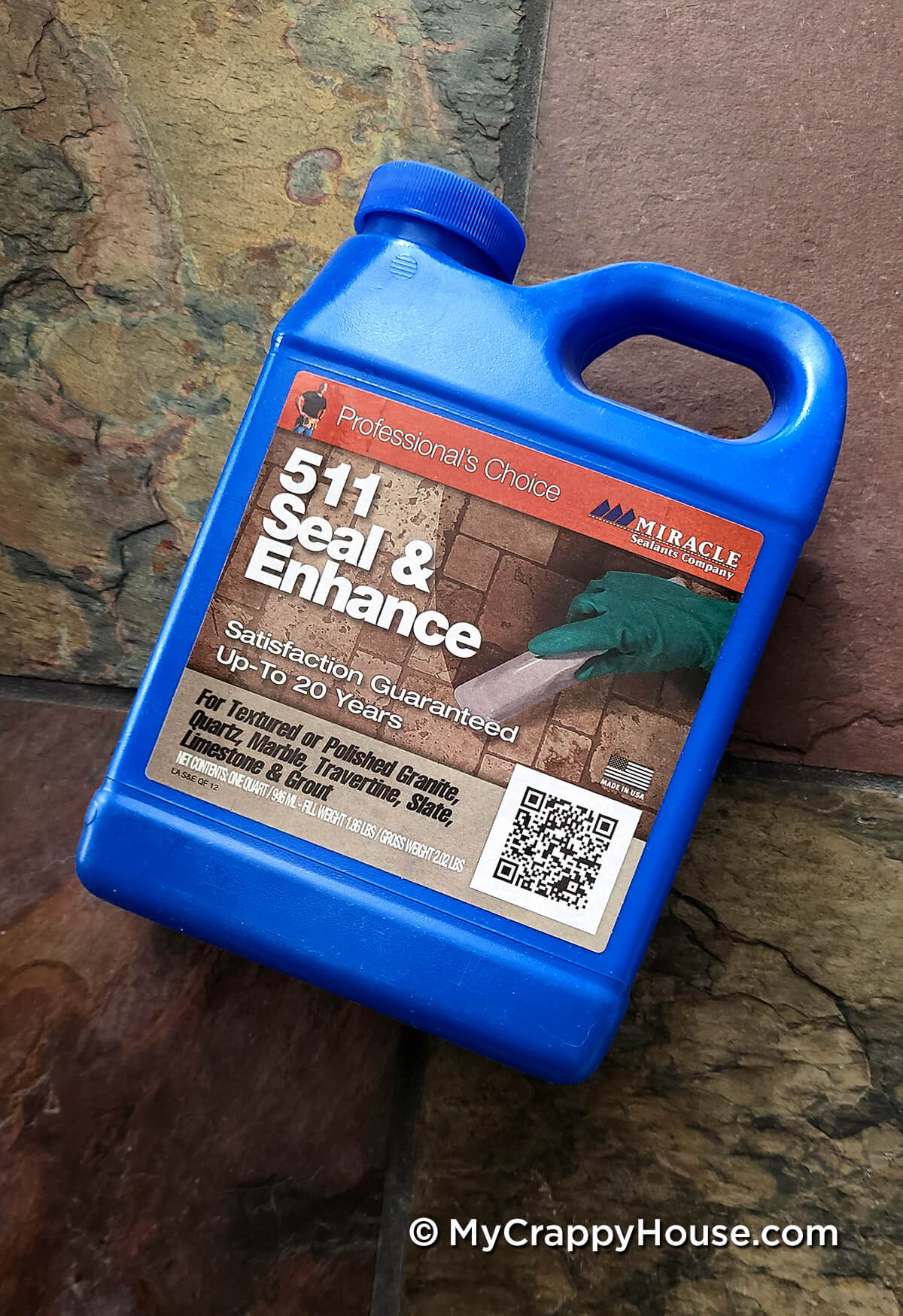 FYI, Grouting Sucks Too
Finally, it was time to grout. It may surprise you to know this, but I'm somewhat particular when it comes to color (Surely, you noticed the fifty shades of peacock blue on the wall…) I was not content to choose a premixed grout off the rack. (So tacky.) I found these great custom grouts at Lowes.
I chose "Carbon Copy". (That's the "nose" in the sort of smiley face I just realized I accidentally made with the swatches.)
Pop quiz!
Grouting slate tile is:

A: An unexpectedly joyous experience. I finished early enough for a unicorn ride.

B: Pure evil disguised as innocuous, colored, wet sand. The unicorns are all dead.
If you picked "A", you're much too optimistic to read my blog. Or maybe you're not that smart. Either way, you should probably go now.
Grouting slate sucks! Slate is bumpy and porous and getting the grout off takes a lot of rinsing and scrubbing and rinsing and bleeding and scrubbing and rinsing…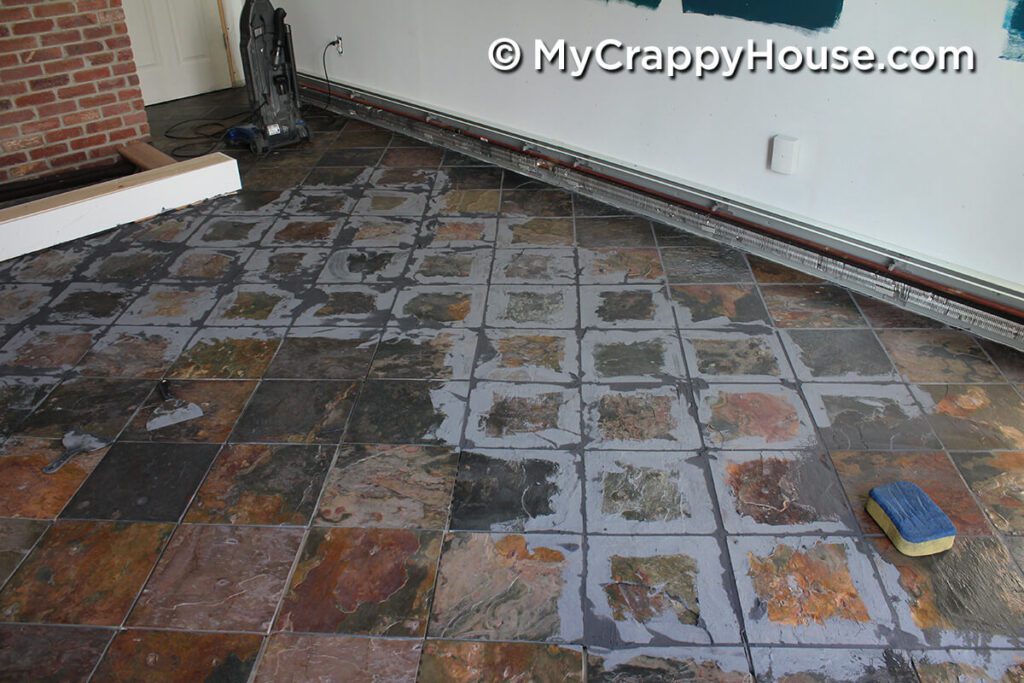 Here's a close up so you can see the stupid nooks and crannies. Slate suuuuucks…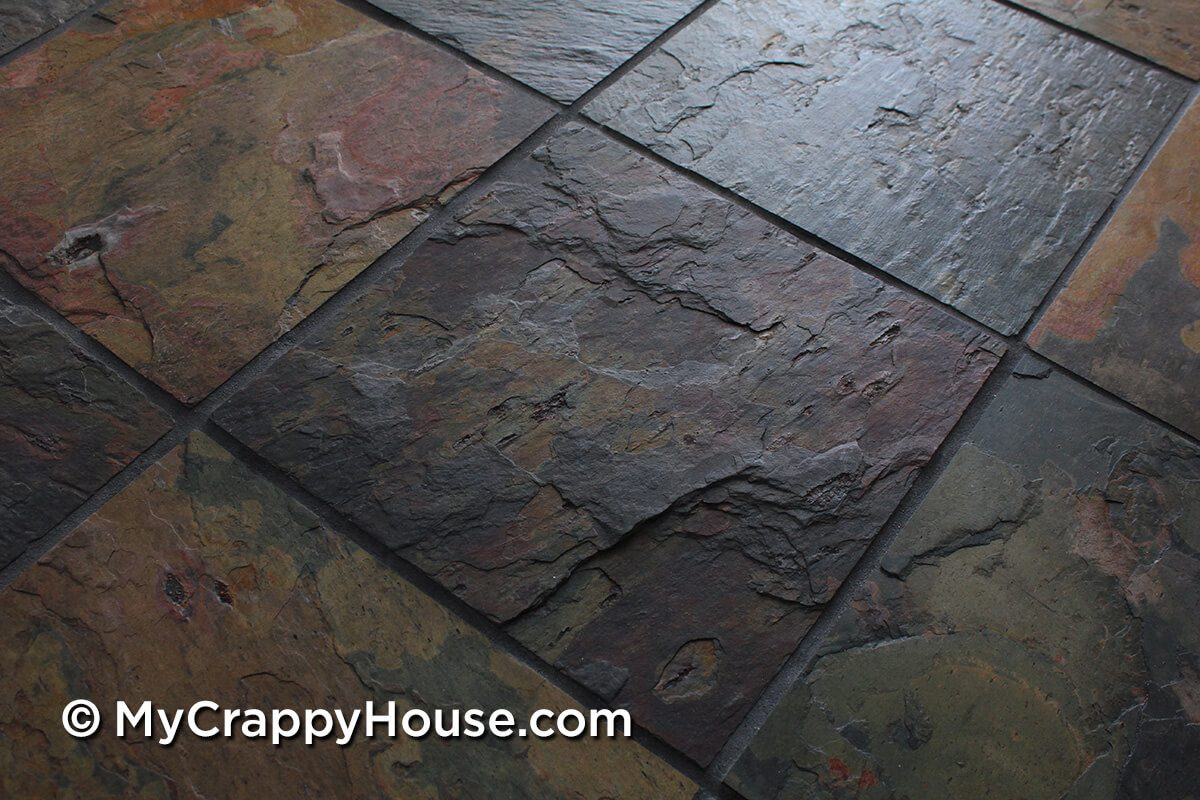 The Big Reveal
I just realized I forgot to post a before pic. So here's that…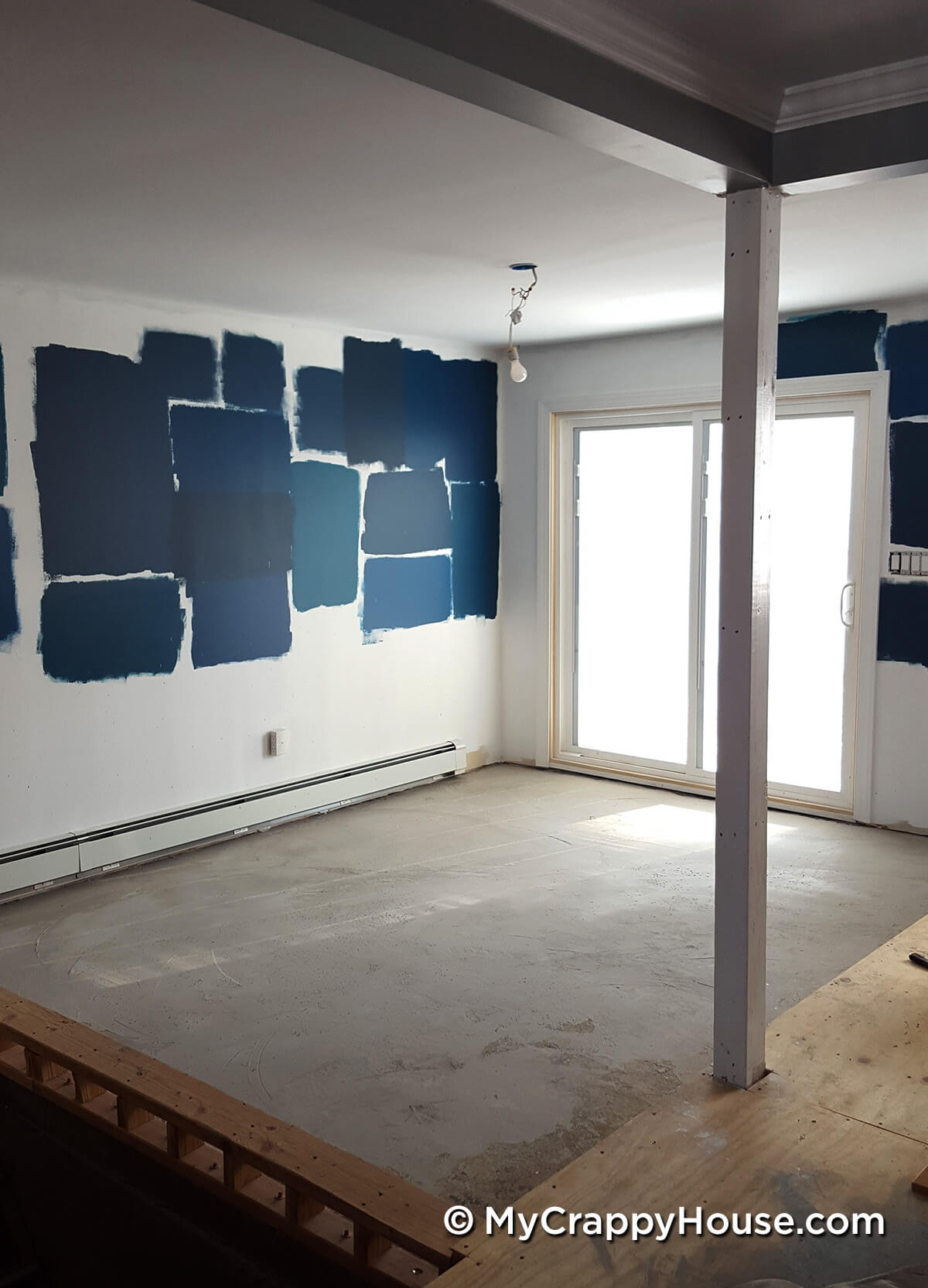 And here's the after. Finally.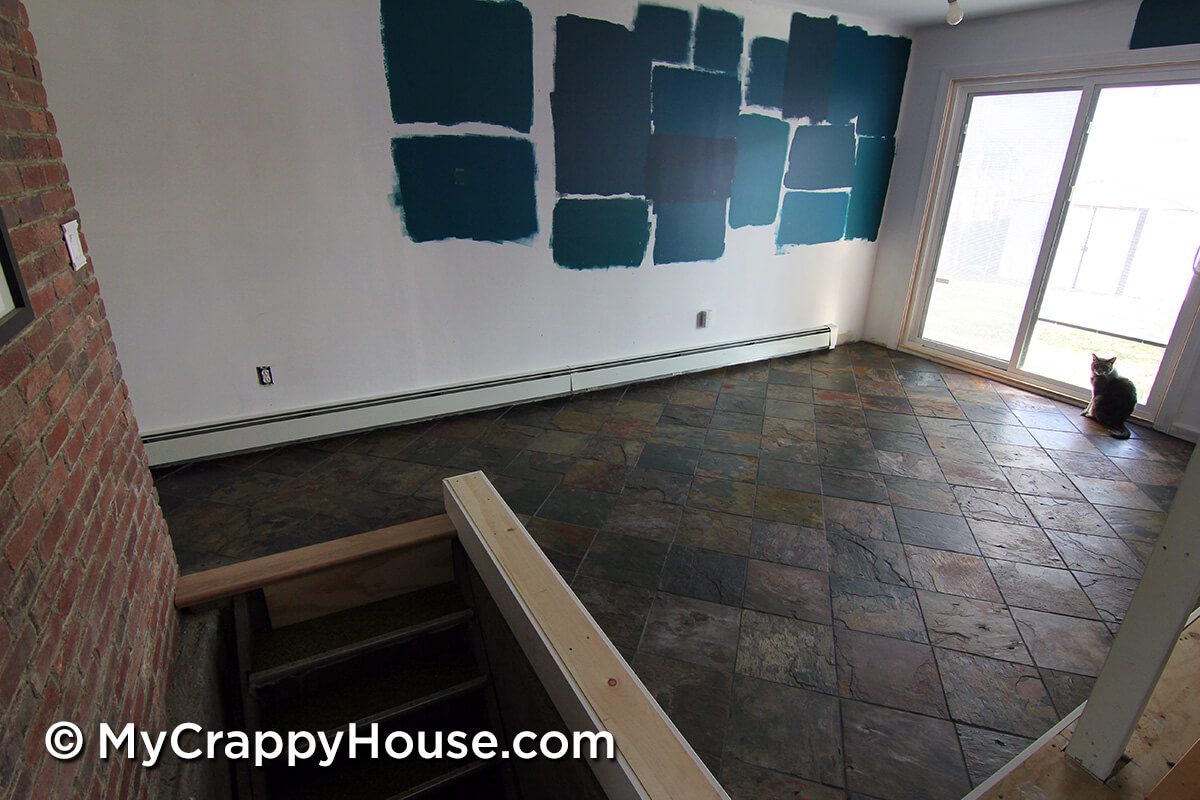 OK, installing slate sucks, but slate so does not suck. Slate is freaking gorgeous. Especially when it's installed by me.
Why You Should Not Install Slate Tile Yourself
As I mentioned, this was absolutely, without a doubt, the most difficult DIY project I have done yet. The naysayers had reason to nay. You should definitely not attempt to install slate tile yourself. Here's why:
You are not me.
I never consider myself a beginner at anything. When I learn a new skill, I always skip straight to the advanced projects right away. I am that obnoxiously confident. Why wade around the kiddie pool when you can dive right into the deep end? You might think I fail a lot with this behavior. But, the thing is… I just… don't. That is because I am amazing. I am Princess Spackle, DIY Ninja.
Take that, Home Depot guy who told me I shouldn't try to do this project by myself.
In. Your. Stupid. Face.
Now, please enjoy this fun internet slider toy whilst Princess takes a nap…
* This post contains affiliate links
*** Time travel links! Click here to see how the walls turned out in my dining room and, if you like tiling projects, click here for another one that sucked to install, but turned out awesome. (Duh…)