I've made it super easy for you to keep up with my blog this year. It's now June and I've only written two posts. Two. (Well, three, if you count this one…) See, I know you're busy, so I didn't want to burden you with tons of fascinating post reading. I'm always thinking of you. You're welcome.
And that's a random picture of Egor for you to enjoy. You're welcome. Again…
OK, I know I suck. I've been busy planning, but not actually doing so I haven't had much of anything to write about. But, with all of this planning (on big, BIG projects guys!), the second half of 2016 is going to kick some major ass! So, where the hell is a post on one of those ass kicking big projects, you ask? I think it's somewhere in late June/early July. (Yes, 2016, smart ass.) In other words, not written yet. This crappy post will have to tide you over.
Remember how your favorite sitcoms from the 90s would do a flashback show and you were like, These are all recycled scenes! How lame…? This post will be like that.
May 16th was my 5 year anniversary of closing on this crappy house, so I thought it was about time for a "wtf is going on?" post with some pictures of then and now and some words about those pictures. You know. Where I've been… Where I am now… Where I'm going… Why it's taken me so long to get there…
So, let's go back in time, shall we? The year was 2011… The house was crappy…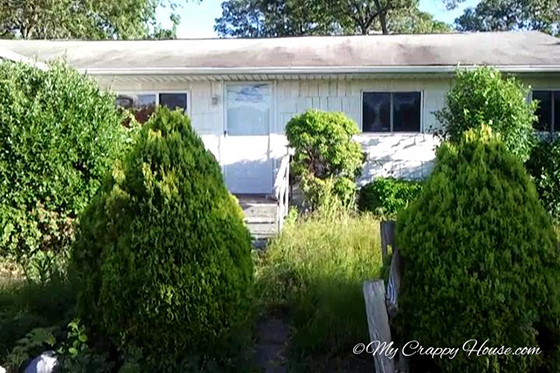 Ew. What can I say about my crappy house? It was cheap. Here's a current pic.
It's somewhat better now. For one, the lawn has been (mostly) mowed since then and I removed a bunch of trees. Also, I had a bay window installed for Egor… um, for me. (You know… to watch the world go by… in between my naps…) You may also notice a new roof, new gutters, a new storm door, new front steps and a new porch light. No posts about those, but they all happened at some point. This picture is proof.
In the future, I will paint the front of the house and, hopefully, scrape off this crappy landscape and start all over. (I keep hoping Yard Crashers will find me wandering around Lowes. If God likes me, that will happen.)
Here's the living room before I did anything:
And after some remodeling, a new subfloor, brick wall, radiators and paint:
I will neither confirm nor deny that one of the big (big) projects I'm planning is a new floor. (OK, it is, but don't tell anyone.)
You guys remember my dining room? This is how it looked on day 1:
And you know how it looks now because I just posted it in… crap, was that March? Time flies… It still looks exactly like this though: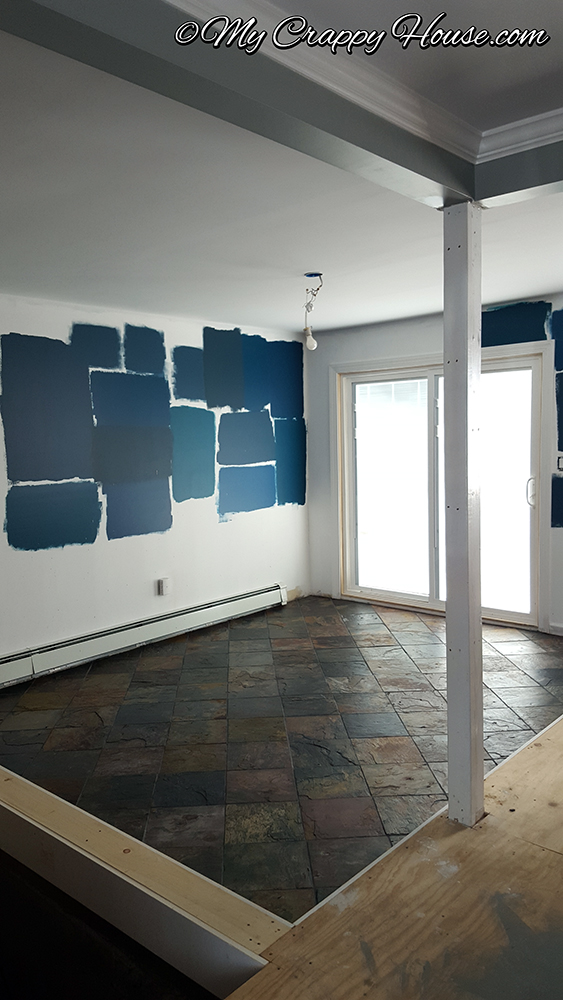 You know the plans in here. Pick a freaking color already. Paint the walls with said freaking color. Have a dinner party, or something.
This was my spectacular (ly filthy) kitchen from 2011:
It still looks like this:
Buuuut… not for long? I don't know… Maybe… Who can say? (Well, I can, but let's just leave some more suggestive dots here instead…)
This post is starting to bore me, so let's speed things up with some side by side pics. Here's my hallway, before and after:
And my beautiful dressing room:
My fabulous bathroom:
And my office (which still needs crown molding):
I've spent zero time with you on my bedroom. That's because I have yet to do anything to make it nice. Right now, it's a storage area for all of my art crap, decor crap, and food… well, food crap, actually. (AKA mac and cheese and Doritos.) (No kitchen, remember?) (For now… shhhh…) And my bed isn't even made, so I won't be taking a current picture for you. I have awesome design plans for my bedroom though and, someday, I will be prepared to share them with you, but today is not that day. A "before" is kind of a let down without an "after", so I'm including a picture of it half done. Let's call it a "halfter". (Actually, no. Let's not do that.)
OK, that wasn't so bad. I see no point in dragging you down into my basement. There's nothing there you haven't seen already and it would really suck getting back out because I have no stairs. (That's my way of telling you I'm working on building new basement stairs.)
No, I'm not really trapped… Of course I have a freaking ladder. Still, climbing down a ladder with a basket of laundry isn't ideal, so I have motivation to get these stairs finished ASAP. (I know, I know, ASAP in my world is like 3 months, but I don't have 3 month's worth of underwear, so this will be ASAP for reals.)
I know 5 years is a long time, but, being as lazy and poor as I am, I think I've accomplished quite a lot and, I have to say, I'm very impressed with myself at the moment. Feel free to post a comment below. You can either join me in my self-admiration or berate me for taking 3 months to write 1 post. I'm OK with either. I just really like the attention.