My Tufted Green Velvet Couch
Sofa, So Good
I had four months and this crazy idea that I might actually be able to install my floor before my beautiful tufted green velvet couch arrived. I mean… four months. (That's a third of a year, in case you suck at math.) But four months goes by really quickly. I actually did get some stuff done in that time, but I may have been a bit overly optimistic when I came up with that silly floor idea. (Which is weird, because optimism is totally not my thing.) I promise to fill you guys in on what I've accomplished lately, but this post is all about this beauty…
Oooooo… Ahhhh…. I'm affectionately calling it the "Green Monster". And I lurve it!
Unfortunately, so does Egor…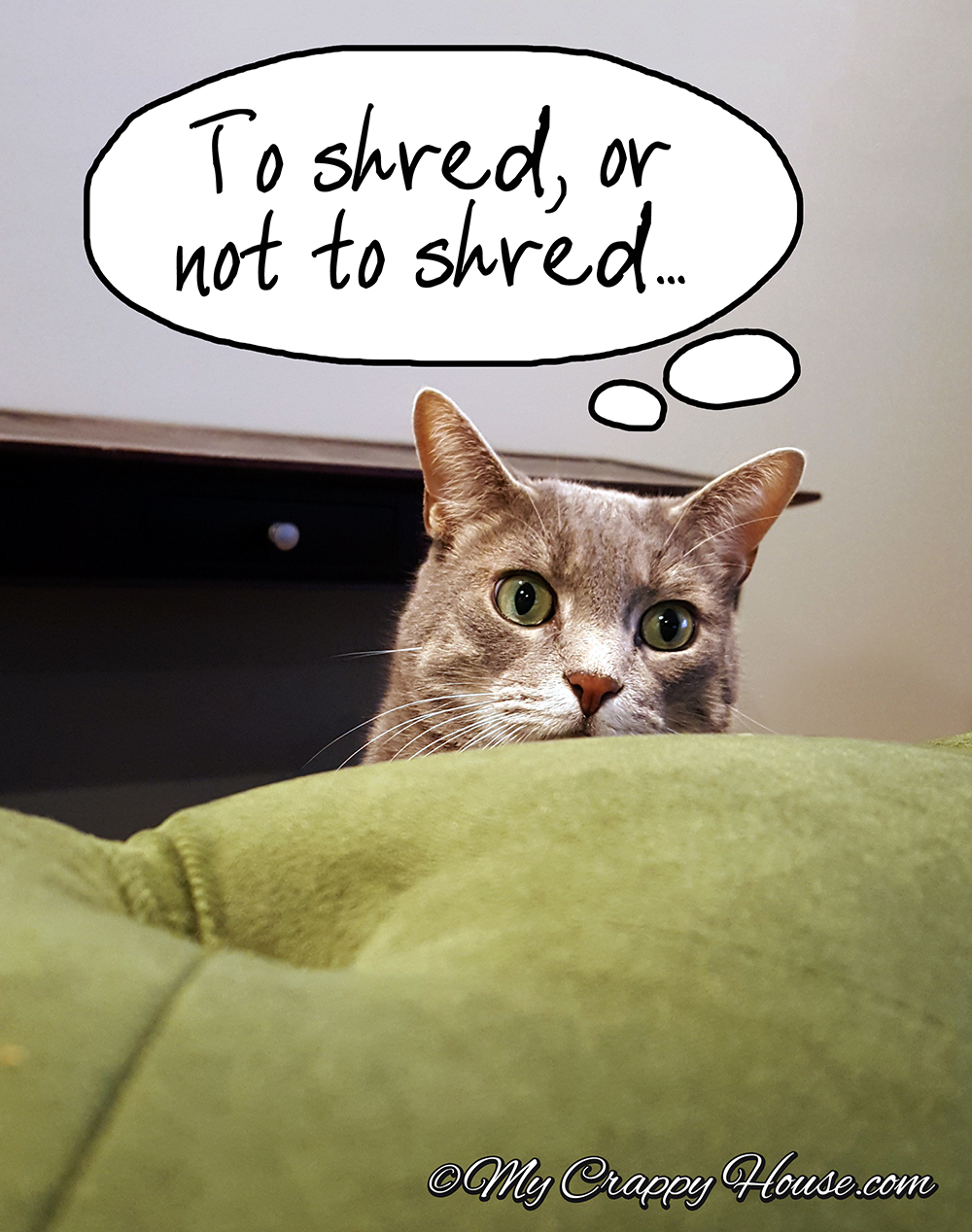 I'm keeping a close watch on him. So far, he's being good, but I'm not taking any chances. I glued on these kitty nail covers so he won't do any damage if he decides to start clawing. He wasn't happy about it at first, but he's slowly acclimating to them.
Don't make fun. He's sensitive. (And, before anyone yells at me for being cruel to my kid cat, they don't hurt him at all. Go hug a tree or something.)
My couch arrived on October 17th. That's almost 3 weeks ago. It needed no assembly. All I did was let the delivery guys in. They even put the cushions on it for me. So why has it taken me so freaking long to write this post? I actually do have a valid reason: I was going to change the legs and then tell you all about it.
WTF is Wrong with the Legs?
See, my dream couch has these legs:
And my Green Monster has these legs:
They're not the same. Like, at all. Easy fix, right? I can just screw on new legs! Except that I can't. Here's how my legs are attached.
With two off-center screws instead of one centered hanger bolt. Now, of course I could do it. You know it. I know it. I bought all of the supplies. I picked up these legs from Lowe's.
And I bought new hanger bolts (because the ones they came with are too short) and, since I'd have to drill new holes in the couch, I bought t-nuts and I also bought stain and poly because I couldn't find legs I liked that were pre-finished.
And then I had a conversation with myself that went like this:
Me: "WTF are you doing?"
Me: "Duh. I'm replacing these ugly couch legs."
Me: "They're really not that ugly."
Me: "Whatever. What do you know?"
Me: "Does anybody but you really look at couch legs?"
Me: "Yuh huh! Everybody does."
Me: "No, they don't. How crazy do you want to be?"
Me: "Um…"
Me: "Don't you have enough to do?"
Me: "Well…"
Me: "Got a kitchen yet?"
Me: "Yeah, OK. I see your point."
So, I returned all of my supplies. For now, I'm just going to live with these stupid contemporary legs that Martha Stewart decided to put on her version of the (hello! classic!) Chesterfield sofa because she's clueless about furniture design and should probably just stick to crafts she can make with her stupid glue gun.
Making Progress in My Living Room
Anyway, I thought you'd all like to know that my living room is coming together nicely. Here's a picture of how it looked the last time you saw it.
And here it is now…
It's starting to make me happy… And a happy me is a productive me!
(I totally just made that up. One has nothing to do with the other.)
***Time travel links! It's been nearly six years since I got my beautiful, tufted, green, velvet couch. Want to know how the Green Monster is holding up? Did Egor shred it? Did I ever change those legs? Find out right here.