Installing a Wood Floor Over a Sub Floor
The Fantastic Floor
When choosing something big for my home, I will inevitably go on a journey. One that takes me down a secluded winding road, through a scary forest, under a barbed wire fence, over a stream of lava, past a dragon, to a place called Crazy Town.
This is a place where a lack of funds is not as important as me getting exactly what I want. I decide that, for whatever reason, a normal "whatever it is" will not suffice in my Crappy House. I convince myself that I'm only going to buy/do/install this one time, so I pretend I'm rich and plan accordingly. This is where my procrastination actually does me some good. Since I wait soooo long to pull the trigger on anything, it gives me time to see all of the sights in Crazy Town, meet the locals, get bored, buy the t-shirt, and then head back to Normalville where things are reasonable and sane.
My Latest Trip to Crazy Town
When we last discussed my floor, I had decided on Brazilian walnut. What I really wanted was American walnut, but it's too soft. Brazilian walnut is very hard. But it's also kind of orange. And also expensive. But I'm only installing a wood floor once, right? So I'll just buy expensive Brazilian walnut, stain it a walnutty brown with blue undertones to kill the orange overtones and call it a four thousand dollar day. Ahh, it feels good to finally make a decision!
And that's how I found myself in Crazy Town.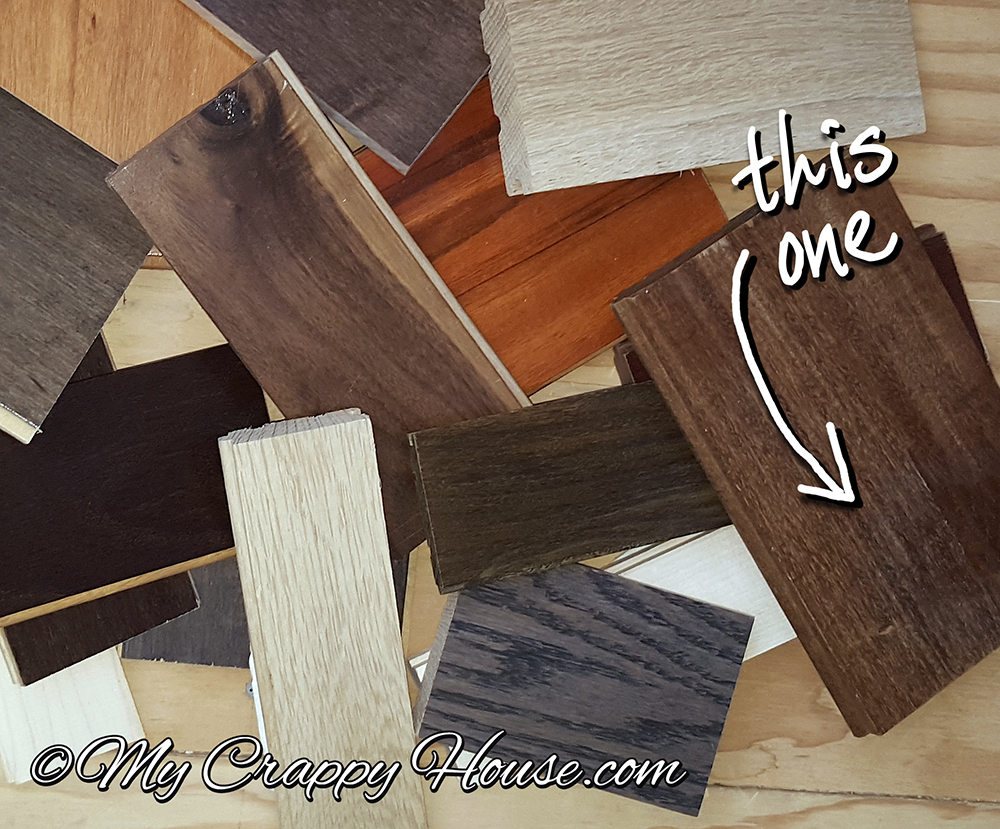 After a lengthy stay, I started on the trip back, berating myself the whole way. Here's how that went: "Are you freaking insane, woman? You don't need Brazilian walnut in your stupid, crappy house. Buy oak like 90% of the population and stain it walnut, you psychopath. Use the thousands you save to put towards that kitchen that you don't have. Aren't you tired of Hot Pockets?"
And now we're all caught up.
It's Finally Time to Install My Floor!
Here's a reminder of what I've been living with for the last few years.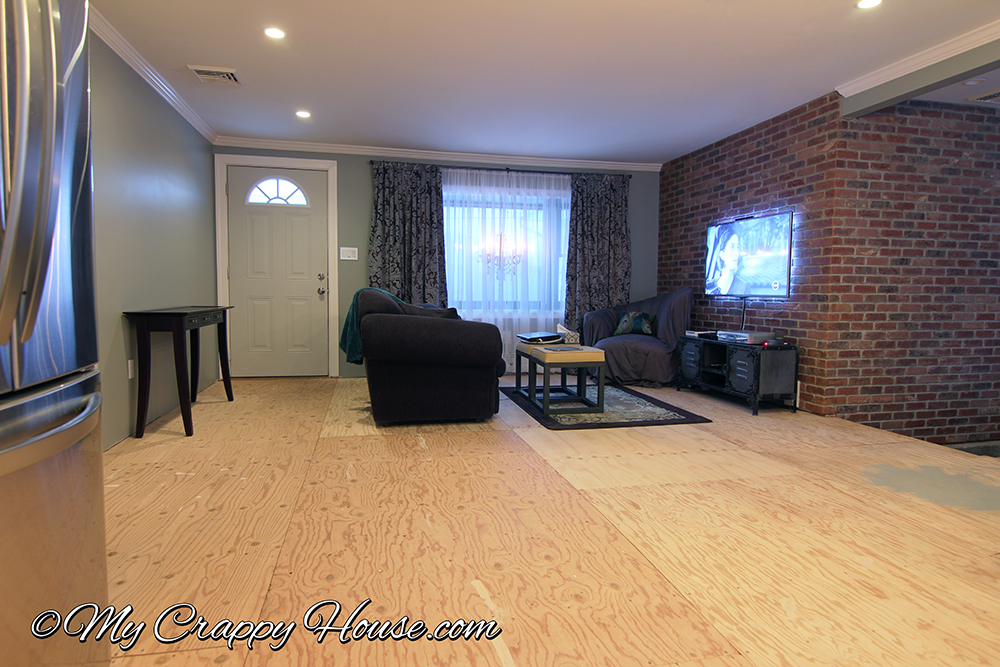 That there is the greatest sub floor ever installed. You can read about that here, but we're going to move quickly now, so don't lose focus.
Here are some actual before shots that I took especially for this post, especially for you: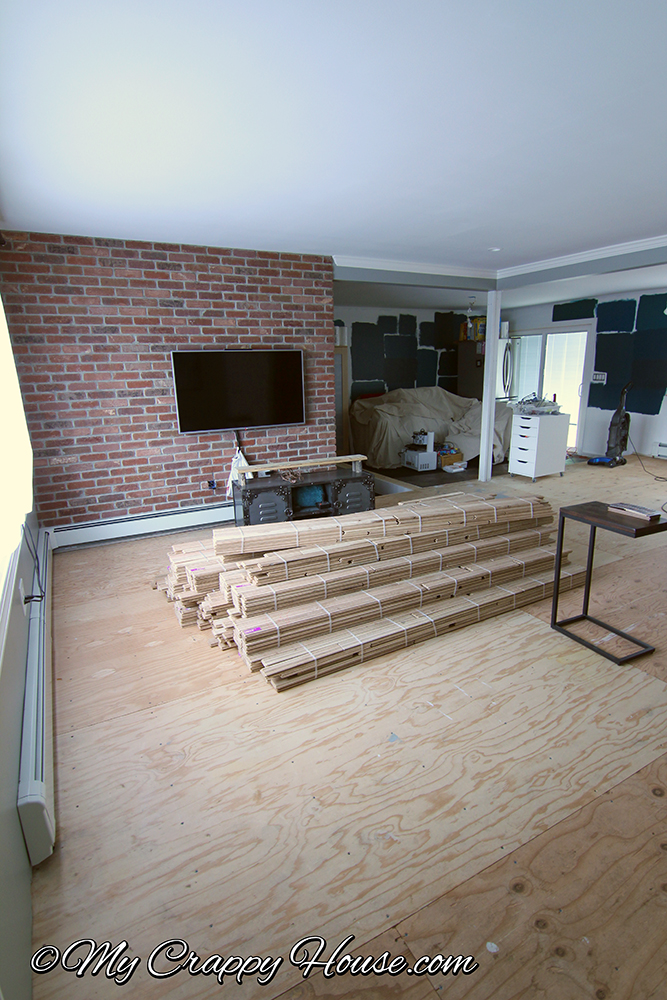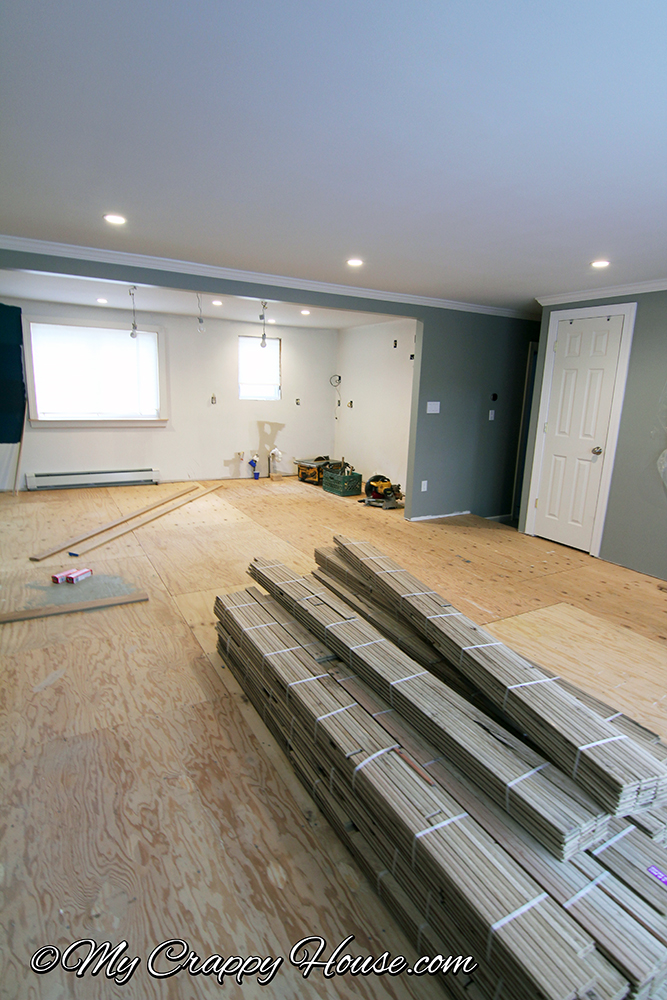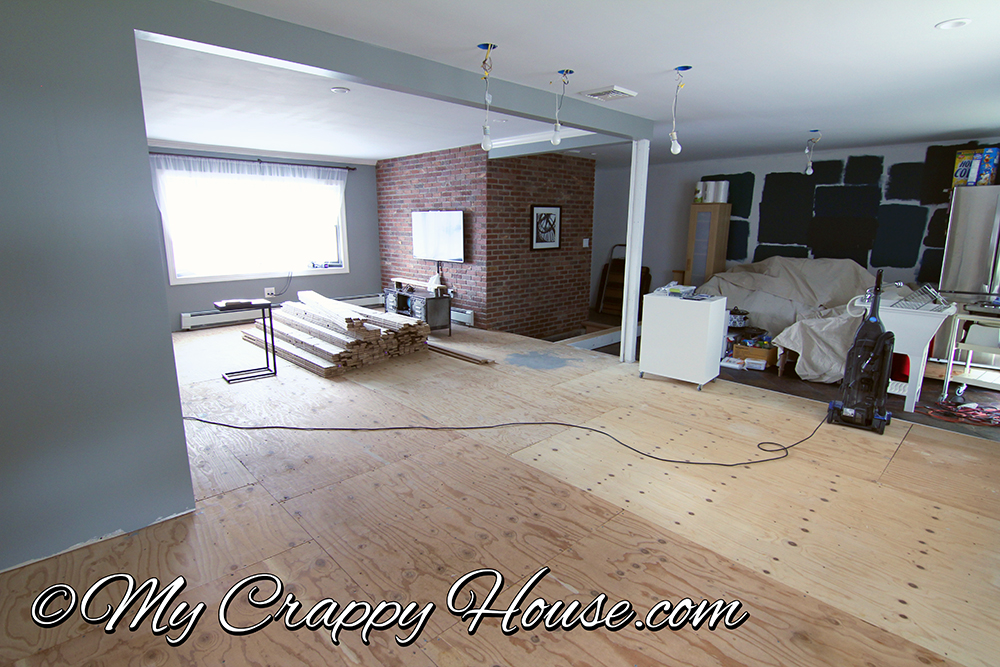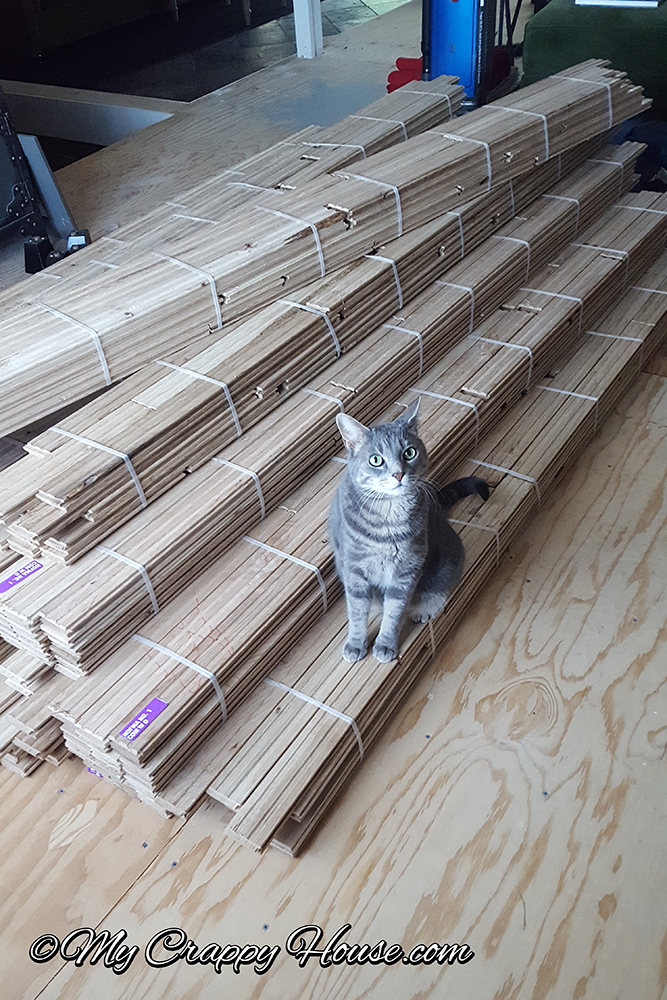 Egor was so ready.
Here are some pics of the installation: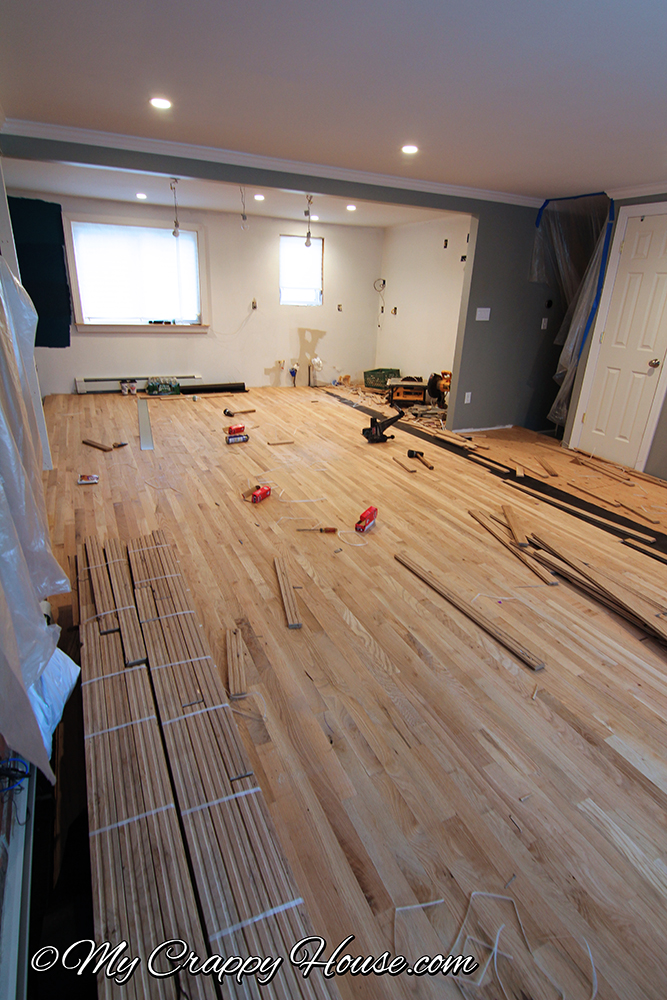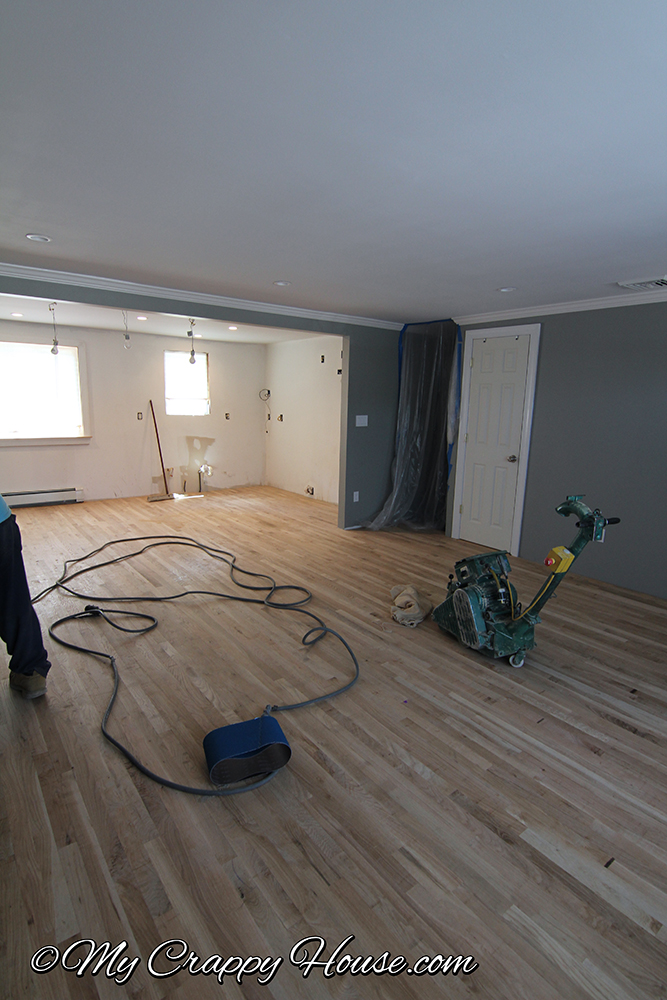 This is 2.25″ wide white oak in what they call "#1 common". That just means it's got more character in the grain. We like character.
I forgot to mention I did not install this floor. And, honestly, I'm glad I didn't. It would have taken me forever and, as it was, Egor and I were displaced from my crappy house for 10 days while this was done. My flooring guy was my friend Frank from F&D Floors. He's bringing sexy back. Obviously.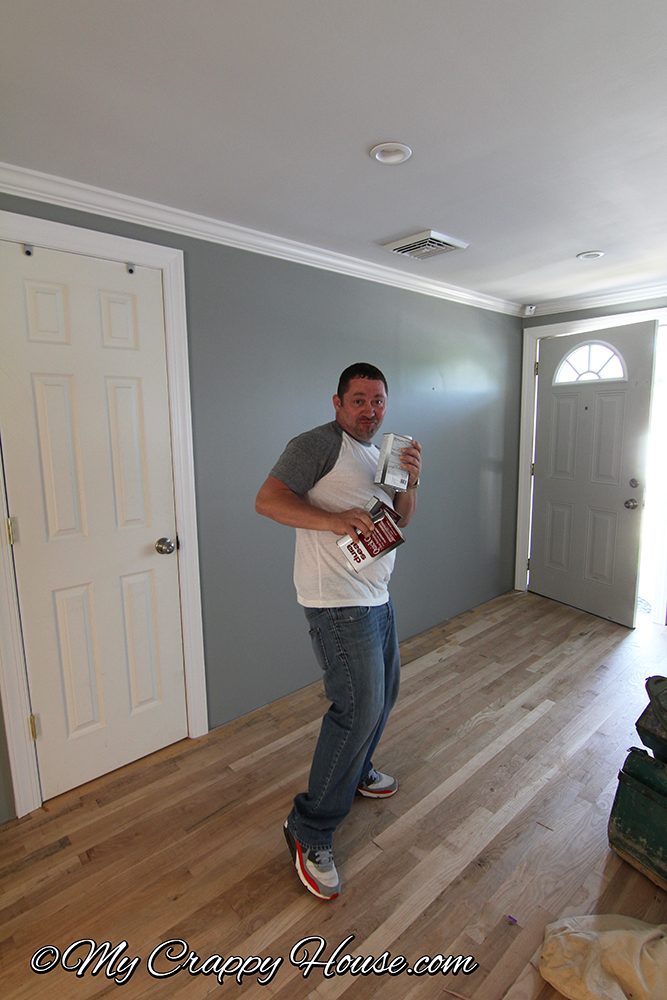 Picking a Stain Color
He told me I should pick 2 or 3 stains and he'd get samples to make swatches for me to choose from. So, naturally, I picked 6.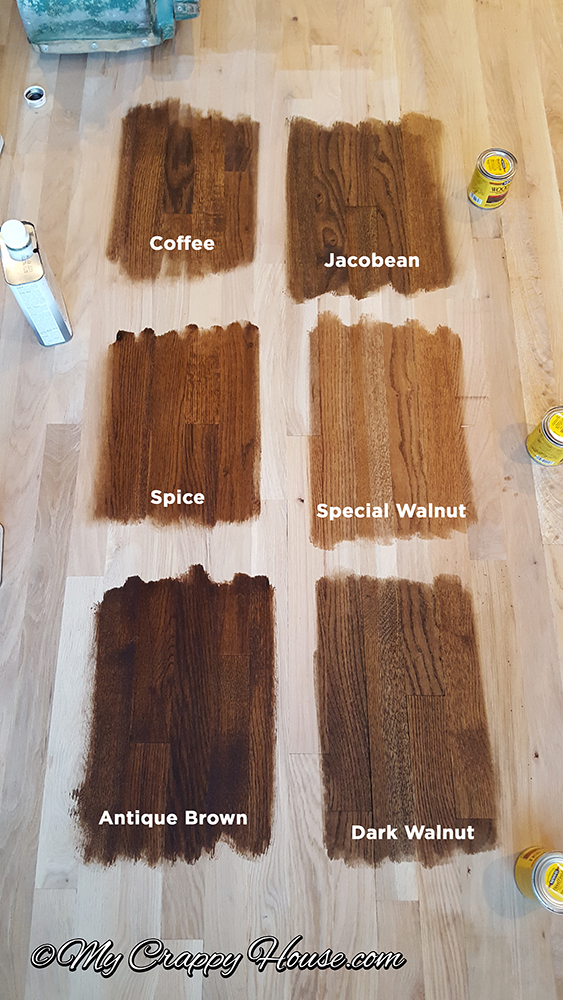 You would think the walnut would look like walnut, but, to me, it did not. Jacobean and Coffee were nice, but didn't have enough life and Spice was too orange. I knew in my head exactly what color I wanted. Luckily, Antique Brown was perfect. Color selection literally took five minutes. And most of that time was making the swatches. Sometimes I don't even need to go to Crazy Town to make a decision.
The floor only needed one coat of stain. This is how it looked after that: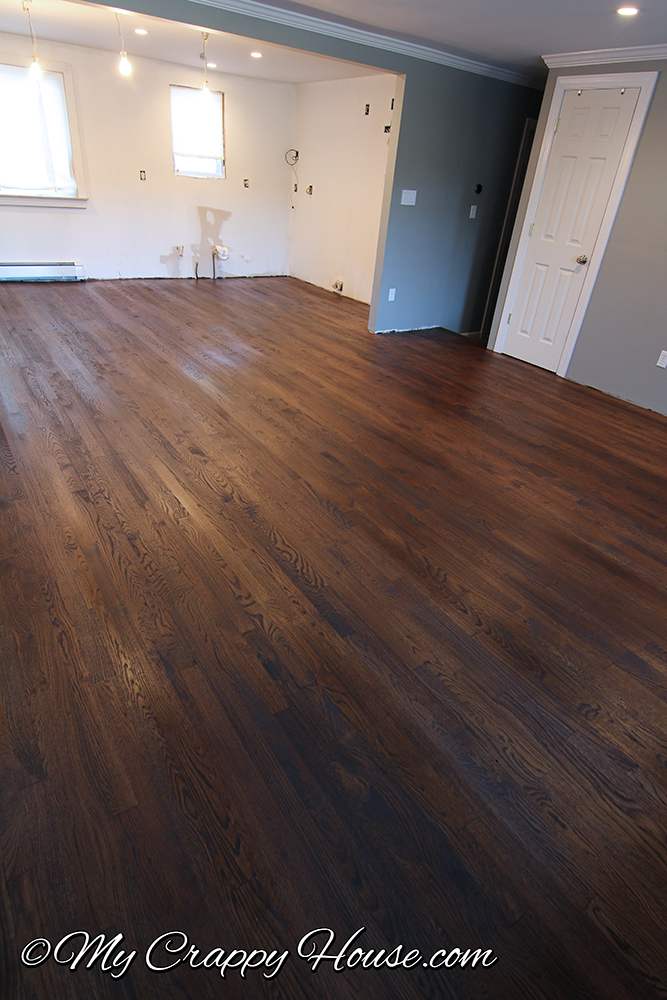 Kinda scary. I felt it was a bit blotchy, but Frank assured me that all floors look like crap before the poly. I chose satin finish, oil based poly. Frank did 3 coats, screening in between each. I'm not sure what exactly that is, but it makes the floor look like this:
Which is also scary. But Frank is a professional. I trusted him. (OK, no, not really. Control freak that I am, I pretty much doubted him the whole way through. He's used to me though. He's actually the one who gave me a lift back from my trip to Crazy Town.)
The After Pictures
I know you're only here for the after pics. Here you go…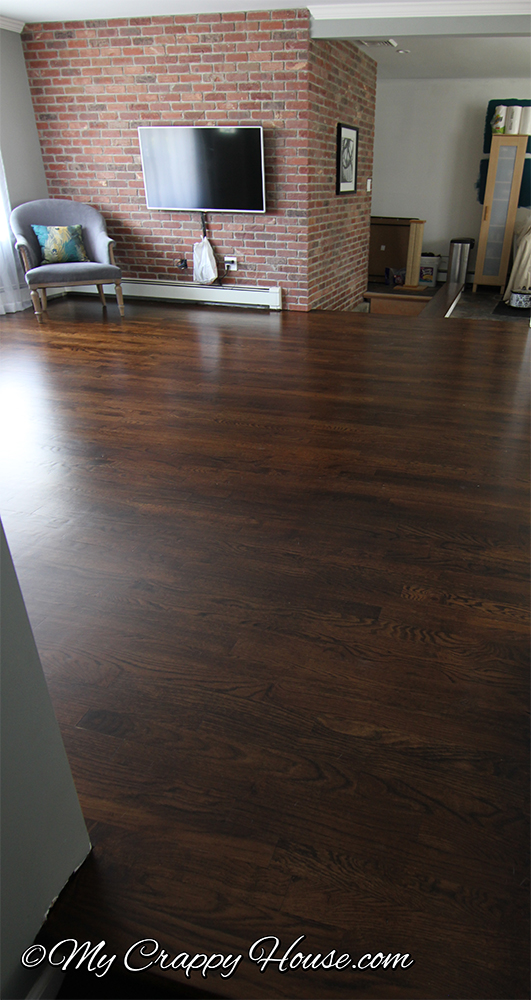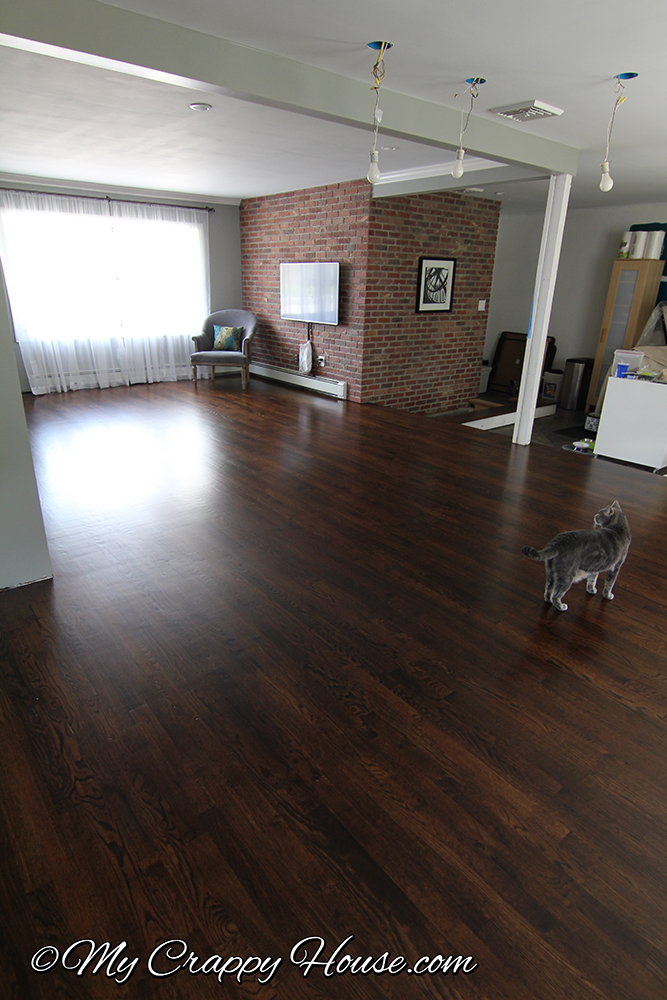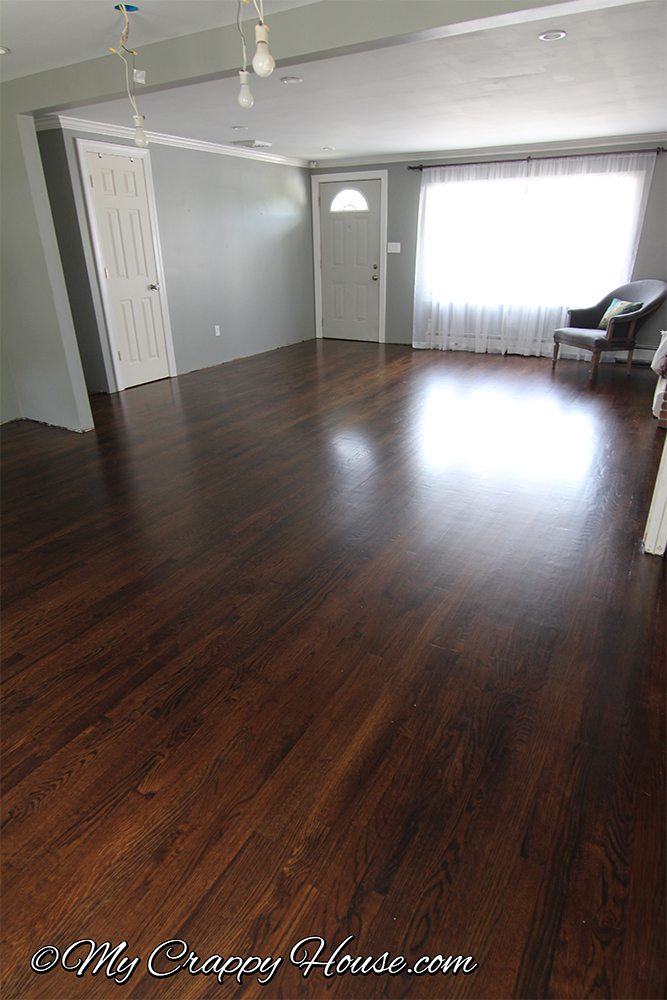 Since I took the curtains down for the install, I figured it would be a good time to alter them. (Remember I hung them backwards because I liked that side better?) A month and a half has gone by and I still haven't gotten around to it, so you get an after picture with no curtains. (And no rugs, obviously. Duh.)
This room is almost done, except for the base molding and the doors. My house is definitely starting to look very not crappy. On the inside, anyway. Outside, it looks like the house is in foreclosure, but we'll get to that in another post. See you in two months!
(Just kiddin. I'm reeeeeally gonna try to post much sooner. I swear! Don't leave me…)