If I tell you your opinion doesn't matter to me at all, would you still want to give it to me anyway? Great! It doesn't! Let's take a pointless poll…
Remember the fancy new bookshelves I built? Of course you do. I only posted about them a month ago. (That's not that long.) Anyway, I've been shopping for curtains to use as a door to the closet. After many contenders, I have chosen a winner. Still, even though I've already made my decision, I thought it might be fun to set up a pointless poll so you can vote for your favorite and see if your taste is as good as mine.
Here's a reminder of what the rest of the office looks like. The closet curtain has to compliment the existing window curtains. It has to say, "Hello, window curtains. You look stunning. May I join you? Is this rod taken?"
Take a look at the office floor plan so you can see how these curtains will relate to each other. This information is crucial to the decision making process. (You know. The decision I already made without you.)
I bought a lot of freaking curtains. (I also looked for fabric to make one myself, but I didn't find any I liked.) The following curtains (in no particular order) are the ones that made my first cut. What do you think? (Not that it matters…)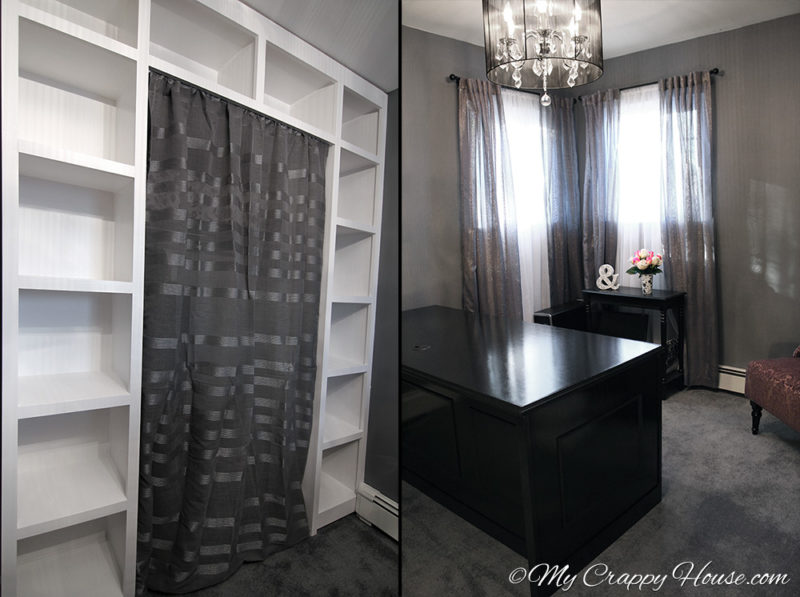 Think you know which one I chose? Do you even care? You might as well just take a guess. There's no pressure.
Take the poll:


I'll post my curtain choice soon(ish. You know me…). In the meantime, I moved my books into their new home. Would you believe there wasn't enough room for all of them in the book condo? Well, believe it, baby. I have that many books. Time to donate a few, I suppose…
Don't they look so happy and well adjusted?
So, did you enjoy the pointless poll? Should I make it a regular feature? I mean, I do have plenty of decisions to make that I don't need your help with…