I needed bookcases. So, in my best booming voice, I said, "LET THERE BE BOOKCASES!" And there were no bookcases. And then I remembered I do not possess the power of God so I'd have to get off my ass and build them. Hey, it was worth a shot. Sometimes I try to will the TV remote into my hand with my Jedi powers. That doesn't work either.
Browsing for books on Amazon is one of my favorite ways to waste time. I'm talking about the kind of books that will teach me to do more things so I can be more amazing. You know, "how to" books. When I find a book that is about exactly what I want to learn, I get a little rush. And, even though I should be saving money for… oh, I don't know… a floor? or a kitchen? I order it without even looking at the price because I'm so excited that this is the book I've been searching for! I eagerly anticipate its arrival. I tear open the box, then flip through the beautiful pages. Oh, I can't wait to read it!
And then I do. Wait, I mean. I wait a long, long time.
I am a collector of useful books that I never read. Someday I will. Every single one of them. (Shut up. I will so.) And when I do, look out. I am going to be ridiculous with the knowledge. But, in the meantime, I need a place to keep all of these books. Boxes and boxes of homeless books. I decided to build them a giant book condo. The closet in my office seemed like prime real estate. Nice view, low taxes, good schools… I did a quick rendering to see how my idea would look.
Of course it looked good. I know what I'm doing. I drew up a plan and started building. OK, I procrastinated about 8 months, and then started building. (One of my books is about how to stop procrastinating. I haven't read it yet. I bought it about 11 years ago.)
Here's the closet before. (Hello, Thigh Master!)
My first excuse for procrastinating challenge was figuring out wtf to do with the radiator that runs along the wall and through the closet. I wanted my shelves to butt right up against that wall, so job one was to cut back the radiator cover about this much:
I used tin snips to accomplish this, but "snipping tin" sounds kind of dainty and doesn't quite describe the job. It was more of a hack job/bloodbath situation. (Side note: This stuff gets blood out of carpet really well.)
Luckily, there's an end cap to cover my handiwork. It looks like I did an awesome job. And you can't prove otherwise…
I built my bookcase in 3 sections in my living room using my Kreg Jig. This tool is the bomb. If you want to build a bookcase, but you don't have a wood shop, buy this tool. Then watch this video. (You didn't really think I was going to teach you about it here, did you? You're lucky I even put the links there for you.)
I got the two side towers in place myself, but the top piece was a bit too heavy for me to safely lift that high over my head.
Picture me losing my balance, falling off the ladder, hitting my head on my giant desk, dying of a subdural hematoma, no one finding me for days, and Egor getting hungry and (reluctantly, of course) eating my face off.
I hate asking for help, but I had to call my brother. He's so strong and manly, it took him 5 seconds to lift it up there all by himself. Whatever. Show off.
I screwed all three pieces together and to the wall, then I added a face frame to cover the plywood edges and make it look all pretty.
And *poof* here it is patched, primed and painted:
(1 *poof* = 12 hours, entire project: approx. 4 *poof*s)
A brand new book condo! My books are so eager to move in; they've lived in cardboard boxes for the last four years. How sad is that? Unfortunately, move in day isn't until August 1st, as the paint needs a few weeks to cure. They'll just have to hang in there a little while longer…
That's seventeen boxes. And that's not even all of them. I seriously have a lot of reading to do.
I'm going to finish off my new bookcases with crown and base trim, but the rest of the office needs trim too, so that's another project for another post.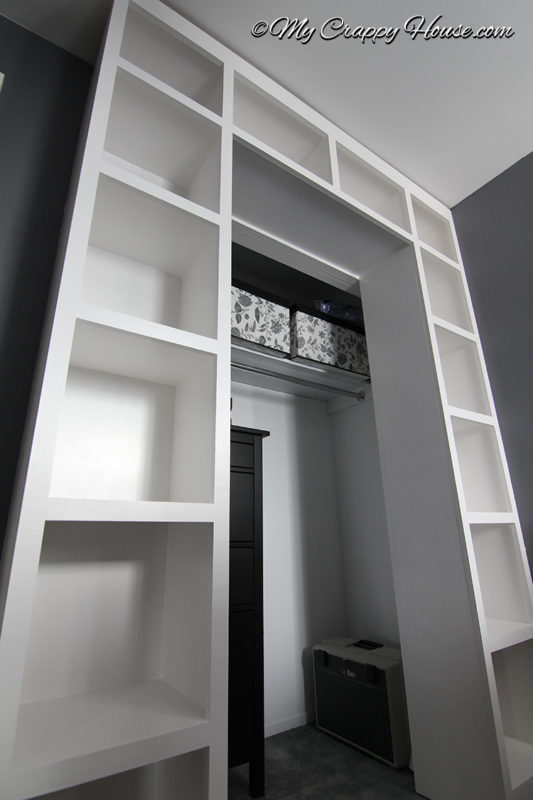 I know it's common to say, "If I can do it, you can do it!" I'm not going to say that because it's a load of crap. I am awesome. Maybe you are awesome too, but maybe you're not. I have no way of knowing that. So what I will say is that I kicked this project's ass and maybe you can too. If you're awesome. Like I am.
Awesome people subscribe. I'm just saying.