My bathroom was the first room that was completed in my crappy house. I lurve my bathroom. It's so pretty! I really try my best to keep it that way.
One thing that helps is the kind of toothpaste I use. Yep, I'm writing a post about toothpaste. No, I haven't run out of things to write about. This is very important, vital information I'm sharing with you. I'm serious.
If you use toothpaste in a tube, I would bet almost anything that it's disgusting.
It's laying there on your bathroom vanity right now, like a mangled carcass with dried minty blue goo around the cap. Or maybe the cap is gone now, in which case you have to squeeze fresh paste through a sticky plug that has probably captured wayward poo molecules. Forget it if you have kids. Not only is your toothpaste tube gross, but so is your bathroom. I can't help you. But for everyone else, there is a better way…
Many years ago, the toothpaste people introduced something new:
Toothpaste in a bottle! How great is this? I immediately switched to this fantastic new alternative and never looked back. The toothpaste people offered tons of flavors and it seemed that this new packaging would replace the obsolete tube forever.
Not so…
Over the years, the selection of flavors of toothpaste in a bottle has been dwindling (Kiss Me Mint was the best flavor ever, btw, but it has since been discontinued. Bastards.) and more tubes have been introduced. WTF? This makes no sense to me.
Fearful that this packaging would be discontinued all together and I would have no choice but to use a crappy tube, I decided to take action. I decided to write to Colgate and explain to them how they should be marketing this fantastic product. Ever wonder what happens when you make an awesome suggestion to a multi-billion dollar company?
***
Dear Colgate marketing people,
I have been a user of your Colgate 2 in 1 Whitening Toothpaste for many years. My preferred flavor was "Kiss Me Mint", which was awesome, but unfortunately discontinued years ago. Recently I have noticed how scarce this particular packaging has become in favor of traditional toothpaste tubes and I'm getting nervous you will discontinue it all together. I really feel you guys are missing the boat in marketing for this product. It has several advantages over toothpaste tubes that you could be informing consumers about. Here's why I like it:
It is much easier to store. I keep mine on a shelf in my medicine cabinet. It has such a small footprint that it's easy to fit in. A tube gets squished and becomes misshapen and therefore does not lend itself to sitting on a shelf. It's also long and skinny – its size is not suited for the medicine cabinet unless a whole shelf is dedicated to it. It keeps the top of my sink neater too, not having a gross tube of toothpaste sitting there.

It's much cleaner. Tubes of toothpaste inevitably get messy. Globs of paste around the opening, squished around the cap, then distributed along the tube itself. Yuck. The 2 in 1 is so much cleaner.

Waste. Tubes are difficult to squeeze every bit out of. (And the mess gets worse in doing so.) This point is really crucial: you have the label on the 2 in 1 on upside down. I put my bottle cap-side down. This means I never have to shake the bottle and wait. Think of the other products that have taken advantage of gravity in this way. Ketchup and shampoo come to mind. I get every last bit of paste out of my bottle every time. While this particular product isn't as thick as regular paste, I have been storing my bottle upside down for many years and it NEVER causes a mess.
So, in conclusion, I think toothpaste tubes are messy and difficult to store. Much paste is wasted because emptying a tube is difficult. And finally, turn the label around. If people knew how neat and easy this packaging was to use, it would be way more popular. Tubes are awful! Any logical person can see that.
Now, when you make these changes and product sales increase exponentially, I expect you'll be bringing back my favorite flavor as a thank you.
That is all.
***
Nothing.
OK, well not nothing. They will write you to tell you they are sorry you are having trouble finding their product (I am not having trouble finding their product) and give you a list of nearby stores where you can buy it (I know where I can buy it). They'll also give you coupons. Lots and lots of coupons.
Since Colgate obviously isn't listening, I am now forced to inform the public myself. Good thing my blog has millions of readers, so it shouldn't be too difficult to spread the word. And the word is this: Toothpaste tubes are stupid. If you continue to use them, knowing what you now know, well I guess you deserve that mess in your bathroom. Happy cleaning to you. But if you're lazy like me and hate to clean, and also value logic as well as oral hygiene, you'll switch to this kind:
And you'll ignore the way the label faces and store it in your medicine cabinet like this so it will be ready to use at a moment's notice: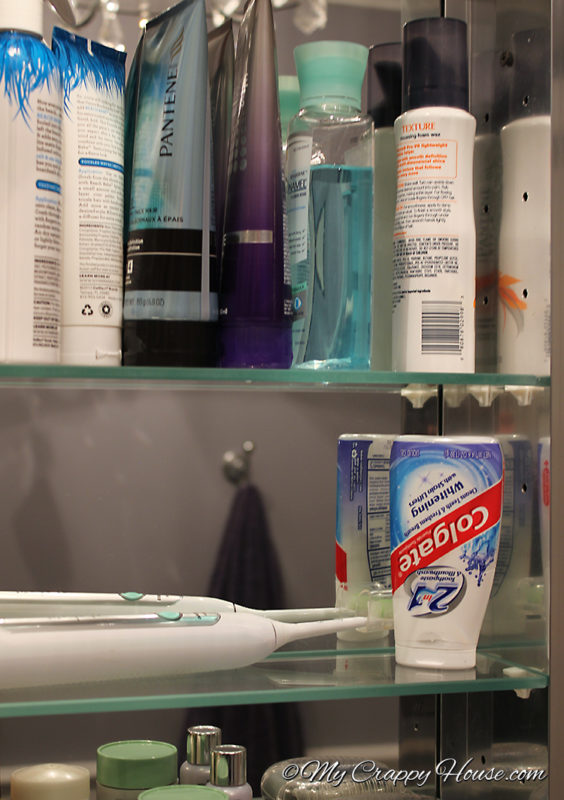 And you will live a long, happy, prosperous life.
You may think this post seems self-serving, but I assure you… I am only concerned with the greater good. I'm concerned about you. If I have saved just one person from the minty blue goo disaster, I will consider this post a success. You're welcome. And now that you know, you are also obligated to share. It's your duty as a human being with teeth.
*I am in no way affiliated with the Colgate company. If I were, I'm sure they would have actually read my email suggestion and promptly taken action and also given me a huge bonus and corner office and free toothpaste for life.