My fig tree is pissed! Here it is, mid June, and there's not a leaf in site. You may recall me bragging about how tough my fig tree is. That post is here if you want to read it (and why wouldn't you?), but I basically said that my tree needs no coddling from me to survive the harshness of a New York winter because she's one tough bitch. Turns out, she's a spiteful one too. She's been flipping me the middle branch all spring.
As far as I can tell, she's not dead. She's sleeping in. I do that too, but there comes a point where you have to wake the F up. Do your job, tree! If I slept through work, I'd get fired! OK, no I wouldn't because I'm the boss, but still. Make my figs, you lazy ass tree!
Actually, I don't even care if she makes the figs. I'm not a fig fan. I just prefer how the tree looks when it's leafing out, as opposed to this unsightly bundle of twigs.
In last year's fig post I showed you how I used newspapers covered in mulch around the base of the tree to keep the weeds away. That sort of worked. Most of the weeds are outside my mulch circle. I need a bigger circle, apparently.
I seriously hate yard work. When I'm out working in my yard, I always fantasize about the day my crappy house is finished and I can afford to hire a landscaper. This one:
rowr!
But until then, I'm on my own. And I suck at it. Last year you saw my blank slate of a backyard. Here's a picture to refresh your memory:
(See, that's what my tree is supposed to look like…)
Anyway, when the baby grass started to sprout, I was so proud! But here it is now…
Camo-lawn. This is what happens when you have no idea wtf you're doing and you use three different kinds of grass seed and your crappy spreader contraption was free with seed purchase and you end up with dark green grass patches that grow wicked fast and light green patches that grow really slow.
OK, that picture is a joke. But this one isn't…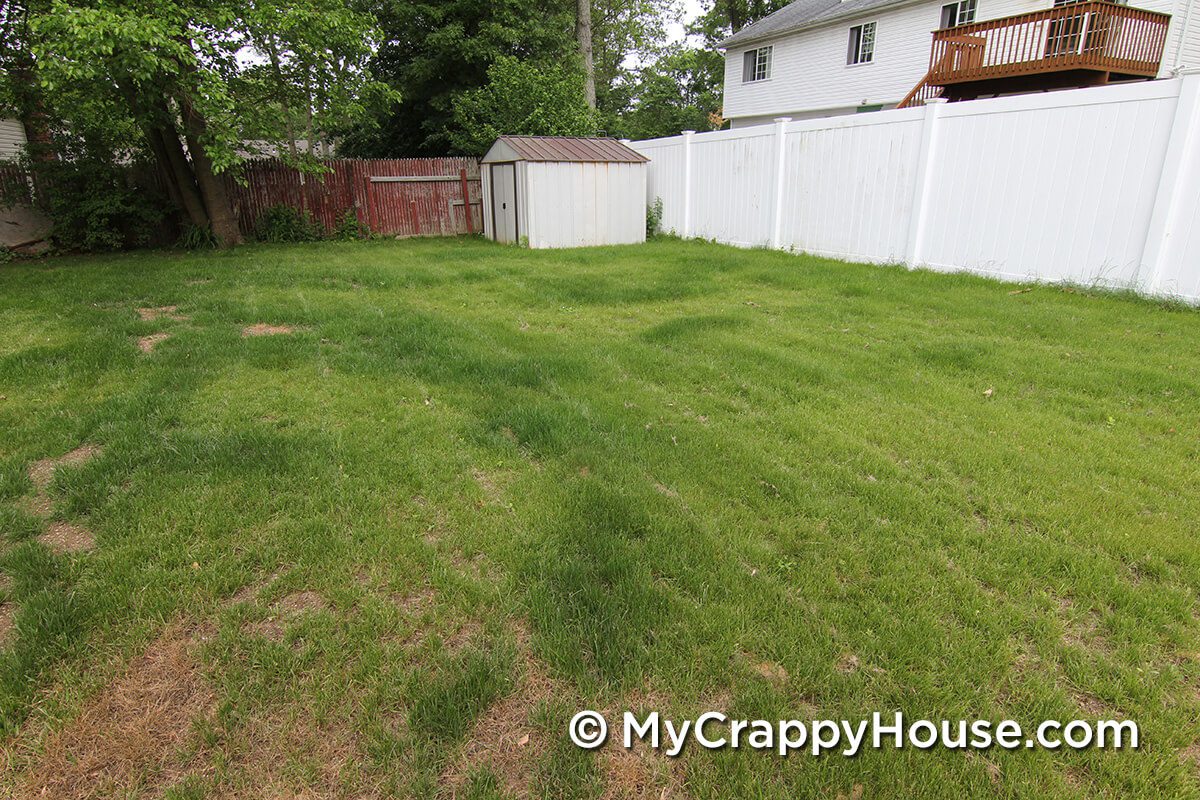 Actually, it is a joke. Just not a particularly funny one.
I've Googled synthetic grass more than once, but it would cost like 40K to install. I could totally justify the expense, if I had any money. Which, of course, I don't.
If I had any money, I'd hire this guy:
rowr!
I just started using Instagram. I know. WTF took me so long? I have no answer for that, but if you follow me, I'll show you when the figs turn up. If the figs turn up. Stupid tree.
Don't forget to subscribe below…
***Time Travel Links! Want to know what my crappy house looks like with siding? Check that out here. Oh, and if you'd like to know why my fig tree wasn't leafing out, that's here. (If you go there, I'm sorry. You'll see why in a second.)