How to Make a Kick Ass Bow
Holiday Bows, Yo
At the beginning of September, my local craft store started selling pre-made Christmas bows for fifteen bucks a piece. Now, I ask you: Who is the crazy person spending fifteen bucks on a freaking bow? Is it you? Be honest. This is a safe space. You can tell me. Do your bows look like this?
Yeah, OK. I see why you'd drop fifteen bucks on a bow. I mean, that's pretty pathetic. It's like ribbon roadkill. I guess you really do suck at making bows. But, don't despair. I know how to make a kick ass bow and, today, I'm going to show you how to make one too.
The Holidays Are Upon Us!
This week is Thanksgiving (here, in the US), so, even though retail has been pushing Christmas trees on us since JULY, 'tis officially the season. You may now decorate without judgment. (While I totally appreciate the desire to fast forward to the end of this crappy year, I didn't need to see your Christmas lights in August. I'm just sayin.) So, it's on! Get ready to deck your halls with some kick ass bows, people…
It's difficult to show you how to make a bow in photos, so that is why I made you a video. It's my first tutorial video ever, and let me just say, I hate my stupid voice. I guess that's common, right? I mean, everybody hates their own voice. (Except, probably, Morgan Freeman.) I must reeeeeally like you guys though, because, in spite of that, I sing you a freaking song in the video. I'm not even kidding.
(If you don't see the video below, click here to watch.)
So, what did you think? Easy, right? The red ribbon is from Kirkland. You can find it here. It's a fifty yard roll. That'll make a whole hell of a lot of bows! (I probably shouldn't say "hell" on a holiday post. Sorry.)
In the video, I promised you some diagrams, so here you go:
This one shows you the path your ribbon will take, from start to finish. (Click to enlarge.)
"Zero" means start, and "BOW!" means you're done and there should be a bow in your hand. If that's confusing, that means that you did not watch the video. Shame on you! Go back and watch it right now. (Yeah, with the sound on… I know. I'm sorry. My voice. The song…)
This next graphic just shows you how you'll be holding your bow as you make it. (With the loops numbered for your reference and color coded to match the diagram above. You're welcome.) You'll rotate the final bow 90° when you're finished.
You don't have to use wire edged ribbon, but it really is your best bet for making a beautiful bow that will stand the test of time. I've been using the same bow for my Christmas tree topper since 2003 and it still looks great. (Yes, for reals.)
That's our tree from last year. This year's tree is not up yet. Know why? BECAUSE WE DON'T DECORATE FOR CHRISTMAS UNTIL AFTER THANKSGIVING! Like normal people.
BOWnus Tips
(See what I did there? It's no wonder you love me.)
Some things just didn't make it into the video. (Lucky for you my song wasn't one of them…) Editing is hard. So, these are just a few extra tips that should help you make that perfect, kick ass bow.
Some ribbons have a right side and a wrong side. Make sure the right side (the pretty side) is facing you at all times. Don't let the ribbon twist.
I don't prefer them, but some people like "V" cut tails. Here's a little GIF to show you how to do that.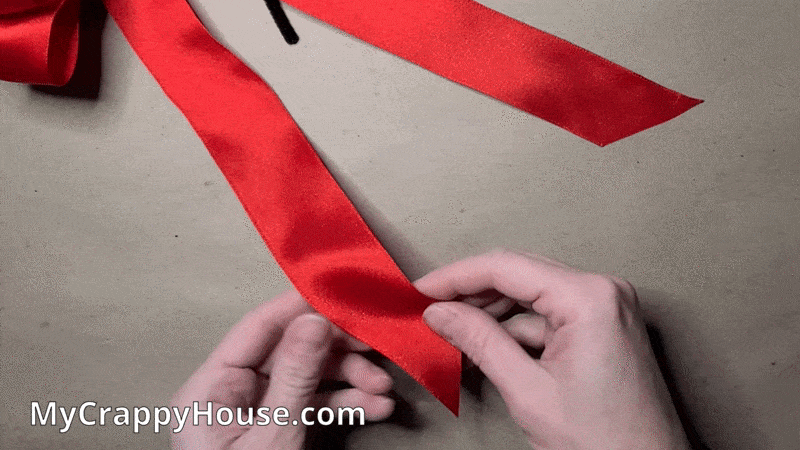 Skinny ribbon tends to make skimpy bows, but you don't have to stop at eleven loops. If you want to add more, skip the last two loops (ten and eleven) and double back to loop number five, then continue from there. Feel free to double back as many times as you want for a super loopy bow.
You can skip the "Lightning Loop" and cover the pipe cleaner with another piece of ribbon for a more open looking bow.
It's better to match your pipe cleaner color with your ribbon so it blends in. All I had was black. See how bad that looks? Do as I say, not as I do.
Two bows can be put together to make one, giant, glorious, kick ass bow.
Don't forget the dollar store for ribbon. There's only enough on a spool to make one bow, but a dollar for a bow is pretty freaking great. The tulle one would be perfect for wedding decorations.
A present, wrapped with a beautiful, hand made bow on it, makes the gift inside even more special. (Except for this one. I wrapped an empty box to take this photo. It's a stunt box.)
Well, that about does it. To paraphrase Jedi Master Yoda, no more training do you require. Now know you that which you need. And here's a pinnable graphic for Pinterest so you never forget…
See? Even Zero can make a bow. You've got this.
Guys, I wanna see your bows! Follow me on Facebook and Instagram and tag me in your beautiful bow pics. And don't forget to subscribe below if you haven't already.
Happy Thanksgiving, friends! 2020 sucks, but I still have a lot to be thankful for. I hope you do too!
*This post contains affiliate links.