How to Climb Up on the Roof When You're Terrified of Heights
Roof, Justice, and the American Way.
Faster than the DMV. More productive than the U.S. Congress. Able to sleep ten hours in a single night. Look! Up on that roof! It's a girl! She's afraid! It's…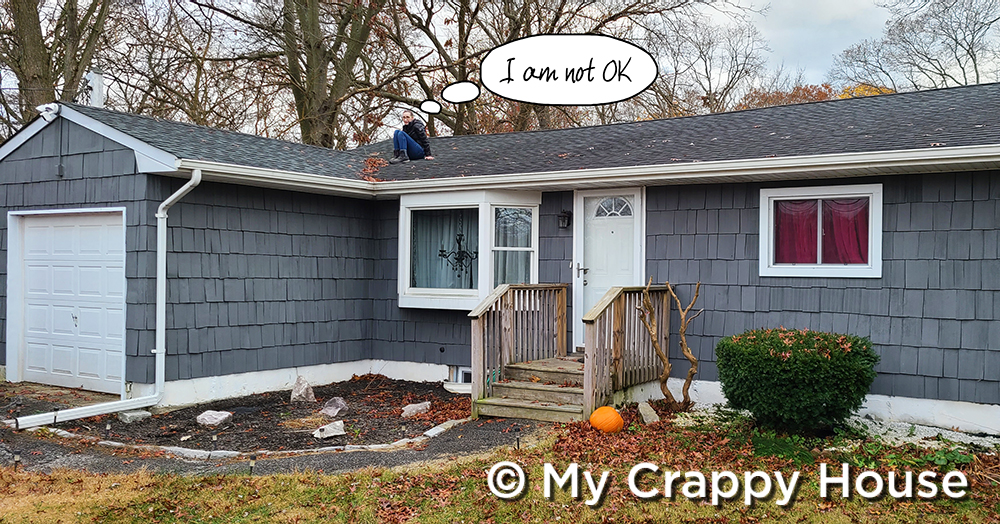 Guys, it's just me. And I am freaking out up here.
I've owned my house for nearly a decade and, in all that time, I've never needed to climb onto my roof. My dad would clean my gutters every year, and, when he got a little too old to be climbing ladders, I met Schmoopy and he took over. Good thing, too, because I'm terrified of heights. So, wtf am I even doing up here?
See that tree debris (treebris?) caught where the roof angles meet?
It was really bothering me. My landscape looks crappy enough without having treebris on my roof.
Normally, Schmoopy would take care of that for me, but he selfishly went and tore his Achilles tendon last month, so… no climbing for him. (He's also now "conveniently" unable to clean the cat box in the basement and take out the trash, but I digress.)
So, while treebris isn't really a big deal, and it totally could have waited until the spring, I made up my mind to go up there and clean it. I mean, I'm capable, right? I'm independent. I installed a freaking brick wall by myself. I'm Princess Spackle, for crying out loud! I can climb onto a stupid roof!
Pfsh! Not that way, I can't. This is how Schmoopy climbs onto the roof, but… nnnope. No freaking way. I got up there and… there's, like, nothing to grab onto and the ladder was feeling a little wobbly and OSHA explicitly says "DO NOT USE THE TOP OF THE LADDER AS A STEP" and, if you're gonna pick a single rule to follow on any given day, that one really seems like an excellent choice…
Bottom line, there was just no way to pull myself up without risking certain death, so I abandoned that idea.
I never should have listened to Schmoopy in the first place. Back when we painted the front of the house, this was his idea of ladder safety…
And now he's on crutches. Coincidence? I don't think so…
Anyway, I was about to give up on a treebris free (fris?) roof when I remembered our other ladder. I decided to try climbing up in the corner. For some reason, I thought I might feel more secure.
I can't explain why, but I did. This way felt much safer.
I made it!
(In case you missed it, that was the answer. You know, from the headline… "How to climb up on the roof when you're terrified of heights?" Well, if your house has a corner, that's where you should climb up. I know, right? What kind of crappy advice is that? What if your whole roof is straight? Then I have no crappy advice (except to listen to OSHA.) This post has failed you. I'm sorry. You can have your money back. Please contact customer service during regular business hours. Come again…)
Anyway, I got rid of the treebris easily enough, but, while I was up there, I could see the gutters were pretty clogged.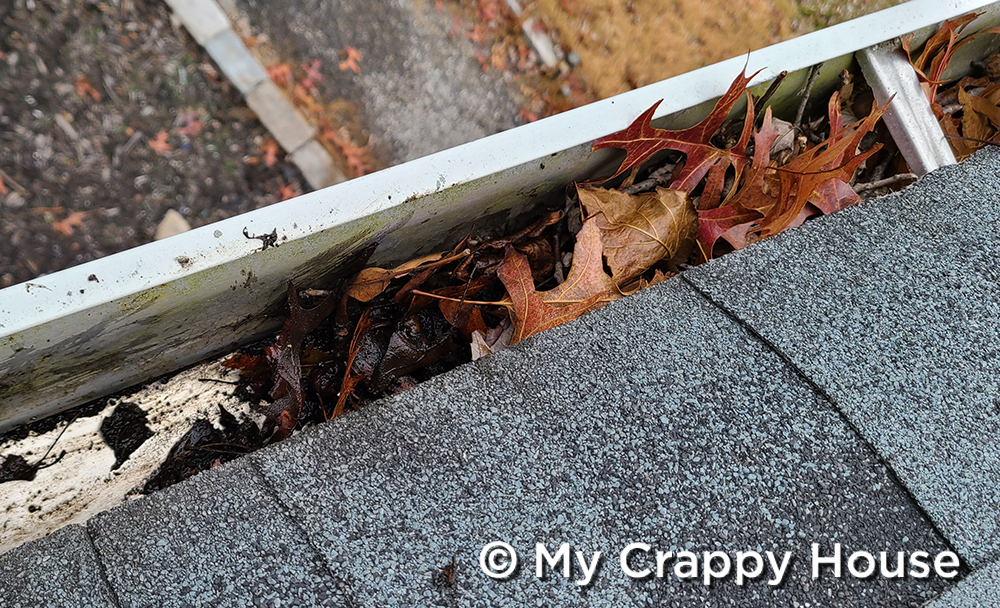 Standing on a ladder and reaching into the gutters from below would have felt much safer to me, but that would mean climbing up and down the ladder and moving it every few feet, and I'm very lazy, and… since I'd already made it onto the roof without dying… I decided to man up and just do it.
I was terrified the whole time that I would accidentally roll off of the roof. Did I mention there's literally nothing to hold onto up there?
I cleaned the whole front gutter without dying, so I forced myself to climb over the peak to do the back one too. I mean, I was already up there…
It's like a different world up on the roof. This is how tall people must feel all the time.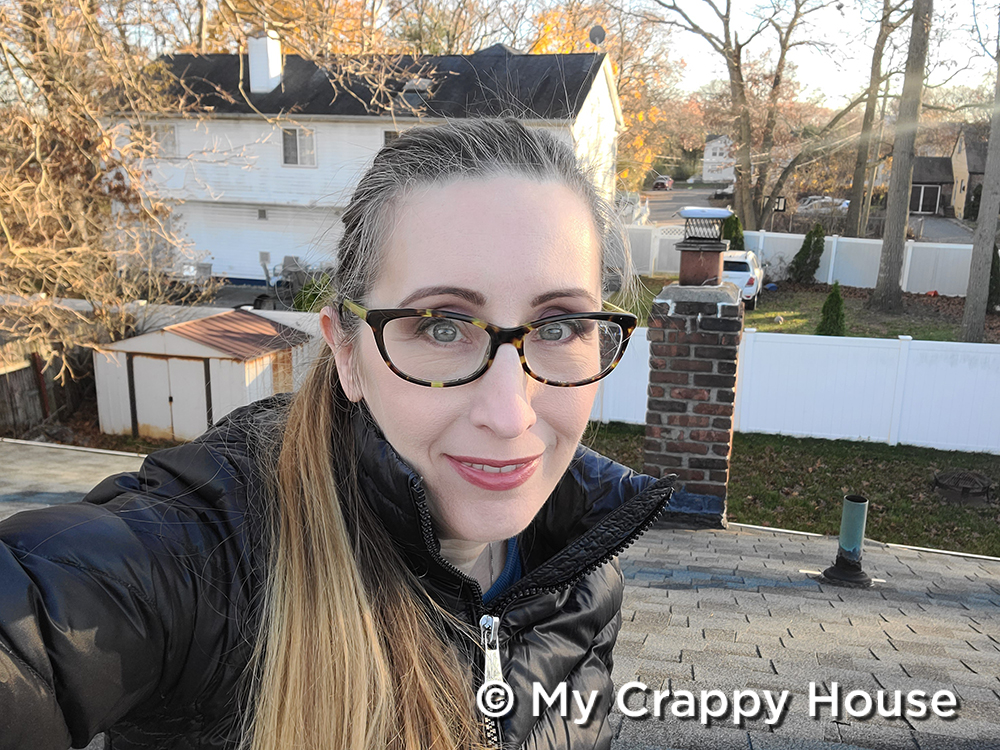 I'd never seen this side of my chimney. Fascinating. And remember my crazy neighbor I told you about? Her backyard is crazy too.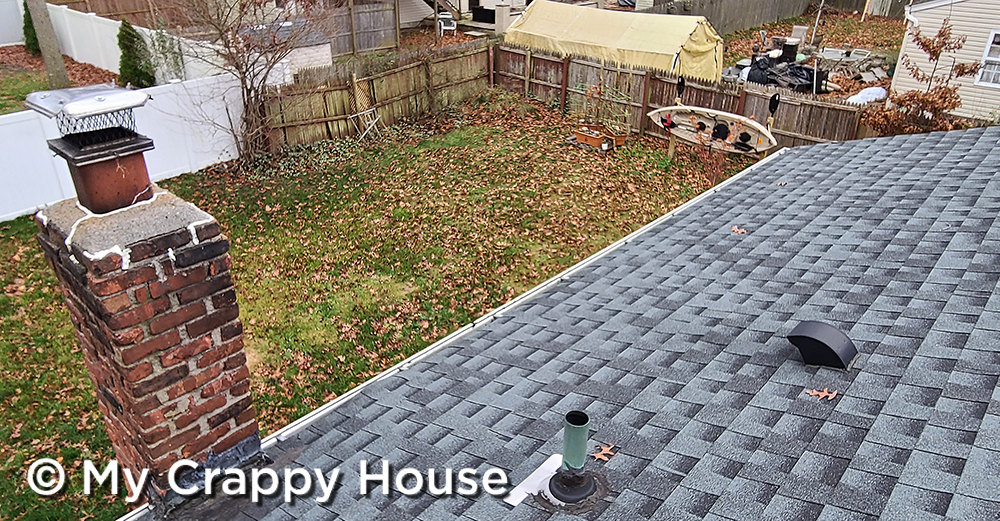 (What's up with the tent? Like, wtf is she doing over there?)
I'd also never seen Schmoopy from this perspective. He's so sad he couldn't climb on the roof. (That makes freaking two of us, honey.)
By the time I was finished with the job, I was feeling… well, still terrified, but overall, it was an empowering experience. And, you know what they say…
With great power comes great responsibility.
Who do I mean by "they"? You know. The superhero people…
Anyway, I'm probably ready to start fighting crime now. If only I could just remember where the hell I parked my invisible jet, I'd be good to go…