The Major Award in My Bay Window
It's Fra-gee-lay
I'm so excited! A Major Award!!! I'm going to display it proudly in my new bay window for all the world to see. What did I do to get this Major Award?
Well, I bought it, of course. If you're not confused right now, then we can continue to be friends and you may skip to the next paragraph if you like. However, if you have no earthly idea WTF I'm talking about, you need to go watch A Christmas Story right now! It's the only way you will fully appreciate this post. Seriously, go ahead. I'll wait. Come back when you're done…
Jeez, can you believe there are actually people who have never seen that movie? It's a freaking classic! So, while the cool people wait for everyone to catch up, I'll talk a little about that bay window I mentioned. Last November my crappy house didn't have a bay window. It had a sad, drafty, flat, boring, bayless window. I've always loved bay windows. I grew up in a house with one. We had a little dog named Cassie that would sit up there all the time and watch the world go by. I really wanted Egor to have a spot like that.
Yes, I bought my cat a bay window. Don't judge me.
I made a goal last year (in 2012) to have all of my open walls closed by Christmas (also 2012, wise ass). I wasn't quite financially ready to install the window, but it really made sense to put it in before installing drywall. So, last November, I dropped the hammer (on my credit card) and bought a beautiful, new bay window. I had nothing to do with installation on this project. Some things are better left to the pros…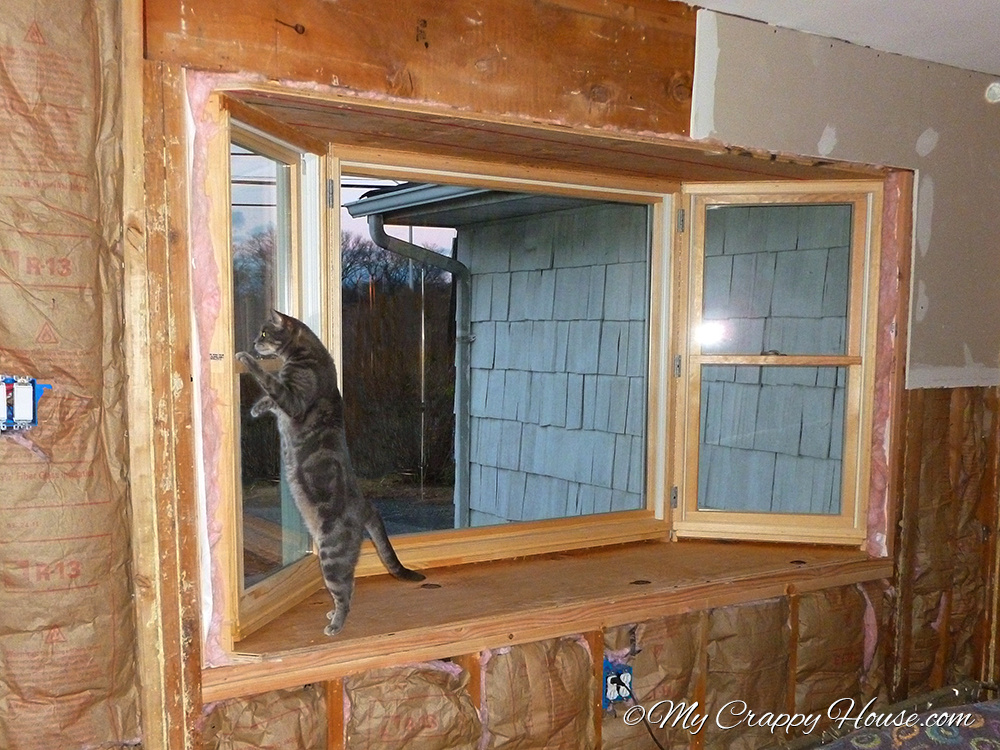 Egor is so spoiled! I hope he appreciates me…
Doesn't it look awesome? Sort of makes the rest of the house look crappier by comparison… Anyway, now I have the perfect place to display my Major Award! (Egor will just have to share his spot.) I know all of you who had never seen A Christmas Story are no longer lost (because you listened to me and dropped whatever you were doing to watch it right when I said to because you respect me immensely and even though we may not technically know each other you trust me implicitly) and can now join the rest of us in admiring this:
Ahh, the soft glow of electric sex gleaming in the window… What could be more festive than that? Fa ra ra ra ra, ra ra ra ra…
*** Time travel links! My Crappy House has come a long way since this post. Click here to see the updates.
*This post contains affiliate links.