I Am a Slob | My Office Mess: Before and After
Beware of the Mess
Some of you have asked me for an updated house tour. I would love to do that for you, but the honest truth is that I can't right now because I am a slob. Don't believe me? This is my office…
I seriously don't know how it gets like this. It happens so gradually that I don't even notice. It's kinda like… You know how you think your face hasn't changed in the last ten years and then you see a picture of yourself from back then and you're like OMG! WTF HAPPENED!?
Well, my mess is exactly like that. Like surprise-old-lady-face.
(No, it's a good metaphor. Just go with it.)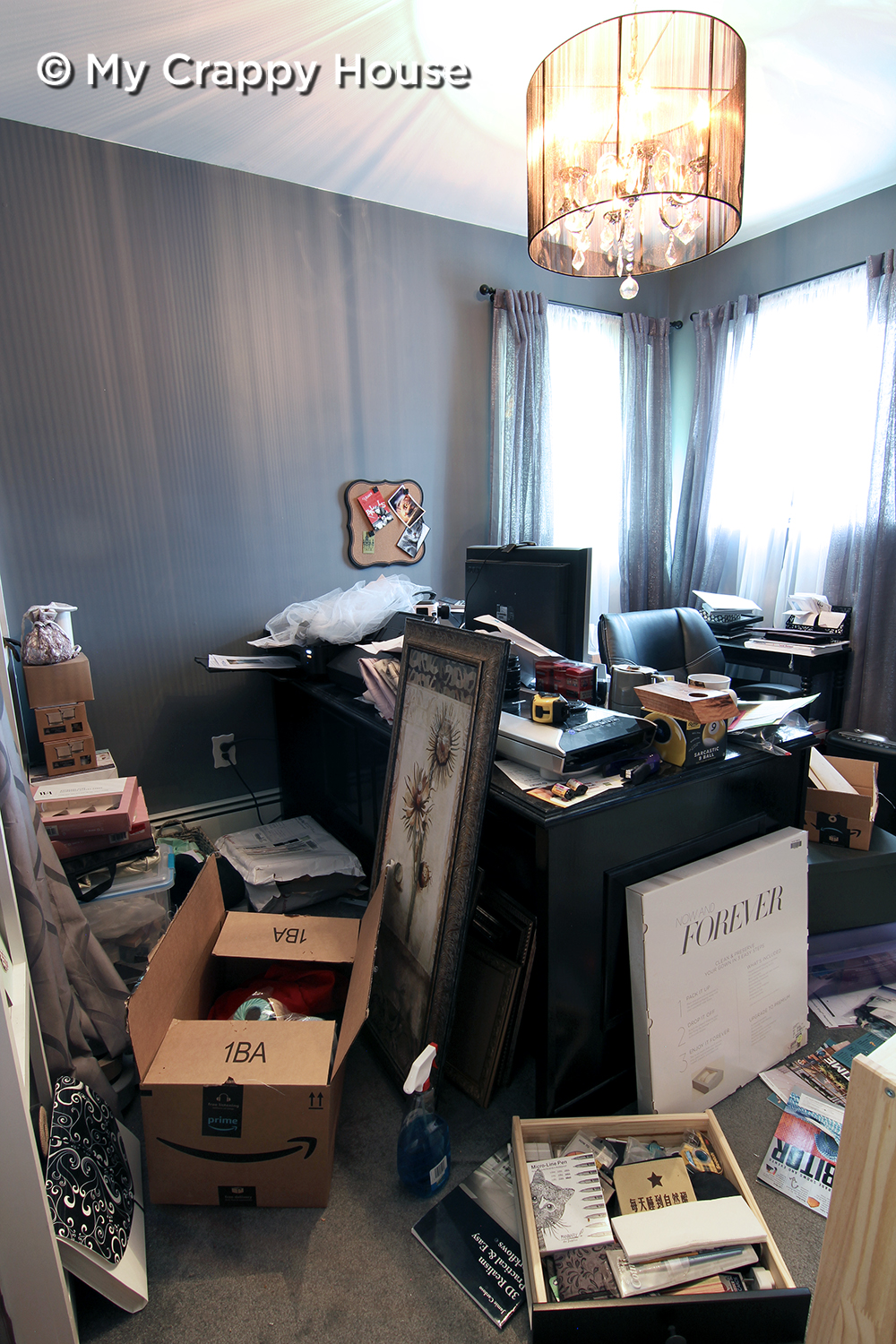 I guess it doesn't help that I have slight hoarding tendencies. I mean, what if I need that VCR? Video tape watching emergencies do happen. And HEY! That Thigh Master is still good! I can't throw that out! And no, you can't have too many unread "how to" books. That's just knowledge waiting to be assimilated! And who can resist a good how to book?
Resistance is futile.
Finding homes for all of my crap is an endless endeavor; partially because I'm always buying new crap and also because I just don't have a lot of space for the crap that already lives here. So, basically, the situation is a huge crap population with a housing shortage. I need to somehow reduce my population of crap. Perhaps establish some sort of crap reduction protocol. Like, maybe three things must go if I want to add something new.
(By creatively referring to my crap as "a population", it sounds like I'm murdering three crap citizens for every new one that moves in. I'm a monster! I feel terrible.)
What is This Post Even About?
In case you haven't realized what's going on here, let me be blunt. There is no DIY this week. Well, I did clean my office myself, so technically this is DIY, but I get it if you're mad. I mean, I don't even have any cleaning or organization tips for you. This post offers you nothing.
Except that my office is now clean, so there's that. (But that was for me. Not for you. You still have nothing.)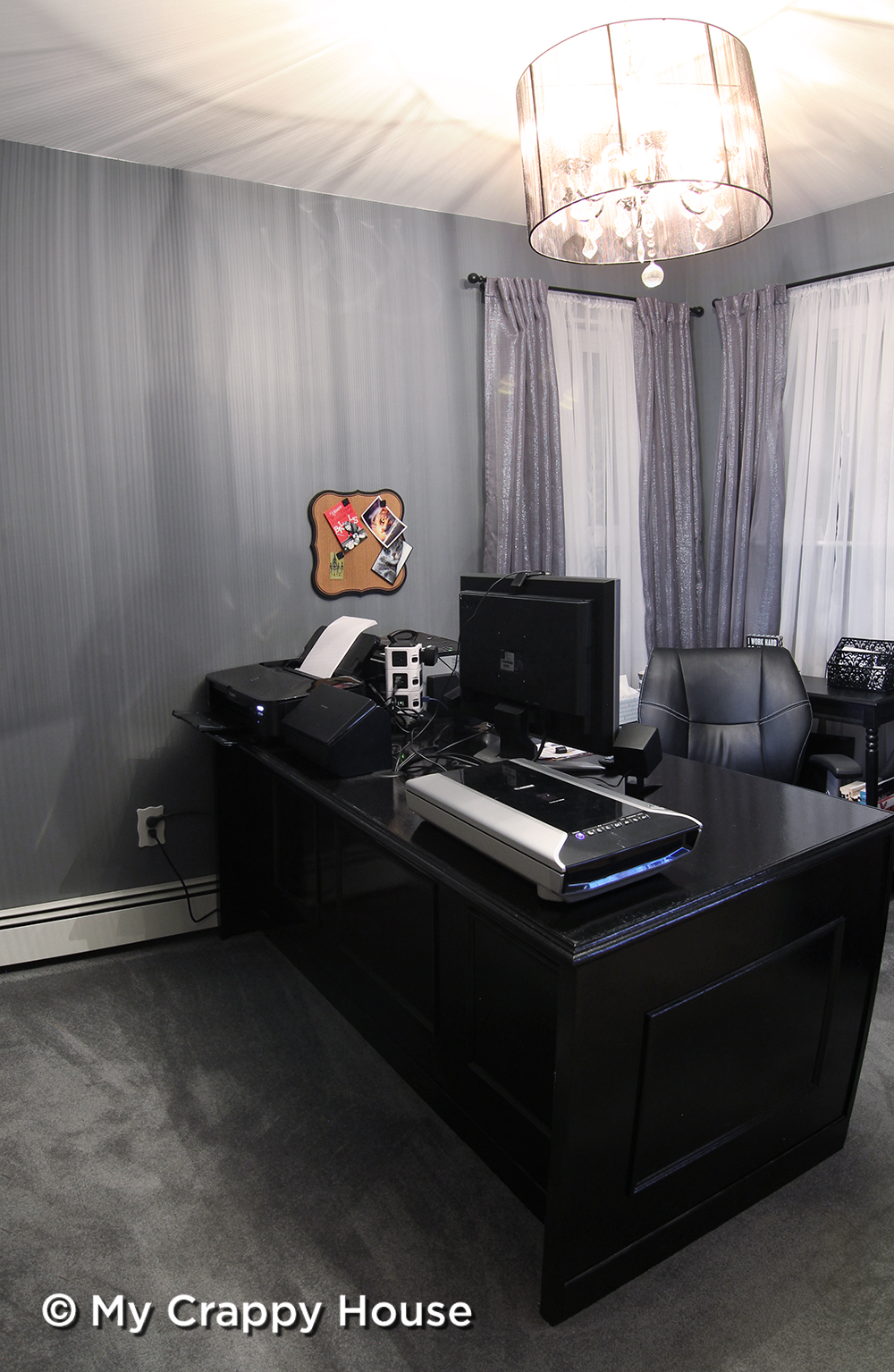 You have to admit, though… It is quite a transformation.
(Nope. Still no trim on this bookcase. It's only been six years since I built it. Don't rush me…)
Anyway, the truth is, if you're going to get a post from me every week, some of them will be like this. Just a girl doing mundane things in her crappy house. Maybe you can relate. Maybe you're gross too.
Or maybe you are not gross. Like, at all. Maybe you're wicked organized like Marie Freaking Kondo and your house is so neat that it doesn't bother you at all if company drops by unexpectedly. You don't even have to run around with a laundry basket to gather all of your homeless crap so you can hide it in the basement before you answer the door because you don't want your friends to find out how gross you really are. And you're not even a little bit worried the whole time that they'll ask to use your bathroom.
Fine. You do a house tour.
If Only it Was This Easy…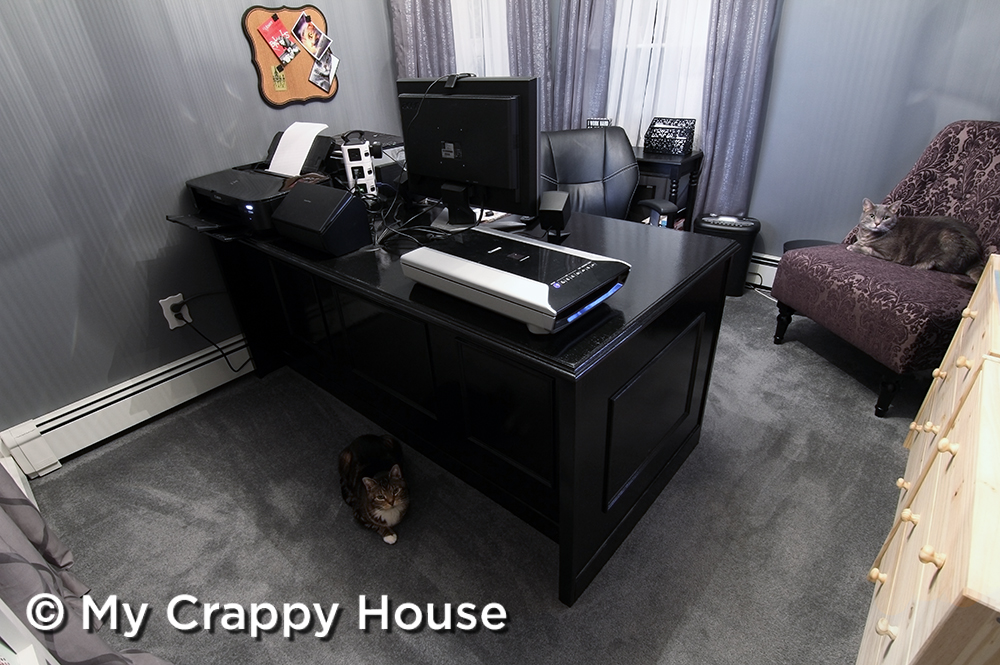 (Slide the line on that photo to the right and you, too, can clean my office! If only it was this easy for reals…)
So, thanks for letting me use all of you as motivation to clean my crappy office this week. You're all very kind, selfless people. Very smart and attractive too. And hey, did you lose weight? Oh, and btw, thanks for not unsubscribing, my BFFs. (You know, blog friends forever…)
(Seriously. Don't leave me.)
Our relationship is so solid, I just know you'll be back next week to read whatever it is I'll be writing about, even though I don't have a clue what that will be yet. I guess we'll both be surprised…
And here's a picture of Egor. He's just surprised my office is clean.
*** HEY! Thanks for reading this post all the way to the end. Just for you, I actually did write a post describing my fabulous method for cleaning a room. You can check it out here. As a certified slob, I promise you this method works. You just saw how well! Happy cleaning…
OK, not happy cleaning. You know what I meant.