How Can We Get Some Backyard Privacy?
Privacy, Please
When I first moved into My Crappy House in 2011, my neighbors, both to my right and to my left, were drummers who liked to practice outdoors in their respective backyards. Seriously. What are the freaking odds? Eventually, it got too cold outside to play. Then, finally, mercifully, they both moved away. Ahh, peace…
But not for long.
When Gloria (not her real name) moved in, she came over to introduce herself. How nice! Old school, right? Downright neighborly…
But an hour later, still standing in my open doorway in my pajamas, now having intimate knowledge of her life (and death, actually… In one story, she actually died and came back to life…), I knew I was in trouble. Gloria was lonely and probably had visions of me being the Laverne to her Shirley. She would wander over any time she saw me outside, so I started neglecting my yard in favor of indoor projects.
That didn't stop her. If she saw my car in the driveway, she would knock on my door wanting to chat. Guys, I work from home. My car is always in the driveway.
I installed a peep hole.
I eventually lost my cool with her the day she frantically knocked on my door to tell me that the man, the one who was currently inside my house hooking up my new internet service, was an impostor. You see, she had called the company he worked for and they couldn't verify the license plate on his van outside.
She was desperately trying to save me from being murdered by the Verizon guy.
Yup. Downright neighborly crazy.
Gloria keeps to herself since I told her that I had a near 100% murder-avoidance success rate without her help and that she should mind her own freaking business.
I may have used a different "F" word.
So, all of this to say that I value my privacy. Unfortunately, my backyard has none. Directly behind us is the backside of a two story house that has a deck built off of the second floor. They can see right down into our yard without even trying. No naked sunbathing for us. (As if!)
Trees take sooo long to grow, so for the last ten years I've been trying to mentally engineer a creative privacy screen that would not only be attractive, but quick to implement. Ironically, if I had just planted something, anything, there ten years ago when I moved in, I wouldn't be having this problem now. Our naked sunbathing (as if!) would be hidden behind a wall of foliage provided by Mother Nature.
If I could turn back time… (I feel you, Cher.)
Refusing to let another ten years go by with our yard exposed, we finally decided to plant a tree. (Yes, just one. Trees are actually wicked expensive. Who knew?) It feels good to finally take a step towards privacy, even if it's just one tree. It's also way easier to avoid procrastination when you have a man around to dig the hole…
(Rowr!)
We're lucky to have a great tree selling place just a few miles away. With lots to choose from, we finally settled on this one.
My most favorite tree is a weeping willow, but they have very shallow roots and are very messy when they drop their leaves. Plus, we thought it'd be nice to have foliage year round, so an evergreen made more sense. This Alaskan weeping cypress seemed like a good choice. All of the weepiness with none of the leafy-mess. (To deter neighbor creepiness…)
Schmoo asked his strong, kind, truck-owning friend to help us get it home and into the ground.
I was a nervous wreck the whole way home.
I was also a nervous wreck the whole time watching them get it in the hole. (In fact, I'm officially banned from future tree plantings because I "impede the process". ExcUuuuUUSE me if I don't want a 300 lb tree to crush my man to death…)
Our new tree (who we named Willow) was too heavy to pull into the hole by hand, so we came up with a plan. After securing her base to a fence post, Schmoo would hold the top of Willow while his friend pulled the truck forward, allowing her bottom to just plop into the hole. Good plan.
If this video had sound, you would hear me yelling for Schmoo to LET GO OF THE TREE! I don't know what I was so worried about. That he would get pulled into the hole? He would have landed on top of Willow, so I'm not exactly sure why I thought this was so dangerous, but I–
HEY! I guess I do impede the process!
Huh.
OK, so, I kinda wrecked the plan, but we were all able to pivot (PIVAAT!) Willow in the hole so she was upright without too much trouble. No big.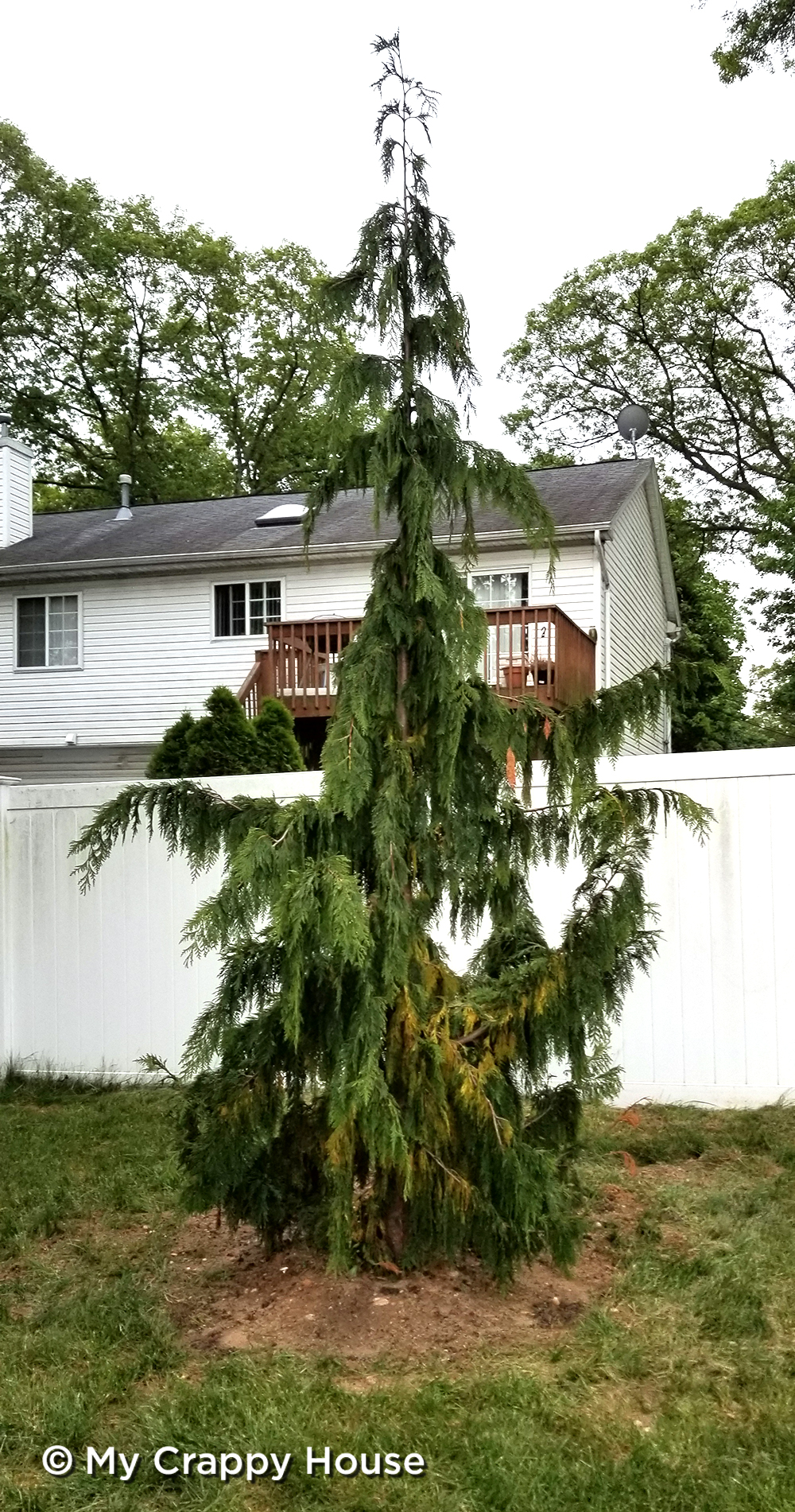 Willow was initially a little shocked by her new surroundings (having taken a bit of a beating in the planting process), but she adjusted quickly and now she's thriving. It feels so good to finally have some privacy…
DOH! Stupid cone-shaped tree…