Painting Old Cedar Shingle Siding
My Painted House Part II
Last time on My Crappy House, we primed the front to get ready for painting the old cedar shingle siding. I don't know about you, but when I'm working on a project on my crappy house and looking for inspiration, I tend to notice everyone else's crappy houses. OK, most of them aren't so crappy, but some of them totally are…
This is especially true when I'm working on my crappy house's exterior, because it's easy to look at the outside of people's homes without permission. The streets are public (mostly) and you can check them out while (slowly, but not too slowly) driving by.
Or!
You can park your car down the street, get out with your paint swatch book, sneak up to a house, color match the siding, then run away! As long as no one sees you, it's totally OK!
(Don't quote me on that.)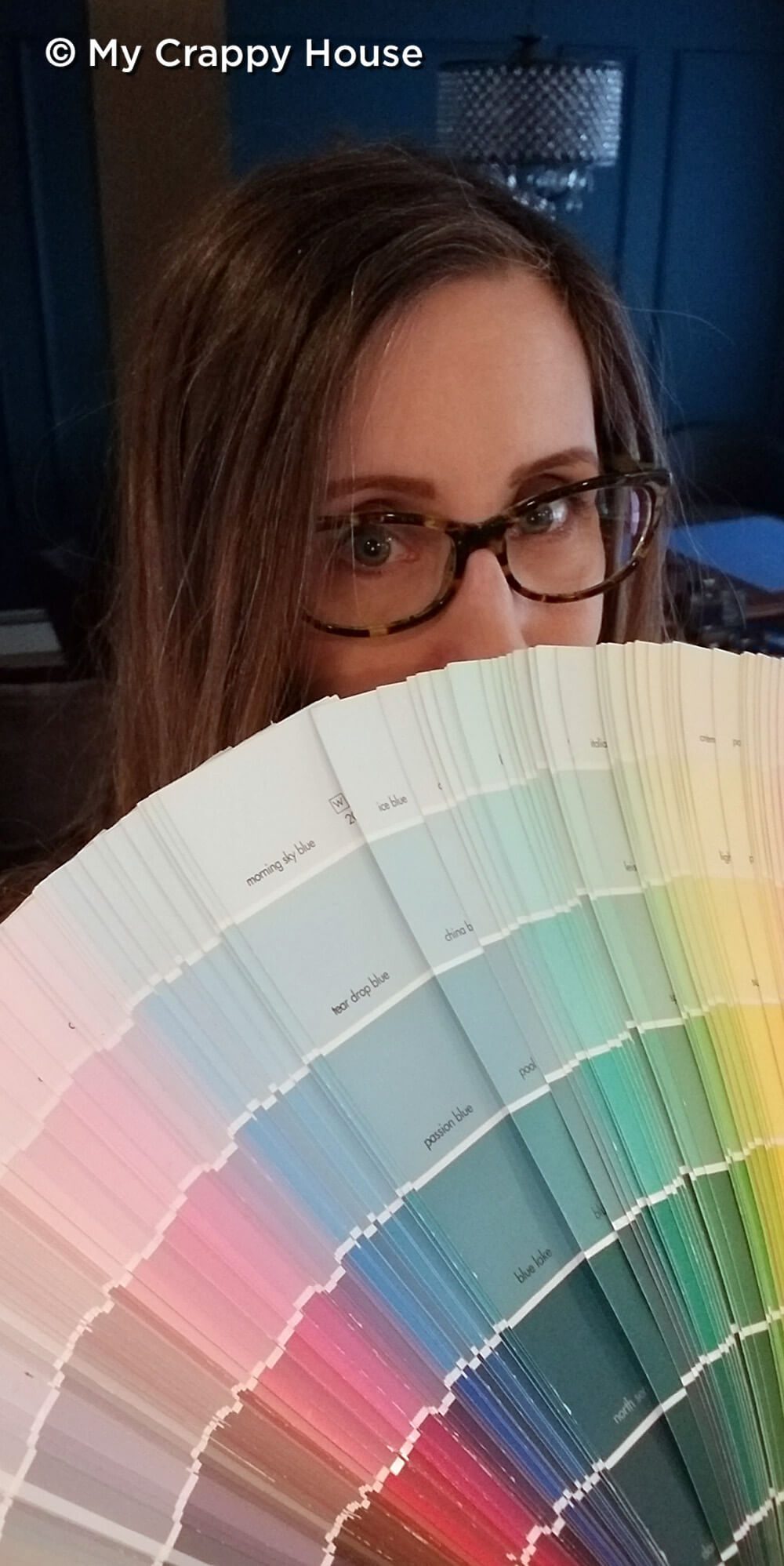 Choosing a Paint Color
Making decisions is not one of my best skills. You guys know…
But planning fictitious covert ops, strangely, is one of my best skills. Who knew?
Operation "Sneak up to a stranger's house to match their siding color without anyone noticing and calling the cops" was a success!
So, what do you think I picked? Let's do a Pointless Poll!
Well, that was fun! AND informative!
Painting the Old Cedar Shingle Siding
When you last saw my crappy house, it looked like this:
All primed and ready for paint! (If you missed that post, it's here in part I.) It looks quite nice, I think, in the light gray. But I prefer a little drama, so we went a bit darker…
That's "Kendall Charcoal" from Benjamin Moore. Guys, I picked a color from the book! This was not a custom color! Who am I?
This color is darker than the vinyl siding we put on a year or so ago. If I had known I would want to go this dark on the front, I may have picked a darker vinyl, but I kind of like the colors being different. They compliment each other and I get to have the "drama" in the front with a more "relaxed" gray in the back. It's like a house color mullet, if you will.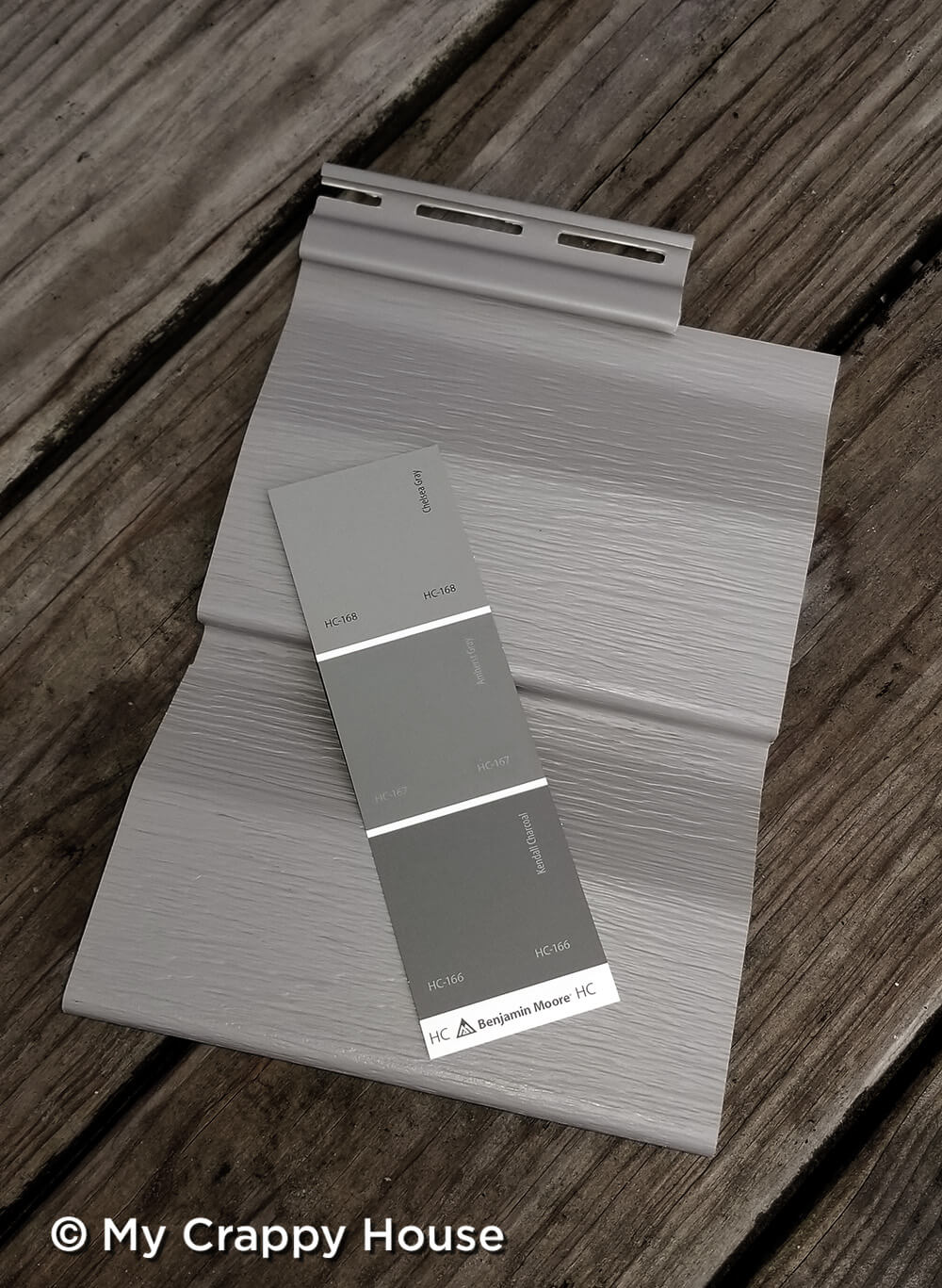 It's the bottom swatch. Yep, it's dark. Don't be scared. It's not your house.
I had the color mixed at Sherwin Williams because they have good quality paint, AND they run a sale twice a year for 40% off. The color matches the Ben Moore swatch perfectly and I really enjoy saving money.
I may have mentioned in the Part I post, but in case I didn't, I want to be very clear that painting shingles sucks. It sucks so bad. If being happy is important to you, then you should avoid painting shingles. And if you have to paint shingles, I would suggest using a paint sprayer and not brushing it on like we did. Apparently, we enjoy misery.
I did most of the crevices and cutting in while Schmoopy painted the faces.
I told him that's not how you're supposed to do the laddering…
We did two coats of paint over two coats of primer. How cool is it that this…
now looks like this?
Isn't it amazing what a bit of paint and a lot of work (like, seriously, a lot) can do?
(And also a new bay window and trim.)
Now I just need a garden dinosaur. And a garden. And a driveway. And a fence. And a pony.