My Visit to The Comfortable Couch Company
My couch is in North Carolina. My pilot is on Southwest.
In 2+ years of searching online for couches, using every conceivable search term in the furniture universe, I had never stumbled upon The Comfortable Couch Company. How is that even possible? Fortunately for me, only awesome people read my blog and one of you pointed me to their (soon to be rebuilt so they won't be so hard to stumble upon) website. I've been stalking them ever since. How convenient that I already had a trip planned for NC to visit my parents… Where the CCC showroom just happens to reside… Located within driving distance of my parent's house… Of course, I went there.
Mom and I walked in the door and flopped down on the first couch we saw – a purple velvet Chesterfield. The Comfortable Couch Company is aptly named. It was a freaking comfortable couch! While we lay there like broccoli, a nice woman (whose name I don't remember) came to talk to us. I asked her permission to take some photos for the blog post I would be writing about my visit and she said OK. Strangely, the mention of writing a blog post about their couches didn't prompt her to offer me a free one. I know, right? I'm still reeling from that unexpected twist. Good thing mom's head is in the right place…
She'd better not be thinking of my brother or we're definitely going to have a problem…
So, now you know my opinions here are honest, as I have no incentive to write good things about their couches. Not even a little incentive. Like a discount-sized one. Nada.
As you can see, their showroom is pretty large with lots of comfortable couches to sit on. I have only one couch in my crappy house and it's like a magnet for my ass. As I walk by, I can feel the pull and I have no choice but to sit down. And the couch won't let me up for hours, so I just sit there and watch TV. It's a major reason why I don't get anything done. Can you even imagine working in a place like this with butt magnets, like, everywhere?
This handsome blue velvet couch grabbed my ass. I liked it. I'll just lie here and rest while you check out the rest of their showroom…
CCC has more fabric choices than what they show online. In fact, since they make these couches custom, you can pretty much get anything you want, which is perfect for me because I'm annoyingly particular. So annoying that they may wish I hadn't stumbled upon their website. But it's too late for that now… Muahahaha.
There were a couple of other nice people there in the showroom. They may have been owners. I'm not sure. They were helpful. I don't remember their names or what they looked like. I think one of them was a man. But this little girl is Paisley…
My memory sucks, but I remember the key information. Hi, Paisley!
While I'm not quite ready to order my new Chesterfield (I need a floor first. And a kitchen.), I'm so glad I got to check out The Comfortable Couch Company in person. I will have no qualms about ordering online when the time comes. Maybe next year. Definitely by 2016. Probably.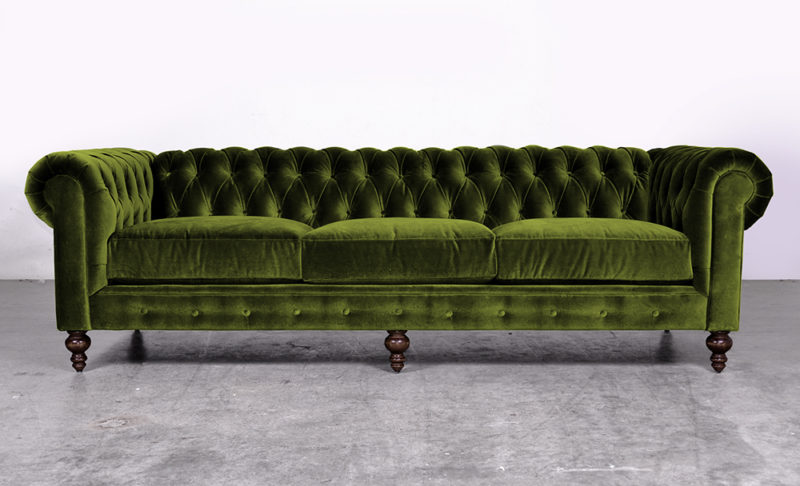 This would normally be the perfect spot to end my fantastically entertaining post, but I have a bonus video to share with you! My flight home from NC was also fantastically entertaining. A delay involving luggage (something to do with checking to see just how long it takes for rain to completely soak through a suitcase I think) kept us at the gate for 20 minutes or so. Maybe a half hour. I actually don't know exactly how long we were sitting there because the flight crew was so fun. Check this out:
How cute is he? He can read me a story anytime he wants…
Hey, how about sharing My Crappy House with your friends? That'd be cool and stuff. Word.
***Time travel links! The year is now 2021… It's seven years later and I do have a couch. Sadly, it's not a CoCoCo couch. Don't get me wrong. CCC couches are amazing and worth every penny! I'm just poor, so I had to pivot! (see what I did there?) and choose this one instead. I have no regrets. (But I do miss Paisley…)