…ing! Oh, yeah! Molding, baby! Installed. By me. Two months of talking about it and, BAM, it's done. Just like that. In the blink of an eye. (Not a normal person's eye blink. Maybe a coma patient's…) How many pictures of molding can you stand to look at in one post? Let's find out…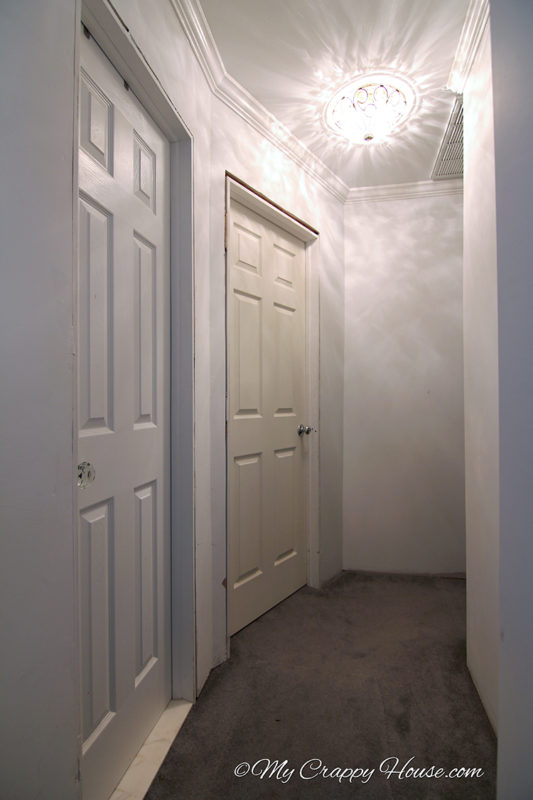 This is how my crappy house looked right after installing crown molding, remember? Yeah, I know. It was a long time ago. It's OK if you forgot. My memory sucks too. That's what hyperlinks are for.
This won't be much of a tutorial (I don't care about teaching you anything. I just want you to be like, "WOW, you're so awesome with your mad skills!), but I'm throwing in a few "how to" pics as a bonus. You're welcome. This one shows how I start to install door casing. I measure and cut my top piece, then clamp it in place so I can make sure it's level and centered. I use my 18 gauge brad nailer to tack it in, then I take the measurements for the side pieces. I feel like this leaves less room for error. This may not be the "right" way to do it, but it's my way and, therefore, the awesome way.
I prefer to paint molding in place, but I didn't want to risk ruining my carpet, so I painted just the bottoms of all of the door trim.
Here they are all ready to be installed.
I glued each mitered corner, then tacked the sides in place. Once the glue dried, I went back and secured it all with my 16 gauge finish nailer.
Pictured below is the corner that inspired the most F bombs from my cousin when he installed my crown molding. And now I know why. This corner was a bitch. First of all, the two doors were not hung at the same height. Whoever did that is a jackass.
Oh, wait. That was me.
I removed my office door (the one on the left) to move my monstrous desk in and I guess I didn't pay attention to how high I was hanging it when I reinstalled it. Oops.
You can see here how this would be a problem. Since this corner is so tight, and the trim from both doors butts up together, it would be very obvious that they were uneven. The left door was about ¾" lower than the right one.
I had to rehang the (f'ing) door. I don't have any pictures of this part. It's hard to hold a door and a drill and a camera and be pissed off all at the same time.
Second of all, the corner was too small to fit a full piece of trim. I had to rip it on a table saw. (Actually, I had to drive over to my cousin's house so he could rip it on his table saw. I don't have one of those. Yet…)
I'm quite pleased with how it came out. I'll take a close up picture once I finish patching the holes and painting.
What, you thought I'd have all the patching and painting done for this post? Aww, that's so cute…
Once I had all of my door casings installed, I measured and cut all of the base trim pieces, pre-painted them (carpet, remember?), and nailed them in. All of those odd angles were no match for me. Geometry is my bitch.
(↑ that's Egor's view.)
I didn't stop at the hallway. I also installed the trim on the doors in the living room. Here's the closet door before…
And here it is after…
And here's the front door before…
I had a small issue with the front door being a bit inset from the drywall. See?
So I installed a thin strip of ½" wood all around before installing the trim.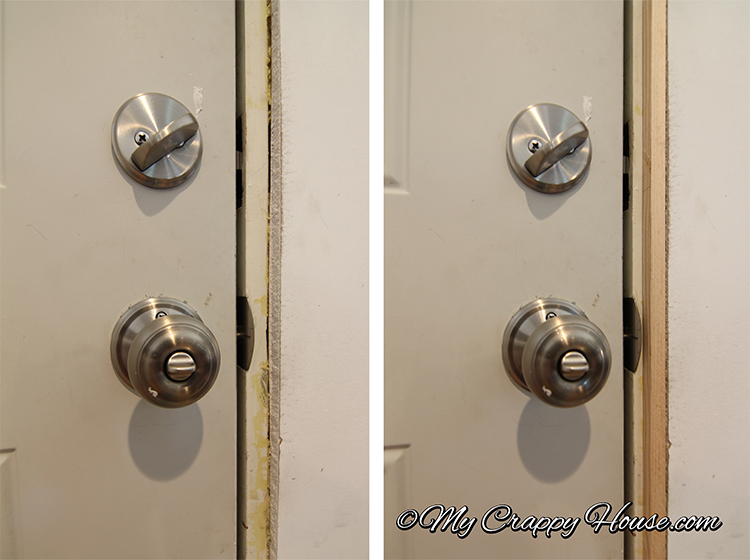 And it came out like this…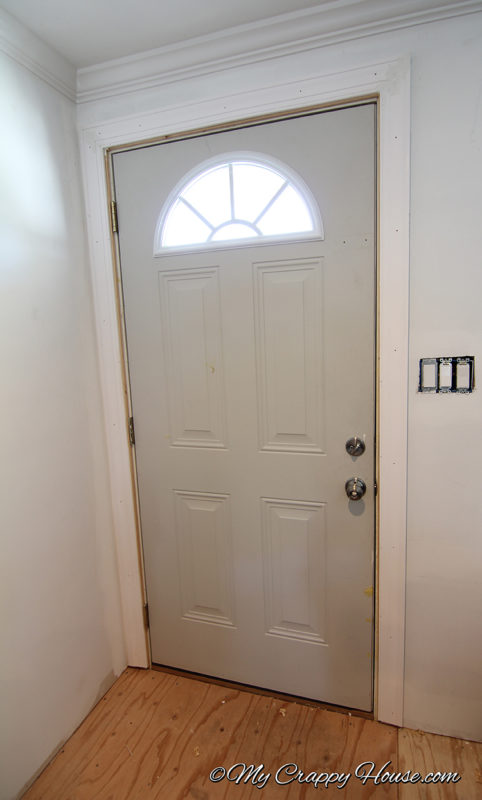 I bet you've probably now reached your lifetime quota of looking at pictures of molding in a stranger's crappy house, but I have just one more; the after shot (complete with the obligatory creative camera angle for extra added drama)…
How about that? An actual post about DIY on my DIY blog. I know. It's been a while. I hope to have the next one to you much sooner. Subscribe below so you don't miss it!