I Spent a Day with Habitat For Humanity
Paying it Forward
I never watch the news. I know. I'm a bad American. Whatever. But the news always sucks! It's full of terrible people doing terrible things. I'd much rather focus on the good people in the world doing good things. The people that think nothing of donating their money and time to worthy causes. The selfless people. You know, the ones who make me feel really bad for wasting my extra time on sleeping late and watching Netflix instead of helping others. Wait, why am I focusing on them again?
Oh, right. They're inspiring.
Yeah, I know. George lost a lot of credibility after making the collective debacle that was Star Wars 1-3, but I do think he's right about this.
I Spent a Day with Habitat for Humanity
I've had my eye on Habitat for Humanity for quite a while. The people that they help are people who have helped other people who have helped other people who… Well, you get the picture. It's a "pay it forward" kind of organization. I like that concept. Plus, I'm a DIY Ninja, so, when I got an email that they were looking for volunteers to help a veteran whose house was destroyed by Hurricane Sandy back in 2012, I decided to sign up.
I signed up, but I didn't tell anyone. I could lie and say I didn't tell because I didn't want people to feel like they had to praise me for donating my time, but the truth is, by not telling anyone, no one would know if I flaked out. Because, you know, 7:30 am is stupid early…
But I so did not flake out! (OK, now you can praise me…)
I had no idea what state the house would be in, but I didn't think it would be this unfinished. They're trying to get this poor man back into his house by Christmas!
Lots to do! Unfortunately for me, they were primarily working on the roof that day. And guess who's scared of heights? (That would be me.) So, while I watched bad assier women than myself climbing amongst the rafters installing plywood on the roof, I was down on the ground. Raking leaves.
Man, did those bitches make me look bad…
I decided then that, while clearing the job site of dangerous leaves was a valuable contribution, I was going to find something to do that was more worthy of my ninja skills. I asked a group of men working on the portico if they needed help. They were trying to problem solve setting up a ladder on slopey ground.
Luckily for them, problem solving is totally my thing! I sprang into action and had this high-tech ladder platform engineered and constructed in less than 60 seconds. They were quite impressed…
My platform was key in enabling that group of men to build that portico. Without it, they'd still be standing around staring at a mound of dirt. Probably.
You're welcome, group of men.
Still, I knew I could do so much more. Finally, the foreman had a job for me at ground level that required some skill. He asked me to trim away some excess wood so a wall could be built there.
Totally rocked it.
And since my wood trimming is what made it possible to even build the wall, I thought it only fair that I be allowed to help build said wall. I don't have any pictures of the process (because hello! Busy building a wall!), but here are a few I managed to get towards the end. (I asked a volunteer to volunteer to take my picture.) This is me toenailing the last stud.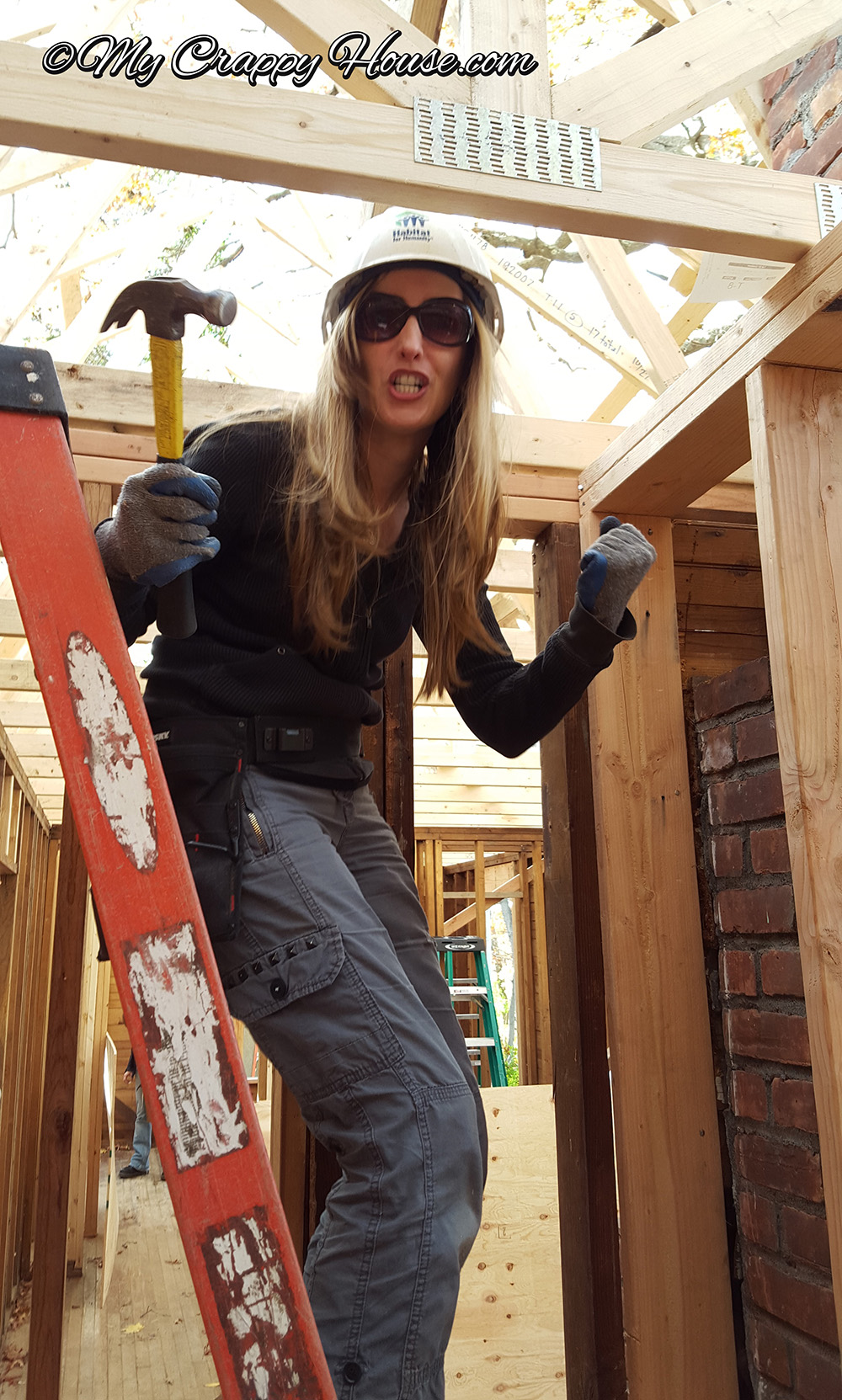 I totally nailed it!
(Like, literally. I nailed it.)
I think, by the end of the day, people were starting to notice that I was more than just a cute little leaf raker. They'll get another chance to witness my mad skills because I signed up to volunteer again in December. I hope they can manage without me until then…
That's one good looking wall, am I right?
You should think about volunteering to spend a day with Habitat for Humanity. With Thanksgiving only a week away, it's a good time to remember that there's always someone who has it worse than you do. And it feels pretty good to help them out.
It feels pretty good to subscribe to my crappy blog, too. Just sayin.