Creatively Cropping Photos to Hide the Truth
Reality Check
When Apartment Therapy asked if they could feature my brick wall on their site (see it here), I was so happy! If I didn't think I'd break my face, I would have done a cartwheel.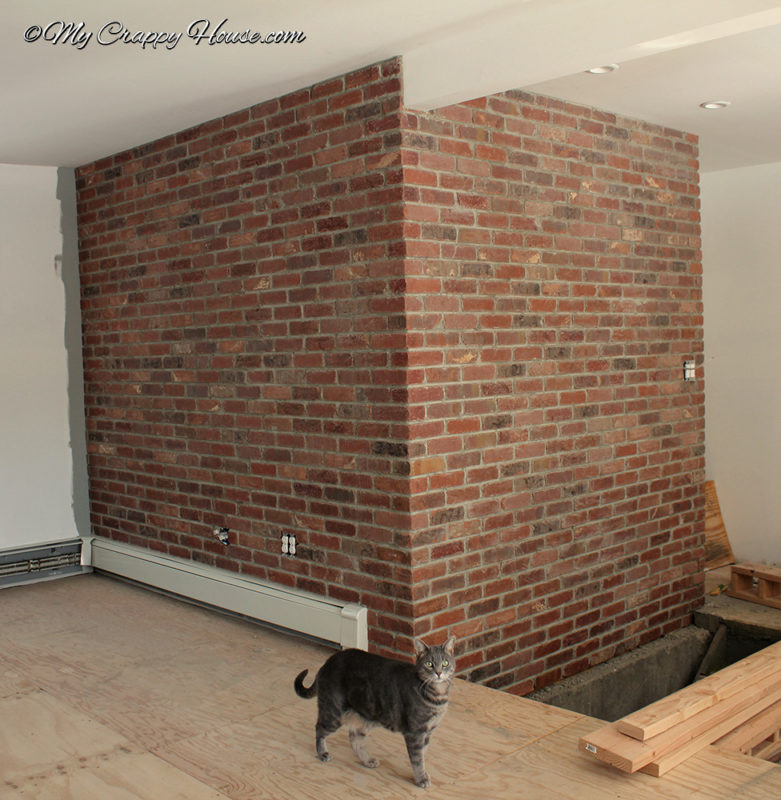 Their only request: could I supply a more "finished" after pic than this one from Brick Love, Part II?
In a house that is most definitely not even in the same zip code on the same planet as "finished", this was tricky. I asked my awesome boss if I could skip work the next day (That's me. I'm the boss…) to set up this shot:
Not bad, right? This new pic is quite a bit better, but it's all smoke and mirrors. Just in case you thought things were looking awesome at my crappy house, here's what's really going on:
Yep. This is my reality. (Notice how I painted just enough of the wall for the photo?) All of the pictures I have shared with you thus far are carefully framed to omit the truth. Because frankly, you can't handle the truth! (Sorry, I had to…) No, that's not why. It's because I live in a junk yard reminiscent of Sanford and Son and it's sad and who wants to see sad pictures? Isn't there enough crap in the world to be depressed about? I edit because I care about your happiness and well being. You're welcome.
I guess I don't care about you right now though. Brace yourself, because here comes some more sad… Remember my crown molding post?
Creative cropping employed there too…
Oh, the humanity! My dining room is back there somewhere. I know, right? Admit it. You're a little bit sad for me right now, aren't you?
Hey, cheer up! Want to play a game? Click to enlarge that picture and see if you can find these items:
A drawer from my desk
Tape measure
Suitcase
Light bulbs x 4
Picture frames
The Cap'n of Crunch and Berry
Level
Vacuum x 2
Lamp
Fire extinguisher
Scratching post
Scissors
Paint roller tray
Glove
Glue
Egor
Egor's toy
How did you do? I play this game every single day (mostly with keys and shoes), so it's kinda lost its appeal for me, but I thought you might enjoy it. Here's the answer key:
Be honest. You would be wasting time online no matter what. You might as well waste it here on my site.
So, that's it. My reality. I know. You're shocked. You're wondering how I live like this. Well, I just do. How do you think Oscar lives in his trash can? The answer is he just does. And he's a little grouchy. As am I.
The more you support me, the more motivated I am to work on my crappy house so that I can share my accomplishments with you and you can give me the props I so desperately crave. Please like, share, and subscribe!