Siding effects include decreased house crappiness
My crappy house has been naked for seven years. That is a looong time to be naked. Truly a testament to the durability of Tyvek house wrap! (No clue wtf house wrap is? I linked it there for you. You're welcome.) So, not naked actually. More like 7 years in underwear…
If you remember (It's OK if you don't. You have a life.), the whole back and sides of my house had to be replaced when I bought it because water had found its way in. If you're interested (totally get it if you're not), those posts are here and here, but here's a reminder…
I decided to install vinyl siding, but with the super long list of things that needed to be done inside my crappy house, it was easy to push the siding to the side since it was outside, and, honestly, a little on the more difficult side, so to be on the safe side, I thought I should get the inside scoop on how to properly install siding so I wasn't blindsided when attempting to side my crappy house by myself.
Aside from that, I'm also quite lazy. You guys know.
So, while I am highly skilled at procrastination, my Schmoopy does not share my gift. He was gung-ho to tackle the project, so I fast-tracked my usual extended color selection process and we bought all of our materials, but, just as we were getting started, the fuzz paid us a visit…
Officer Murphy: Hey! I hear you bought all of your siding supplies!
Me: Yes, sir. Yes, we did.
Officer Murphy: Well, I'm afraid I'm going to have to make sure it rains lions and wolves every single weekend for the next three months.
Me: But why???
Officer Murphy: Because. It's the law.
Damn you, Murphy. Damn you.
Before you can install vinyl siding, you have to insulate. It's also the law.
Not really, but it's a good idea. Or maybe it is the law. I don't even know when I'm joking anymore.
Anyway, the bedroom windows were terrible. They were installed so poorly that we couldn't figure out how to insulate around them. Schmoopy tried to troubleshoot the problem while Egor supervised.
Troubleshooting quickly escalated to the hammer-assisted extraction of the window in smaller window chunks, right before the sky broke open and all of the water came out. We raced to Home Depot to find something to patch the hole.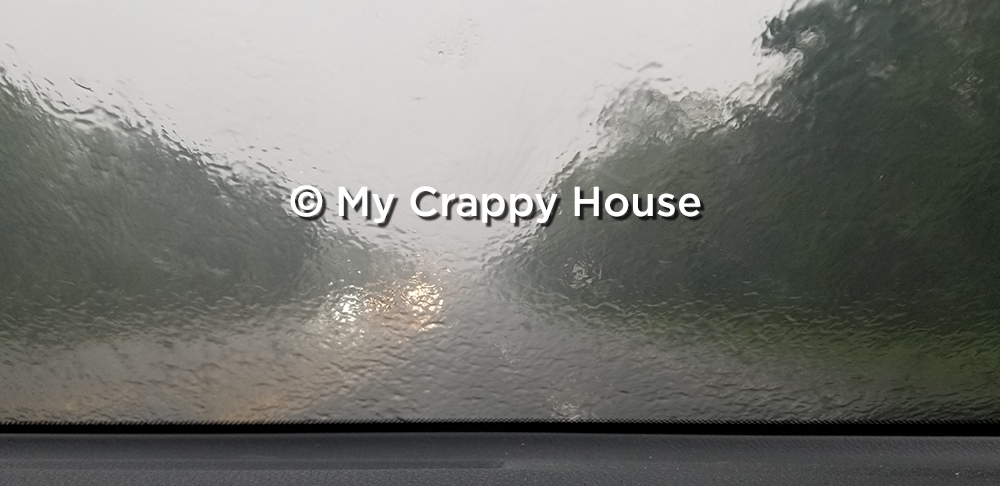 Hydroplaned, really.
This was the best we could do on such short, apocalyptic notice.
Trash bags, tape and plywood, befitting a crappy house.
Since we removed that window in pieces, we had to order a new one (which turned into three windows because the other two bedroom windows sucked as well) which would take six weeks to arrive, so we worked on the other side of the house.
Schmoopy insulated while I j-channeled.
Tell me you don't know what j-channel is…
J-channel is the trim you put around windows and doors and stuff. The vinyl siding fits in the "J" part so everything looks all pretty. Oh, and it also helps keep water from leaking into your house. So pretty and smart. Like me.
(Now that was a joke. I'm sure of it.)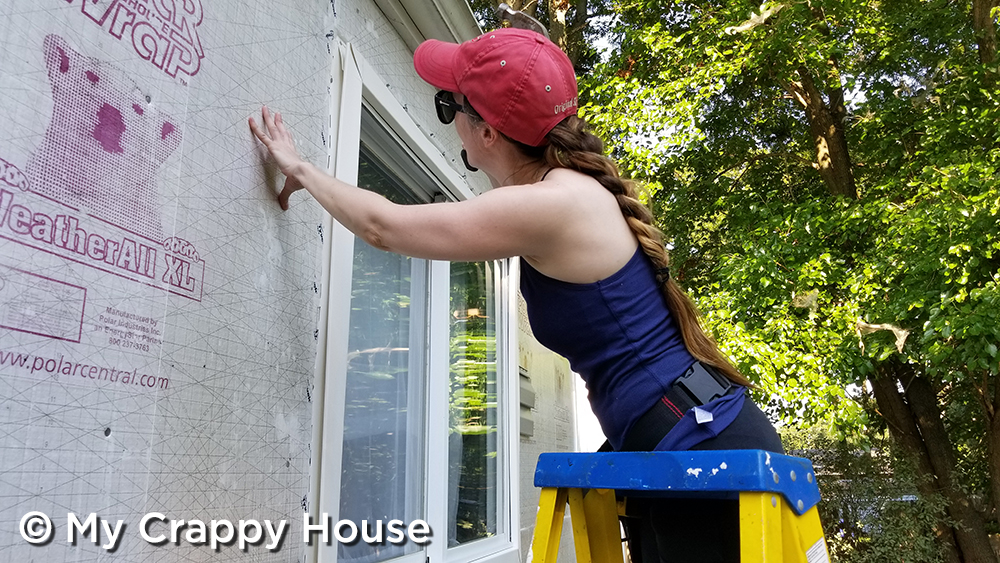 Once we we were all insulated and j'd, we could finally install some vinyl!
And…
that's what we got done our first day. #superproud
But, it didn't take us long to start killing it.
This was our first completed section. #superproud
Our windows finally came in, so we upgraded our trash bag/plywood situation.
And this was where Schmoopy and I parted ways…
On the job! Not in life! You sillies.
He continued rocking the vinyl and I moved to the front of the house to get it ready for painting this spring. I'm going to save all of that for another post, but I do think I made some significant improvements. I promise you will be very impressed with my mad skills, as per usual.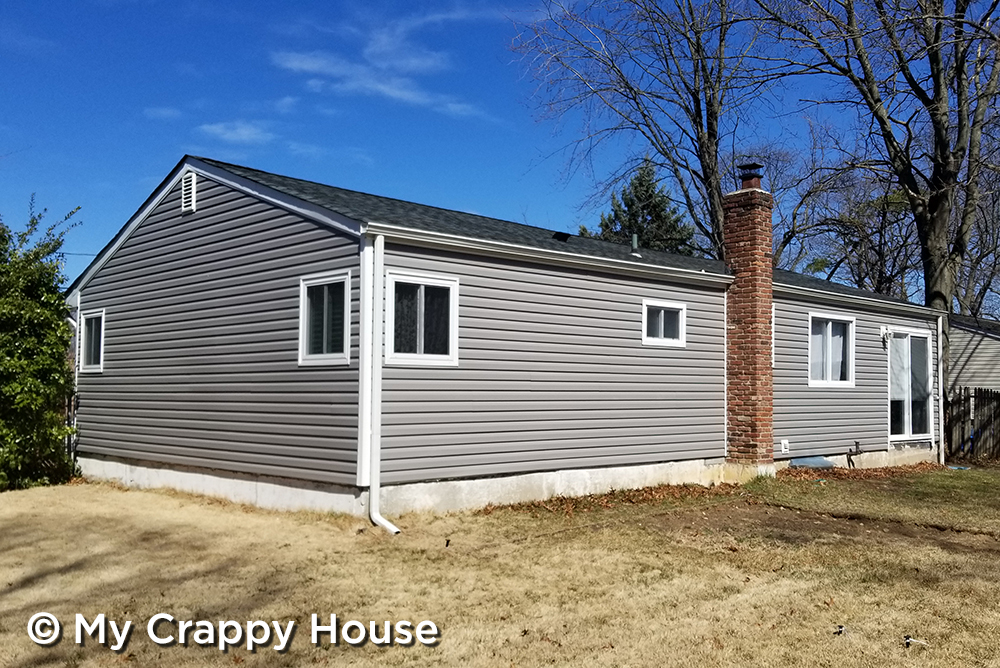 So, that's it! We totally nailed it! (But not too tightly because you're supposed to give vinyl siding a little room to expand and contract or it'll buckle in the heat. Geez, don't you know anything?)
Hey, have you subscribed yet? I post so infrequently that you'll be sure to miss my next one unless you do that below…
***Time travel links! See what my mysterious side project was here!