An Easy Way to Add Gold Accents to Furniture
A few weeks back, I showed you a bunch of projects I was working on for my upcoming wedding (in three freaking days, people! What am I even doing here??) and one of them was this cute, little table I found at my local ReStore. I kind of really hate refinishing furniture (even though I'm amazing at it), but I guess I didn't think 73 wedding projects was enough, so… 74 it is. Keep reading to see how it turned out, and for an easy way to add gold accents to furniture (if you're into that sort of thing)…
This little side table was only fifteen bucks. I paid more than that for the crappy aisle runner that will become garbage the day after my wedding. (Which would be in four days, if you're counting. And I am… Seriously. What am I doing here?)
I figured I might as well grab it for wedding décor and maybe find a spot for it in the house afterwards, or placement in a loving home (after it lives in the garage for the next three years with the other orphan furniture (and pendant lights), patiently waiting to find their forever homes.)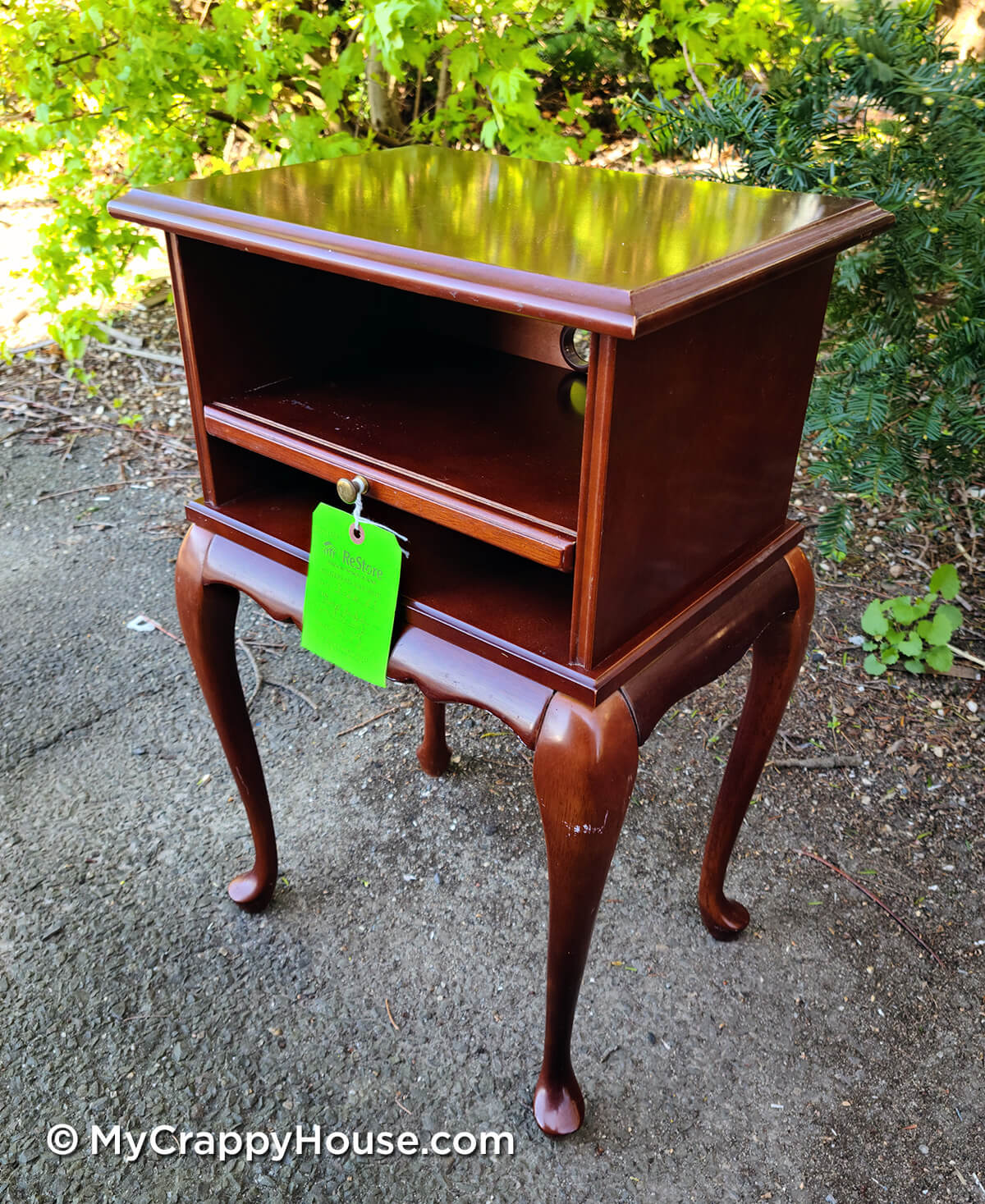 I took a lot of photos of this process, but I may not have the time to entertain you through this whole post like I normally do. (Have I mentioned my wedding is in three days? I might have.) So, I'm going to move quickly. Maybe I'll say something funny at the end. We'll see…
So, first, I started by scuffing up the factory finish a little bit with some 220 grit sandpaper.
After I was finished, I wiped it down with a tack cloth to get all of the dust off. Next, I used Dixie Belle chalk paint in the color "Caviar" to paint it black.
This table has a cute little slide out tray thingy. It was a pain to paint it, but it's adorable, no? Anyway, that was the first coat.
And this is the second coat. I didn't take photos of the painting process. You don't come to my crappy blog to learn how to paint things. I'm sure of it.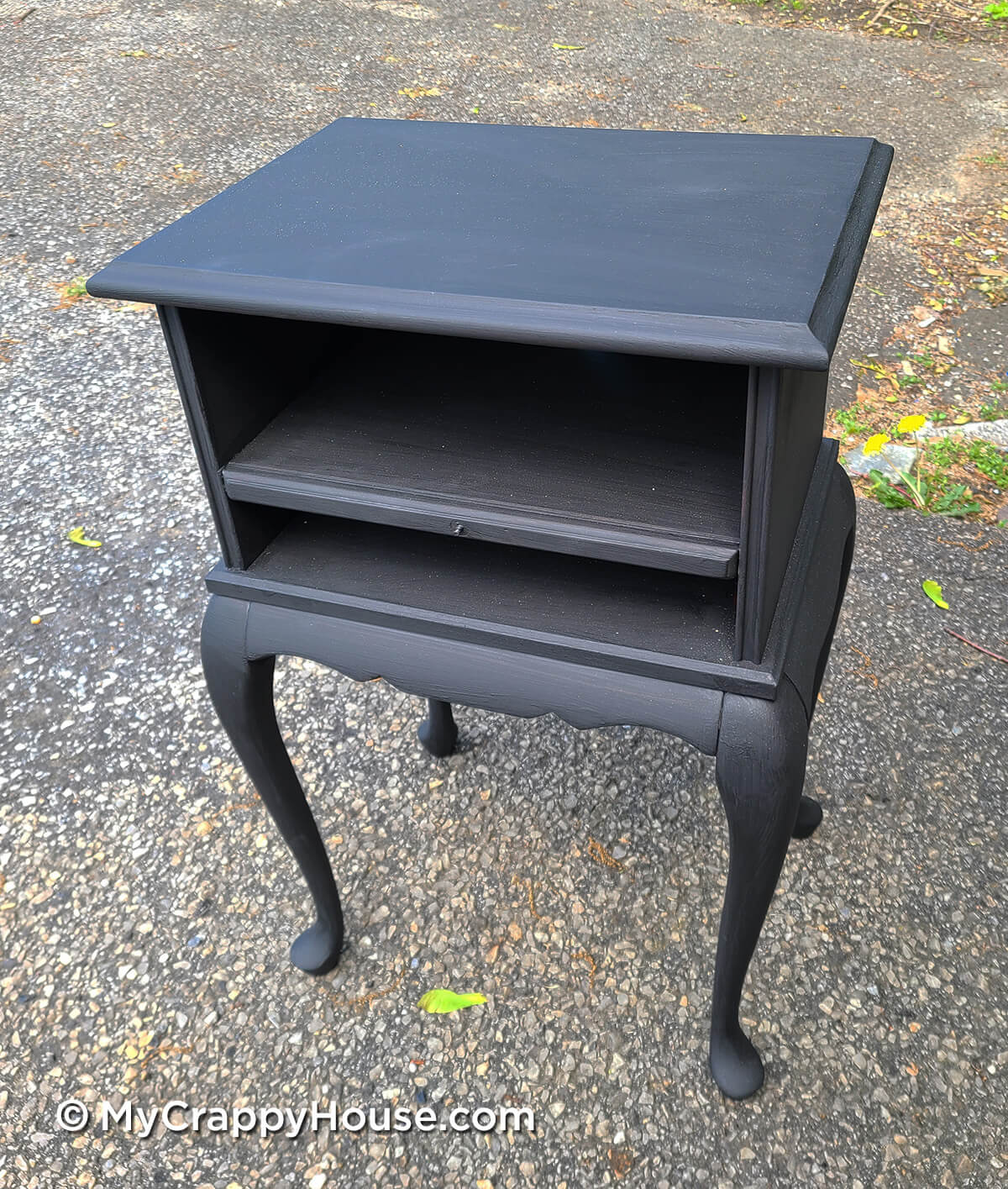 Actually, if you want to learn how to paint furniture, check out my mom's fake friend, Christy, over at her blog. I don't know her personally, but my mom… doesn't know her personally either. She just talks about her like she does.
("You should see this chair Christy made!" "Christy is so creative!" "I bet Christy would call me more often if she was my daughter…")
Anyway, Christy loves to refinish furniture with chalk paint and she recommends sanding between coats, so that's what I did.
OK, now the fun part. I wanted to figure out an easy way to add gold accents to furniture. What could be easier than a paint pen? This is the one I picked up from Michael's.
I just drew gold lines following the lines of the furniture. I didn't stress trying to make them perfect. Perhaps because this table only cost me fifteen dollars. Or maybe because I've already maxed out my stress level on my other 73 wedding projects. Whatever the case, I think the "imperfection" looks a little bit cute. It's our imperfections that make us unique, right?
Wait. That's the crap people are always telling us so we don't think we're ugly. But… unique and ugly are not mutually exclusive. I'm so confused now…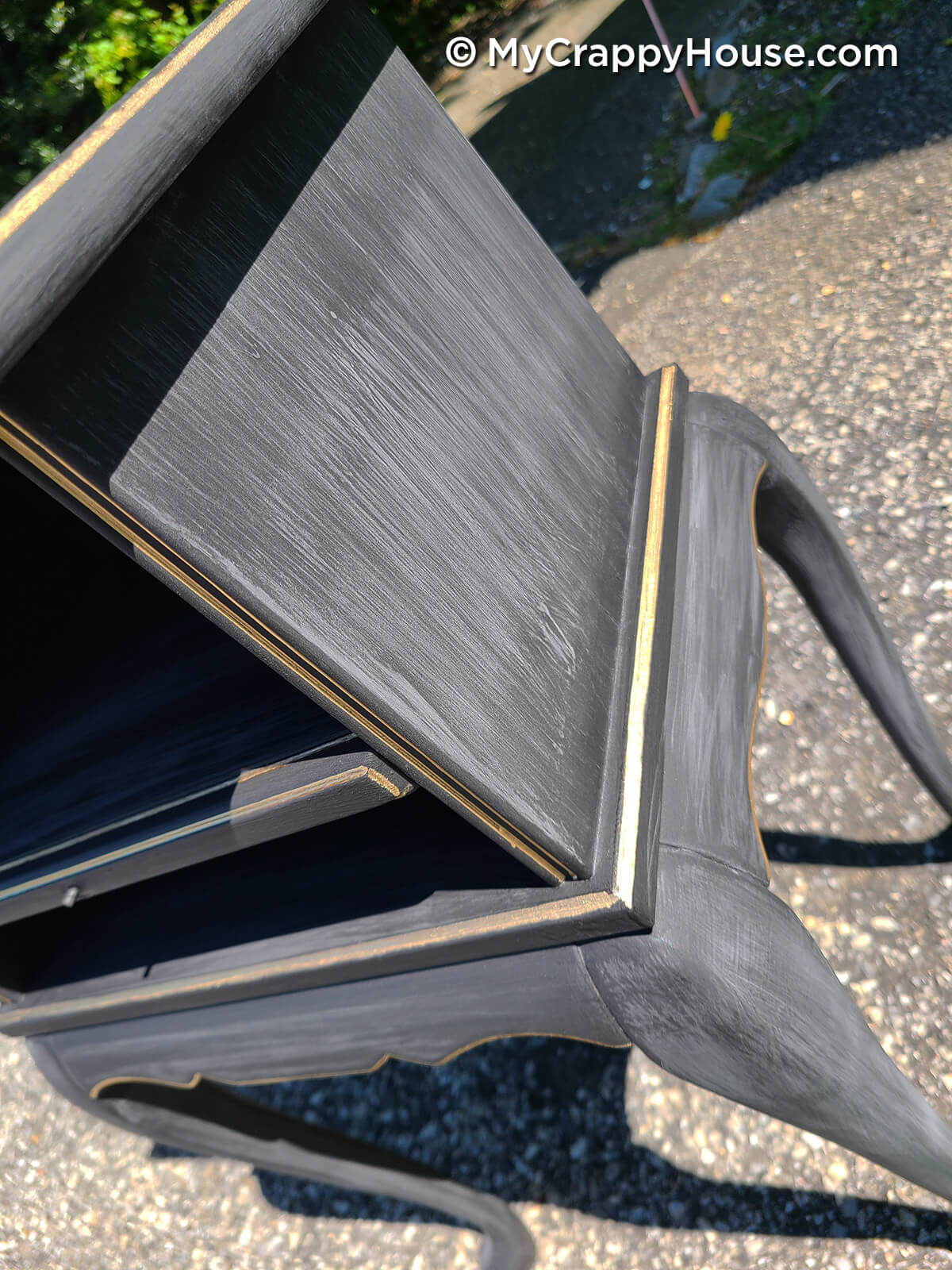 Anyway, speaking of ugly… This table looks like crap. Good thing I bought this finishing wax, by Jolie, to… well, finish it. I rubbed it on with a soft cloth and it brought my little table back from the dead.
Cute, right? I know you don't know what the theme of my wedding is (yet), but this little table will fit in perfectly. Once I write my wedding blog post, I'll put a link right here so you can see what I did with it. (If it's pink, it's a link…)
In the meantime, here's a picture of my table outside in front of a flowery bush (that might or might not be an Azalea, but wtf do I know? I'm not a gardener…) because, apparently, it's not enough to take a picture of a little table in its natural habitat. Pinterest people want to see stuff either in nature or in front of reclaimed wood walls. This is the best I could do. Please ignore the un-mowed lawn.
And there you have it. A super cute, little, black side table with added gold accents.
This concludes today's blog post. So, what have we learned?
ReStore is a great place to find cute furniture.
Chalk paint looks like crap after you sand it.
Christy is my mom's favorite fake child.
It's easy to add gold accents to furniture with a cheap gold pen.
I'm freaking funny, even when I'm too busy to try to be.
Now, please excuse me while I get back to freaking out about my wedding…
(Did I mention I'm getting married in three days? I feel like I did…)
*This post contains affiliate links